Loom and Leaf Mattress Reviews

Mattress Reviews
If you're looking for a top-notch memory foam mattress, look no further than Loom and Leaf. A subsidiary of the Saatva company, Loom and Leaf designs and sells only their flagship mattress. By focusing on one bed, this brand puts all of its efforts into perfecting a universally comfortable mattress model. In this guide, we'll talk about Loom and Leaf mattress reviews, the bed itself, and what materials they use to promote better sleep.
Company Background
Saatva, founded in 2011, is one of the leading mattress brands in the industry. As their brand expanded, they decided to create two smaller sub-brands: Loom and Leaf, or L&L, and Zenhaven. As we mentioned, Loom and Leaf sells a memory foam mattress whereas Zenhaven designs and sells a latex bed. Since the Loom and Leaf brand started, they've quickly grown in popularity and have become almost as well-known as their parent brand. Loom and Leaf sources their foam and handcrafts each of their beds in the United States. They also use high-quality sleep-promoting materials to help you get the most restorative night's rest every night.
Saatva, Loom and Leaf, and Zenhaven all sell their mattresses exclusively online. Saatva's online-only business model is one of its main selling points as they strive to market a luxury mattress for a competitive price by eliminating the middle man and selling direct to consumers. By doing this, Saatva can cut costs up to 70% and establish a better relationship with their customers. You should not expect to see any of their beds in other mattress retailers any time soon.
Loom and Leaf prides itself on its eco and budget-friendly mattress, as well as their exceptional customer service. Having been in the industry for near a decade, Saatva understands having a positive relationship with its customers is essential for a multitude of reasons, so they go above and beyond for their customers, even offering free White Glove delivery and free removal of your old mattress. Their efforts don't go unnoticed, however, with customers rating them an average of 4.9 out of 5 stars. In 2012 and 2013, the Saatva brand was the best-rated mattress brand on Google. Reviews of the brand and bed mention it sleeping comfortably while customers stated the L&L customer service team was helpful and responded to concerns quickly. Below, we'll discuss the other perks that come with buying from Loom and Leaf as well as the price for a Queen Loom and Leaf.
Perks of Buying with Loom and Leaf
As we just mentioned, when you buy a Loom and Leaf mattress, it comes with free White Glove delivery and mattress removal, taking all of the hassles out of setting up a new bed. On top of freebies, Loom and Leaf also offers their customers a generous sleep trial. Every Loom and Leaf bed comes with 120 nights to test it in your own home, if you decide you don't like it, they'll arrange for someone to pick it up and issue you a full refund. The only catch is they do charge a non-refundable $99 transportation fee for the mattress pickup.
Loom and Leaf also extends a generous 15-year non-prorated warranty to each of its customers. For the first two years of warranty, if your mattress is found to have a defect in the craftsmanship or materials, Loom and Leaf will replace it for you free of charge. Beyond two years, Loom and Leaf will repair and recover a defected mattress for only a $99 transportation fee.
In addition to a warranty, Loom and Leaf also offers a "Fairness Replacement Option." They started offering this when they found repairing mattresses lead to conflicts between their customer service team and customers as to what was considered a defect and what wasn't— with customers complaining their beds weren't fully repaired. To avoid further disagreements, Loom and Leaf introduced this alternate option. If you opt into this program instead of choosing to have your mattress repaired, Loom and Leaf allows you to keep your original mattress, and they'll issue you a new one for a fraction of the price. The discount you receive from Loom and Leaf will vary depending upon how long you've owned your current mattress. Between years 3 to 5, L&L will replace your mattress at 70% off. In years 6-10, you'll receive a 50% off discount and in years 11 to 15, a 25% discount. Opting into this program allows you to get a brand new high-quality L&L mattress and use your old L&L bed for a spare room, or to give to a family member or friend.
L&L regularly discounts their mattresses, but the full retail price of a Queen Loom and Leaf mattress is $1,299. Waiting for a deal to buy could save you some money or even earn you a complimentary accessory item. Now, let's talk about the layers of this bed and what materials Loom and Leaf uses to deliver high-quality sleep.
The Loom and Leaf Mattress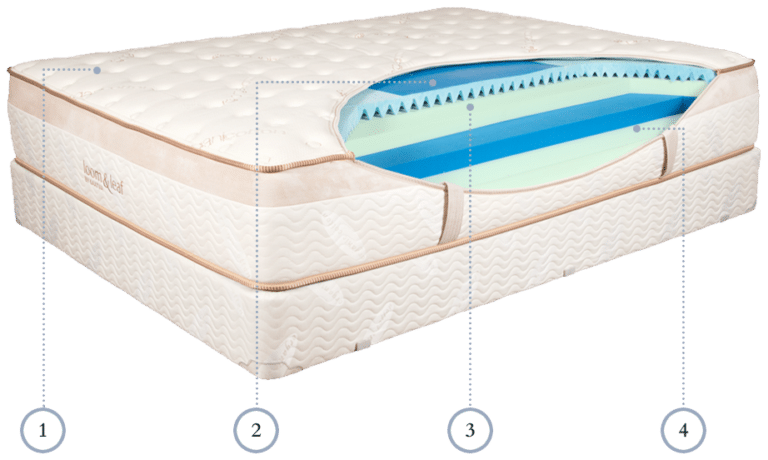 The L&L bed is carried as Relaxed Firm or Firm, giving you a tiny variety. It's available in most standard sizes including Twin, Twin XL, Full, Queen, King, and California King. Loom and Leaf uses four layers of foam to build this bed, and it stands at a tall 12 inches in height— ideal for most bed frames.
Let's look at the layers inside:
The cover of the L&L is organic cotton and thistle and feels soft to the touch. The thistle Loom and Leaf uses in this mattress is also naturally flame-retardant, eliminating the need to use harsh chemicals to create a fireguard. L&L also integrates a layer of foam into this cover to offer extra pressure relief and a bit of plushness.
The first layer of the Loom and Leaf is 2 inches of gel-infused memory foam. Infusing gel swirls into foam is thought to make it both more cooling and more supportive, as the areas where foam gel is infused feels a tad firmer than the rest of the layer. This memory foam layer should be slow to respond to pressure, so when you lay on it, it should cradle your body and release tension. The gel in this layer should work to move heat away from your body and keep you cool at night, while there's extra gel infused near the lumbar region of the mattress for enhanced lower back support.
Next, is a layer of memory foam that has been specifically designed to contour to your body's curves and relieve pressure points. This layer works in conjunction with the gel-infused memory foam above to offer exceptional comfort and ease aches and pains. Because this layer is also viscoelastic memory foam, it can be slower to respond to pressure than a material such as latex. Meaning, you should sink into this bed but not so far that you feel like you're stuck in the bed.
Below the two layers of memory foam is a layer of poly-foam that works as a transition layer between the memory foam layers above and the dense core foam layer below. By including this layer in the design, it gives the sleeper a bit more support and prevents them from sinking straight through the soft memory foam and hitting the solid core foam.
The foundation of the mattress is high-density poly-foam. The base of the bed should offer structural and edge support to the rest of the mattress as well as give the mattress its shape. By using high-density foam as this layer, L&L aims to extend the lifespan of their bed and prevent against any sags, indentations, or premature deterioration.
If you desire a cradling, memory foam mattress feel from your bed, you should consider choosing the Loom and Leaf. Below, we'll talk in more detail about who would be most comfortable on one of these mattresses to help you decide if it'd be suitable for you.
Who Sleeps Soundly on an L&L Bed?
As we discussed, Loom and Leaf carries their mattress as Relaxed Firm or Firm. Reviews of Loom and Leaf mention their Relaxed Firm model has an average firmness of 6-7.5, otherwise known as medium-firm. On the other hand, the Firm model is ranked between 7-9 on the firmness scale and feels very supportive, as you can expect.
Typically, back and stomach sleepers fare well on a medium-firm or firm mattress because they provide the support these sleepers need to get healthy rest. For back and stomach sleepers, it's necessary to find a mattress that will relieve pressure points, offer zoned support, and foster the spine's natural alignment. A bed that is too soft could cause a back or stomach sleeper's spine to curve unnaturally. Back and stomach sleepers should feel comfortable and be healthily supported on either one of the Loom and Leaf models, so deciding between the two comes down to a preference for firmness. If you're a back or stomach sleeper and desire a more cradling "in the bed" feel from the mattress, choose the Relaxed Firm. Alternatively, if you prefer a firmer "on the bed" feel from the mattress, choose the Firm model.
On the other hand, the best mattress for side sleepers is soft enough to allow the hips and shoulders to sink into the mattress, but still firm enough to facilitate healthy spinal alignment. If a side sleeper sleeps on a firm mattress, it more than likely will not allow their shoulders or hips to sink into the mattress. Meaning, their hips and shoulders are taking on all of the body's weight which can quickly lead to discomfort, pressure points, and even chronic pain. A medium or soft mattress is typically better for side sleepers because they are plush enough to let a side sleeper's hips and shoulders to compress into the bed. We recommend side sleepers choose the relaxed firm option of the L&L bed. However, some reviews mention the L&L feeling too firm, meaning, neither options may be a fit for some side sleepers who prefer a much softer bed.
For those with back pain, the Loom and Leaf mattress could be your solution as it's specifically engineered to reduce aches and pains and support a healthy spine. When you lay down on this bed, the contouring memory foam should therapeutically form to your body, eliminating gaps between your lower back and the mattress. When memory foam contours to your body it should alleviate pressure points, relieve joint pain, evenly distribute your weight across the mattress, and improve your body's circulation in a way other beds cannot. Memory foam itself is beneficial for reducing or even eliminating chronic pain, and the Loom and Leaf is no exception.
Is the L&L a Fit For You?
We hope our guide has been helpful in determining whether or not a Loom and Leaf would be the best mattress for your sleep needs. If not, read other online mattress reviews and guides to help steer you towards the best option. Remember, before you start researching, take a moment to reflect upon your own sleep needs and get an idea of what you're looking to achieve from a new bed.
Are you looking to eliminate aches and pains? Alternatively, are you just wanting to get better sleep in general? Whatever your needs may be, there is a bed for you. With the various options that can be called one of the most comfortable mattresses on the market, all it takes is a little knowledge and research to find the right mattress for you and discover the benefits of getting better sleep.