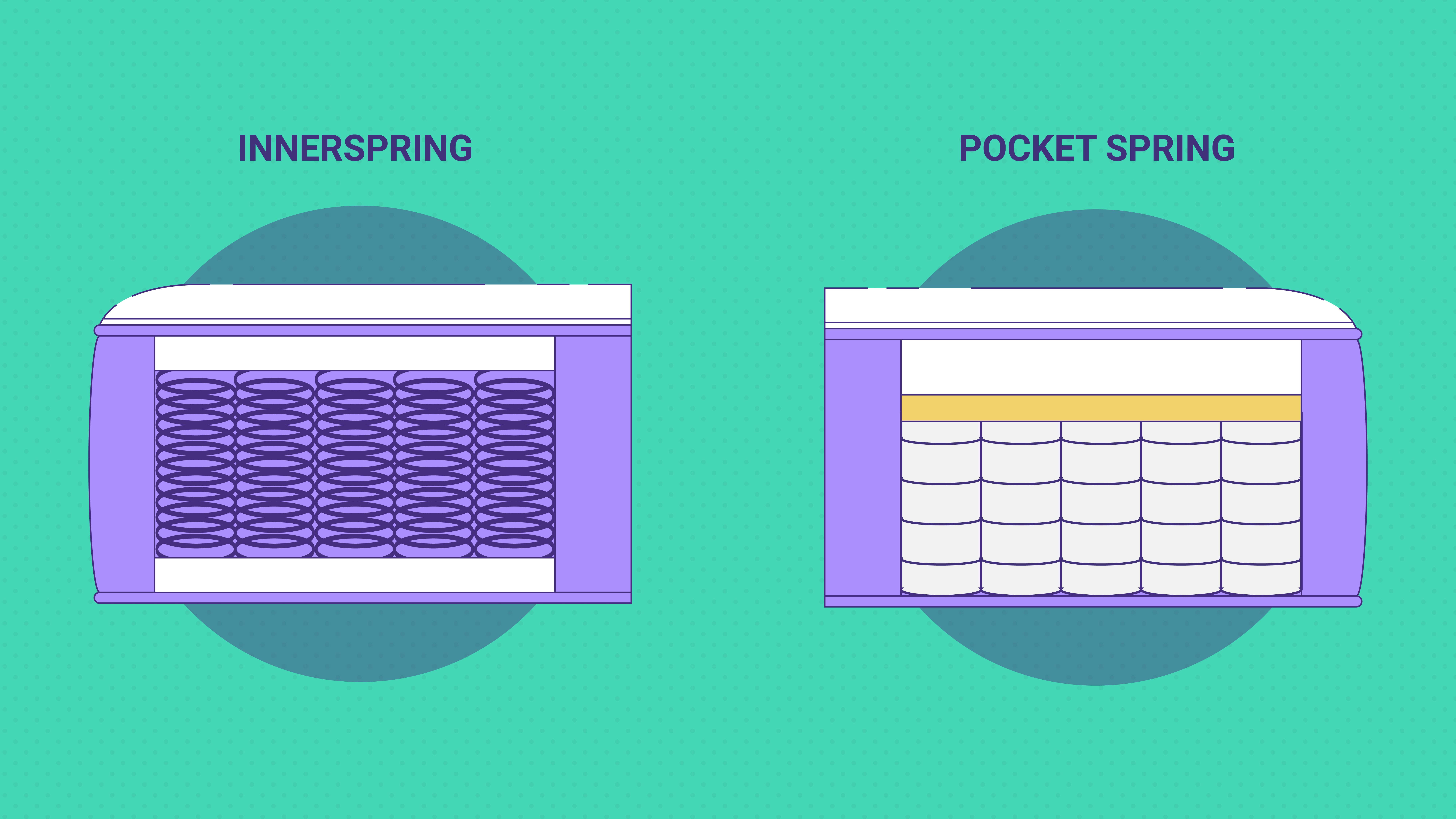 Innerspring vs. Pocket Spring Mattress: What's The Difference? 

Mattress Comparison
While you are browsing for a new bed, you may come across traditional innerspring mattresses and pocket spring beds. Both mattresses consist of a coil system, but they differ in the support each bed provides.
Some sleepers look to innerspring beds because innerspring mattresses tend to be more affordable and have a traditional comfort over pocketed coil mattresses. More people are purchasing pocket spring mattresses for their innovative technology. In this article, we'll discuss the differences between innerspring and pocket spring beds.
Traditional Innerspring Mattress
Innerspring mattresses are the most traditional mattresses of the 20th century. These beds are popular for their firm and responsive support. Budget shoppers also appreciate innerspring mattresses.
Innerspring beds have metal coils with an hourglass shape. The most common hourglass coils are Bonnell and offset coils. Bonnell coils have a thin structure in the middle of the spring but are broader near the top and bottom.
Offset coils also have an hourglass shape but with flat tops and bottoms. These coils are more durable than Bonnell coils and give your mattress an extra-firm feel.
Other innerspring models may use continuous coils. Continuous coils have a single long wire twisted into individual springs. Their structure helps limit motion isolation and improves the durability of the mattress.
Additionally, innerspring beds have limited contouring. To combat this, some innerspring beds include a soft pillow top layer. Pillow top mattresses may use cotton, wool, down, fiberfill, memory foam, or latex foam in the layers.
If you're interested in sleeping on an innerspring mattress, we recommend reading our Innerspring Mattress Buying Guide.
What's a Pocket Spring Mattress?
A pocket-coil or spring mattress has metal coils or springs, each wrapped in fabric. Pocket spring beds allow the coils to respond with the shape and weight it feels. This is the main difference between pocket spring and open coil mattresses.
Beds with pocketed coil systems differ from traditional spring beds. Innerspring beds feature generalized support, while pocket springs offer targeted support. These beds even have a memory or latex foam comfort layer to add a bit of cushioning to your bed. This kind of pocket spring bed is known as a hybrid mattress.
The Pros and Cons of Innerspring vs. Pocket-Coil Mattresses
Innerspring and pocketed coil spring mattresses share many similarities. But, there are distinct characteristics to enhance the comfort of sleepers.
In this next section, we will look at the advantages and disadvantages of each mattress type. We'll also discuss what mattress is best for your sleeping preferences.
Innerspring Mattresses
Innerspring mattresses have a firm sleeping surface. This makes them the perfect option for stomach sleepers or plus-size individuals. Plus-size sleepers need a firm mattress to keep their bodies from sinking too far.
Spring beds are also better for hot sleepers than foam beds. The coil system provides more airflow and does not absorb body heat. Air circulates between each coil, establishing a cooling mattress.
Most times, innerspring mattresses bounce or squeak throughout the night. As a result, this can cause sleeping disruptions throughout the night. Additionally, innerspring beds do not have body-conforming layers.
Pocket Spring Mattresses
Pocket spring mattresses respond better to pain from pressure points than innerspring mattresses. They also reduce motion transfer so you can sleep soundly throughout the night.
Combination sleepers are better suited for pocket spring beds. The coil layers provide your bed with plenty of bounce. The added responsiveness makes it easier to switch sleeping positions. Plus, pocket spring beds promote proper spinal alignment.
Couples can also appreciate a pocket coil mattress. Not only does the design promote good posture, but it also isolates movements. One partner's movements won't disturb the other's rest.
The downside of purchasing a pocket spring bed is they do not contour to your curves. Furthermore, some layers consist of wool and other fibers. This can create an environment for allergens and dust mites to settle and grow. The invasion of allergens can ruin your mattress.
FAQS
Are pocket spring mattresses good for back pain?
Pocketed spring beds are a great option for individuals with back pain. Unlike innerspring beds, pocket spring mattresses have individual springs with foam layers. The structure of your bed provides a medium-firm surface and may help ease your back pain.
Are pocket spring mattresses better than memory foam?
Most people turn to memory foam mattresses rather than pocket spring mattresses. The coil system in pocket spring mattresses can cause sleeping interruptions. If you toss and turn at night, your bed may squeak or bounce and hinder a good night's rest. Furthermore, pocket spring beds do not provide targeted pressure point relief.
Memory foam beds absorb body movement and also contour to your body for more pressure relief.
How long does an innerspring mattress last?
Some quality innerspring mattresses may last for up to 7 years, while others may only last for 3 or 4 years. How long a mattress lasts all depends on the quality of materials and how well you take care of your bed. Often, springs in the mattress lose flexibility over time.
Why do innerspring mattresses sag?
Innerspring mattresses are prone to sagging. Most innerspring mattresses begin to sag when the metal coils lose tension. Additionally, the layers may soften over time, making the mattress material less durable. Sagging is a result of normal wear-and-tear or improper mattress care.
A good mattress foundation can minimize sagging. We recommend solid or slatted surfaces. If you choose slats, the slats should be no more than 3 inches apart.
Are more pocket coils better?
Beds with more coils than average do not equate to a more durable mattress. If your mattress has a low coil count, this means your bed has thicker springs. Most times, thicker springs take longer to lose their flexibility. Mattresses with high coil count usually provide better body support for sleepers.
Conclusion
Many sleepers complain about the limited pressure point relief on innerspring beds. It may be a better choice to buy a pocket spring mattress since its coil system moves with your shape and weight. If you are a hot sleeper, an innerspring bed is the best option because they do not contain any foam layers. They also have an open coil structure to provide more airflow.