How Travel and Fatigue Impact Professional Sports Franchises
Sleep Research
Professional athletes across U.S. sports leagues (NBA, NHL, MLB, and NFL) have a considerable offseason schedule that begins way before the first regular season tipoff, faceoff, pitch, or kickoff. Once the season gets going, there's even more work to be done, and this often includes playing games on back-to-back days – or even worse, back-to-back games that involve traveling the night before.
While a team's schedule is usually split evenly between home and away games, due to the complexity of scheduling 16 (NFL) to 162 (MLB) games every year, some teams find themselves putting together a string of away games. Jet lag, the effects of physical travel, and time constraints can wreak havoc on the training and sleep schedules of the athletes.
For this project, we defined back-to-back games differently. For the NBA and NHL, games on consecutive nights count. For MLB, we considered games on consecutive nights involving travel (as they usually play a two- to four-game series with each team they play). And for the NFL, we counted consecutive road games. In each case, we scored the second of these games as a back-to-back.
We wanted to see how teams who face these back-to-back games usually fare. Does it bode better for the home team if their opponent is in the midst of a streak of potentially exhausting away games, and which teams have the most of these sleepless games? Let's take a look to see how it all works out for those traveling teams.
Shipping Up to Boston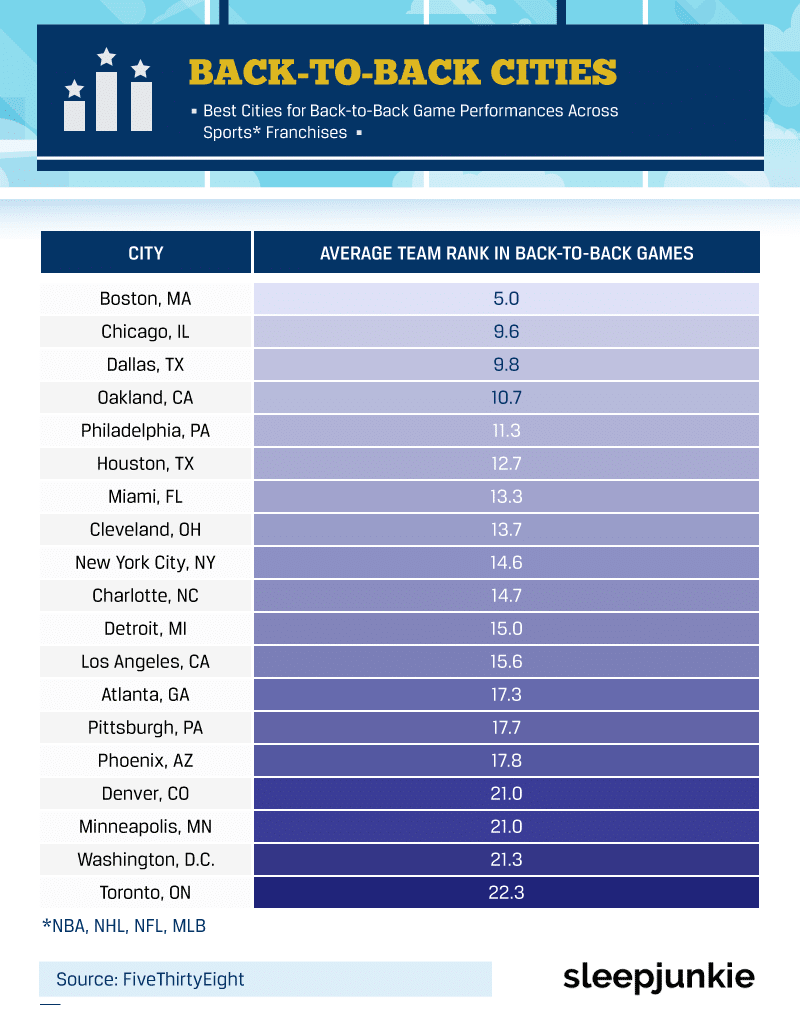 Winning every back-to-back game during the season is not only hard (or impossible) to do – it also doesn't necessarily mean a team will fare well in the postseason. However, a strong season and winning games, no matter when or where they are, bolsters an overall season record and can indicate a team that's pretty set in its winning ways.
We took a look at the cities that did the best in overall back-to-back game performances. Boston, Massachusetts, topped the list. The Boston metropolitan area is no stranger to winning sports teams as of late, as it has enjoyed 12 championship parades over the last 17 years, six of which came from the New England Patriots.
Boston was followed by Chicago, Illinois, a city that has a bevy of sports teams (including two MLB teams). Chicago is also no stranger to championships, as its teams have won a ton of championships in the four professional sports leagues, including six from the Chicago Bulls. Again, although championship teams don't need to win all their back-to-back contests, consistent winning really gives a season record a boost and can help contribute to postseason success.
Third on the list was Dallas, followed by Oakland, Philadelphia, and Houston. Near the bottom, you'll find cities like Minneapolis, Washington, D.C., and Toronto.
Cream of the Crop
Here, we looked at the top three back-to-back cities in sports: Boston, Chicago, and Dallas. Each city has four or five professional teams and at least one in each league. Boston's numbers were bumped up due to the Celtics' successes in this department as well as the Bruins' (they were No. 1 and No. 2 in their respective leagues in back-to-back challenges). None of Boston's teams were below the No. 9 position.
Chicago was just a tad behind Boston, followed by Dallas. Chicago has five major league teams, while Dallas has four, and both of Chicago's MLB teams (the Cubs and White Sox) ranked higher than the Texas Rangers, providing a boost in overall rank. While the Cowboys had a better back-to-back than the Bears, the Bulls had more positive results in these contests than the Mavericks.
All the Rest
The rest of our list encompassed several cities that have anywhere from three to four major league teams. Some towns, like Oakland, found themselves relatively high on the list, even though one of their teams ranked low in the back-to-back wins column. (In this case, it was the Golden State Warriors, who went to the NBA Finals five years in a row and won three titles, despite not having a stellar overall high ranking in that category.)
Some cities further down the list didn't even have a single team crack the top 10, such as Denver, Minneapolis, Washington, D.C., and Toronto. Since these are cumulative stats that trace back to each franchise's origins, recent successes don't always make a dent in these rankings, even if a team has had a great season or two (or five).
You've probably heard the terms "big market team" and "small market team," right? New York City is the biggest and has plenty of teams to show for it, with two teams for each of the big four professional sports leagues in the U.S. Los Angeles is second here, also with two teams for each league. Although they have the market to support a high number of teams, they don't necessarily do that great in back-to-back contests. One of the issues might be the sheer number of teams for each market and, therefore, more overall opportunities to try for a back-to-back win – or suffer unfavorable results.
NFL Back-to-Backs
We broke down the back-to-back win percentages in the NFL (remember, this means two road games in a row). The San Francisco 49ers came out on top here with a 54.5% win percentage when they had two away games back to back. This is not a small feat, as West Coast teams sometimes have to travel as much as three time zones for their next matchup, depending on their schedule. When we looked at their back-to-back success from season to season, though, they haven't had as much luck as of late. Much of their high back-to-back win percentage came from those successful years in the '80s and '90s when they also won multiple league titles.
Next on the list were the Dallas Cowboys. They've had a lot more favorable outcomes as far as back-to-back win percentage goes in recent years despite a lack of significant postseason success, but they also had really good back-to-back numbers during their championship seasons. For example, in 1995, they won all of their back-to-back contests and went on to lift the Lombardi Trophy when the season concluded.
At the bottom of the list, the Tampa Bay Buccaneers had the worst win percentage in back-to-back games. To be fair, the Bucs are a little newer franchise than those listed above, as they started to play in 1976 (compared to 1946 for the Niners and 1960 for the Cowboys), so they've had less of a chance to rack up more positive numbers over the interceding seasons. They've also got geography working against them, as they might also have to travel over three time zones for away games. However, their overall win percentage over the life of their franchise is pretty low (38.6%) – but still higher than their back-to-back win percentage (27.4%). During their championship winning season (2002), they had a 100% winning percentage for back-to-back games.
NBA Back-to-Backs
Beantown topped the list of NBA teams who had the most success in back-to-back games. The Celtics, who have been playing since 1946, had a really nice win percentage in those contests at 56%, just a bit lower than the franchise's overall win percentage of 60%. The team, who last won the NBA Finals in 2007-08, had a decent win percentage that year at 75% but has been to the postseason every year since aside from 2013-14 despite less-than-stellar back-to-back stats every year.
The Los Angeles Lakers were just behind them with a 53.6% win percentage in back-to-back games. The Lakers have been around just as long as the Celtics (beginning play as the Minneapolis Lakers in 1946 and moving to LA in 1960) and have won nearly as many championships (Celtics 17, Lakers 16).
The Minnesota Timberwolves, by contrast, found themselves at the bottom of the list with a back-to-back win percentage of 31.4%. They're much younger than the top two teams (their first season was 1989-90), and they've only had nine playoff appearances total –while yet to hoist the Larry O'Brien Trophy.
MLB Back-to-Backs


The New York Yankees claimed the top spot for win percentage in back-to-back games. They've been around for a long time and hold the most championships (27) in the MLB – a large amount over the second most successful franchise, the St. Louis Cardinals with 11. Major League Baseball has a long season packed with 162 games, most of which are on consecutive days and many that require travel, undoubtedly costing players sleep and adding a significant element of fatigue from traveling from place to place and playing daily. But the Yankees have done it the best, and they have the trophies to show for their overall great seasons.
The Los Angeles Dodgers came in No. 2 here, winning 56% of their back-to-back games. They've been around just as long as the Yankees have, starting play in 1884 as the Brooklyn Atlantics and switching to the Dodgers moniker for good in 1932 (and then relocating to the West Coast in 1958). While they don't have anywhere near as many championships as the Yankees (they're currently at six), their fans have still enjoyed a lot of regular season success, as the club had a 54.2% overall win percentage over its long, storied history.
In 1993, the MLB grew by two teams, and both of these clubs (the Colorado Rockies and Miami Marlins) haven't had a lot of luck in the win percentage department, whether it's overall or just counting back-to-back games. Miami, in fact, was tied for last in for back-to-back games and dead last in overall win percentage. One of the newest teams, though (the Arizona Diamondbacks), is right up there with some of the better teams in the business, coming in fifth for win percentage in back-to-back games. As far as the newest MLB teams go, Arizona has won one World Series, the Marlins two, and the Rockies and Rays are still looking for their first.
NHL Back-to-Backs
The team that had the highest point average (1.17) for back-to-back contests in the NHL was the Philadelphia Flyers, who have hit the ice every season since 1967. They have won the Stanley Cup twice in back-to-back seasons (1973-74 and 1974-75), which were actually not their highest point average seasons in back-to-back games. Those seasons, then, weren't super affected by (or dependent on) the squad's ability to nab a ton of goals on back-to-back games.
The Boston Bruins, who were in the most recent Stanley Cup Final, came in second with an average goal of 1.10 in back-to-back games. This franchise has had a little more postseason success than the Flyers, with six Stanley Cup wins, most recently in 2011. Interestingly, while that season had a nice point average, two years later, they didn't have the same success and still went to the Stanley Cup Final.
Back-to-Back Success in a Nutshell
As it turns out, sometimes, high rates of back-to-back wins can really help boost a season's overall success, but that may not always be the case. It looks like those Boston sports fans have really reaped the rewards of having teams with really high back-to-back win ratings. As for individual teams, the Yankees have the trophies to back up their overall high rating as well, while the 49ers' success in the Joe Montana/Steve Young eras really validates their overall back-to-back win percentage. And while the Philadelphia Flyers, who top the NHL list of the most overall goals scored in back-to-back wins, had a down year, they still won the Stanley Cup both seasons.
Ultimately, the research makes clear that back-to-backs are tough on teams, from a lack of sleep to inadequate time for bodies to recover, athletes face tremendous challenges when attempting to play their best and compete at the highest levels. Ultimately, even though back-to-backs continue to become less frequent, research such as this should alert teams and league leadership that playing on so little rest can have a serious effect on performance. That's why it's so important for athletes to make the most of their time spent sleeping and ensure they're getting deep, restorative rest.
If you're an athlete or just somebody leading an active lifestyle, we recommend upgrading to the best mattress for your sleep needs and an adjustable bed base. Athletes who suffer from aches and pains often benefit from memory foam mattresses, as they're pressure-relieving and contouring. Athletes on a budget should consider looking for a memory foam mattress in a box, as many online mattress brands offer state-of-the-art mattresses for a fraction of the price by selling direct-to-consumer.
Regardless of what you need from a new mattress, we're here to help. At Sleep Junkie, we aim to offer the most throughouly vetted and value mattress information to our readers. Whether you're looking for a mattress for side sleepers or a mattress to alleviate back pain, we've got you covered. Check out some of our other articles and mattress reviews to learn more.
Methodology
All data were collected from FiveThirtyEight, which maintains ELO statistical models based on data from basketball-reference.com, pro-football-reference.com, hockey-reference.com, and baseball-reference.com. For this project, we define back-to-backs differently for each major professional sports league:
NBA: Games on consecutive nights
NHL: Games on consecutive nights
MLB: Games on consecutive nights involving travel
NFL: Consecutive road games
The FiveThirtyEight data control for teams that have changed locations by marking all historic years a franchise operated under its current name, and all franchises in this project are active as of June of 2023. Data analysis was carried out in Python 3.7.1 with several core libraries, and initial visual layouts were designed in Tableau 2019.2
Sources
http://www.nfl.com/news/story/0ap3000001024960/article/offseason-workout-dates-announced-for-all-32-teams
https://www.washingtonpost.com/sports/2019/05/24/with-bruins-stanley-cup-finals-boston-suffers-championship-fatigue-syndrome/
https://www.espn.com/boston/
https://www.pro-football-reference.com/teams/nwe/
https://www.espn.com/chicago/
https://www.nba.com/history/bulls_dynasty.html
https://www.pro-football-reference.com/teams/sfo/
https://www.pro-football-reference.com/teams/dal/
https://www.pro-football-reference.com/teams/tam/
https://www.basketball-reference.com/teams/BOS/
https://www.basketball-reference.com/teams/LAL/
https://www.basketball-reference.com/teams/MIN/
https://www.baseball-reference.com/teams/NYY/
http://mlb.mlb.com/mlb/history/postseason/mlb_ws.jsp?feature=club_champs
https://www.baseball-reference.com/teams/LAD/
https://www.baseball-reference.com/teams/ARI/
https://www.hockey-reference.com/teams/PHI/
https://www.hockey-reference.com/teams/BOS/
https://www.basketball-reference.com/teams/GSW/
Fair Use Statement
The thrill of knowing your team is at the top (or the heartbreak of knowing they're at the bottom) of our list may be enough to make you want to share this page with others. You are free to use these materials for any noncommercial purpose, but please include a link back to this page so that our authors can be credited for their work.