How does plant-based memory foam compare to traditional?

Mattress Resources
Just how well do plant-based memory foam compare to traditional memory foam mattresses? Many shoppers are surprised to learn there are differences and may not realize what characteristics distinguish one from the other.
In order for consumers to learn more about the similarities and differences we take an in-depth look at not only the two types, but also comparisons of popular manufacturers that were chosen to represent both plant-based memory foam and traditional.
Traditional vs Plant-Based Memory Foam
No stranger to the game, traditional forms of viscoelastic material have been used in bedding for over 20 years now. Memory foam continues gaining popularity among consumers, and in the past ten years this has inevitably meant more options coming to the market. Though this type of bed consistently rates higher than spring beds in terms of comfort and overall satisfaction, there are few issues that newcomers like plant-based foams have sought to address.
Traditional Memory Foam
Traditional memory foam mattresses are made from petroleum-based polyurethane. The process was originally developed by NASA, later purchased and introduced into the mass market. This type of foam is temperature-sensitive, meaning it reacts by hardening in cold spaces and softening in warm. The buoyant sensation and pressure-reliving properties come from the memory foam's ability to contour to the sleeper and evenly distribute weight.
Plant-based Memory Foam
Though traditional memory foam has many positive aspects, there are few complaints which variations have sought to address such as heat retention, odors and chemicals, excessive viscosity, and firmness unpredictability. Plant-based memory foam replaces a portion of the petroleum products with plant-derived oils.
In addition to being considered more eco-friendly, some types of plant-based memory foam have actually been shown to improve breathability and eliminate other concerns without heat-retention issues. Certi-PUR® certified plant-based foams are also free of chemicals like CFCs, formaldehyde, phthalates, PBDEs, and are low in VOCs, all of which have been cause for concern in traditional memory foams.
Amerisleep is a leading mattress brand who sells plant-based memory foam and hybrid mattresses. They were one of the first retailers to use the innovative material and have carved out an eco-friendly and health-conscious niche. They tout eco-conscious shipping practices, affordable pricing and foams free of harmful chemicals. The brand uses an extreme open-cell memory foam that dissipates heat quicker than traditional foams, is temperature neutral, and has a quick response time.
Comparison of Amerisleep and Traditional Mattresses
Grading is based on total owner reviews from both Amerisleep.com and from independent review sites. There is a more detailed explanation of our review below.
| | Amerisleep | Traditional Memory Foam Brands |
| --- | --- | --- |
| Pressure relief | A | A |
| Pain Reduction | A | B+ |
| Motion Transfer | A | A |
| Sleeping Hot | A | C |
| Offgassing/Odor | A- | C |
| Health | A | C |
| Eco-Friendliness | B | D |
| Responsiveness | A | C |
| Warranty | A- | A |
| Construction | A | A |
| Longevitiy | B+ | B+ |
| Price/Cost of Ownership | B | D |
| Availability | B | A |
| Owner Satisfaction | A | B |
Amerisleep and other brands provide pressure relief, above average warranties, longevity, quality construction and reduction of motion transfer on nearly an even keel, with both types of foam receiving similar ratings in these fields. The most notable differences are health/offgassing, sleeping hot, response time, price, and owner reviews.
We have dived deeper into explanations of each of these differences with information gleaned from mattress reviews in the following sections.  Take a look to see how plant-based memory foam compares to traditional.
Health / Offgassing
For this purpose, health refers to potentially harmful chemicals used in the composition of the mattresses, which is closely tied to the potential for off-gassing and the release of volatile organic compounds (VOCs). This is a group of more than 60 chemicals that are considered to present health hazards when people suffer prolonged exposure. With the average person spending 8 hours, or one-third of their day in close contact with their mattress, chemicals can pose serious concern.
Plant-based memory foam mattresses manufactured by Amerisleep have been certified by Certi-PUR®. This certification means they don't contain toxic chemicals, heavy metals, or dangerous additives. There is an initial "new" odor as with most new products; however it dissipates within a few days and is mentioned by fewer than 5% of reviewers.
Traditional memory foam brands usually remains tight-lipped about their formula, usually saying the beds are free of harmful VOCs, formaldehyde and CFCs. But, traditional memory foam made from petroleum has been associated with the release of VOCs, which can continue for the life of the product. A lot of companies have no third party certifications, and about 18-20% of reviewers mention odor, some so bad they were forced to return their bed.
Sleeping Hot/Trapped Heat
Most people prefer to feel cooler when sleeping, and it is thought that cooler temperatures improve sleep quality. Thus, heat and memory foam has become a hot topic in recent years and is a top concern for some.
Amerisleep claims to use an open-celled foam with greater breathability than traditional foams. This claim appears to bear out in reviews, with less 2-5% of reviewers complaining of sleeping hot. Even about 5% of innerspring owners complain of heat, so this percentage is well below average for foam mattresses.
Sleeping hot has been a complaint from owners of traditional memory foam beds since they were first introduced. The closed-cell nature of the foam structure may contribute to trapped heat, especially on denser and thicker models. In reviews, approximately 10-15% of owners complain of sleeping hot, some to the point of excess sweating affecting the mattress.
Response Time
The response time of a foam refers to how quickly it returns to its original shape or recontours to the movements of the sleeper. This affects how easily a person can move and change position, as well as intimate moments.
Plant-based memory foam mattresses from Amerisleep feature a 6-8 second response time. They also are stable in firmness since the material is not affected by ambient temperatures. Fewer than 2% of reviews mentioned anything about difficulty moving or other issues related to response time.
About 15-18% of traditional memory foam mattress owners complain of issues with response time or ease of movement, likely due to the 45-60 second response time of this type of mattresses and temperature sensitive properties. Some mention the bed being too hard, then too soft to move after it warms up. others mention a "quicksand" effect where the material near their body is soft while the rest is hard creating a sensation of being stuck in a hole.
Its responsiveness can also help the mattress feel moe comfortable out of the box, as opposed to waiting 24 hours to sleep on a memory foam mattress with a traditional design.
Price
Savvy shoppers generally approach a major purchase with the objective of receiving the best value for the money they spend. This can include watching for sales, as well as understanding that name brands do not necessarily equate with quality.
Many well-known lines from clothing to cars to mattresses spend a great deal of money on advertising which is generally passed on to the consumer. They may be status symbols, but in reality, once the sheets go on the mattress tag doesn't matter – but comfort and quality do.
Amerisleep mattresses range in price from $999 to $1679 for queen size. It is also the best mattress of 2023. The brand offers frequent sales and promotions year round, including discounts and deals for the best pillows and mattress accessories.
Typical memory foam mattresses range from $1500 to $8600 for queen size models. They only offer discount on closeouts, but may have pillow or financing promos on certain holidays.
Owner Rating
Reviews and ratings are an important consideration for many shoppers, especially when shopping online or trying a new product. Average reviews for these two brands showed significant difference. To provide a baseline, about 80% of people overall are satisfied with memory foam beds.
Amerisleep's website uses a third party verified reviewing system that matches customers to products actually purchased to ensure legitimacy. The average owner rating for all mattresses combined is 4.6 out 5 in over 1000 reviews (or satisfaction average of about 92%).
Most traditional memory foam beds have a simple in-house review system. Across all mattress models, the average review rating is about 3.6 out 5 in over 500 reviews (a satisfaction rate of 72%).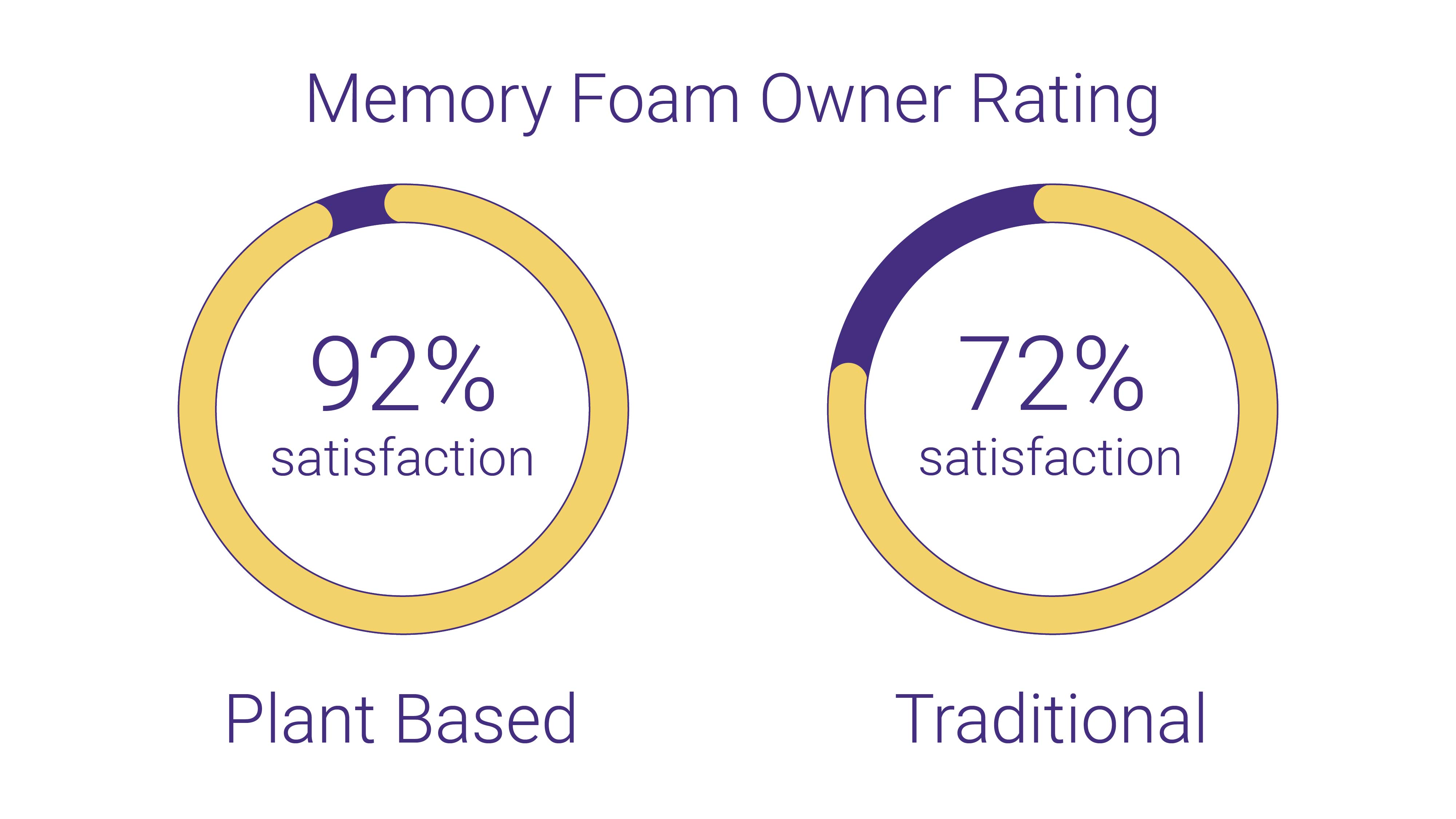 As we've mentioned before, when researching different types of beds, it can be helpful to compare performance factors using actual owner opinions rather than relying on cost, commercials, or branding to make shopping decisions. The above information was tabulated from analysis of the total available reviews from each brand's website and from independent review sites.
Individual mattresses vary, however this comparison is designed to show averages to help readers identify differences between memory foam types for product research purposes. Plant-based memory foam mattresses are relatively new, but they perform as well or better than their synthetic competitors.