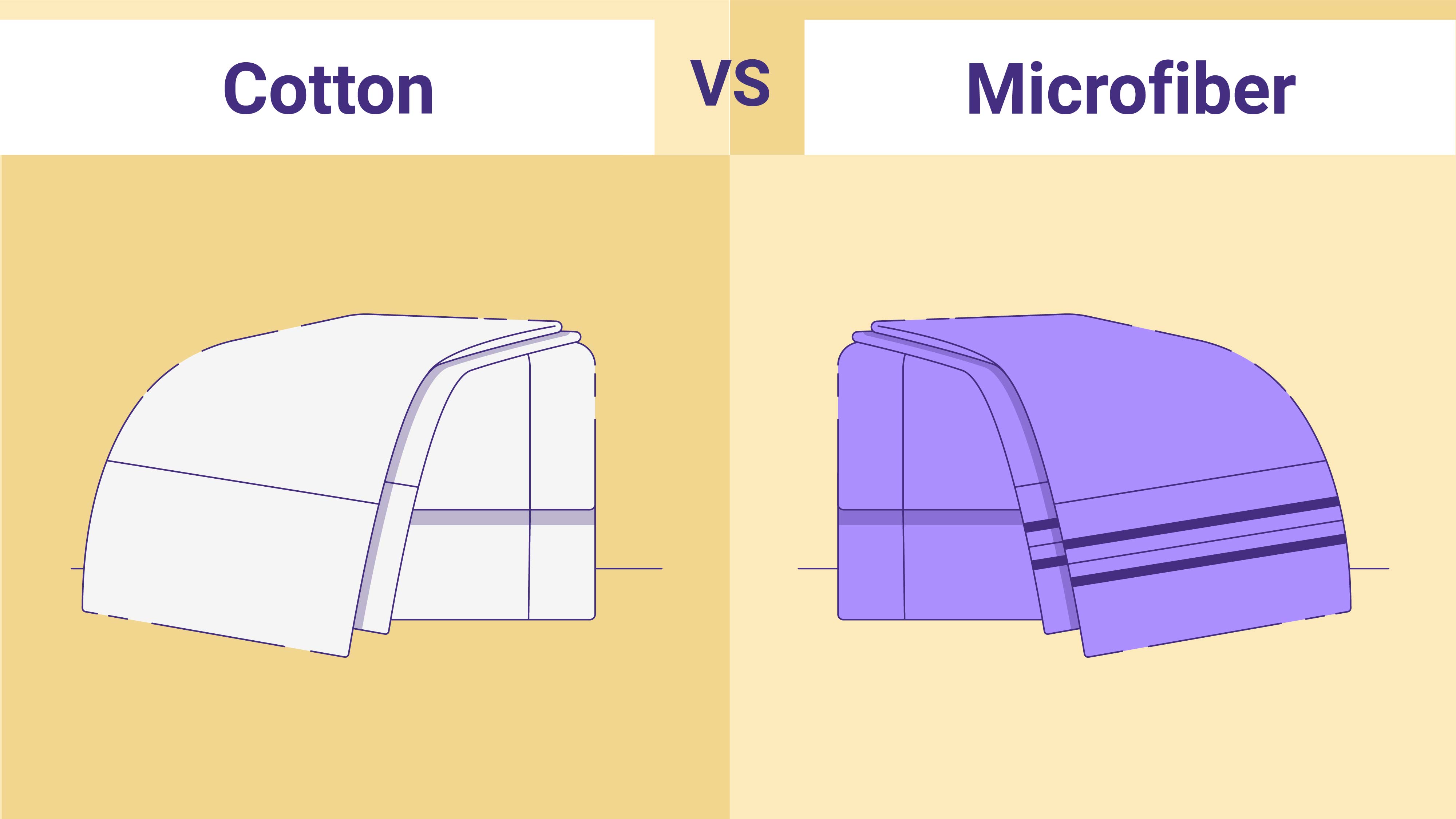 Cotton vs Microfiber Sheets: Which is Best?
Updated November 22, 2023

Bedding Guides
Breathable, soft sheets are essential for a cozy and relaxing sleep environment, and your sheets also keep your mattress protected and clean.
The material that your sheets are made of matters for your skin health and sleep quality.
The fiber from natural cotton plants makes up cotton sheets, and these fibers can be long or short. Cotton sheets may contain a blend of synthetic cotton or other natural fibers.
In contrast, microfiber sheets contain nylon or polyester woven fabric. The thin, synthetic fibers of these sheets are tightly woven together to improve durability. Cotton sheets lack in some of these qualities.
In this post, we are going to compare microfiber vs cotton sheets. Looking at the benefits and drawbacks of each sheet type will help you decide which is best for you. To conclude, we'll highlight the factors that impact which type of sheets you should buy and answer all your sheet-related questions on cotton vs microfiber sheets.
Benefits of Cotton Sheets
Cotton sheets are a great option for sleepers who want a soft and silky-smooth sleeping environment. The breathable design of cotton sheets allows you to feel cozy and warm without having to worry about night sweats in the summer.
There are several different kinds of quality cotton sheets available on the market today. The cheapest option is Upland cotton. If you're looking for moderately priced cotton sheets, Pima cotton or Supima cotton sheets are your best choice. Egyptian cotton sheets are the highest quality and most expensive cotton sheets out there.
Overall, cotton sheets are known for their softness and allergy-friendly materials. With these sheets, you won't have to worry about irritating your skin or other existing allergies. Watch out for staple length when choosing cotton sheets. Longer staples establish luxury sheets that are more durable and made of the best material.
Drawbacks of Cotton Sheets
If you're considering purchasing cotton sheets, it can be helpful to examine some of their drawbacks. Natural cotton sheets can be less durable due to their less tightly woven or knit design. In addition, you may have to wash your sheets a few times to soften them.
Depending on the staple length of the fibers in your sheets, wrinkling and shrinkage can be common issues. This is especially true if you go with short-staple Upland cotton sheets. On the flip side, if you choose to buy upscale Egyptian cotton sheets, you're going to have to pay more.
Benefits of Microfiber Sheets
Microfiber bed sheets are a great choice if you're looking for moderately soft and smooth sheets. These sheets will give you a comfortable feel without being too silky. While these sheets are thinner in design, they will hold up well over the course of time and many washes.
Stain resistance is another benefit to going with microfiber sheet sets. This makes them ideal for those who do a lot of eating and snacking in bed. When you combine this with their durability, quality microfiber sheets also make sense for your children's bedrooms.
Drawbacks of Microfiber Sheets
Like cotton sheets, there are some drawbacks to microfiber sheets that need to be examined before you make a buying decision. The polyester or nylon used in these sheets trap heat, causing problems for those who suffer from night sweats.
The synthetic materials that commonly make-up microfiber sheets are prone to wrinkling, bunching, and static. While for some this isn't a dealbreaker, microfiber sheets may hold onto dust particles, hair, or lint, so keeping them clean is difficult.
Factors Impacting Sheet Choice
Both cotton and microfiber sheets come with their unique sets of benefits and drawbacks. Because each of these sheets come in a variety of price points, it can be difficult to choose which one is best. Here are some factors to consider when shopping for new sheets.
Skin Sensitivities
If you have skin sensitivities or allergies, choosing a hypoallergenic sheet is vital. Your best option is natural cotton sheets. The synthetic fabrics that are often in microfiber sheets can lead to discomfort or skin irritation.
When buying cotton sheets, keep quality in mind. It doesn't make sense to purchase low-quality sheets for your sensitive skin. Find a cotton sheet option that is labeled as hypoallergenic or safe for those with skin sensitivities, ready to pair with a mattress for allergies.
Budget
If you have a budget or strict price point you're sticking to, no problem! Both cotton and microfiber sheets are available in most every price point. Just remember you get what you pay for.
Quality sheets that are long-lasting will cost you more, but they'll hold up better over time. Cotton can be more expensive if you go with Egyptian cotton sheets.
Durability
Microfiber sheets are the more durable of these two sheet types due to their tight weave design. However, you can still find cotton sheets that are durable and will hold up well wash after wash.
Staple length is a key factor in durability. Look for long-staple cotton sheets if you want the durability of a microfiber sheet.
Feel and Comfort
How good or comfortable a sheet feels will vary from person to person. While cotton bedding are known for their silky soft comfort, that may not be what feels most comfortable to you while you're sleeping. Microfiber sheets offer you a moderately soft sleeping surface.
If you're not sure what feel you want, take a look at your current sheets. What are they made of? Are you satisfied with the level of comfort they give you at night? The answers to these questions will guide you in choosing cotton or microfiber sheets.
Coolness
Staying cool at night is important for a good night's sleep and preventing night sweats. If you live in a warmer climate or suffer from night sweats, cotton sheets will be the best choice. The best sheets for hot sleepers are often cotton and made with a percale weave. These sheets wick moisture away to keep sleepers cool and comfortable all night long.
Microfiber sheets aren't very breathable and can lead to nighttime sweating. However, these sheets will keep you cozy and warm during the winter and fall months. If you live in an area that experiences all 4 seasons, it may be helpful to have a set of both cotton flannel sheets and microfiber sheets on hand.
FAQs
Does sheet thread count matter?
Sheet thread count does matter to a certain extent when choosing your bedroom sheets. The thread count of your sheets represents the sheet quality and how comfortable or soft they are. A higher thread count usually means the sheets are both softer and more durable.
However, buying a set of sheets with a super high thread count isn't necessary. For most people, a thread count of between 300 and 500 is soft enough while also being durable. The staple length often matters more than thread count in regards to the quality of your sheets. When possible, opt for longer over shorter staple sheets.
How often should I change my sheets?
A good rule of thumb is to wash your sheets at least every 2 weeks. This will ensure your sheets don't accumulate bacteria, allergens, dead skin cells, or dust. If you are prone to night sweats or live in a warmer climate, washing your sheets once a week may be necessary.
You should replace your existing sheets with a new set of sheets every 3 to 5 years. If your sheets are thinning, fading in color, or have holes in them, it's time for some new sheets. Some sheets come with a warranty for how long they should last. However, most warranties do not cover everyday wear and tear.
Are microfiber sheets good for allergies?
Microfiber sheets are not ideal for those with allergies or skin sensitivities. Their synthetic materials and poor breathability can aggravate existing allergy symptoms. Those who have allergies will need to shop for hypoallergenic sheets.
Linen sheets, Tencel sheets, and sheets made with organic fabrics are all good options for allergy sufferers.
Is Egyptian cotton better than American cotton?
This cotton is considered by some to be better than American cotton. The former type of cotton has a much higher thread count and a more expensive price tag. A higher thread count means that sheets are more durable and made of higher-quality materials. Pima cotton is a higher-end type of cotton with a longer fiber than conventional cotton and originates in South America.
However, you can still find good quality, long-lasting cotton sheets that are less pricey than Egyptian cotton sheets.
What kind of sheets are crisp?
Percale cotton sheets are known for being crisp. That is why they are commonly used in top-rated luxury hotels. Surprisingly, these sheets have a lower thread count right around or slightly below 300. Percale sheets have high breathability and are great for summer. You can buy percale cotton sheets for crisp sheets at home.
What are better bed sheets? Microfiber or cotton sheets?
Bed sheets are up to personal taste. Each person should decide what qualities they prefer in their bed sheets. Many people prefer extra-long staple cotton bed sheets for various reasons, but this is not a definitive answer.
Conclusion
Both microfiber and cotton sheets have the potential to provide you with a comfortable sleep. The best sheets for you will depend on your personal preference and ideal sleeping environment. When shopping for high-quality durable sheets, pay attention to thread count and staple length. Microfiber and cotton sheets are both easy to wash
Allergy sufferers will want to pay special attention to the natural and synthetic materials used in their sheets. Buying cotton hypoallergenic sheets is the best choice for those with allergies or skin sensitivities.