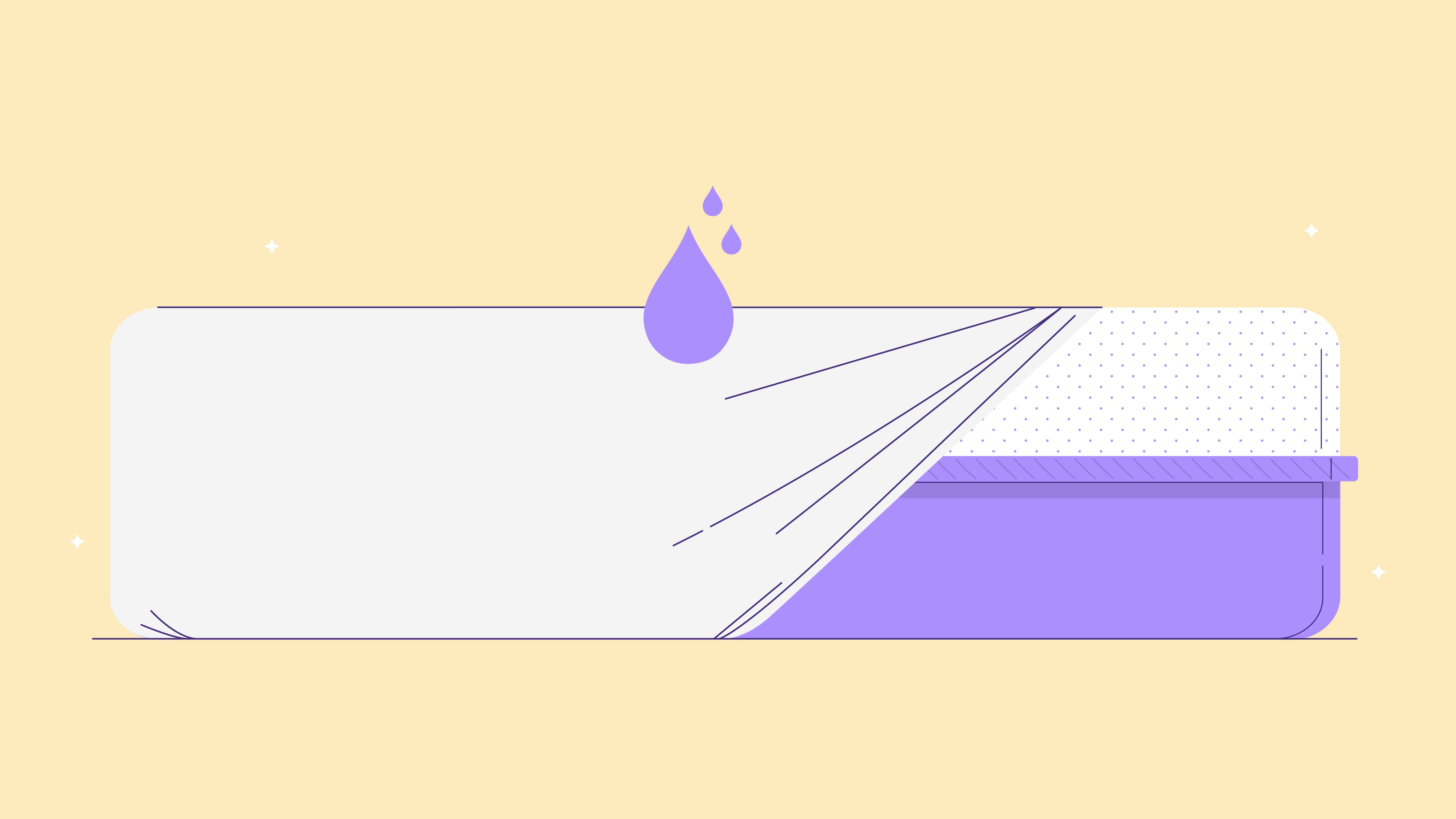 Best Waterproof Mattress Protectors of 2023

Bedding Guides
Accidents, leaks, and spills can soak into the fabric of your mattress cover, leaving behind stains or odors. Mattress protectors create a barrier between you and your mattress. They prevent allergens, dust mites, and other substances from getting into the mattress, preserving the mattress and protecting your health.
Waterproof mattress protectors come in different materials, which affects their breathability and how they feel. They should be silent, add comfort to your bed, and prevent fluids from reaching the mattress.
We've listed some of the best waterproof mattress protectors on the market. If you're not sure how to decide, we've also provided a shopping guide so you can make an informed decision.
Best Waterproof Mattress Protectors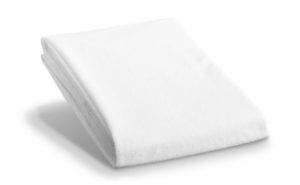 The Amerisleep Waterproof Mattress Protector adds a little luxury to mattress protection. It has a soft, cotton-blend jersey top layer with a non-toxic poly-laminate film backing. The stretchy poly side skirting allows it to fit mattresses between 8 and 18 inches deep. This protector provides a barrier for dust mites, dust, pet dander, and other allergens. It's also OEKO-TEX® certified, which means the mattress protector has not been exposed to harmful chemicals during the manufacturing process.
The breathable jersey has a softness that feels luxurious through your sheets. The 100% waterproof material is highly absorbent to stop fluids and redistribute them across the surface of the mattress protector.
The poly-laminate backing prevents fluids from reaching the mattress. At the same time, it's highly breathable, allowing air to circulate. That means no heat build-up and a comfortable night's rest. The Amerisleep mattress protector is machine washable in warm or cold water and should be air-dried. It comes with a limited five-year warranty.
Amerisleep Waterproof Mattress Protector Highlights
Soft, stretch cotton-blend jersey fabric is breathable
Poly-laminate backing provides a moisture barrier but allows air circulation
Absorbent top redistributes fluid across the surface of the mattress protector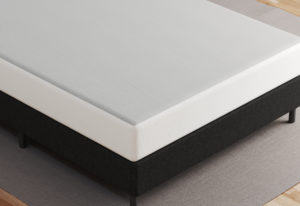 Next on our list is the Zoma Recover+ Protector, a waterproof mattress protector that also fights night sweats and regulates body temperature. Zoma designs this protector to complement their gel memory foam mattress and hybrid bed, and it's specifically engineered to help sleepers experience deeper sleep and faster recovery, so it's a great choice for sleepers with active lifestyles, hot sleepers, and sleepers with aches and pains.
Zoma's Recover+ Protector is one of the only protectors (that we know of) that can actually improve sleep quality. Although many people don't shop for waterproof mattress protectors with "better sleep" in mind, as the main purpose of these accessories is to protect your bed, the added bonus of temperature regulation can be helpful for certain sleepers.
Zoma's waterproof protector has two main materials: Recover+ technology and polyester fabric with TPU lamination and printing. Let's talk about those in more detail.
Recover+ technology is what gives this protector its temperature-regulating ability. It recycles the body heat you emit to infrared energy, and when your body absorbs that infrared energy, you experience an increase in local blood flow. That improvement in local circulation keeps you from heating up and allows you to enter deeper stages of sound, restful sleep.
The polyester and TPU lamination and printing work as a strong but breathable barrier to keep water, sweat, and other liquids from making contact with your mattress and staining your bed.
Zoma designs their waterproof mattress protector to fit like a fitted sheet, so it's easy to put on and take off of the bed. It has durable elastic edging to keep the protector secure, too. Zoma sells their protector on their website and offers free shipping with every purchase. Plus, their protector is backed by a 1-year warranty.
Zoma Recover+ Protector Highlights
Regulates body temperature to improve sleep quality
Has head/foot labels so making the bed is straightforward
Long-lasting and backed by a 1-year warranty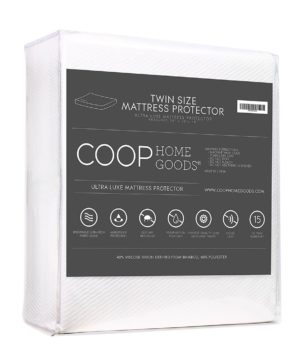 Coop Home Goods Ultra Luxe Waterproof Mattress Protector does everything a good mattress protector should do. It prevents fluids, allergens, and unwanted visitors like dust mites from entering the mattress. This protector fits mattresses up to 18 inches deep.
The Ultra Luxe is made with Lulltra™ fabric, a bamboo-derived viscose rayon and polyester blend that has an added waterproof polyurethane backing. The soft top layer allows heat and air circulate while the waterproof backing prevents moisture and allergens from reaching the mattress. It's also OEKO-TEX® certified, so sleepers know they won't be exposed to harmful chemicals while they sleep. The Ultra Luxe can be washed on the gentle cycle and tumble dried on the lowest possible heat setting or hang to dry.
The Ultra Luxe comes with a 100-night sleep trial and a limited manufacturer warranty.
Coop Home Goods Ultra Luxe Waterproof Mattress Protector Highlights
Breathable top layer reduces heat retention
Polyurethane backing prevents liquids and allergens from entering the mattress
Soft, Lulltra™ fabric adds to the bed's comfort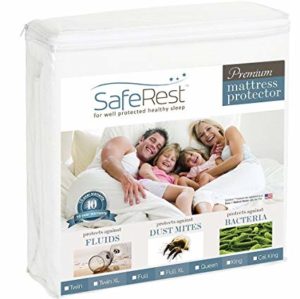 The SafeRest Premium Mattress Protector protects your mattress from much more than liquids. This hypoallergenic protector prevents all kinds of debris or animals from making your mattress their home. It's designed to keep out dust, dust mites, pet dander, and pollen.
The SafeRest is made of a cotton terry cloth with a polyurethane backing. While some polyurethane can trap moisture, this mattress protector has a breathable surface to prevent heat build-up. The washing instructions are fairly simple. It can be cleaned in hot or cold water with non-bleach detergent. To preserve the polyurethane surface, dry it on low heat.
This mattress protector comes with a 10-year warranty that includes coverage for material and manufacturing defects.
SafeRest Premium Mattress Protector Highlights
Breathable surface prevents heat build-up and overheating
Absorbent cotton terry top soaks up fluids
Polyurethane backing keeps fluids from reaching the mattress while allowing air circulation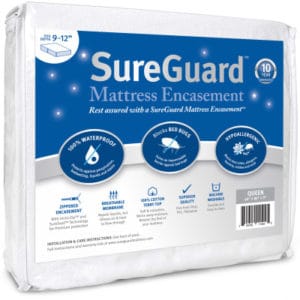 The SureGuard Mattress Encasement covers all sides of the mattress for the ultimate in all-night waterproof protection. However, it takes some work to lift the mattress and pull the encasement over the full mattress. It's an excellent choice for those with bedwetting issues or severe allergies. It can be used alone, or with an additional fitted mattress protector, so you don't have to completely remove the SureGuard after a spill or leak.
Like the SafeRest, the SureGuard protects from more than just fluids. It, too, prevents dust mites, pollen, mildew, mold, and pet dander from infiltrating your mattress.. The SureGuard completely seals the mattress with Invisi-Zip and SureSeal technology that not only keeps potential allergens out but also prevents bed bugs from infesting your mattress.
The moisture-wicking terry cloth surface helps keep the sleeper cool, while a breathable, waterproof membrane seals out liquids. It's machine washable in cold water and can be dried on low heat or air dry. The SureGuard comes with a 30-day money-back guarantee and a 10-year warranty to protect against defects in materials or manufacturing.
SureGuard Mattress Encasement Highlights
Protects every surface of the mattress
Terry cloth surface absorbs moisture as a first defense against leaks
Waterproof membrane keeps fluids out but allows air to circulate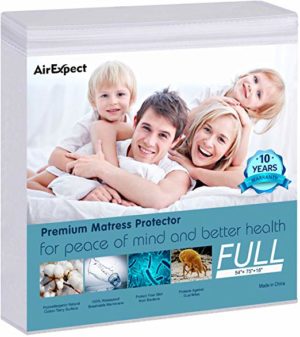 If you're on a budget, the AirExpect Waterproof Mattress Protector keeps fluids and allergens out of the mattress. The organic cotton terry surface, not the waterproof portion of the protector, is GOTS certified. To receive the GOTS certification, the cotton portion of the mattress protector underwent testing and monitoring to be sure the growing, harvesting, and manufacturing of the cotton were all done under strict organic standards.
A waterproof TPU membrane backs the cotton surface and prevents fluids from soaking into the mattress. This membrane allows heat and air to circulate to prevent overheating. It's also designed to be practically noiseless for a more peaceful night's sleep. And, like other mattress protectors on our list, it protects your mattress from dust, dust mites, and common allergens. It's machine washable and dryable on low heat.
The AirExpect does not come with a guarantee or warranty.
AirExpect Waterproof Mattress Protector Highlights
Absorbent cotton surface absorbs moisture as a first defense
TPU membrane prevents fluids from passing but lets air and heat circulate
Noiseless design for a quieter night's rest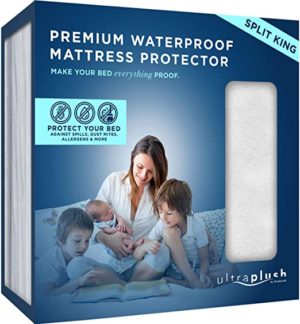 The Ultra Plush Waterproof Mattress Protector gets its name from its ability to absorb a high volume of liquid—up to 100 gallons. We're not sure that you would ever have 100 gallons of liquid in your bed, but it does have excellent absorbency.
A plush terry cloth surface provides comfort and absorbency, while a waterproof backing prevents fluid from reaching the mattress's surface. It's also hypoallergenic, resisting allergens like dust mites and pet dander. A deep pocket fits mattresses up to 18 inches thick. The Ultra Plush is machine washable, but you need to follow the laundering instructions to protect the waterproof barrier.
While the Ultra Plush doesn't come with a warranty, the manufacturer offers a refund or replacement if you're dissatisfied.
Ultra Plush Waterproof Mattress Protector Highlights
High capacity, absorbent terry cloth surface
Waterproof backing keeps fluids out but lets airflow
Redistributes fluids to prevent pooling and leaks
Mattress Protectors, Encasements, and Mattress Pads: What's the Difference?
Waterproof mattress protectors are not all the same. They come in different designs, sizes, and fabrics, all of which affect their feel and effectiveness. Mattress pads are similar to protectors, but there are some key differences, which we'll go over.
Fitted-Sheet Style
A fitted-sheet style waterproof mattress protector fits just like a standard fitted sheet. It has elastic around the edge to hold the mattress protector in place. These designs protect the top of the mattress but don't generally offer waterproof protection on the sides. The strength of the elastic and quality of the stitching and fabrics will determine how well the mattress protector fits and how long it lasts. Fitted mattress protectors are easy to wash as they can be cleaned every time you wash your sheets.
Encasement Mattress Protectors
Encasement mattress protectors are the ultimate in waterproof protection. They cover all six sides of the mattress, like a big zippered pillowcase. However, they're a little bit trickier to use because you have to lift the mattress, then pull the mattress protector onto it.
Many people use a fitted mattress protector over the top of encasement style protectors because they're easier to install and wash. If accidents or allergies are a serious problem, an encasement mattress protector adds an extra barrier of protection and is easier to clean than your mattress.
If you pair an encasement with a mattress and topper, you will have to account for the thickness of the mattress topper along with the mattress's height.
Mattress Pads
Mattress pads are not the same as mattress protectors, although they do protect your mattress from spills and liquids. However, unlike mattress protectors,  they have no sides and only cover a portion of the mattress top, which means they don't protect the mattress from allergens or dust mites. Mattress pads come in various sizes.
Mattress pads are generally about the width of a twin mattress but shorter in length. Mattress pad protectors may have some kind of non-skid backing to hold them in place. However, some may have a vinyl backing, which can be slippery and hot.
If frequent bedwetting is an issue, mattress pads can be easier to clean than a fitted mattress protector. They more easily fit in a washing machine and are smaller when folded for storage, too.
Waterproof Mattress Protector Budget
Waterproof mattress protectors vary in price from as little as $20 to over $100. Mattress protectors at the bottom of the price range are usually made of vinyl. Vinyl is inexpensive and waterproof, but its poor breathability leaves many sleepers hot and sweaty.
Some relatively inexpensive waterproof mattress protectors with soft terry cloth tops and breathable TPU backing are sold in the $25 to $50 range. Most of these mattress protectors are fitted, so make sure the one you choose will fit your mattress.
Mattress covers in the $50 to $100 range often have soft cotton terry cloth or jersey tops with a TPU or poly-laminate backing. Others in this category may have an absorbent quilted top that adds some cushioning. These models are usually highly absorbent and may have fabrics that are meant to be comfortable as well as waterproof. You'll also find encasement mattress protectors in this price range.
Sleeping Cool and Airflow
A temperature neutral sleep experience allows sleepers to enjoy their sleep cycle unhindered by temperature changes. Your body temperature drops as you enter your sleep cycle. It continues to fluctuate throughout the night. However, it doesn't reach your daytime body temperature until the body starts the wake-up process. Overheating can prematurely bring your body out of the sleep cycle, not to mention the fact that it can leave you hot and uncomfortable.
Waterproof mattress protectors were once notorious for trapping body heat. That was due in large part to the use of vinyl. You can still find some 100 percent vinyl mattress protectors. These models do not allow heat, moisture, or air to circulate. You're likely to get sweaty even if you cover the vinyl mattress protector with a breathable sheet.
Breathable cotton fabrics like terry cloth and jersey with a waterproof backing like TPU (thermoplastic polyurethane) or poly-laminate are a better option. The top layers are soft and absorbent, while the waterproof barriers are porous enough to allow heat and air to circulate.
Waterproof mattress protectors are machine washable, but be sure to follow the washing instructions. We do not recommend drying your waterproof protector in the dryer, since the heat can destroy the waterproof lining. Instead, air dry whenever possible.
Common Questions
Is a waterproof mattress protector effective against moisture and leaks?
Waterproof mattress protectors are incredibly effective against moisture and leaks. Absorbent top layers soak up sweat and other body fluids while the waterproof barrier prevents moisture from passing through to the mattress. Avoid vinyl. Various polyurethane waterproof barriers are made with porous structures that keep fluids out and but allow heat and air to escape.
Do you need a waterproof mattress protector?
Protecting your mattress from leaks can prevent mildew, mold, stains, and odors. Waterproof mattress protectors prevent more than fluids from getting into the mattress. Pet dander, pollen, dust, and dust mites can easily become embedded in your mattress cover, too. Some encasement mattress protectors can also protect your mattress from bed bugs.
Unfortunately, the fabric and foams in your mattress can easily absorb fluids, while the fibers of the cover are the perfect place for dust and dander to get lodged. Mattress protectors are machine washable and give you a quick, easy way to keep your bed clean. It may be a good idea to have an extra one around so you can put a new one on while the soiled one gets washed.
How can I protect my mattress from stains?
A waterproof mattress protector is the best way to go. If you're worried about any part of the mattress being left unprotected, consider using both an encasement mattress protector and a fitted mattress protector. Another option is to use a fitted mattress protector and a pad mattress protector. Two waterproof layers of protection ensure that your mattress stays safe and clean.
Are waterproof mattress covers breathable?
It depends on the material used to make the cover waterproof. Vinyl is not known as a breathable material, so we recommend avoiding mattress covers with it. Look for a cover that pairs polyurethane with a breathable fabric such as cotton.
How do you clean a waterproof mattress cover?
Your mattress cover should include a set of care instructions from the manufacturer. But in general, you should wash your waterproof cover on a gentle cycle with bleach-free detergent—bleach can damage the waterproof backing, causing liquid to seep through. Then, you dry it on a low setting since high heat can also damage the waterproof backing. Try to wash your mattress protector about every two months, and make sure you wash a new mattress protector before you use it.
Waterproof Mattress Protectors: The Bottom Line
Waterproof mattress protectors prevent stains, odors, mildew, and mold from damaging your mattress. They also protect your mattress from common allergens.
Mattress protectors are easy to wash, but be sure to follow all washing instructions. Avoid drying them in the dryer.
There are several types of waterproof mattress protectors, including pads, fitted mattress protectors, and those that completely encase the mattress. Pads may technically be a mattress protector because they can be waterproof, but they cannot protect the mattress from dust mites and allergens. Fitted mattress protectors fit on the mattress like a fitted sheet and can successfully protect five sides of the mattress from liquids, dust mites, and allergens. Encasement protectors cover all six sides of the mattress, providing the most protection but also the most work to install.
Waterproof mattress protectors preserve the investment you've put into a high-quality mattress. They can also add to your comfort and peace of mind, so you can get a full night's rest.