Best Truck Bed Mattress (2023): Reviews and Buyer's Guide
Updated February 02, 2023

Mattress Guides
Are you planning an outdoor adventure this summer? Maybe you're taking a camping trip with family or you're heading out to the desert for a few days. Regardless of where you're going, a supportive and comfortable truck bed mattress is an essential part of your gear, as there is nothing worse than an uncomfortable night of sleep when you're on vacation.
Air mattresses are often the go-to when it comes to outdoor sleeping, but they can be a hassle to inflate, and they tend to lose their firmness quickly and cause you to sink to the hard truck bed below. Likewise, a thin sleeping bag pad may not offer enough cushioning against the firm truck bed surface, resulting in painful pressure points in the morning.
To get the best sleep while you're away, we suggest opting for a sturdier, more supportive mattress for your next road trip.
In our post, we outline some of the most advanced mattresses on the market and talk about why they're the perfect fit for your truck bed. We also provide helpful shopping tips to help you narrow down the selection and choose your best truck bed mattress.
Best Truck Bed Mattresses of 2023
| | Mattress | Highlights | Price |
| --- | --- | --- | --- |
| | Amerisleep AS3 | Unique plant-based memory foam, Bio-Pur®, is non-toxic, breathable, and contours to the body for pressure relief. | |
| | Zoma Mattress | Memory foam comfort layer is zoned with Triangulex™ technology for accurate contouring and lumbar support. | |
| | Vaya Mattress | Two hypoallergenic foam layers with a slight bounce that prevents uncomfortable sinking. | |
| | Milliard Tri-Fold Mattress | 1.5-inch memory foam comfort layer and two hinged seams that allow for easy storage. | |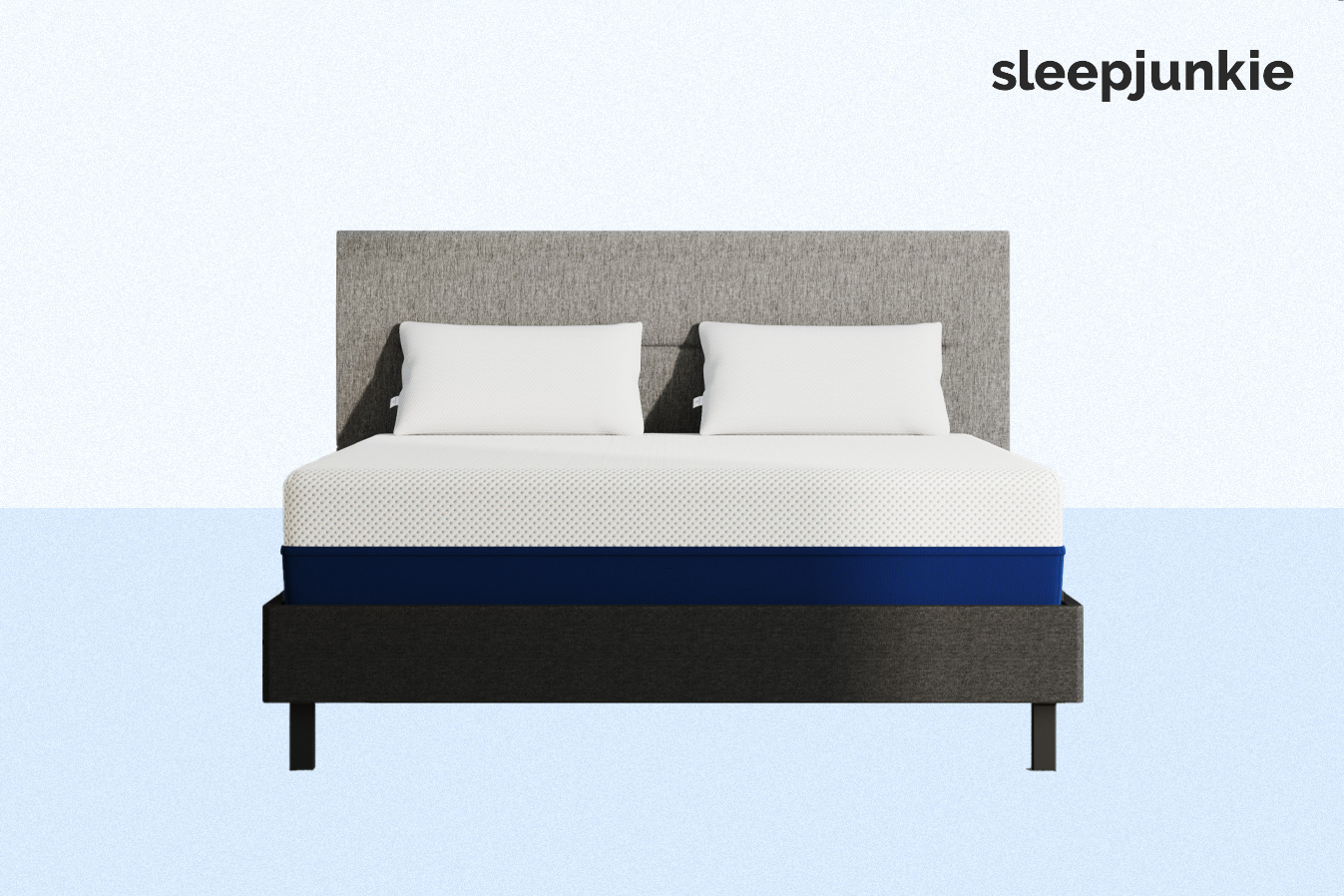 Amerisleep is an innovative and eco-friendly mattress brand that offers 5 different memory foam beds and 3 hybrid models. From their lineup, the Amerisleep AS3 is the most versatile because it has a medium comfort level that is suitable for most sleep positions and body types. Whether you are sleeping under the stars or at home, you will find a good night's sleep on the AS3.
The cover of this mattress is made with a lightweight material that keeps you cozy and comfortable without trapping heat. This cover is also removable and machine washable, which is ideal for truck camping.
Beneath this cover is Amerisleep's unique Bio-Pur® layer. This foam is made with partially plant-based oils, rather than 100 percent petroleum-based oils. By using natural oils, Amerisleep is able to create a memory foam that is sustainable, non-toxic, and more breathable than traditional memory foam varieties. Plus, this material contours to the curves of the body with pressure-free support, so you can completely relax and recover from your day.
The transition layer of the AS3 features Adaptive foam with HIVE® technology. This responsive material provides a balance of cushioning and support to each area of the body. Along the back and neck, HIVE® is firmer and more supportive. Near sensitive hips and shoulders, it is softer and offers more compression to protect against pressure points.
The base of the AS3 is made of a sturdy foam called Bio-Core®. This material is strong, durable, and helps guard against sagging and indentations. With this stable support base, you can feel comfortable placing the AS3 in the back of your truck. Not only will this mattress keep you supported on your camping trip, but it is also durable enough to last for up to 8 years. Amerisleep even backs the quality and construction of the AS3 with a 10-year warranty.
The AS3 comes in several sizes, including twin, twin XL, full, queen, king, and California king. So, it is easy to find the perfect fit for the bed of your pickup truck.
Amerisleep AS3 Highlights
Removable, machine-washable cover
Zoned transition layer supports each area of the body accurately
Stable support base that increases durability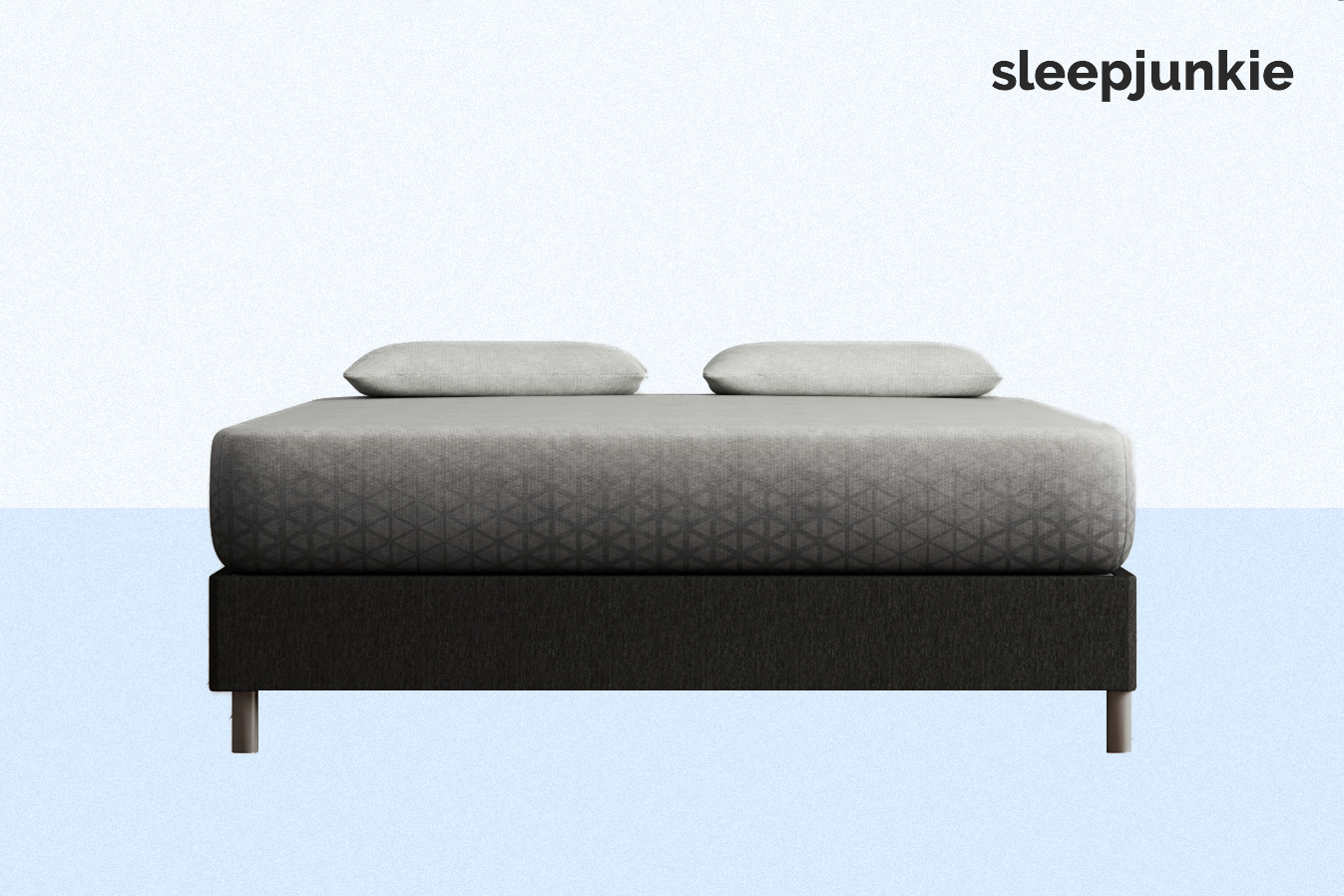 Another good option for your truck bed mattress is the Zoma. This mattress was specifically designed to provide athletes with deeper, more restorative sleep. Now, you can take this advanced bed on your camping trip and experience all it has to offer.
The cover of the Zoma is made with a soft, stretch-knit material that is ventilated to keep body heat from building up in the mattress. The comfort layer of the Zoma is made with their proprietary memory foam with Triangulex™ technology. Across the surface of this foam are hundreds of triangular cutouts that respond differently to pressure. This feature ensures that joints remain cushioned and the lumbar region is supported.
Zoma's Reactiv™ foam makes up the transition layer of this mattress. This material has a slight bounce that reduces sinking, so the heaviest parts of the body stay lifted and aligned. This layer also helps reduce motion transfer, which is great for couples who frequently toss and turn.
A durable, high-density foam supports both of these foam layers. This base maintains the structure and integrity of the mattress, so it can keep you comfortable and supported throughout many vacations.
The Zoma Mattress comes with a 10-year limited warranty that covers manufacturing defects such as sagging and indentations. It is also available in most standard US mattress sizes.
Zoma Mattress Highlights
Zoned Triangulex™ technology keeps the lumbar region supported
Responsive transition layer reduces uncomfortable sinking
Sturdy support base that prevents sagging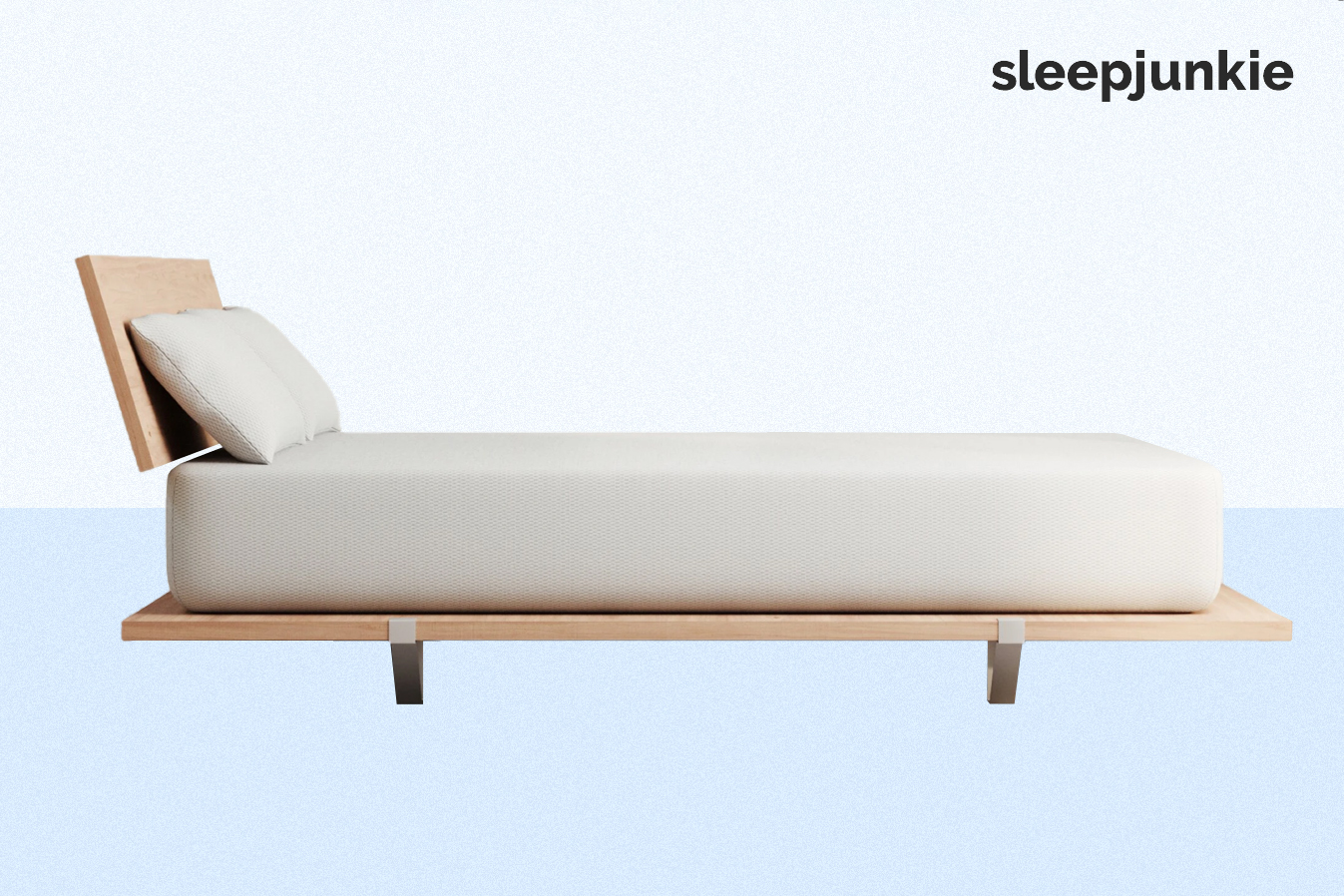 The Vaya is an affordable mattress made with two hypoallergenic foam layers. This bed has a medium feel that is soft enough for side sleepers and supportive enough for back sleepers. Adding this mattress to your truck bed will help you sleep comfortably when you're traveling.
The cover of the Vaya features soft, breathable material that moves with the body throughout the night. Beneath this cover is Vaya's memory foam, which is designed to be more responsive than traditional memory foam, so you never have to worry about excessive sinking on this mattress. This material cradles the body and keeps the spine resting in a safe, neutral position so you wake with fewer aches and pains.
The base of the Vaya is made with a stable support base that keeps you supported and ensures the mattress won't sag or develop indentations.
The Vaya Mattress is covered by a 10-year warranty and is available in several mattress sizes. This memory foam bed can help you turn your pickup truck bed into a luxurious sleep space.
Vaya Mattress Highlights
Hypoallergenic foam layers
Versatile medium firmness that works well for most sleepers
Comfort layer keeps you lifted, rather than sunk in the mattress
For a foldable option, the Milliard Tri-Fold Mattress is a good choice. This bed has a 1.5-inch memory foam comfort layer that contours to the body to create a weightless sleep. Supporting this layer is a 4.5-inch high-density poly-foam base that maintains the mattress's structure and reduces excessive sinking. With these two layers, the Milliard Mattress has a low profile that works well for RVs and campers. Both foam layers are backed by a CertiPUR-US® certification, guaranteeing it will have minimal off-gassing.
The cover of the Milliard Mattress is made with a soft, lightweight bamboo that is super absorbent so you sleep cool and dry throughout the night. This cover is removable and machine washable, so it is easy to keep the bed clean and in good condition. The bottom of the cover features no-slip grips that keep it firmly in place, so you won't have to worry about it sliding around in your truck bed.
To make this mattress foldable, Milliard includes two hinged seams that allow the bed to fold into 3 sections. With this feature, you can quickly fold the mattress for easy storage. The Milliard Tri-Fold Mattress is available in three different sizes, twin XL, full, and queen. Their sizes vary slightly from standard US sizes, so be sure to verify dimensions before ordering.
Milliard Tri-Fold Mattress Highlights
Foldable for easy storage
Removable, washable cover
Low profile design for campers and RVs
Inflatable Truck Bed Mattress Options
Air mattresses are not always ideal, but, in a pinch, they can be a quick, budget-friendly option. However, keep in mind that these beds typically only last one to two seasons.
Below, we outline two inflatable truck beds that are popular among outdoor enthusiasts.

| | Mattress | Highlights | Price |
| --- | --- | --- | --- |
| | AirBedz Pro3 Air Mattress | The built-in DC air pump makes inflation quick and easy. | $189-219 |
| | Rightline Gear Truck Bed Air Mattress | Low-profile design is great for SUVs and truck tents. | $75 |
The AirBedz Pro3 Air Mattress by Pittman Outdoor is 12 inches thick when fully inflated. It is available in three different lengths, 6 feet, 6.5 feet, and 8 feet. The 6.5 and 8 feet option measure 63.5 inches wide, and the 6 feet option measures 55 inches wide. For easy inflation, it has a built-in DC corded pump. Deflation is also quick and efficient with just the push of a button. Once flat, you can roll this bed up and place it inside the included duffle bag.
This air bed has an integrated air-coil system that keeps weight evenly distributed. Wheel well cutouts on the sides of the mattress allow you to maximize the space in your truck bed. The Airbedz Pro3 comes with a 1-year limited warranty.
For a lower profile option, the Rightline Gear Truck Bed Air Mattress is a great choice. This bed sits 7 inches high when inflated. It has a built-in 12V air pump that inflates and deflates the mattress in seconds. The flocked top is waterproof and puncture-resistant, which is perfect for poor weather. Interior air coils prevent excessive sinking and keep you from rolling off the mattress.
The mid-size Rightline Gear Truck Bed Mattress measures 5 to 6 feet long and 44 inches wide. It is designed to fit most truck bed sizes and sits between the wheel wells so you can store your gear and supplies along the sides.
Other Things to Consider When Shopping for a Truck Bed Mattress
As you shop for a truck bed mattress, there are a few things you will want to keep in mind. Below, we offer some tips on how to choose the right size and style for your needs.
Firmness
Most advanced mattresses on the market today come in various firmness levels. The firmness level that sleepers gravitate toward in the most comfortable mattresses often depends on their body type and preferred sleep positions.
Inflatable mattresses don't necessarily have a set firmness. However, you can adjust the feel of the bed by increasing or decreasing the amount of air in the mattress.
Sleep Positions
Side Sleeper: Those who prefer side sleeping typically prefer a mattress with a soft to medium firmness. This comfort level keeps the joints cushioned to prevent pressure points. If you are a lightweight sleeper, a softer mattress may work best. However, if you are average weight, you may prefer a medium firmness to reduce sinkage.
Back Sleepers: When resting on the back, bodyweight needs to be evenly distributed to prevent tension build-up and spinal misalignment. Therefore, these sleepers need something that is slightly firmer, such as a medium to medium-firm mattress.
Stomach Sleepers: We recommend avoiding stomach sleeping whenever possible. This position puts pressure on the spine, which keeps the back muscles tense throughout the night. However, if you can't avoid this position, it is best to choose a firm mattress. This comfort level will keep the torso lifted and in alignment with the shoulders to decrease pressure on the spine.
Combination Sleepers: If you toss and turn throughout the night, a medium comfort level will work best for you. This firmness will keep sensitive joints cushioned to prevent pressure points. Plus, the comfort level is firm enough to keep the body lifted and aligned to alleviate tension in the back.
Bodyweight
Lightweight Sleepers: (less than 130 pounds) Lightweight sleepers tend to sink very little, so they need a mattress with a lot of give. A soft to medium-soft mattress will provide these sleepers with maximum contouring and comfort.
Average Weight Sleepers (130-230 pounds): Average weight sleepers need a mattress that will cushion joints without excess sinking. In most cases, a medium comfort level works best.
Heavy Weight Sleepers (230 pounds or above): Firmer options tend to be the most comfortable mattresses for heavy sleepers. A medium-firm to firm bed will prevent excess sinking so the spine can rest in a safe, neutral position.
Mattress Types
These are several different types of mattresses on the market today. However, not all of them are suitable for your truck bed. Below, we explain which styles will be more convenient for your road trip, while also keeping you comfortable and supported throughout the night.
Foam Mattresses
Foam mattresses are a great choice for a truck bed. These mattresses contour to the body so muscles can fully relax and tension can release. However, these are several different types of foam beds to choose from.
Memory Foam: Memory foam is incredibly responsive and hugs the curves of the body with pressure-free support. Memory foam mattresses are ideal for side sleepers and those who live with chronic pain. Plus, memory foam is available in several different firmness options, so it is easy to find a comfort level that is suited to your sleep position and body type.
Latex Foam: Latex foam is derived from the sap of the rubber tree, so this material has a natural elasticity. This quality gives latex foam a slight bounce that keeps sleepers lifted on the mattress, rather than cradled. Latex foam mattresses are perfect for heavy sleepers who want to experience the pressure relief of foam without excessive sinking.
Poly-Foam: Low density poly-foam, which is often used in the top layer of a mattress, deteriorates and loses its bounce quickly. Therefore, we recommend opting for a mattress with a memory or latex foam comfort layer. However, high-density poly-foam makes a great mattress base because it is sturdy and supportive.
Inflatable Air Mattresses
Inflatable air mattresses are not always the most comfortable mattress option. However, for a cheaper alternative, these beds are a suitable option for camping. When choosing an air mattress, be sure it is made with a heavy-duty PVC. This material will help reduce leaks and holes that could damage the mattress.
A built-in air pump is also useful. This feature allows you to quickly inflate your mattress without any additional equipment. An internal air coil system will also help the mattress maintain support throughout the night. This feature is especially useful for back sleepers and heavy sleepers.
Hybrid Mattresses
Hybrid mattresses have a 2 to 3-inch comfort layer with a base of pocketed spring coils. These materials are perfect for those who prefer the bounce of a steel coil mattress but also want the pressure relief of foam. Since these beds tend to be heavy and thicker, they may not be the best option for your truck bed.
Innerspring Mattresses
For many years, innerspring mattresses have been a popular choice. However, they are quickly falling out of favor as more advanced foam beds enter the market. Innerspring beds have a thin comfort level, which causes you to feel the spring coil base beneath. Over time, this can lead to painful pressure points near the joints. Plus, these mattresses tend to be too bulky for a road trip.
Size
Truck beds come in a number of size options—they typically measure anywhere from 60 to 97 inches long and 50 to 63 inches wide. The most common truck bed dimensions are 6 feet, 5 inches long (77 inches) and 4 feet wide (48 inches). This is an uncommon mattress size, it is easier to purchase a standard mattress that fits within your truck bed's measurements.
Before purchasing a mattress for your truck bed, it is a good idea to measure the interior of your truck's bed. When doing so, be sure to account for the wheel wells. This will ensure that you get a mattress that fits the entire truck bed.
Once you have the correct measurements, it will be easier to select the standard US mattress size that will fit your truck bed. In most cases, twin, full, and queen size mattresses work best for truck beds. If you have a narrow yet long truck bed, a twin XL mattress may fit comfortably. Below, we break down the most common mattress dimension so you can determine which one will fit your truck bed.
| Mattress Size | Dimensions (IN) | Dimensions (CM) |
| --- | --- | --- |
| Twin | 38 inches by 75 inches | 96.5 cm by 190.5 cm |
| Twin XL | 38 inches by 80 inches | 96.5 cm by 203.2 cm |
| Full | 54 inches by 75 inches | 137.2 cm by 190.5 cm |
| Queen | 60 inches by 80 inches | 152.4 cm by 203.2 cm |
| King | 76 inches by 80 inches | 193 cm by 203.2 cm |
| California King | 72 inches by 84 inches | 182.8 cm by 213.4 cm |
Price
Mattress prices vary considerably. Inflatable air mattresses are the cheapest option when it comes to a truck bed. Those with built-in pumps and air coils tend to be more expensive, between $200 and $300. However, keep in mind that these beds are less durable and may only last you for one season. A foam mattress may cost more upfront, between $500 and $1500, but these beds can last up to 8 years depending on the quality of the foam.
Frequently Ask Questions
Does a full size mattress fit in a truck bed?
A full mattress measures 54 inches wide by 75 inches long. A standard truck bed measures 6 feet, 5 inches (77 inches) long. This length will accommodate a full size mattress. However, the truck should be at least 4.5 feet wide (54 inches) for a full mattress to fit comfortably.
Does folding a mattress damage it?
A memory foam or latex foam mattress can become damaged if folded. If the bed remains folded for too long, indentations can develop, affecting the comfort and support the mattress provides. However, some foam mattresses come with hinged seams that are designed for folding.
What size mattress will fit in a truck bed?
In most cases, twin, twin XL, full, and queen mattresses fit in a truck bed. If your truck bed is narrow but long, a twin XL or a full may be your best bet. If you have a long bed truck (at least 8 feet long) a queen size bed should fit well as long as the truck bed is 60 inches wide.
How do you clean a mattress?
If your bed has a removable cover, it is easy to clean your mattress and keep it in good shape. If the mattress does not have a removable cover, it is best to spot treat stains or use a steam cleaning or carpet cleaning wand. You can also lightly sprinkle the mattress with baking soda and thoroughly vacuum afterward.
What size are most truck beds?
If the truck has a long bed, it will likely measure 8 feet long. A standard truck bed will measure 6 feet, 5 inches, and a short bed will be 5 feet 8 inches. In terms of width, this will depend on the size of the cab. Most truck beds will measure between 50 and 60 inches wide.
Conclusion
Whether you are going on a long road trip or briefly escaping to the great outdoors, a high-quality mattress for your truck bed can help you sleep better and wake up feeling refreshed. Before you head out, be sure to consider the level of support your mattress will be able to provide. We often spend a lot of time and money selecting the best camping gear available, and the bed we rest on should be no exception.