Best Throw Pillows: Reviews and Buyer's Guide

Bedding Guides
Pillows do more than just offer healthy support for your head and neck while you sleep. The best throw pillows are statement-making decorations, allowing you to add a pop of color or texture to any room and transform its look and feel. A good throw pillow can tie a room together, acting as the perfect finishing touch.
You can find throw pillows most anywhere, from one-stop-shops like Target to home furnishing retailers such as West Elm. However, because there are so many different throw pillows out there, it can be overwhelming to choose what best complements your home decor.
In our guide, we cover different types of throw pillows as well as our favorite throws to add to your collection.
Best Throw Pillows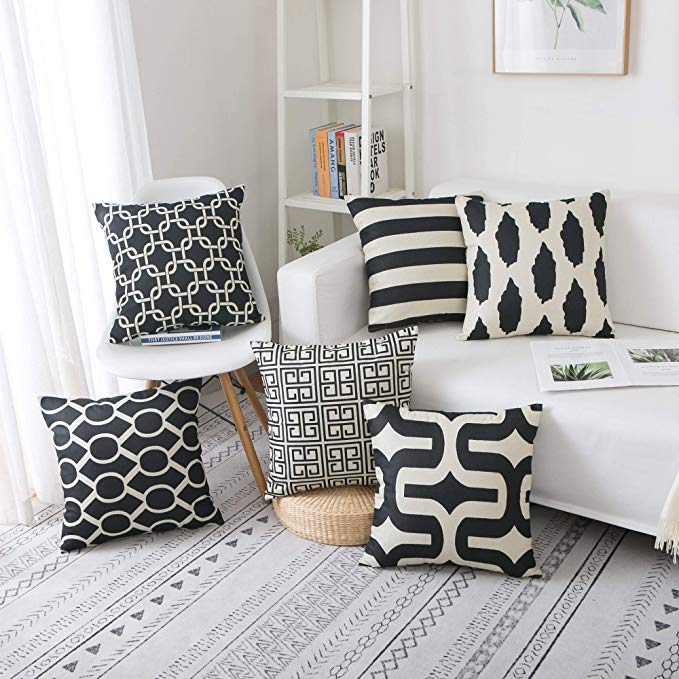 The first selection on our list is a bundle of six high-quality throw pillow covers. We're fans of famibay's set of throw pillow covers because they're all the same color and feature complementary geometric patterns. Because they're all the same color, these linen throw pillows are relatively simple to decorate and arrange.
These covers are 18 inches by 18 inches, so they work with most standard throw pillow inserts, and each set is carried in over a dozen color options. They feature an invisible zipper, allowing you to easily slip them off when it comes time for cleaning.
famibay's throw pillow covers are a breathable cotton and linen blend, so they're best used indoors only. These covers don't come with pillow inserts, but the inserts you choose will influence the overall feel of the throw. If you want a plusher pillow, choose inserts with down or feather filling.
While famibay makes our favorite throw pillows for decorating, they're not fit for sleep. If you need to find the best pillows for sleeping, check out our other guide.
When it comes to outdoor pillows, we're fans of Greendale Home Fashions Rectangle Throws because they're UV-resistant, water-resistant, and made of durable polyester fabric. Plus, they're available in several solid colors, geometric patterns, and floral prints to match any patio decor.
Greendale Home Fashion Rectangle Throws come in a set of two and measure 19 inches by 12 inches. They stuff their pillows with recycled polyester fiberfill to increase their throws' durability while maintaining a soft feel.
While these pillows are designed for outdoor use, you can extend their lifespan by keeping them out of direct sunlight and bringing them inside during storms. Greendale Home Fashions also recommends you hang dry your pillows should they ever become rain-soaked.
The next throw pillow on our list is the simple Bolster Pillow by Mercury Row, sold in several solid colors.
Mercury Row's Bolster Pillow has a polyester-blend cover designed to feel similar to velvet or chenille. Its cylindrical shape gives it a modern, minimalistic look. It comes with a convenient zipper allowing you to easily remove the cover from the insert when it comes time for washing.
The Mercury Row Bolster Pillow measures 8 inches high by 21 inches wide by 8 inches deep, and you can buy it online on AllModern or Wayfair's website.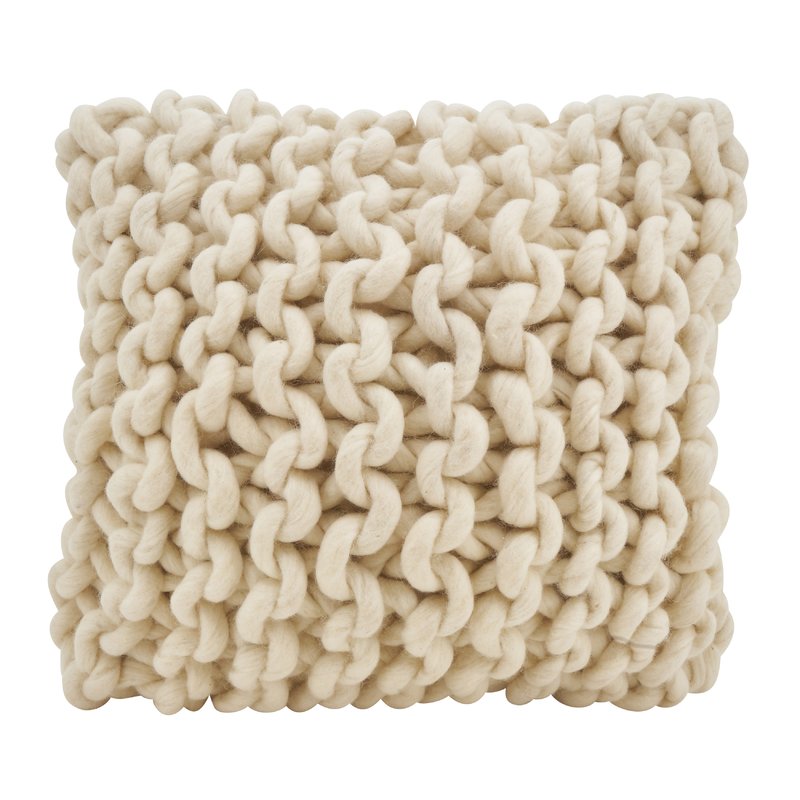 Wayfair sells hundreds of different wool throw pillows, but we're fans of their Boykins Chunky Cable Knit Wool Throw because it's made of thick, woven wool and offers a lot of texture.
If you're looking to make a piece of furniture appear more inviting or give your room a warmer look, these wool throws are perfect. The Boykins Chunky Cable Knit Wool Throw is available in solid colors, but its woven design gives it a more enhanced look and feel.
The Boykins Chunky Cable Knit Wool Throw measures 18 inches by 18 inches and comes with a removable cover for easy maintenance. Because the cover is wool, it should always be dry cleaned. Machine washing this wool cover can result in permanent damage. The pillow insert included with this pillow is stuffed with down and feathers, so it should feel pretty plush and comfy.
The next pillow on our list is At Home's brightly colored Nina Round Velvet Pillow. It's available in stores only and comes in a variety of different colors depending on the store you visit.
The Nina Round Pillow is 18 inches around and has a soft-to-the-touch velvet cover. Around the perimeter of the pillow are fluffy pom-poms to give the pillow a bit of flair.
The cover of this pillow is sewn together with the insert, so it's not the easiest to clean. When it comes time to freshen up your pillow, read the care tag for the best ways to wash your pillow.
West Elm's Mongolian Lamb Pillow Cover is the most luxurious option on our list and features genuine Mongolian lamb fur and 100% cotton. West Elm sells these covers in various square and rectangular shapes, their dimensions include 16 inches by 16 inches, 24 inches  by 24 inches, 12 inches by 21 inches, 12 inches by 16 inches, and 14 inches by 36 inches.
The fur on this pillow is fluffy, curly, and super-soft— placing one of these pillows on a piece of furniture is an easy way to make it look warmer and more inviting. West Elm currently carries this pillow in six different colors, including tan, peach, teal, white, navy blue, and grey.
These throw pillow covers come with an invisible zipper, so they're easy to put on or take off, and they should always be dry cleaned. We should note, West Elm does not include a pillow insert with this cover, so you'll need to either buy your own or use an existing pillow with compatible dimensions.
Next up is Anthropologie's Tasseled Chenille Nadia Pillow featuring a trio of solid colors, pom poms, and tassels. These pillows have a bohemian vibe, and their oversized tassels make a chic statement— they're great for adding a bit of style to any couch, chair, or bed.
Anthropologie sells the Tassled Chenille Nadia Pillows in ivory and light blue colors. They're woven with chenille fabric and stuffed with poly-fill. Plus, they have a removable cover in case of accidents. Though the cover is removable, it should be spot-cleaned only.
The Tassled Chenilla Nadia Pillow measures 22 inches by 22 inches; because it is a bit larger than other throw pillows, it works best on couches and beds rather than armchairs.
If you're looking for a statement-making throw, consider JWH'S Sunflower Accent Pillow— Amazon's #1 Best Seller in "Throw Pillows." The JWH Sunflower Accent Pillow comes in over 20 different colors and features bold, 3-D flower petals.
JWH's round accent pillow is available in 12-inch, 13-inch, 14-inch, and 18-inch sizes, and every pillow comes with both a removable cover and pillow insert. Even though the cover of this pillow is removable, it should still be spot-cleaned to maintain the integrity of the petals.
The cover of this floral pillow is a 100% cotton canvas while the petals are made using super-soft velvet, giving the pillow a dynamic feel. JWH stuffs this pillow with polypropylene cotton, making it plush but breathable.
If you're looking for a throw blanket and pillow duo, we recommend Comfort Spaces Shaggy Long Faux Fur bundle— including one 18-inch by 18-inch throw pillow cover and a 50-inch by 60-inch blanket.
We like the Shaggy Long Faux Fur bundle because it features super-soft, fuzzy microfiber to keep you cozy and warm. Plus, their microfiber is hypoallergenic, so it's ideal for people who suffer from allergies or sensitive skin.
The Comfort Spaces shag blanket and pillow combo is perfect for adding texture to a room because it has extra-long faux fur. You can buy it on Amazon in either grey or peach colors.
While a good pillow can help alleviate pressure points, they offer only a fraction of the benefits
best adjustable beds
can provide. Read our guide to learn more.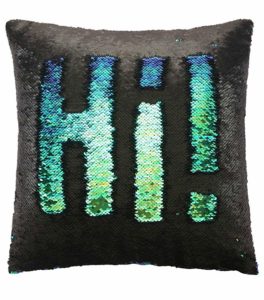 If you're looking to decorate a kids room, you can't go wrong with SIRENE'S color-changing sequin pillow. The sequins on this pillow are black, but when you rub your hand across the pillow, they shift to reveal a blue-green gradient.
These pillows are perfect for kids because they can use their fingers to draw and create fun pictures or words on them. Adults love them too, as drawing with the sequins can be relaxing and stress-relieving. Many reviews of this pillow mentioned the calming effects of drawing with the sequins.
You can buy SIRENE's pillow on Amazon. It comes with the sequin cotton cover and a 16"x16" pillow insert. When you receive the pillow in the mail, put the cover around the case, zip it up, and you're good to go.
SIRENE stuffs their pillow insert with polyester fiber-fill, so it's not extremely plush, but it should be very durable.
What is a Throw Pillow?
Throw pillows, sometimes known as toss or accent pillows, are small decorative pillows you can place on chairs, sofas, and beds. They're not drastically different than pillows you use for sleeping, but they're almost exclusively for aesthetic purposes.
Throw pillows are made with numerous different textiles, including cotton, linen, silk, leather, wool, faux fur, linen, velvet, suede, and chenille. They also come in a variety of different colors and textures to fit well with any decor. Plus, you can even buy weather-resistant throw pillows to decorate your outdoor living spaces.
Whether you want to add some flair to your living room or introduce loud, bold patterns to an otherwise quiet reading nook, throw pillows are a relatively inexpensive way to enhance the look of any room.
Types of Throw Pillows
As you can imagine, there are hundreds of different throw pillows out there to buy. They come in varying sizes, odd shapes, and an array of colors— but there are only four main types: bolster, square, rectangular, and round.
Bolster: Bolster pillows have a distinct long, narrow, cylinder shape. These are commonly stuffed with cotton, foams, down, or other fibers and have no standard size. Instead, these pillows are sold in a variety of cylindrical dimensions. Most often, these are used to complement an armchair or as the "middle" throw on a long sofa. Bolster pillows also double as comfortable and supportive knee pillows.
Square: Square pillows, otherwise referred to as Euro pillows, have perfect square dimensions. They come in a variety of sizes, but they're always exact squares. Square throw pillows are the most common, so you'll likely have the most texture and color options with these.
Rectangular: Rectangular pillows, also known as lumbar pillows, have a rectangular shape. Most often, they are wide and short rather than tall and thin. Beyond decorating, you can buy lumbar pillows to place below the small of your back for extra support while you sleep— hence the name "lumbar."
Round: As the name implies, round pillows are circular. These are different than bolster pillows due to the fact that they're not a tube. Instead, they more closely resemble square or rectangular pillows, but have a rounded shape.
These pillows come in an assortment of sizes, but the most common dimensions for throws are 16 inches by 16 inches or 18 inches by 18 inches.
As we mentioned earlier, throw pillows can be made with a medley of textiles, but they are usually only stuffed with feathers, foam, or synthetic fibers. Unlike the pillows you use for sleep, the stuffing of your throw pillow is not super important because it's not meant for neck support and likely won't be used for anything beyond decoration.
That said, it's still important to ensure your throw pillow is stuffed with durable materials to prevent it from sagging or dulling out after only a short time.  Down and feather pillows are often the most long-lasting and cushioning, but also the most expensive. Foam or synthetic fiber-filled pillows are still durable and more affordable, but not as cushioning. Deciding between feathers or foams comes down to a matter of personal preference.
Interested in the benefits of memory foam? Read our other guide on finding the
best memory foam mattress
for your sleep needs.
Throw Pillow Covers & Inserts
There are two different ways to buy decorative throw pillows, you can either a) buy the pillow with a sewn-on cover or b) buy throw pillow covers and throw pillow inserts separately. There are pros and cons to each.
Buying throw pillow covers and inserts separately gives you more freedom to customize your throws and change them up with the time of year. Buying your throw pillows this way also makes them easier to maintain, as many throw pillow covers are machine washable. When it comes time for a refresher, you can just unzip the cover from the insert and throw it in the washer and dryer.
The biggest downfalls to buying covers and inserts separately are the cost and convenience. Many people want to grab a new throw from a retailer near them, go home, and set it out. They don't want to be tasked with choosing covers, picking the right size insert, and putting it all together. Plus, buying these products independently of one another can add up. Buying a pillow with a sewn-on cover saves you time and in some instances, money.
However, we should note, if you buy your pillow and cover together, make sure to check the care instructions to see how your pillow should be washed. If you can't remove the cover from the pillow, you may not be able to machine-wash it. Always read the care tag to avoid ruining a new pillow.
Where Can I Buy Throw Pillow Covers & Inserts?
If you're interested in buying your throw pillow covers and inserts separately, we recommend choosing your inserts first. Doing this gives you a starting point when shopping for covers; there are thousands of different throw pillow covers available to buy, just knowing what size you need helps narrow down your options.
We recommend shopping for your pillow inserts on Amazon because they have the vastest collection. They have pillow inserts of all different dimensions, and they even sell variety or bundle packs with more than one pillow.
Our favorite set of pillow inserts from Amazon is IZO'S All Supply Premium Hypoallergenic Polyester Decorative High Loft Throw Pillows. They come in a set of four, and each pillow measures 18 inches by 18 inches. They're Amazon's Choice for "decorative pillows" and have over 1,000 customer reviews, so we're confident they're a high-quality option.
After you've acquired your inserts, you can start shopping for covers. Beyond decor retailers such as Pottery Barn, IKEA, or Crate and Barrel, you can buy pillow covers from some clothing retailers, too. Stores like H&M, Urban Outfitters, and Anthropologie carry collections of affordable pillow covers. Plus, you can find high-quality, handmade covers on sites like Etsy. If you're looking for a one-of-a-kind statement pillow, Etsy is the best place to start your search.
Tips for Decorating with Throw Pillows
Now that you've got new throws, it's time to decorate! Below, we break down the best tips for arranging throw pillows.
Choose one cohesive color scheme and stick to it.
One of the first things you should do when tasked with decorating a space is to choose your color palette. Your pillows will work best together if they're all complementary shades and patterns.
Plus, sticking to a handful of hues prevents you from cluttering up your room with a rainbow of clashing colors.
Don't buy matching throws, buy complementary throws.
You should think of your collection of throw pillows as if they're a cohesive family. You don't want to have five completely identical throw pillows— that would look silly. However, your pillows should have similar patterns and colors. If you're not sure how to match complementary colors, simply google the color wheel.
Choose one busy print, one simple print, and one solid color.
You can easily coordinate pillows by looking for those within your color palette. From there, choose one with a bold or loud pattern, one with a more simple design, and a solid-colored pillow.
Many decorators believe following this simple formula is the easiest way to create some variety amongst your pillows and make them more visually appealing.
Arrange multiple pillows by size.
As a good rule of thumb, your largest pillows should always be on the outside row of throws. For example, if you're arranging a group of three pillows on a sofa, keep the largest one closest to the arms, follow it with a slightly smaller pillow, and then place the smallest throw on the inside.
Stick to one pillow per armchair and three to five per sofa.
If you've ever been tasked with decorating, you've probably heard the rule of threes, or generally, the rule of odd numbers. Most designers or decorators will tell you to always arrange decorations in groups of odd numbers. When it comes to throw pillows, you're best sticking to one pillow per armchair, and three to five per couch or bed.
As you can probably imagine, putting more than one pillow on an armchair can crowd up the seating surface. However, if you're decorating a larger piece of furniture or living space, you're safe to use multiple pillows.
When decorating a couch or bed, we recommend using rows of three or five pillows. If you use three pillows, you can arrange those next to each other on either side of the couch. However, if you choose to use five pillows, we recommend putting two on either side of the couch and one in the middle to break it up.
Don't overdo it.
While throw pillows can serve as fun decorations, don't go overboard. There's a difference between a room looking put together and a room looking downright cluttered.
If you even have to second-guess whether or not you've used too many pillows, chances are you have. Throw pillows are great accessories for an armchair or sofa, but you don't want them to take away from the whole purpose of what you bought the furniture for— so people can sit. If you completely cover your couch in throws, it's not very inviting to guests.
Use throw pillows in moderation so your furniture is still usable and your room doesn't look like an explosion of cushions. If you still want to add more color or texture to a room, and you've met your limit on throw pillows, we suggest pairing your pillows with a quality throw blanket.
Frequently Asked Questions
What is the best pillow insert for throw pillows?
Pillow inserts don't need to look fancy, they just need to be long-lasting. You don't want something too flimsy or something that'll sag easily, so most people choose polyester and down alternative throw pillows because they're moldable, durable, and inexpensive. You can find plenty of throw pillow inserts on Amazon—the top-selling inserts at the time of publishing are the EDOW Throw Pillow Inserts (set of 2).
Where can I find inexpensive throw pillows?
Amazon, IKEA, Kohls, Target, and Walmart are all great places to find inexpensive throw pillows. You can also try sites like Wayfair and Overstock, as well. One way to save money on throw pillows is by buying covers and inserts separately. That way, you only have to buy a new cover and not a whole new pillow when it comes time to switch up the decor.
Why are throw pillows so expensive?
Throw pillows can get pretty expensive when they feature more expensive fabrics, beading, and intricate designs. Name-brand throw pillows are also pretty pricey because they use high-quality materials. The better the materials in the throw pillow, the higher the price tag.
Why do they call it a throw pillow?
Throw pillows are called throw pillows because they aren't an essential part of the room's decor, they're just kind of "tossed" in.
What is the best material for throw pillows?
Most throw pillow inserts have down alternative or polyester fiberfill, but common shell fabrics include cotton, linen, wool, fur (or faux fur), and velvet. Pillows with more expensive materials will cost more, so if you're shopping on a budget, we suggest looking for throws made of cotton and linen.
Did You Find Your New Throw Pillows?
Instead of choosing more expensive decorations, a good throw pillow can fit the bill at a fraction of the cost. Plus, they're so versatile, you can use the same pillows year-round with different covers to give your home an ever-changing look.
We hope our guide has covered everything you were hoping to learn about choosing and decorating with the best throw pillows to complement your home. Throw pillows are a convenient and usually inexpensive way to easily add some color or life to a dull or boring space.
If you're still interested in learning about other pillows or bedding products, check out our other guides to learn about other brands.