Best Throw Blanket: Reviews and Buyer's Guide

Bedding Guides
Throw blankets are smaller than your typical blanket and are great for comfort, warmth decoration. Plus, they are easy to store when you don't need them.
In this article, we will be offering a selection of comfy throw blankets and go over our tips for using them for decoration.
Best Throw Blankets

The Riviera Faux Fur Throw Blanket, designed by Micheal Amini, is 72-inch width by 56-inch length and weighs only four pounds. Made of plush polyester, the blanket has an authentic-looking, grey and cream-colored animal print fur on one side.
Yet, this entirely vegan blanket is soft and cozy, keeping you toasty on a chilly night. If you're looking for a blanket to keep you warm, consider the best electric blankets you can buy.
The other side uses faux suede, making the blanket feel smooth on sensitive skin.
We do not suggest this blanket to people with severe allergies, because the faux fur tends to hold onto dust and pollen.
This soft blanket should be dry cleaned only when needed. Tossing this plush throw into the wash will ruin the texture or the material, leading the fake fur to bunch up.
Riviera Faux Fur Highlights
Dry clean only
Great for sensitive skin
Authentic faux fur and suede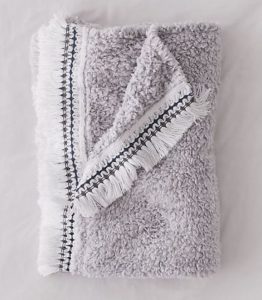 If you're looking for a blanket with luxury and texture, the Amped Fleece Fringe Trim throw has your name written all over it. Made from polyester fleece, this imported blanket has 60-inch by 50-inch dimensions, making it small enough for travel.
The Boho-approved reinvention has fringed edge trim and three color selections: Light Grey, Blue, Mauve.
Unfortunately, this fleece blanket can only be spot cleaned. So, keep any foods and drinks away from the material to prevent stains. Frequent washing will result in color and texture loss.
Amped Fleece Fringe Trim Throw Highlights
Tassel edges
Popcorn texture
Beautiful design

Sofia's Linen Pure Flax Blanket is only available on Amazon. It's a double-sided weave made from 100% linen. An ultra soft and hygroscopic material, linen is a thermo-regulating fiber that keeps the user warm in the winter and cool in the summer.
Linen is hypoallergenic. For those that live in a hot environment with lots of dust and allergens, this will be a great purchase.
The Linen Pure Flax Blanket measures 25.7-inches by 10.3-inches and weighs 4.7 pounds. It comes in grey, blue, red, and green.
Unlike some of the throws on the list, this blanket is machine washable. Be sure the water is lukewarm and put on the gentle cycle. If there is an extra rinse cycle, that option should be selected.
The true miracle of this throw blanket is how the material gets softer after each wash and has incredible durability.
Sofia's Linen Highlights
Made of 100% linen
Temperature regulating
Comes in 4 different colors

Knitted by hand so no two blankets look-alike, the Sequoia Cotton Throw features a ribbed-knit design with contrasting borders. It's made from high-quality, pure cotton that is soft and drapes beautifully across furniture for any style.
Its dimensions are 50-inches by 70-inches.
The material fosters moisture-wicking properties with breathability against the skin. The Sequoia Cotton Throw can keep you warm on a cold night, but also serves as a nice summer blanket, too.
This is another knit throw that needs to be dry cleaned. Throwing this cotton blanket in the wash will ruin the material appearance and cause the blanket to be stretched and thinned in places.
Sequoia Cotton Highlights
Soft 100% cotton
Drapes beautifully
Rib-knit design
How to Pick the Best Throw
Just like mattresses, there is no one blanket best for all situations. Your lifestyle and preferences control the outcome of the throw you choose. Here are a few things you should consider before purchase.
Purpose of a Throw Blanket. If the throw blanket will be used for nothing more than decoration than you'll only need to worry about the color, texture, and the overall appearance of the blanket. However, if you want a more practical use out of the throw while keeping its appearance, you'll need to look into the durability, washability, and type of material of the blanket. Unless the throw is designed to look wrinkled, you'll want to invest in a wrinkle-resistant fabric or weave. Velvety fabrics such as Chanasya brand blankets will be a good choice.
Some wrinkle-resistant options include:
Cashmere fabric
Microfiber polyester fabric
Sherpa blankets
Quilted blankets
Plush Fleece
Waffle weave
Microplush
Chenille yarn
Your Climate and the Blanket Material. Getting a nice, warm blanket sounds lovely until you remember you live in the middle of the scorching desert. The same goes for people who want light and delicate throws or summer blankets while living in a frozen tundra. It's frustrating getting something and realizing that you won't be able to use it.
Planning before purchasing a blanket can save you the disappointment and hassle of a return. Looking into the thread count, material, and weave can help you choose the correct blanket for your needs.
For quick reference, here is a list of warming and cooling fabrics found in blankets:
Cooling:
Warming:
Wool
Polyester
Fleece
Flannel
Blended materials are a fantastic way to go if you want the durability of man-made materials with the cooling abilities of natural fabrics.
No matter the fabric, the weave and thread count will vastly impact the features of the fabric.
Weave is how a thread is made into fabric. Tight weave will trap heat in, while lose weave will let the heat escape. It's the same with thread count. Keeping to a count of 200 to 400 will get you a durable and breathable fabric.
If you're looking for other types of blankets, check out our best blanket guide featuring a variety of top-rated options.
Decoration Guide
Focus on Texture. The true purpose of a throw blanket is to sit and look pretty. And what makes a blanket prettier than the texture it adorns. Texture is everything when it comes to fitting into your special room. A faux fur throw is a great way to bring a rugged atmosphere to a soft modern living room.
Decide on Color. Solid colors, such as teal, are fantastic and very safe. It's easy to fall for a patterned throw and then find it crowds your living room's look. Overloading your room with colors and patterns sucks the hospitality out of the room.
Another thing to consider – complementary or coordinating colors can make the difference in a room if thought out carefully.
Consider your Room Decor. You don't want a throw to blend into the background. You want it to 'flow' seamlessly with your home decor. If you have a feature color, a blanket of the same color will add more character. Or, if you have a room chocked full of neutral colors, throw in a blanket with vivid color for personality.
This rule applies to the texture as well. A faux fur flow is transformative. Bringing in a conflicting texture to your room could make the space look interesting.
Bring Extra Warmth to the Environment. The entire purpose of a blanket is to keep you warm. It makes sense a decorative throw would make a room look more inviting.
If adding the blanket causes clutter, it's not in the right place or it's not the right blanket. Color and texture project compliments to the living areas' surroundings. Whether the blanket is presented as a feature item or laying monotonously in the background, you want your throw blanket to state that the room is a welcome place for relaxation.
Presentation. Try presenting the blanket in different ways. This will help you decide how you like the blanket positioned in your living area. You can drape the blanket over a piece of furniture or fold it in a specific style to cascade across the bottom of your bed.
Frequently Asked Questions
What size is a blanket throw?
Blanket throws are one of the smaller types of blankets since they're meant to be laid over a couch or a chair. Often the blanket is 50 inches by 60 inches, give or take a few inches. It's just large enough to curl up under when you're watching TV or reading a book.
Is a twin blanket bigger than a throw?
Yes, it typically is. Because throw blankets are often designed as decor pieces for a couch or chair, they're relatively small, often measuring around 50 inches by 60 inches. A twin size blanket is usually larger, around 66 inches by 90 inches.
How do you soften a blanket?
If your blanket no longer feels as soft as it once did, you can try washing it with white vinegar. Avoid overuse of fabric softeners, which can do more harm than good in the long run. When drying the blanket, try using dryer balls or ordinary tennis balls to fluff up the blanket.
Should new bed sheets or blankets be washed?
The packaging on your new bedding may tell you if you should wash before use. Even if it doesn't, it's a smart idea to wash your new bedding to eliminate any traces of chemicals. Companies may brush chemicals onto the bedding to keep it smooth and wrinkle-free inside the package.
How often should you wash a blanket?
Bedding such as blankets, sheets, and pillowcases should be washed every week. Frequent washings prevent allergens such as dust mites from collecting on your bed and irritating your sinuses. You can also invest in a mattress protector to keep your bed allergen-free.
Have You Found Your Next Throw?
Who would have imagined that something as simple as a throw blanket would have so much versatility? One thing's for sure – they are fun to decorate with and even better to cuddle in. A good eye and research will help you find the most functional and decorative blanket– just follow our tips.