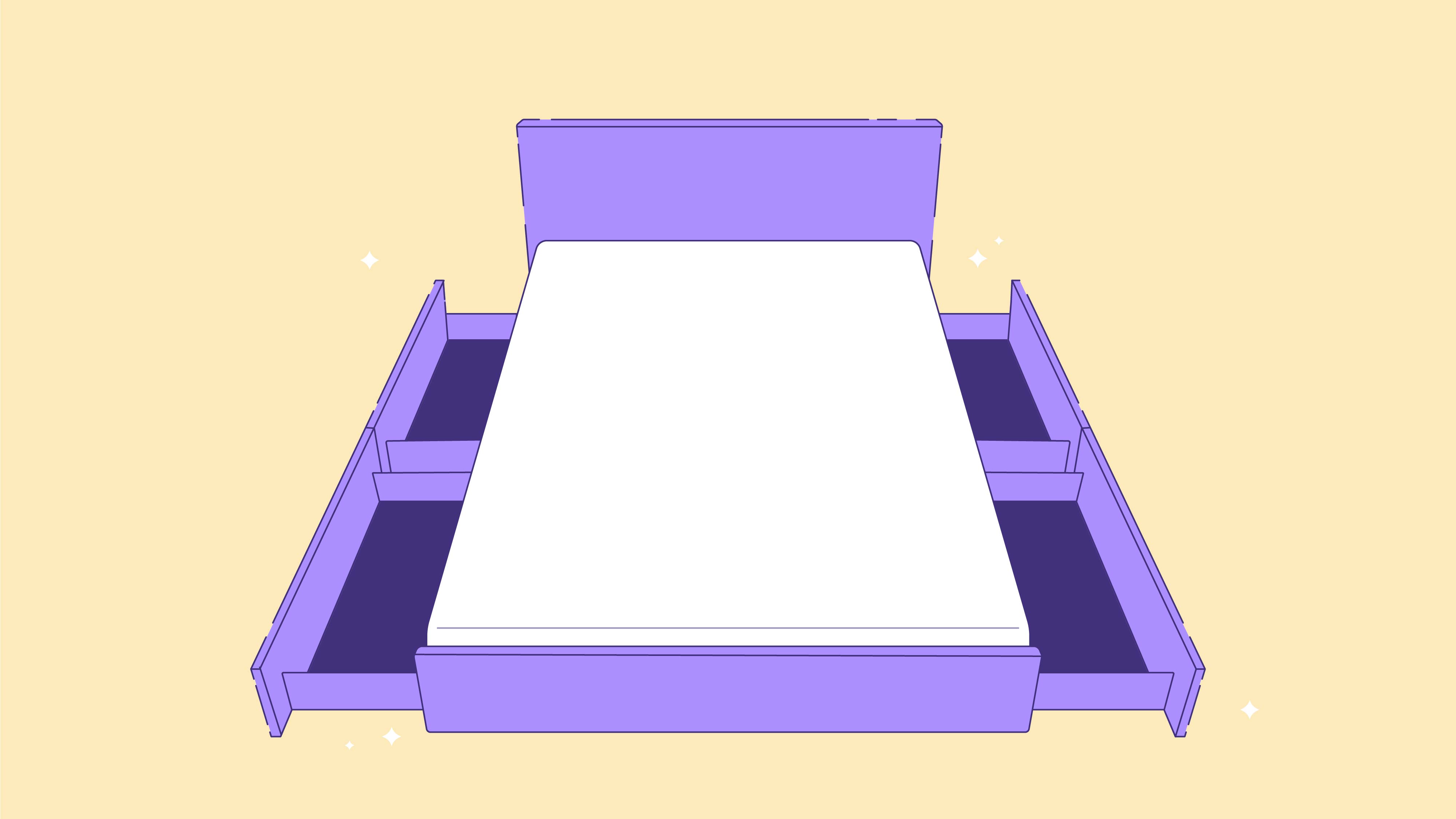 12 Best Queen Size Platform Beds of 2023: Reviews and Buyer's Guide

Mattress Accessories
If you have a queen sized mattress, the options for a platform bed are practically endless. In fact, there are almost too many to choose from. It can feel pretty overwhelming when your head fills with questions. Do I need a platform bed or mattress foundation? Should I get metal or wood? How much should I pay for a platform bed?
Below, we'll answer all these questions and more, as well as talk about some of the best platform beds on the market right now.

Best Queen Size Platform Bed Summary
Amerisleep Upholstered Platform Bed — The Amerisleep Upholstered Bed Frame is our favorite queen size platform bed because it has solid wood slats to support your mattress, easy assembly, a 13-inch height, and a sleek, low-profile design with a classic headboard.
Best Queen Size Platform Beds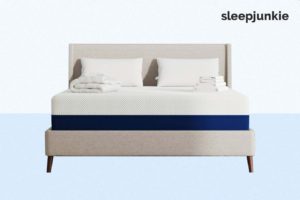 With its solid charcoal upholstery, short legs, 13-inch height, and clean lines, the Amerisleep Upholstered Bed Frame offers a simple, low-profile design that will allow your mattress and bedding to take center stage.
This platform bed boasts a tool-free assembly with a classic, strudy design, making it compatible with even the heaviest mattress. It also comes in sizes full and king, along with queen. And it has a 1-year manufacturer warranty.
The Amerisleep Upholstered Bed Frame is a great platform for people who want a modern minimalist look in their bedrooms. It's also perfect for apartment dwellers who like to jump from place to place or sleepers who aren't very handy with a toolkit.
Amerisleep Upholstered Bed Frame
Easy assembly; zero tools required
Solid pine wood slats
13-inch, low-profile design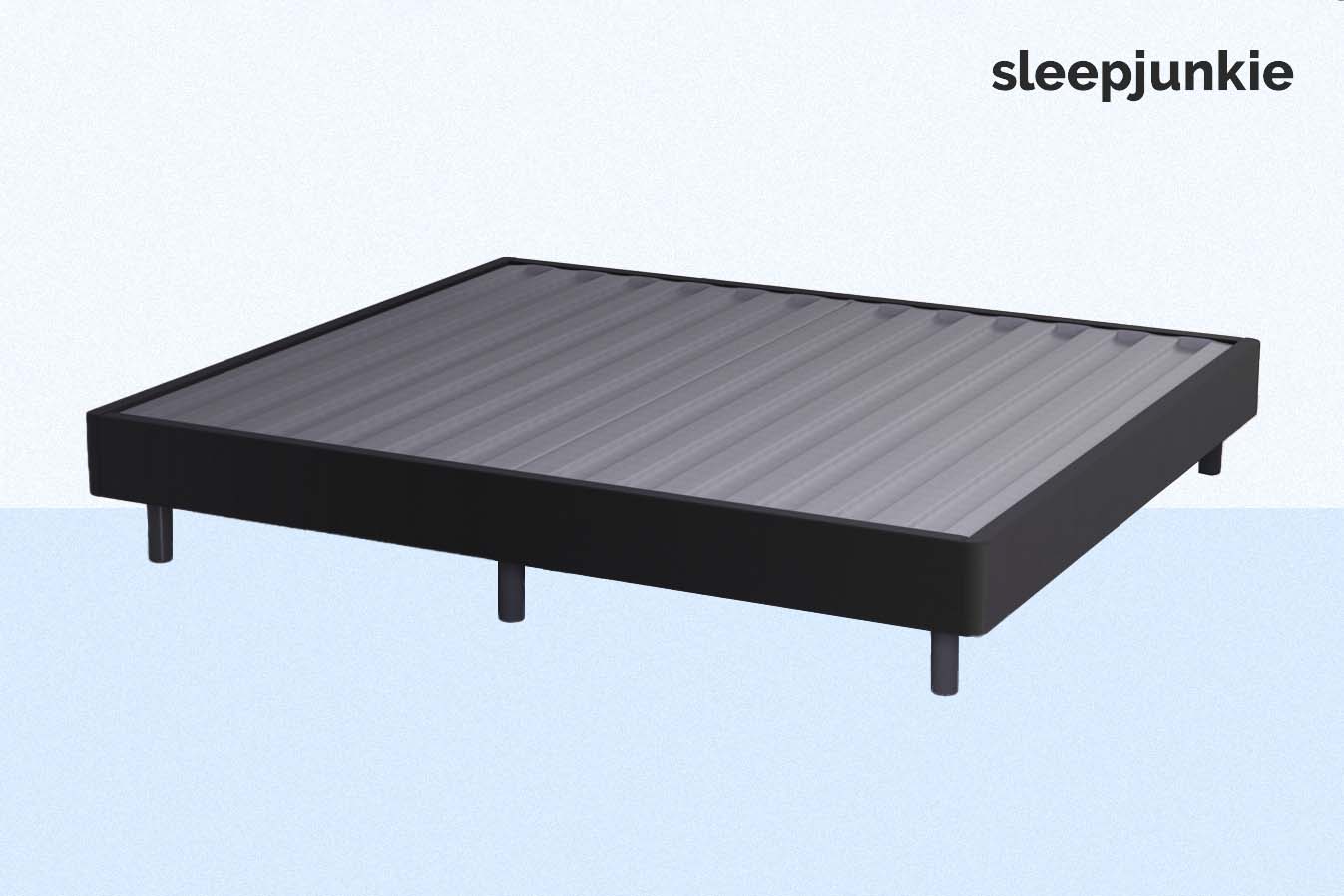 Another great platform bed with easy, tool-free assembly is the Zoma Mattress Foundation. Don't let the name fool you—the Zoma Foundation is a platform bed too.
It comes with 6 detachable legs so you can convert it from a mattress foundation to a platform bed in seconds. This gives you the option of setting the foundation in a bed frame or standing it on its own 6 feet.
One of the best bonus features of this platform bed/mattress foundation is its smart slat pack for easy assembly. The wooden slats come in a fabric case, and they're already perfectly spaced to fit the bed. That means all you have to do to set up is unroll the slat pack over the frame.
The Zoma Mattress Foundation comes in all the standard bed sizes, including queen, and it offers a 1-year warranty.
Zoma Mattress Foundation
Wooden slats with fabric upholstery
Six detachable legs
Acts as a stand alone bed frame or mattress foundation
Most Affordable Queen Size Platform Bed: Vaya Platform Bed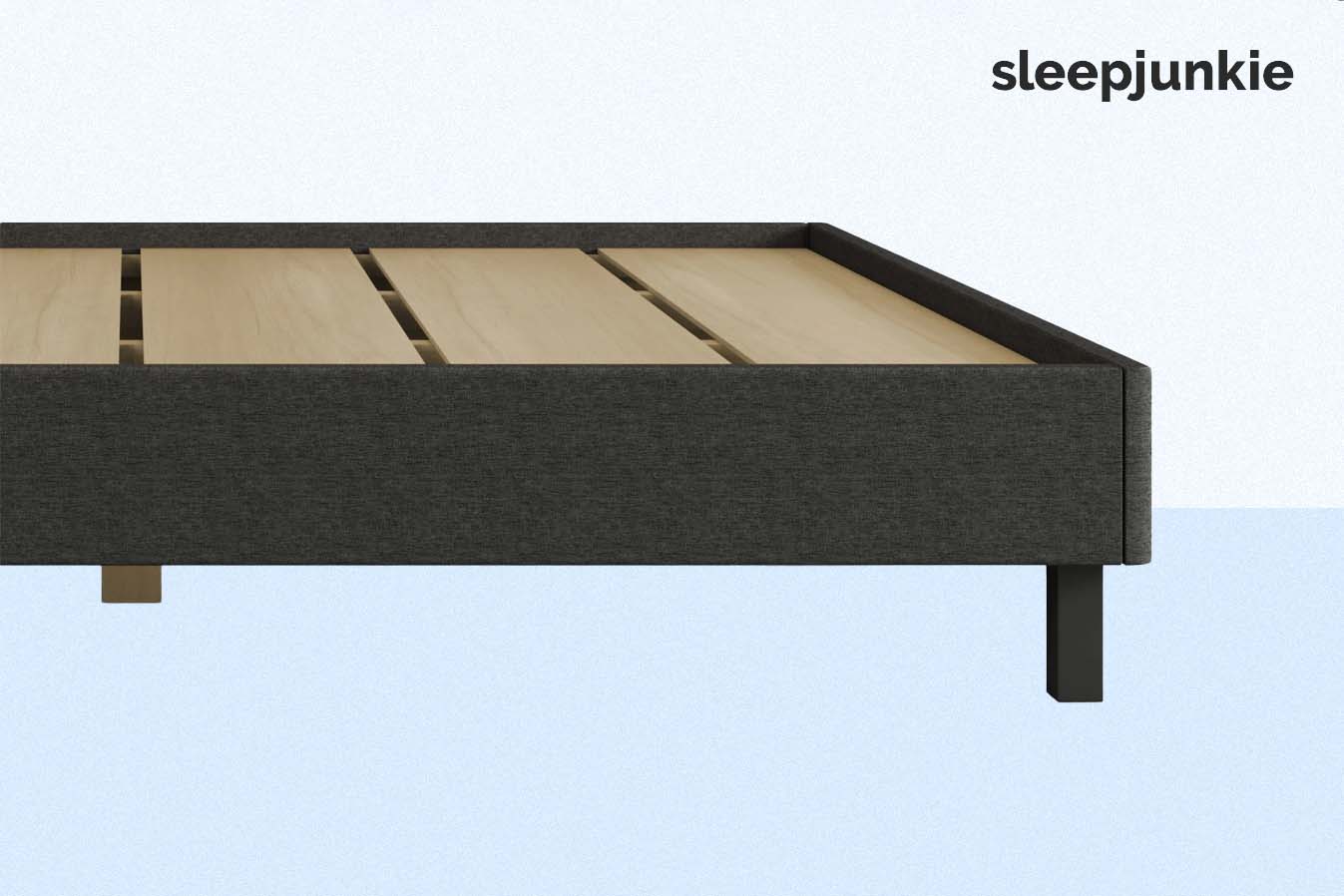 The Vaya Platform Bed is another great option for those looking for the minimalist modern design of a low-profile platform with no headboard or footboard. Like the Amerisleep Platform Bed, the Vaya Platform Bed's rails are upholstered in charcoal polyester-knit fabric and it has black legs.
This platform was designed with optimum airflow and durability in mind. It has oversized, sag-resistant slats reinforced with two hardwood beams for additional support, but each of these slats has a gap of sufficient width to allow for circulation under the mattress.
The Vaya Platform also assembles in minutes with no tools. It comes in sizes twin through California king, and it's backed by a 1-year manufacturer warranty.
Vaya Platform Bed
Charcoal polyester-knit fabric upholstery
Sag-resistant slats
Designed for optimum airflow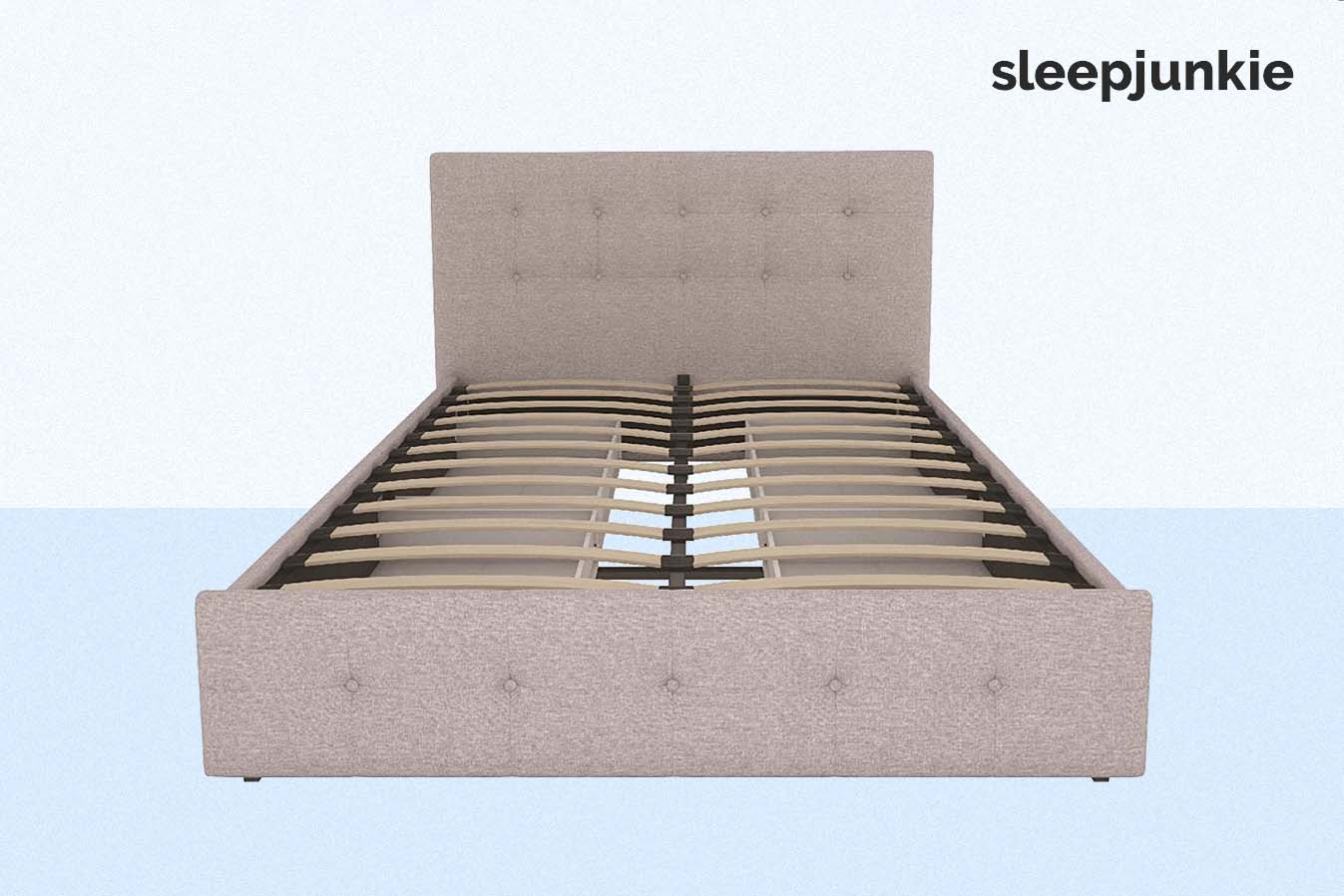 A great upholstered storage platform, the DHP Rose Upholstered Bed with Storage offers a simple but elegant style with a fabric-upholstered headboard and footboard, and it features 2 drawers on both sides of the bed (for a total of 4). The upholstery comes in several fun colors like blue velvet, grey linen, and ivory, and it features a button-tufted headboard.
The platform's bentwood slat support system provides ventilation and support to your mattress. The bed comes with 4 outside legs for edge support and 2 center legs extra support in the middle of your mattress.
The DHP Rose Bed is designed to assemble quickly and ships in one box. It also features a 1-year limited warranty for the repair and replacement of defective parts.
DHP Rose Upholstered Bed with Storage
Four outside legs and 2 center legs
Fabric-upholstered head and footboard
Available in several colors, including blue velvet, gray linen, and ivory
Another button-upholstered platform bed, the Astor by HomeLife isn't a storage bed. Instead, it features four wooden legs and under-bed clearance for a more classic look.
The 51-inch headboard is upholstered in linen and comes in several accent colors like light beige, grey, black, and red. You also have the option for leather upholstery rather than linen.
This is a great bed for those looking to accent their wall without painting or papering. The high headboard will give any plain wall a pop of your chosen color. The linen and leather options also give you a choice between a classic and luxury look.
The Astor is easy to assemble, comes with durable hardwood slats. It also comes with a 90-day 100 percent satisfaction guarantee. If you're not happy with your product, return it undamaged for a full refund.
Astor by HomeLife Platform Bed
Four wooden legs and under-bed clearance
Available in light beige, gray, black, and red
Upholstered linen headboard
The Mellow Home Peekaboo Wingback Storage Platform Bed is a great option for those looking for more subtle decor than the DHP Rose storage platform. The Peekaboo Wingback features a built-in ottoman storage bench rather than drawers, meaning the actual bed has a lower profile and more minimalist look.
The wingback headboard has 2-inch density foam cushions and three separate cushioned sections. The bed itself boasts sturdy straight slats and a center support rail and legs for extra lift under the middle of your mattress. It can support a full 1,000 pounds of weight.
This sturdy bed frame is built to last, and it comes with a 5-year manufacturer warranty to show for it.
Mellow Home Peekaboo Wingback Storage Platform Bed
Built-in ottoman storage
Low-profile, minimalist look
Straight slats and center support rail
Most Teakwood Queen Size Platform Bed: "The Bed" by Thuma
Thuma's boldly nicknamed "The Bed" lives up to its name. The contrast between its upholstered foam backing and its hardwood frame is sure to elevate the style of any bedroom. The low-profile bed frame offers a modern look while still leaving 9 inches of clearance for extra bed storage space.
The foam pillow board creates a supportive backing that you can comfortably sit up on as well as place pillows against. The linen-weave cover is machine washable, making maintenance a breeze.
Another great feature of this platform bed is its Japanese-style joinery. The bed frame is naturally noise-minimizing because it doesn't need a lot of metal hardware—the planks fit together like a puzzle and hold one another in place.
The Bed is ultra-supportive, with slats placed at optimal intervals to ensure both prime support and breathability, and its easy, tool-free assembly makes setup hassle-free.
The Bed by Thuma
Japanese-style joinery
Low-profile, hardwood frame
Too-free assembly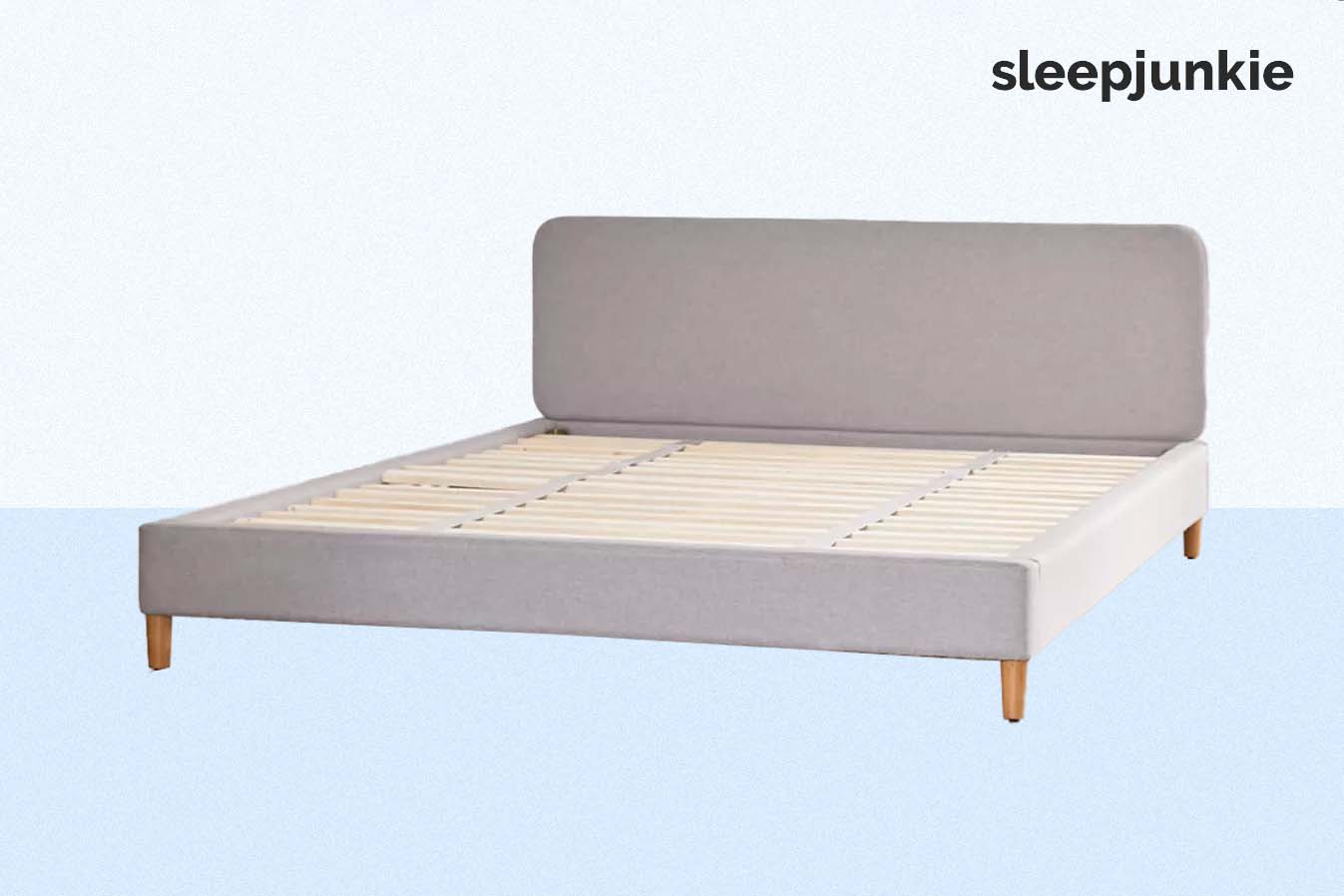 The clean and cozy look of the Riley Platform Bed by Urban Outfitters is sure to impress. This platform bed features an upholstered frame and headboard and comes in three color options: grey, taupe, and pink. This makes it a great option for adults and kids' rooms alike.
The Riley's short legs and slim frame give it a sleek look that contrasts well with the knit upholstery, and its low headboard is perfect for those who like minimalist style.
The thick slats in the platform frame assemble with ratchet straps for extra security as well as quick and easy setup.
Riley Platform Bed by Urban Outfitters
Available in grey, taupe, and pink
Knit upholstery
Low-profile design with headboard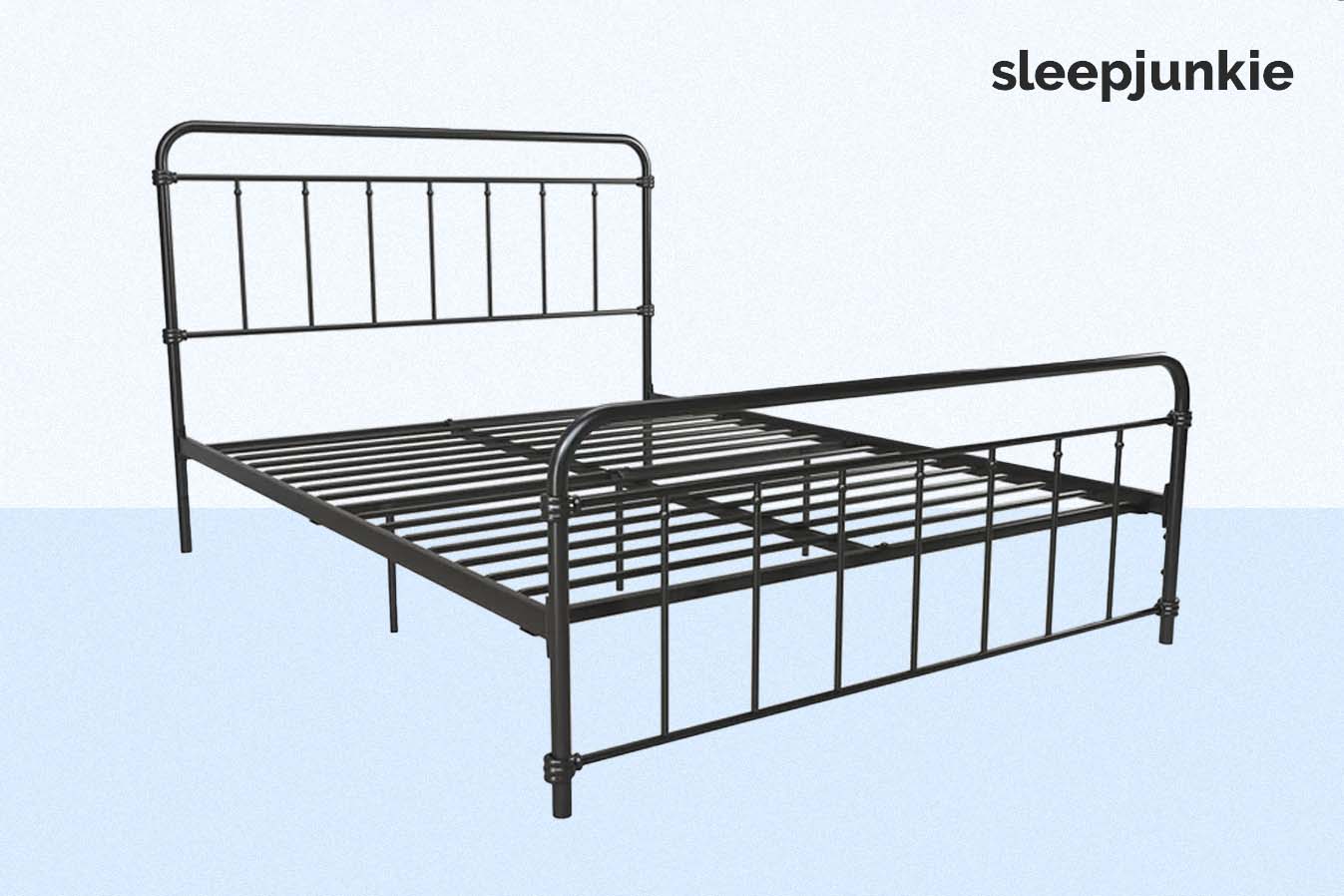 If you're looking for an affordable and sturdy platform bed, the Andover Mills Matheney Platform Bed could be a great choice. With its parallel metal bars, high headboard, low footboard, and curved metal frame, it brings a touch of vintage to a modern, low-profile look.
This bed is also a practical choice for anyone who moves frequently, as the frame disassembles into a compact box and weighs only 53 pounds—perfect for portability. It also offers two height options: 7 inches or 11 inches, a little bit more clearance than a standard platform bed for extra storage space.
The Matheney Platform comes with a 1-year limited warranty, and at under $160, it's within the reach of most budgets.
Andover Mills Matheney Platform
Vintage look
Metal bards, headboard, and low footboard
Under-bed clearance for storage
If you're in the market for a more rustic platform bed, the Dondra Teak is a great option that's both stylish and sustainable. This solid wood platform bed features eco-friendly teak planks reclaimed from abandoned homes in India.
Each hand-planed plank in the headboard has its own unique look and story, just like a fingerprint. And the planing allows the teakwood's active grain, natural knots, and tone variations to shine through.
The platform base is made of solid sustainable mango wood and comes with ultra-low profile legs for an almost-to-the-floor look (the under-bed clearance is only 4 inches).
Don't let the unique look fool you—this platform bed provides sturdy and practical support. The assembly is comparatively simple, and CB2 also offers In-Home Delivery in some locales for people who don't want to deal with the hassle of setup.
CB2 Dondra Teak Queen Platform Bed
Eco-friendly teak planks
Ultra-low profile legs
In-home delivery and set up
This minimalist, low-profile platform bed offers a modern interpretation of classic upholstery, with sleek lines, a slim silhouette, and angled wooden legs. The headboard and all sides are fully upholstered in fabric, and the upholstery comes in a wide variety of colors ranging from feather gray to rosette to chili to ink blue.
Don't let the sophisticated look fool you though, The Mod by West Elm is contract grade certified, meaning it's built to the standards of furniture used for commercial purposes (such as in hotels and hostels). That means this platform is durable enough to stand up to even the toughest lifestyles.
Though some assembly is required, West Elm offers the option of their White Glove Service. If you choose this option, they'll bring the piece into your home and assemble it in the room you plan to place it. They'll even clear out the packaging.
The Mod Upholstered Platform Bed by West Elm
Slim silhouette
Angled wooden legs
In-home assembly
Platform Bed Fast Facts
While platform beds have tons of variety, they all share a few characteristics. In their most basic form, all platform beds are frames with slats stretched across them. This basic frame/slat setup can be made of wood or metal and come with storage, headboards, footboards, canopies, or other features.
All platform beds are also made to stand on their own. While some platform beds have removable legs and can double as mattress foundations, if your platform bed cannot stand on its own without a frame under it, it's not a platform bed.
Platform Beds vs Other Bed Bases
Aside from platform beds, there are also mattress foundations and box springs.
Mattress foundations are just like platform beds in that they're a slatted frame that offers rigid support. Unlike platform beds, mattress foundations have to go in a bed frame.
Bed frames are also similar to platform beds in that they stand on the floor, have legs or other supports, and can come with features like headboards and storage drawers.
The main difference between a platform bed and a traditional bed frame is that bed frames don't have sufficient support to take a mattress by themselves. They need an additional mattress foundation or box springs.
Box springs and platform beds are very different. Box springs are steel or wooden frames with a network of coils in the center rather than slats. These supports were originally invented as a companion for innerspring mattresses, and even today they're not compatible with any other mattress type. However, platform beds are designed to support the mattress without any additional foundation.
Box springs will wear out under the weight of foam or hybrid mattresses. They may even over-compress and break.
Platform Bed Mattress Compatibility
Platform beds are compatible with all mattress types because their rigid support can take a lot of weight. That means you can lay heavy beds like hybrid beds or memory foam mattresses on a platform bed without using box springs or a mattress foundation underneath.
Platform beds are also great for innerspring mattresses. The more rigid support provided by the platform will help ward off sagging in the sag-prone coil mattress and also reduce motion transfer, which is amplified by a set of box springs.
Benefits of a Platform Bed
Platform beds have lots of benefits over other bed bases and the floor. First off, platform beds can be more cost-effective than a bed frame/bed base combo simply because you only have to purchase a single piece.
This fact can also make it a lot easier to relocate your bed, as you don't have to deal with a bed frame and box spring set or foundation. Many platform beds come with a quick assemble/disassemble design. Some metal platform beds even have the ability to fold or collapse for easy transportation.
The rigid support offered by platform beds also helps extend the life of your mattress. The slats of a platform have little give, and some even curve upwards to offer extra support. This prevents soft spots and sagging, slowing the natural breakdown of your mattress.
The gaps in the slats also offer extra airflow underneath your mattress, helping prevent moisture issues that could lead to mold and mildew growth. The extra circulation also helps you sleep cooler through the night.
When paired with the right mattress for a platform bed, these frames provide comfort, support, and functionality.
FAQs
How much should a platform bed cost?
Platform beds have a huge range of prices, depending on their materials, construction, brand, and extra features. A basic metal platform bed might cost as little as $100. A well-constructed wooden platform bed can cost between $200 and $500. But a platform bed with luxury features like leather upholstery, storage space, or a tall headboard can easily climb into the thousands.
What material is best for a platform bed?
Metal and wood are the two basic construction materials for platform beds, and each has its advantages and drawbacks.
Metal such as iron, steel, and brass is more resistant to temperature and humidity variation than wood. It's also lighter and less bulky, making it much less cumbersome to move than a wooden platform bed. Metal is also generally much more affordable than wood.
However, metal platforms often aren't as sturdy as their wooden counterparts. Metal beds can also get squeaky if they're not oiled every once in a while. Some metals are also vulnerable to rust, especially in high-humidity climates.
Wood, meanwhile, offers more stability than metal and doesn't make as much noise. Wooden platform beds also generally come with many more features than metal ones. It's much easier to find a wood storage bed, upholstered platform, trundle platform, and more in wood than metal.
Solid plywood is also more durable and stronger than metal construction, meaning a solid wood platform can typically hold more weight.
How long will my platform bed last?
Well constructed platform beds should last as long as a bed frame. While you may need to replace the slats if they start to sag, a well-maintained platform bed should last you through several mattresses at least. Some may never wear out—there are still plenty of 100-year-old cast iron platform beds still in use today after all.
What if my platform bed's slats are spaced wider than 3 inches?
If your platform bed has slats that are spaced too far apart, it could lead to a couple of issues. For one, it could cause your mattress to sag in between the slats, leading to soft spots and premature breakdown unless you place a bunkie board underneath your mattress (and this solid base reduces airflow, which negates the benefits of the platform bed).
Improperly spaced slats can also reduce your platform bed's maximum weight limit, meaning you might not be able to lay the kind of mattress you want on it or sleep as many people on it as you'd like. The type of mattress you have should help you determine the type of bed base you need.
How can I add slats to a platform bed?
If you need to put additional slats on your platform bed, the easiest way is to do it with plywood. If you already have slats, just measure the width, length, and thickness of your slats and have plywood planks cut to the same dimensions.
If you don't have any slats (such as if you're trying to convert your traditional bed frame into a platform bed), measure the length between the rails of the bed frame. If the slats are going to go inside the railing, subtract ⅛ of an inch and cut 1 by 4 plywood boards to fit those measurements.
If you're going to lay the slats on top of the frame, make sure you have sufficient space to secure both ends. Also, ensure the slats are long enough to support the entire mattress. You don't want to leave your mattress's edges hanging.
Bottom Line
A high-quality platform bed is a great solution for a queen mattress. It's compatible with all mattress types. It can take the weight of heavy foams and multiple sleepers. It won't wear out, and it's easy to relocate. A platform bed offers a sleek, low-profile style that can be perfect for modern and rustic homes alike.
Best of all, since the queen is the most popular mattress size, pretty much every platform bed will come in it, giving you hundreds of options. With all those advantages, there's really no reason not to get a platform bed.