Best Organic Pillows: 2023 Reviews and Buyer's Guide

Bedding Guides
Everyone wants a good night's rest, and your pillow is a key factor in your sleep comfort. Organic pillows reduce your exposure to potentially harmful chemicals and emissions. However, they also need to be comfortable and compatible with your sleep needs, so you wake up refreshed.
The pillow design and fill make a difference in the durability and how it feels to you, the best pillow for you may differ from what's comfortable for another sleeper. We'll go over the pillow types and materials to help you find an organic model that's comfortable, safe, and within your budget.
Best Organic Pillows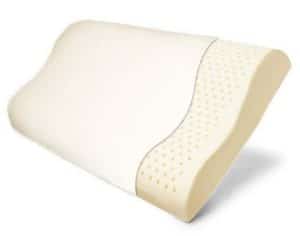 Organic Textiles Latex Contour Pillow is Global Organic Textile Standard (GOTS) and Global Organic Latex Standard (GOLS) certified. A GOTS certification requires that 70 percent of the textiles in the pillow be organically produced. GOLS requires that all latex be 95 percent organically produced.
The shape of this contour pillow fits for most back and side sleepers. The contoured edges allow the neck to maintain a neutral position. Aeration channels make sure the sleeper doesn't overheat by allowing space for heat and air to circulate. It comes with a soft, breathable organic cotton cover. Sleepers also get a choice in firmness and loft for customized support.
Organic Textiles provides a 30-day return policy that includes a restocking fee. They will not accept washed or used items. If the pillow is defective upon arrival, they will exchange it for a new product, but you must notify them within seven days of receiving the original pillow.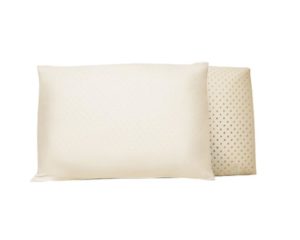 Organic Textiles Organic Latex Shredded Pillow is made of the same GOTS and GOLS certified latex as their contour model. However, this model's shredded latex gives the sleeper the ability to change the pillow's shape to meet their unique sleep needs.
You can remove some of the shredded latex to adjust it to your personal loft preferences. It comes with a drawstring organic cotton bag in which you can store the excess filling. You can keep it to add later after the latex begins to compress or to adjust changing comfort needs. This model comes in five sizes, including a travel and child size.
The shredded latex pillow has the same return policy as the above contour pillow.

The Beans72 Organic Buckwheat 14 x 20-inch pillow comes at a relatively affordable price. It's a smaller, Japanese size pillow that's easily manipulated to meet individual comfort preferences.
The buckwheat and cotton in the cover are both grown organically. The manufacturer uses unbleached cotton in the cover to cut down on chemical exposure. It has a nice fill with enough buckwheat hulls to support side sleepers yet enough space so the pillow can be shaped and adjusted for different sleep positions. This pillow weighs between four and five pounds with the weight varying based on seasonal crop conditions.
Beans72 has a 30-day return policy. The return must include all original packing and the packing slip. Returns are only accepted for defective items.

PineTales offers a number of organic pillow options. Their buckwheat pillows come in several sizes and can be bought with different casing materials like bamboo and unbleached cotton.
This model is made with organic buckwheat. Several pillow sizes and filling options are also available, including an organic buckwheat/lavender mix and organic millet. Each pillow comes with thick inner and outer pillowcases and high-quality zippers. The buckwheat models provide firm, breathable support.
PineTales offers a 45-day satisfaction guarantee. If, within that time, you find you don't like their pillow, you can return it for a full refund with no extra shipping charges.

Talalay latex has a soft, spongy feel. This aerated model has received the OEKO-TEX Class 1 certification. While this does not certify that the pillow is organic, it must pass independent requirements to assure that it is low or free of harmful emissions and certain chemicals such as volatile organic compounds (VOCs) and chemical flame retardants.
JUVEA uses natural latex in this pillow, which means the latex comes from the sap of a rubber tree rather than the petrochemicals found in synthetic latex. It comes in one of three casing options: cotton, organic cotton, and Tencel lyocell. A high profile makes this a good option for side sleepers. However, this model also comes with different fills that alter the profile for other sleep positions.
JUVEA pillows come with a 10-year warranty against defects. If the pillow is deemed defective due to workmanship or materials, the company will replace it with shipping costs charged to the purchaser.

Magnolia Organics Kapok Pillow has a GOTS certified pillowcase and is made and filled in a GOTS certified facility. Their kapok pillows have a high loft, making an ultra-plush pillow that rivals similar cotton or poly-fill models.
Any dyes used by Magnolia Organics are GOTS certified, so you know the pillow is free from heavy metals like chrome, copper, and zinc as well as chemicals like formaldehyde. Their durable covers are nearly silent due to their content and Magnolia Organics' unique manufacturing technique.
Magnolia doesn't offer a warranty on their pillows, but you can return unused, unwashed items within 30 days.
Organic Pillow Types to Consider
Organic pillows skip the polyester and other synthetic fillers for natural sources of comfort. While organic doesn't necessarily mean eco-friendly, many organic pillows are made using eco-friendly practices. Each filler type has its pros and cons like breathability or quietness, but there are plenty of options.
Organic Cotton
Cotton produced without the use of harmful pesticides or herbicides and using organic farming methods may meet the requirements to be certified organic. There are several certifications that can verify organic cotton content. A GOTS certification, for example, requires cotton production meet specific guidelines that do not use harmful chemicals.
Cotton may also have OEKO-TEX Standard 100 or the eco-INSTITUT certifications, both of which test textiles for harmful emissions but not necessarily organic production. These are only a few of the possible certifications you'll find. If you see a pillow with a certification with which you aren't familiar, look it up online and find out what it means so you know what you're getting.
Organic Wool
Wool pillows are less common than other types. Organic wool can either be used in the pillowcase or the filler. In these models, animals raised using approved organic farming methods provide the wool. Like cotton, organic wool can be GOTS certified.
Organic Buckwheat
Native to Asea, Buckwheat is a grain that's naturally durable with impressive longevity. The seeds are removed and the hulls cleaned and dried before making the pillow. Buckwheat grown through organic farming methods and encased in an organic pillowcase can be comfortable, durable, and safe from harmful substances. You can often remove buckwheat and replace it when it begins to break down.
Organic buckwheat hulls can have rough edges that wear against the casing material. Pillowcases made with thick material and well-constructed zippers can withstand the friction of the hulls. Buckwheat pillows may also take some time to get used to. Buckwheat has a natural earthy odor. The hulls rubbing together also makes a rustling noise that may wake sensitive sleepers. And, you can wash the pillowcase, but not the hulls.
Side sleepers who need a loftier pillow to fill the gap between their head and mattress can manipulate the buckwheat for a customized fit. Back and stomach sleepers can shift the buckwheat for a lower pillow that keeps their spines aligned too. However, buckwheat tends to be a firmer material than wool, kapok, or latex.
Organic Kapok
Organic kapok isn't as common as the other fill materials. However, this newcomer to the pillow scene comes from the fibers of the seed of the kapok tree. However, it feels similar to down feathers with a soft, plush sleep experience.
The silky material looks like cotton when on the tree. Once harvested, it's lighter than cotton with more loft than either cotton or wool. Any sleeper who likes a soft, fluffy pillow will probably be satisfied with kapok.
Organic Natural Latex
Natural latex can be deceiving because not all-natural latex is organic. All-natural latex starts from the sap of the rubber tree. The farming and harvesting of the sap must meet organic standards for the pillow to be certified organic. Latex can be both GOTs and GOLs certified. A GOLS certified pillow will be made of 95 organically produced latex.
Latex goes through either the Dunlop or the Talalay manufacturing process. Pillows are generally made of the lighter, bouncier of the two— Talalay latex. The latex is sometimes shaped or contoured to fit the curves of the head and neck. These designs work well for back and side sleepers.
Combo and stomach sleepers may want to opt for a shredded latex pillow. You can manipulate the shredded latex to fit the contours of your body. Some designs allow you to remove some of the shredded latex, so you can adjust the loft yourself.
Pillow Budget
Organic pillows come with a higher price than those made with non-organic or synthetic materials. A pillow made of natural latex with a bamboo cover may start as low as $25. These pillows may not have certifications due to the nature of manufacturing bamboo textiles.
Pillows with official certifications from independent organizations come with a higher price. Around the $50 to $60 range is when you'll start to see independent certifications like GOTS and OEKO-TEX Standard 100. Natural latex pillows with GOTS and GOLS certifications will start around the $75 mark and go up to over $100. Larger, loftier pillows made of organic buckwheat and wool will also be in this price range.
Sleeping Position and Pillow Use
Different sleep positions may sleep better with different types of pillows. And, of course, you have to take your personal preferences into account too.
For example, some people prefer a firmer pillow, while others want a pillow for neck pain relief.
Side Sleepers
The best pillows for side sleepers fill the gap between their head and mattress; usually, these pillows are loftier. Buckwheat and latex are good choices because they're firmer than kapok or wool. Contoured pillows work well if you're a devoted side sleeper. However, if you change position often, you might want to pick a buckwheat or shredded latex pillow.
Back Sleepers
Back sleepers don't need the extra loft that side sleepers do. Some contoured latex pillows work well, but you can also pick something softer like kapok, wool, or shredded latex and still get the support you need.
Stomach Sleepers
We don't recommend stomach sleeping due to the extra pressure it puts on the lower back. But, you can't always choose what position you sleep in once you're unconscious. Stomach sleepers need very little pillow support to maintain a neutral spine position. Soft, low loft pillows work best like kapok and wool.
Sleeping Cool and Airflow
Different pillow types promote airflow better than others. However, the materials used to make organic pillows do have a headstart on breathability. Buckwheat hulls, for example, are cupped and triangular-shaped. Their shape naturally creates tiny air pockets for heat to escape and air to circulate. Wool and cotton are naturally breathable. Contoured latex pillows have aeration channels to promote airflow while shredded latex has air pockets for heat to escape.
Other Natural and Eco-Friendly Bedding
If you want a set of organic bed sheets or even just sheets with natural materials, there are a few different options to consider:
Common Questions
Are down pillows toxic?
Down pillows aren't toxic. Down comes from the fine layer of feathers of birds. Some species of birds have more or less of it. Down's natural softness and insulation make it a popular pillow filling. It can be pricey, and many people don't like the ways in which it is sometimes harvested.
What are the healthiest pillows to sleep on?
A healthy pillow will do two things. First, it won't expose you to toxic chemicals or emissions. Organic pillows take the top slot when it comes to sleeper health and safety. Those that are certified organic will expose you to few, if any, harmful substances.
Second, a pillow should help maintain a neutral spine. The pillow that helps your spine stay straight from the top of your head to your tailbone is one that's healthy for you. What keeps your spine neutral may be different than someone else based on your size, preferred sleep position, and personal preferences.
What is the best material for a pillow?
There's no one right answer for this one. The best materials are those that breathe well, feel comfortable to you, and have good durability. Many pillows will fit those needs. For some people, organic cotton with an organic latex filling will be the best material because of the support it offers. If you've got a latex allergy, a buckwheat pillow with a bamboo cover may be a better choice. The best materials are those that are certified organic and are comfortable for you.
Do pillows have chemicals?
Yes, all pillows have some amount of chemicals. The real question is, do pillows have harmful chemicals? And unfortunately, that answer is yes, as well. The key is to find a pillow made with as little chemicals as possible and ensure all of those chemicals are completely safe. CertiPUR-US® and GreenGuard certifications ensure you're resting your head on a non-toxic, safe pillow.
What pillows do five-star hotels use?
Most hotels use down or down alternative pillows because they're very common, and they're comfortable for the majority of sleepers. Down and down alternative pillows range in price pretty drastically, so some hotels use more budget-friendly pillows while others splurge on their bedding accessories. You can usually tell the difference.
Organic Pillows: The Bottom Line
Certified organic pillows limit or eliminate your exposure to harmful chemicals and emissions.
They are made from a number of different materials like latex, buckwheat, wool, and kapok. Each material has a unique feel, so you'll have to decide what feels best to you.
Organic pillows cost more than your average polyester-filled pillow, but you may sleep better knowing you won't be breathing harmful emissions.
A good pillow could be the answer to a better night's rest. Look for one that fits your sleep position and in a loft that will keep your spine aligned. Do your research and look for independent certifications, so you know what chemicals and substances with which you'll be sleeping.