Best Memory Foam Pillows for Side Sleepers (2023): Reviews and Buyer's Guide
Updated November 22, 2023

Bedding Guides
Your body has to completely relax for you to get the deep, restful sleep you need. However, you won't be able to do that if you've got neck pain or discomfort. A high-quality pillow is an integral part of your ability to fall and stay asleep.
Side sleepers need a pillow that cushions and supports the head and neck. At the same time, it should be comfortable and adaptable if the sleeper changes positions. We've created a list of the best memory foam pillows for side sleepers along with a pillow shopping guide to give you an overview of your options and what to look for in a comfortable pillow.
30 Second Summary: Best Memory Foam Pillows
Amerisleep's Comfort Classic — The Amerisleep Comfort Classic is perfect for side sleepers because it has a 6-inch loft and contains pressure-relieving memory foam to prevent neck pain.
Zoma's Pillow — The Zoma Pillow is another great pillow for side sleepers because it contains customizable MicroCushion™ foam technology, allowing you to find your ideal size and comfort. The Zoma Pillow comes with free shipping and a 10-year warranty.
Best Memory Foam Pillows for Side Sleepers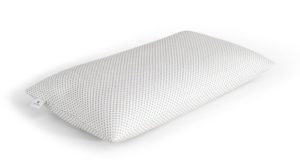 The Amerisleep Comfort Classic Pillow provides the loft and custom contouring side sleepers need for optimal spinal alignment. This CertiPUR-US® certified pillow doesn't contain formaldehyde, PBDEs, or other harmful or odor-causing chemicals.
Bio-Pur®, the same foam used in the comfort layer of Amerisleep's mattresses, gives this pillow its six-inch loft, adaptable contouring, and breathability. This foam molds under pressure and heat for individualized support. However, Bio-Pur® is also designed with advanced open cells, which allows a greater volume of air and heat to circulate, leading to cooler night's rest. A soft, breathable fabric covers the pillow, further promoting airflow and comfort.
Amerisleep offers a 10-year warranty that covers defects like weak seams and misshapen or cracked foam.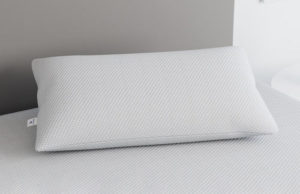 The Amerisleep Flex Pillow is just what the name describes. The pillow is filled with hundreds of MicroFlex cushions to create an adjustable design. If your current pillow feels too flat or too firm and is leaving you with a sore neck in the morning, you might want to replace it with a Flex Pillow.
The Flex Pillow is also an excellent choice for hot sleepers. Air can easily slip through the breathable cover and between the MicroFlex cushions to wick away heat.
You have a 10-year warranty protecting you from manufacturing and workmanship defects.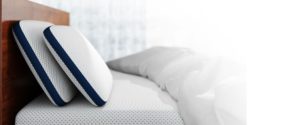 Sometimes you're not sure if you want a soft or a firm pillow. The Amerisleep Dual Comfort Pillow offers both options in one convenient package. The firm side is recommended more for side sleepers, but you try the soft side by simply flipping the pillow.
The Dual Comfort Pillow is available in low or mid-lofts. The mid-loft option is 6 inches thick and recommended for side sleepers.
Every Dual Comfort Pillow has a 10-year warranty.
The Zoma Pillow, like the Zoma Mattress, is advertised as a sports pillow. The pillow's MicroCushions™ allow sleepers to adjust the pillow's shape according to their needs. The MicroCushions™ are CertiPUR-US® certified, which means they're free of ozone depleters, heavy metals, and harmful chemicals.
A mesh-like, moisture-wicking cover allows heat and moisture to pass through and away from the sleeper. The Zoma's MicroCushions™ are made from a blend of shredded foam and polyester fiber filling. These cushions give it the ability to be folded, fluffed, and shifted into any number of shapes to complement different sleep positions.
That adjustability makes it usable for side, back, and combo sleepers. The MicroCushions™ naturally resists allergens and bacterial growth. However, you can remove the inner liner and wash the cover when needed.
The Zoma Pillow comes with a 10-year warranty that covers defects in materials or craftsmanship.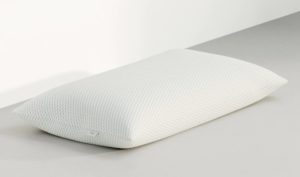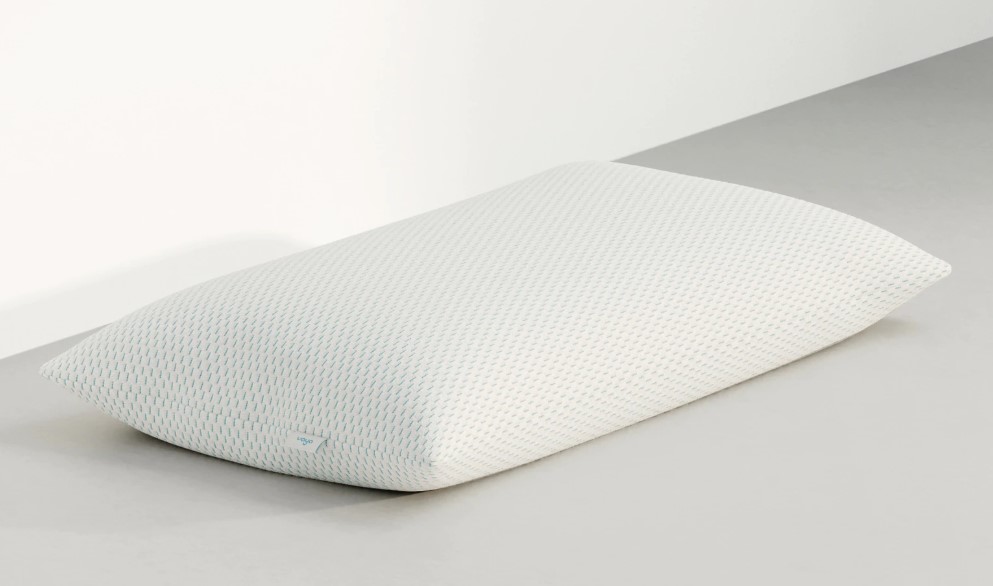 The Vaya Pillow is 6 inches thick with an adjustable height, perfect for side sleepers who toss and turn in their sleep. It's also one of our top recommendations when it comes to affordable pillows, costing only $60 for a queen size pillow. You receive an additional discount when you buy two pillows instead of just one, which is an excellent deal if you replacing yours and a partner's pillow.
Inside the pillow is a durable and bouncy Vaya Foam Blend. The material resists flattening and wicks away warm air for an undisturbed night of rest. The foam molds to the curves of your head, neck, and shoulders, promoting comfort in every position.
A Vaya Pillow includes a 10-year warranty.
Hot sleepers often benefit from curling up with a cooling pillow at night, and while many of our recommendations have included breathable shredded or ventilated fills, these aren't the only methods to establish a cooling pillow. Maxzzz's memory foam pillow relies on a mix of ventilation channels and cooling gels to create a pillow excellent for hot sleepers.
The Maxzzz ventilated gel foam pillow has a CertiPUR-US® certification attesting to its safety. The included pillowcase slips on and off easily, making it easy to wash the cover and freshen up your pillow. As the pillow has a solid fill, we do not recommend washing it.
The Maxzzz gel memory foam pillow includes free shipping and a 100-night sleep trial.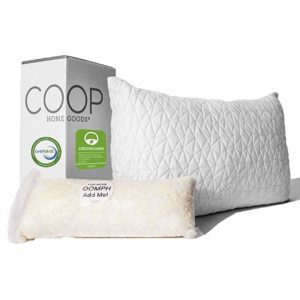 The Coop Home Goods Original Pillow has a medium-firm feel that keeps the head and spine aligned. It's also an adjustable loft model, so you can take out some of the filling until you get the perfect fit. You can adjust the fill by unzipping the inner liner and pulling out or adding filling as needed. It comes with a ½ pound bag of extra filling.
The pillow's filling is actually a blend of memory foam and microfiber filling. The memory foam is both CertiPUR-US® and GREENGUARD Gold certified, which means it's free of harmful chemicals and low on chemical emissions. This model has a soft, breathable cover made of a bamboo-derived rayon and polyester mix called Lulltra™. The inner liner protects and contains the filling, so you can remove and machine wash the cover.
The Coop Home Goods Original Pillow comes with a 100-night trial period and includes a 5-year warranty for defects in materials or craftsmanship.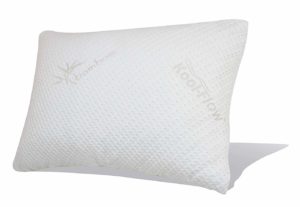 The Snuggle-Pedic Adjustable Memory Foam Bamboo Pillow allows you to change the loft based on your personal preferences. The shredded foam used in this model is also CertiPUR-US® certified, so it's low in emissions and free of harmful chemicals and heavy metals like mercury and lead.
A machine-washable cover made of Kool-flow® bamboo fabric allows air and heat to escape for a cooler night's rest. A zippered inner liner holds the shredded memory foam. You can open the liner and remove or add fill for a better fit. The shredded memory foam also allows you to change the shape of the pillow based on your sleep position or comfort preferences.
Snuggle-Pedic includes a 120-night trial, giving you a chance to test the pillow before committing. They also provide a 20-year warranty for defects in material or manufacturing.
The UTTU Sandwich Pillow takes a slightly different approach to side sleeper comfort. This contoured pillow has an ergonomic shape, but it's also adjustable so you can get the right loft.
The Sandwich Pillow has high (4.7 inches)  and low (3.9 inches) sides that fill the curve of the neck. However, there are three layers inside the pillow, and the middle layer can be removed to adjust the loft. Once removed, the high side measures 3.5 inches and the low side 2.8 inches. While it's not as adjustable as a shredded foam model, if you prefer a contour pillow and a smooth pillow surface, this model provides those options. It's covered in a breathable, machine-washable bamboo/polyester cover.
UTTU offers a 96-night guarantee period, during which you can return the pillow. There's also a five-year warranty that covers defects in materials or construction.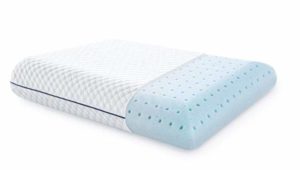 The Weekender Gel Memory Foam Pillow's five-inch loft works incredibly well for the average-sized person. This model is also CertiPUR-US® certified, so there's less exposure to harmful chemicals and emissions.
The Weekender's gel memory foam conforms to the sleeper's neck and head while absorbing heat and pulling it away from the sleeper. The channeled ventilation provides another way for heat to escape and the sleeper to stay comfortably cool. A soft, removable cover completes the feel of this highly contouring pillow. It's not adjustable or contoured, but the memory foam has the adaptability and firm feel that many side sleepers prefer.
The Weekender does not come with a trial period, but it does have a three-year warranty for defective materials or construction.
The EPABO Contour Memory Foam Pillow takes contouring to a new level. The ergonomic design gives it a feel that's not necessarily for everyone. However, it does have some adjustability for a comfortable fit.
This pillow contours at the neck so it can closely tuck into the shoulder. If the pillow's loft is too high, there's a small centerpiece that can be removed, reducing the height of the pillow in the center. However, that leaves the sides higher than the head, which works for some sleepers but not for others. The foam of the EPABO has a firm feel, but that's exactly what some side sleepers need. It's covered in a breathable, machine-washable cover.
EPABO offers a 30-day guarantee period, during which you can return the pillow for a full refund.
Pillow Fill Types to Consider
A pillow's fill makes a big difference in how it holds its shape and supports your head. We'll cover the five basic fills along with how they affect side sleepers.
Memory Foam
Memory foam changes shape based on heat and pressure, making it an ideal material for pillows. The longer it's exposed to your body heat, the deeper its cushioning becomes. That allows it to fill the gap between your mattress, head, and neck with a customized fit.
Memory foam pillows may have a solid, shredded, or contoured design. Solid memory foam pillows have a single piece of memory foam that's shaped like a standard pillow. Curved sides allow this type of pillow to comfortably fit into the curve of the neck.
Shredded memory foam allows you to adjust the shape, and sometimes the loft of the pillow according to your needs. They're a great option for combo sleepers who spend a considerable amount of time on their side. Many shredded memory foam pillows are also adjustable, which means you can remove or add fill as needed. On the downside, they can be lumpy.
Contoured pillows with memory foam fills have an ergonomic shape designed to better fit the head and neck. They may have a high and low side to give you some extra loft options, while others have only a single loft. Some models include a removable layer for some adjustability.
Memory foam is naturally hypoallergenic, resisting dust, dust mites, and other common allergens. However, memory foam can trap heat. Consequently, memory foam pillows often have cooling techniques and features like air channels, gel, or larger than average open-cell structures to dissipate heat and/or enhance airflow.
Foam
Foam, also known as poly-foam or polyurethane foam, pillows are more common in decorative or throw pillows than they are for bed pillows. But, poly-foam is a less expensive option to memory foam. However, it doesn't provide the same deep, customized contouring. Side sleepers may find comfort on either a solid or shredded foam model. Shredded foam pillows allow you to adapt their shape.
Natural and Organic Fill
Natural fill usually refers to feathers or down. However, other natural fills include wool, latex, kapok, or buckwheat. These fillers may also be organic, but only if they have a certified organic label from an independent organization that confirms organic growth, harvesting, and manufacturing of the pillow's materials.
Here's a breakdown of the common natural fillers in organic pillows:
Feathers: Feather from different parts of a bird have different feels and qualities. The highest quality pillows are made of down, the fine feathers from a bird's undercoat. Feathers, in particular down feathers, are incredibly soft and fluffy, but they aren't always the best choice for side sleepers. They mat down during the night, which could mean poor neck support for side sleepers. You can fluff a feather pillow to return its loft, but you may have to do that several times a night. Down pillows may also trigger allergies unless they've been sanitized for impurities. Even then, they may cause an allergic reaction. See our memory foam vs down pillow guide for more information.
Buckwheat: Buckwheat fillers are made from the empty, washed hulls of the buckwheat seed. Buckwheat has a firmer feel than feathers and can be replaced when it starts to break down. The hulls can be manipulated within the pillow to adjust the loft and shape, making them a good option for eco-conscious side sleepers.
Kapok: Kapok looks and feels similar to cotton, except it's harvested from the seed of the kapok tree. Its lightweight and silky texture make it a good alternative to down and wool. However, the softness may not provide enough loft and support for side sleepers.
Wool: Wool isn't as common as some of the other fill types, but its loft and natural breathability do make a good pillow. However, like kapok, it may not be firm enough for side sleepers.
Latex: Natural latex comes from the sap of a rubber tree.Once it's been processed, it can be made into a solid foam or shredded foam pillow. It's very similar to memory foam, except it usually costs more. You can expect similar contouring and conformability from a latex pillow, which means they're a good choice for side sleepers.
Synthetic Fill
Polyester is the most common synthetic fill. It's often mixed in with the memory foam of a shredded memory foam pillow. Poly-cluster fill is another common synthetic fill, wherein clumps of poly-fill are coated with silicone to give them a down-like feel. It's commonly used as a down alternative.
Synthetic latex pillows have a similar feel to natural latex. However, the latex is made from petrochemicals and isn't nearly as durable as natural latex. There are both solid and shredded synthetic latex pillows.
Synthetic fills don't have the support or conform as well as memory foam, so they may not be as comfortable for side sleepers. However, like memory foam, they are naturally hypoallergenic, which makes them a popular choice for allergy sufferers.
Pillow Budget
Memory foam pillows start for around $15 to $20. At this low end of the price range, you'll find solid memory foam pillows with gel and air channels to help regulate temperature. These memory foams typically aren't certified for low emissions, so there may be more off-gassing than with more expensive models.
Pillows that fall into the $20 to $50 dollar range may be adjustable, contoured, or shredded. They're also more likely to be CertiPUR-US® or GREENGUARD Gold certified. These higher-quality memory foams usually last longer and have excellent ventilation.
Memory foam pillows in the $50 to $100 category are usually made of premium memory foams with advanced open-cell designs, independent certifications for health and safety, and premium covers. Their high-quality memory foams typically last anywhere from five to ten years or longer and have a warranty that matches their durability.
Sleeping Position
Your pillow needs to help keep your spine in an even position from the top of your head to your tailbone. The three basic sleep positions—side, back, and stomach—put different pressure and stress on the spine, which requires different characteristics of a pillow.
Side Sleepers
Side sleepers tend to need a firmer, loftier pillow than the other sleep positions. The pillow needs to fully support the head and spine to keep the spine parallel to the mattress. A pillow that's too soft will cause the neck to bend downward, while one that's too firm will cause the spine to curve upward. The best pillows for side sleepers are typically memory foam, foam, latex, and buckwheat because of their firmer feel. Adjustable and shredded models are a smart choice if you are a restless sleeper as you can customize the loft and/or shape as needed.
Back Sleepers
Back sleepers don't need pillows with as much loft as side sleepers do. However, they do need a pillow that will mold to the arch of their neck to support the head. Most pillow types, except for those of extremely low loft, usually work for back sleepers. If you have neck pain, you may need the extra support of memory foam, foam, or other firm materials.
Stomach Sleepers
Stomach sleepers don't need much loft to keep their spine straight. Soft, low loft pillows made of feathers, down, and kapok are good choices. Stomach sleepers may also benefit from an adjustable shredded pillow.
Sleeping Cool and Airflow
Memory foam can be warm, but most memory foam pillows are made with technology and techniques that keep air flowing. For example, gel, copper, graphite, or charcoal are often mixed into the memory foam to absorb or pull heat away from the sleeper. Memory foams with air channels and structures that increase the size of each individual cell also create more space for heat and air to escape.
Common Questions
Are memory foam pillows good for side sleepers?
Memory foam pillows are an excellent choice for side sleepers. The foam softens under the heat and pressure of the head and neck, creating a cradled feel that supports the sleeper's head. As the sleeper moves throughout the night, the memory foam adapts to the body without the need to fluff the pillow.
What is the best pillow for side sleepers with neck problems?
The best pillows for neck pain contain the right loft and fill to fully support the neck without taking the head out of a neutral position works best. For some people, that's a solid or contour pillow that hugs the curves of the spine and allows the head to sink into the pillow. The memory foam will further contour to the sleeper the longer their head stays on the pillow.
Others will find relief with shredded latex or memory foam that allows them to adjust the shape of the pillow for better neck support.
How do you pick a side sleeper pillow?
Start by measuring the space between your head and the mattress when lying on your side. You'll need a pillow with at least that much loft. Depending on the fill's softness, you may need a higher loft to completely fill the space.
You'll also have to think about what kind of feel you like. Firm pillows prevent the head from pressing too far into the pillow and pushing the spine out of alignment. However, if you like a soft pillow, you may need something with more loft that will pack down under the weight of your head.
Do you mind a lumpy surface, or do you prefer a smooth pillow? A shredded pillow gives you some adaptability, but if the lumps will bother you, you're better off with a solid pillow.
Where do I put my arms when sleeping on my side?
You might find you feel most comfortable by stretching out your arms as if you're reaching for something. If you don't have the room to sprawl, you might try hugging a pillow close to your body. We recommend you avoid keeping your arms under your head or close to it, as this may result in your arms growing numb.
What is the healthiest sleep position?
We'd have to say that side sleeping offers the most health benefits, such as reduced pressure on the heart. That's not to say that back sleeping is bad, as it's often recommended as the best position to maintain a neutral spine alignment. Our editors do recommend that you avoid sleeping on your stomach because it can lead to chronic back pain.
Memory Foam Pillows for Side Sleepers: The Bottom Line
Side sleepers benefit from a firmer pillow that keeps the head from sinking out of alignment with the rest of the spine.
Memory foam pillows conform to the shape of the sleeper's head and neck for individualized contouring that you can't find with other pillow fills.
If you're a combo sleeper who spends a considerable amount of time on your side, you might want to consider a shredded memory foam pillow, so you can adjust the pillow's shape to fit your comfort needs.
A good night's sleep comes with one of the most comfortable pillows, mattresses, and bedding. A pillow that supports your head could be your ticket to better, longer sleep.