Best Memory Foam Mattresses Under $500 of 2023

Mattress Guides
The custom feel of a memory foam mattress is hard to beat, and top models can run well over $2,000. However, you don't have to sacrifice comfort if you're on a budget. In the under $500 category, you're looking for a mattress that fits your comfort needs and has durable memory foams to last a few years.
We've picked five of the best memory foam mattresses under $500. We've also included a buying guide to take you through the ins and outs of mattress shopping. To get the best mattress for your money, pay attention to sleep trials and warranties as they can protect you from a mattress that wears down sooner than it should.
Best Memory Foam Mattresses Under $500
| | Mattress | Highlights | Price |
| --- | --- | --- | --- |
| | Vaya | Designed to suit side, back, combo, and heavy sleepers alike | |
| | Zoma Start | Gel memory foam can help hot sleepers of most styles rest better | |
| | Zinus Green Tea Memory Foam | Features green tea extract for extra freshness | $344 |
| | Dynasty Mattress CoolBreeze | Features gel-infused foams for superior temperature regulation | $379 |
| | Perfect Cloud Atlas | Features CertiPUR-US® certified foams and cooling technologies | $449 |
| | SweetNight Cool Gel | Features flippable firmness, giving you 2 beds in 1 | $438 |
| | Brentwood Home Cypress | Available in different firmness options to suit varying sleep needs | $399 |
The Vaya Mattress is our favorite memory foam mattress under $500 by a landslide. We love this bed because it comes with a lengthy 10-year warranty and is made with high-quality foams built to last. Even better? It offers that perfect blend of comfort and support so many of us are looking for in a new bed.
The Vaya Mattress contains two layers of foam. A comfort layer of Vaya Foam cushions your body and alleviates pressure buildup. This foam evenly distributes your weight across the bed to create a weightless feeling, helping you drift off peacefully.
The base layer of this mattress is durable enough to resist sagging and keep you lifted in a healthy position. The Vaya is recommended for side, back, and combination sleepers. It can also provide comfortable sleep for sleepers over 230 pounds due to its enhanced responsiveness.
Vaya Sleep offers a risk-free 100-night sleep trial so you have the chance to test it out and decide if it's a fit. If not, that's okay because Vaya offers free returns, too!
VAYA MATTRESS
Incredible value for all sleeping styles
Offers universal comfort for solo sleepers and couples
Breathable and suitable for hot sleepers
Zoma Sleep is a company invested in making beds to facilitate deep sleep while enhancing muscle recovery and physical performance. The Zoma Start is their best budget-friendly option, with all the same materials as their higher-end models, just without the high price.
The Zoma Start is 10 inches thick and has a medium feel suited for all types of sleeping positions. It features Zoma's unique AirCloth cover, a stretchy knit fabric designed to draw moisture and heat away from your body.
At the top of the Zoma Start is a layer of gel memory foam. The gel infusions in the memory foam prevent you or the foam from overheating, while the memory foam itself gently cushions your body.
Next is a layer of Reactiv™ foam, a flexible transition foam. It prevents you from sinking into the bed too deeply and makes it easier to move in bed. This way, you never feel "trapped," the way some mattresses can feel.
At the base of the bed is Support+ foam. This layer is sturdy and helps to prevent wear such as sags, indentations, and soft spots.
Despite its low price, the Zoma Start includes free shipping and a 10-year warranty.
For an in-depth look at Zoma mattresses, we also recommend our Zoma Mattress Review.
ZOMA START
Built to improve sleep and muscle recovery
Zoned support technology ensures even weight distribution
Durable base prevents sags and soft spots
The Zinus Pressure Relief Green Tea Memory Foam Mattress comes in four thicknesses— 6, 8, 10, and 12 inches. While the thickness does affect the price, even the 12-inch model can be found for under $500. Thicker mattresses offer more cushioning and padding, so think about your comfort preferences when determining your mattress's height. For purposes of this review, we will be looking at the 12-inch model.
The Zinus has a green tea-infused memory foam comfort layer that hugs the body and begins cushioning high-pressure points. The green tea infusion doesn't change the feel or conformability of the memory but acts as an antimicrobial additive. The transition layer consists of two inches of high-density charcoal-activated foam.
Charcoal naturally absorbs heat, which helps cool the sleeper. This layer has a higher density than the comfort layer, which puts more foam in contact with the body. That means a more customized fit and better durability.
The next foam layer has a convoluted structure, which is your basic eggshell foam design. The structure creates air pockets through which heat can escape. This high-density layer further cushions the body while adding to the overall durability of the mattress. Finally, there's a three-and-a-half inch, high-density base support foam. This dense layer gives the mattress its overall shape. It's also convoluted to promote air circulation.
The green tea mattress comes with a 100-night sleep trial and a limited 10-year warranty.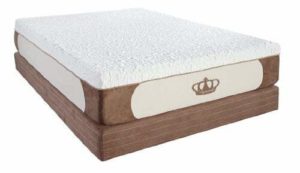 The Dynasty Mattress CoolBreeze 12-inch Memory Foam Mattress has a lot to offer, including CertiPUR-US® certified foams and a 30-year limited warranty. To receive a CertiPUR-US® certification, a mattress must go through rigorous testing and analysis to be sure it is free of harmful chemicals like PBDEs and heavy metals.
The top layer of the CoolBreeze is made of three inches of gel memory foam. Gel absorbs heat, pulling it away from and cooling the sleeper. The memory foam cradles the body and releases pressure at the shoulders and hips. It's supported by a two-inch layer of transition memory foam that deepens the contouring of the mattress. A five-inch, high-density foam support base provides the shape of the mattress and evenly distributes sleeper weight. This model has enough cushioning and support for people who weigh over 250 pounds.
The CoolBreeze comes with a 120-night trial. It also has a 30-year warranty. However, parts and labor are only free for the first ten years. After that, there may be a charge for repairs.
DYNASTY MATTRESS COOLBREEZE
Thick memory foam cushions and conforms to the shoulders and hips of side sleepers
Comes in nine sizes, including an RV mattress
Various foam densities support more substantial body weights
The Perfect Cloud Atlas Memory Foam Mattress was designed with cooling in mind. Memory foam can trap body heat, but all three of the Atlas's layers work to dissipate heat. All of the foams used in the Atlas are CertiPUR-US® certified, so they are free of substances like lead, mercury, and chemical flame retardants.
A three-inch top layer made of Perfect Cloud's signature Gel-Plus memory foam allows the sleeper to sink into the mattress for customized pressure relief. Like other cooling gel memory forms, this layer pulls heat away from the sleeper. That heat continues to flow through the three-inch transition layer made of double airflow foam. A higher-density double airflow support layer makes up the four-inch support core.
Perfect Cloud provides customers with a 120-night sleep trial. The Atlas is covered by a 10-year warranty that covers manufacturing and material defects.
PERFECT CLOUD ATLAS
All layers work together to enhance airflow and dissipate heat
Memory foam comfort layer relieves tension and pressure off of the shoulders, lower back, and hips
Has comfortable support for lightweight to average weight sleepers
The flippable SweetNight Cool Gel Memory Foam Mattress gives you two firmness options in a single model— soft and firm. Flippable models are an excellent choice if you're unsure of your comfort preferences. And, as the mattress softens with natural wear, you can flip it to use the other side. All foams in the SweetNight are CertiPUR-US® certified for a safer, cleaner sleep.
SweetNight uses a four-layer design to create two firmness levels. On the soft side, it has a two-inch, gel-infused memory foam comfort layer that cushions and contours to the sleeper. It's followed by a thin one-inch ventilated comfort foam that allows heat to circulate. A thick, four-inch third layer has softer support at the head and feet and firmer support through the middle at the lower back.
The final layer, which provides the firm support when flipped, is made of three inches of high-density support foam. It provides excellent edge support so that the mattress resists sagging at the edges.
SweetNight has a 30-day return policy that acts as their sleep-trial period. The mattress has a 10-year warranty that covers standard defects in materials or craftsmanship.
SWEETNIGHT COOL GEL
Flippable, dual firmness design gives sleepers extra comfort options
Three-zone layer targets high-pressure areas and supports the lower back
Support foam resists sagging at the edges
The Brentwood Home Cypress Memory Foam Mattress has two comfort options— 11-inch Classic or 13-inch Luxe. The Classic targets back and combo sleepers, while the Luxe works well for side sleepers and those who like to sink into the mattress.
The Classic's top layer is made of charcoal-infused memory foam. The heat-conducting properties of the charcoal allow it to absorb sleeper heat, pulling it away from the sleeper. The Classic only has one more layer, a high-density, poly-foam support core. The support core evenly distributes sleeper weight and offers light cushioning.
In the Luxe version of the Cypress, there's a two-inch transition layer made of charcoal-infused memory foam. This layer gives it a plush feel and deepens the contouring of the mattress while maintaining breathability.
All foams in the Cypress are CertiPUR-US® certified, which guarantees that they are free of harmful substances like heavy metals and chemical flame retardants.
Brentwood Home's mattresses have a one-year sleep guarantee, during which time you can return the mattress for a full refund. Their models also come with a pro-rated, 25-year warranty.
BRENTWOOD HOME CYPRESS
Supports the lower back while cushioning the shoulders
Deep cushioning offered by the Luxe model works well for side sleepers
High-quality memory foams have a longer than average durability
Mattress Types to Consider
Memory foam mattresses are only one type of mattress on the market. Each type has its pros and cons and lends itself to different sleeping styles. We'll give you a glimpse of what each has to offer, so you can find the best mattress for you.
Memory Foam Mattresses
Memory foam is a viscoelastic material, which means it stretches, molds, and conforms under heat and pressure. Once the heat and pressure have been removed, it returns to its original shape. Those properties allow the memory foam to naturally customize itself to each sleeper.
If you press your hand into memory foam, the heat and pressure of your hand cause the foam to stretch and fill in the gaps between the fingers while supporting the palm of the hand. That same conformability allows memory foam to fill the curves at the waist or lower back of sleepers while relieving pressure at the shoulders and hips.
Memory foams come in different densities and firmnesses. High-density memory foams weigh more because they pack more foam into each square foot. These foams have better durability and more closely conform to the body. They are also slower to respond to movement and can potentially trap more heat.
Low-density foams, on the other hand, respond more quickly to movement because there's less foam packed into a square foot. These memory foams are often more breathable, too. On the downside, they tend to break down faster and sag sooner than high-density memory foams.
Most memory foam mattresses have a mix of high, medium, and low-density memory foams. It's important to note that density does not equal firmness. A high-density foam can be quite soft and plush, and a low-density foam can be firm.
Memory foam mattresses come in all firmnesses, from soft to firm. That allows them to work for most sleep positions. In general, side sleepers benefit the most from memory foam's individualized pressure relief. Back sleepers can also get comfortable support in the lower back and cushioning at the shoulders. Even stomach sleepers may be comfortable on a firm memory foam mattress that prevents the hips from sinking too deeply.
Latex Mattresses
There are three types of latex used in mattresses— natural, synthetic, and blended. Natural latex is derived from sap harvested from the rubber tree. From there, it is manufactured using the Dunlop or Talalay method. Only the Dunlop method is 100% natural because no other materials are added to it. Talalay contains petrochemicals, which gives it a softer feel. The density and firmness of Dunlop latex make it ideal for a mattress's support core. However, you will find some mattresses made entirely of Dunlop latex. Talalay latex has a lighter, springier feel, making it more common in the transition and comfort layers.
Synthetic latex is less expensive to produce than natural. However, it's made from petrochemicals and has a shorter lifespan than the natural variety. Blended latex mixes natural and synthetic. As you can imagine, that puts its durability somewhere in the middle.
Latex foams feel similar to memory foam because they cushion and contour the body. However, they don't necessarily fill in every gap, nor do they continue to deepen their contouring after an extended time under pressure and heat. Most people feel like they're sleeping "on" a latex mattress rather than "in" it, unlike a memory foam mattress.
Natural latex mattresses are some of the most expensive on the market. Synthetic latex doesn't cost as much, but it can still be pricey.
Side, combo, and back sleepers who prefer a more responsive mattress often prefer latex mattresses or models with a latex layer.
Innerspring Mattresses
Innerspring mattresses have a coil or innerspring support system. The type of coils in the mattress affects how it feels, its responsiveness, and durability. The four most common types are Bonnell, offset, continuous, and pocketed.
Bonnell and offset coils are closely related. Both have a signature hourglass shape. However, offset coils have a square head that allows them to contour more closely to the body. Bonnell coils are the most affordable, but they're the bounciest and least durable.
Continuous coils are made from a single piece of wire. Each coil is interconnected with the surrounding coils. That strengthens the mattress but increases motion transfer. Any motion on one side of the mattress will be felt on the other side, which can be a problem for couples.
Pocketed coils are the latest addition to the innerspring family. They're often found in high-end and hybrid mattresses. These coils are the same diameter from top to bottom, and each is wrapped in an individual pocket of fabric. The pocketed coils only flex at pressure points, which improves motion isolation.
Coils can be a high or low gauge. Low gauge coils have thicker wire, better durability, and firmer support. High gauge wires are thinner and better at relieving pressure. However, they tend to wear out faster. Some innerspring mattresses use coils of different gauges to provide zoned pressure relief. For example, high gauge coils will be used around the shoulders and hips and low gauge coils at the lower back for better support.
Innersprings provide firmer support even if they are of a similar firmness to a latex or memory foam mattress. Innerspring mattresses work best for back and stomach sleepers. Side sleepers may find that they don't get enough pressure relief.
Hybrid Mattresses
Hybrid mattresses combine the cushioning of foam with a coil support core. These models must have at least two inches of latex, poly-foam, or memory foam to qualify as a hybrid. However, many models have two or three layers of foam, mixing and matching types to achieve the desired feel.
Hybrids are a good choice for people who like the conformability of foam but the responsiveness of coils. They're also a compromise for couples where one partner prefers coils, and the other prefers foam. The firmness and feel of the hybrid depends on the combination of foams, their thicknesses, and the type of coils. Most hybrids have six to eight-inch thick pocketed coils. Some models may have a coil-on-coil system, wherein a shorter layer of micro coils bring additional pressure relief and responsiveness.
In addition to couples, back and side sleepers can both find comfort in the right hybrid.
Mattress Budget
Memory foam mattresses run anywhere from $250 to $300 to well over $2,500. Budget mattresses, those that are generally under $700, usually have low-density, and sometimes low-quality, foams. The average memory foam mattress should last six to eight years. However, with low-density foams, the mattress may only last five years.
However, for the first few years, an inexpensive mattress may feel and function just as well as a higher-end model. The best mattresses for the money that balance quality with price fall in the $700 to $1,200 to $1,500 category.
These mattresses have higher-density foams that will last an average of six to eight years. You may even find a few luxury mattresses at the high end of this price range. These models will have luxury fabrics with intricate stitching in the covers and premium foams.
Luxury and high-quality memory foam mattresses start around $1,200 to $1,500 and go up over $2,500. These models may have four to six layers of high-quality foam, zoned pressure relief, and premium cooling fabrics with intricate stitching and breathable side panels in the cover.
Sleeping Position
Most people move through several sleep positions throughout the night. However, we all have one we prefer. Each sleep position puts different stresses and demands on the mattress. Try to choose a mattress that's tailored to the needs of your dominant position.
Side Sleepers
The shoulders and hips of side sleepers put extra pressure on a mattress. Memory foam and latex mattresses do well at relieving pressure while contouring to and supporting the curves of the body. Innerspring mattresses don't usually offer enough cushioning at the shoulders and hips for side sleepers. If you share a bed with someone whose sleep position is not predominantly side sleeping, a hybrid makes a good, well-cushioned compromise. If you're looking for the best mattress for side sleepers, we recommend a memory foam mattress of medium firmness.
Back Sleepers
The goal of any mattress is to maintain neutral spine alignment. Back sleepers have an easier time maintaining this ideal position. That allows them to be more selective in their mattresses. Any model that has the right cushioning, support, and firmness can work for a back sleeper.
If you like to sink into your mattress, a memory foam or latex mattress would be a good fit. However, if you like to sleep on rather than in the mattress, a firmer foam model or innerspring mattress may be more comfortable. Those with back pain often do well on a medium-firm model of any mattress type.
Stomach Sleepers
Sleeping on the stomach is not good for the back. The hips tend to sink, which puts extra pressure on the lower spine. For that reason, we do not recommend it. If you can't help but sleep on your stomach, look for a firm mattress that reduces sinkage. Firm memory foam, innerspring, or hybrids could all work. However, they should have some cushioning at the shoulders for long-term comfort.
Sleeping Cool and Airflow
Heat and moisture need to be able to move away from the body to maintain a neutral temperature while you sleep. Some mattress materials are more breathable than others. Memory foam, for example, can trap heat against the body if cooling techniques and technologies aren't used.
For that reason, many manufacturers offer cooling memory foam mattresses that feature gel, graphite, charcoal, or copper to absorb and dissipate heat. Others may create air channels in the foam during the manufacturing process or use a convoluted structure with air pockets to make room for air and heat to circulate.
Latex can also be problematic when it comes to breathability as it, too, can trap heat. Latex layers are typically aerated with air channels to counteract this problem.
Innerspring mattresses and hybrids, on the other hand, have more space around the coils around which air can move. Any model with coils will naturally be cooler than an all-foam mattress.
Saving Further with Mattress Sales
The year's best mattress sales can offer shoppers steep discounts on a high-quality mattress, widening the options that budget shoppers can consider.
Common Questions
What is the best inexpensive memory foam mattress?
Think about your personal circumstances when deciding on the best inexpensive mattress for you.
What is your dominant sleep position? How much do you weigh? Do you share your bed with a partner? A heavyweight side sleeper will need a thicker mattress than a lightweight stomach sleeper, for example. If you're unsure of your firmness preferences, a flippable model might be a good choice.
What is the best mattress under $1,000?
For $1,000, you can find a high-quality memory foam mattress that may last well beyond the average six to eight years. However, there is no one "best" mattress, as everybody has different sleep needs. When searching for a new bed, keep in mind your preferred sleep style, body type, as well as any recurring aches and pains you experience. These factors can steer you towards one of the most comfortable mattresses for your particular needs.
What is the best mattress under $500?
Any of the mattresses on our list are worth considering. Think about the circumstances beyond your sleep position, like how much you weigh and whether or not you sleep hot or cold.
You want to aim for a temperature neutral sleep experience. A mattress with gel memory foam and convoluted layers will probably breathe better than one with only a single layer of cooling memory foam. If you're over 230 pounds, look for a thicker mattress with several high-density layers that can support your body weight. Before buying, look at the sleep trial. Most people need at least 30 days to adjust to a new mattress. You'll probably need at least that long to really know if the mattress is right for you.
What is the difference between memory foam and gel memory foam?
The difference between gel memory foam and memory foam is that gel foam has cooling gel beads infused into the top layer to disperse heat. The bed's effectiveness depends on the type of gel and the company's memory foam formula. Other cooling alternatives exist, such as breathable plant-based foam.
How long do memory foam mattresses last?
It depends on the foam's quality, but the average memory foam mattress lasts about 7 years. Higher-quality memory foam mattresses can last for more than a decade. To extend your mattress's lifespan and prevent indentations from forming, we recommend rotating your bed every 3 to 6 months.
The Bottom Line
Memory foam mattresses that cost less than $500 can have the same cooling technologies as more expensive models.
Look for a mattress that caters to your comfort preferences, weight, and preferred sleep position.
Models with high-density memory foams have better durability but can be found in all firmness levels.
Just because you're on a budget doesn't mean you can't get a good night's sleep. If you prioritize your search based on your personal preferences and needs, you'll be able to narrow down your choices and find a mattress that's tailored just to you.