Best Memory Foam Mattress for Heavy People: Reviews and Buyer's Guide

Mattress Guides
Memory foam has the ability to adapt to any body type, making it an optimal material for mattresses. However, each sleeper's physical makeup and personal preferences impacts their perception of comfort. Bodyweight is one factor that influences the effectiveness of a mattress. People over 230 pounds have unique support and comfort needs that aren't met by every model.
We've picked five of the best memory foam mattresses for heavy people. These models have the support to maintain spinal alignment while allowing the sleeper to drift into blissful sleep. We've included firm and soft, plush models to provide a wider selection of choices. We've also included a shopping guide to help you wade through the growing number of mattresses available on the market today.

30 Second Summary: Best Memory Foam Mattress for Heavy People
Amerisleep AS2 — We recommend Amerisleep's AS2 as the best memory foam mattress for heavy people because it contains zoned technologies to keep you lifted in the mattress and prevent uncomfortable sinkage.
Amerisleep AS5 – We also like Amerisleep's AS5 for plus-size sleepers because it contains a layer of Active Flex to increase the bed's responsiveness, giving it a bit of bounce and preventing you from ever feeling "stuck" in the bed.
Best Memory Foam Mattresses for Heavy People
Amerisleep's AS2 accommodates the heavier sleeper that prefers a firmer mattress. This medium-firm model's comfort starts with a soft, breathable mattress cover designed for deep sleep.
The cushioning begins of the two-inch Bio-Pur® top layer gently relieves pressure without sinking down too far. This plant-based foam has an advanced open-cell design that allows air to circulate, preventing overheating.
The comfort layer is followed by the Affinity layer with HIVE® technology (Harnessing Intelligent Ventilation & Energy). HIVE® is made up of hexagonal cutouts arranged into five zones. The depth and arrangement of the cutouts affect the support within each zone.
For example, deeper cutouts that are spaced further apart provide deeper contouring at the hips, while shallower, closely packed cutouts provide firmer support at the lower back. This ensures the spine stays in a neutral position no matter the sleep position.
A high-density support layer called Bio-Core® gives this bed stability and evenly distributes sleeper weight on the mattress surface. This model's firmer feel works well for back or stomach sleepers and side sleepers who like a firm mattress.
Amerisleep mattresses come with a 100-night sleep trial and a 20-year prorated warranty. The company will cover the cost of repairs or replace the mattress within the first ten years. In the second ten years, they will either repair or replace the mattress at a reduced price that's determined by the length of ownership.
AS2 Highlights
Gentle pressure relief of the Bio-Pur® comfort layer reduces pressure with minimal sinkage
Firm, but targeted support of the HIVE® transition layer helps maintain a neutral spine
Firm support that's often comfortable for back and stomach sleepers
For side sleepers and those who like to sink into the mattress, Amerisleep has a much softer option—the AS5—that provides maximum cushioning coupled with excellent support. This four-layer, 14-inch mattress has Bio-Pur®, the Affinity layer with HIVE®, and Bio-Core® like the AS2, but changes in layer thicknesses and an added Active Flex layer give this mattress the ability to support a heavier body but maintain a softer feel.
Like the AS2, the AS5 has a lightweight cover that encourages airflow to keep you cool throughout the night. A three-inch Bio-Pur® comfort layer hugs the sleeper and relieves pressure points. The plant-based Bio-Pur® cradles the sleeper, but the advanced open-cell structure prevents heat buildup.
The body gets further conforming and pressure relief from the two-inch Active Flex layer. Active Flex sets the AS5 apart from all of Amerisleep's other models. This soft foam enhances pressure relief but also adds responsiveness, so the sleeper doesn't get "stuck" in the mattress. The AS5 then has a two-inch transition layer, known as the Affinity layer with HIVE®, that targets the body's high-pressure points and promotes a comfortable spinal position.
Finally, there's the Bio-Core® support layer that gives the mattress its shape, distributes sleeper weight, and still cushions the body.
The AS5 comes with the same 100-night sleep trial and 20-year prorated warranty as the AS2.
AS5 Highlights
Added cushioning and responsiveness of the Active Flex layer lets heavier sleepers sink into the mattress without getting stuck
Plush contouring relieves pressure while HIVE® promotes a neutral spinal alignment
Bio-Core® base layer evenly supports and distributes body weight on the mattress surface
The Vaya Mattress was designed to be a simple and affordable bed suitable for all sleepers, including heavyweight sleepers. Instead of relying on a complicated design, its two layers blend conforming pressure relief with latex-like responsiveness and a supportive lift.
The top layer is 3 inches of Vaya Comfort Foam. It's a material that's less dense and more breathable than traditional memory foam. It contours to your body and wicks away warm air for a cool night's sleep.
The base layer is 9 inches of high-density foam that resists sagging. A soft cover made with a mix of rayon, spandex, and polyester surrounds the foam layers.
Every Vaya Mattress includes a 100-night sleep trial and a 10-year warranty. You will find the Vaya Mattress exclusively on Amazon.
Vaya Mattress Highlights
Affordable all-foam mattress
A plush 12-inch thickness that can support a variety of sleepers
Two-layer design balances bouncy support with breathability and pressure relief
The firm, three-layer Live and Sleep Elite Mattress creates a sleep experience that's often more comfortable for back and stomach sleepers. Its CertiPUR-UR® certified foams assure you that there are no harmful substances like formaldehyde, PBDEs, or lead in this model. It also tells you that this model is low in harmful emissions.
The ten-inch Elite features a two-and-a-half-inch memory foam comfort layer that provides the majority of the pressure relief. It's not zoned, so the hips and shoulders get as much cushioning as the back and legs. It's followed by a half-inch transition layer of gel-infused memory foam. The gel absorbs heat to cool the body while further contouring to the sleeper's shape. Finally, a seven-inch, high-density foam support base gives the mattress shape and durability.
The Elite comes with a 75-day sleep trial and includes a 20-year warranty.
Live and Sleep Elite Mattress Highlights
CertiPUR-US® certified foams are free of harmful chemicals and low on emissions
Firm feel that supports back and stomach sleepers but still relieves pressure at the shoulders
Cooling, gel memory foam transition layer helps cool the sleeper even as they stay in the same position throughout the night
The Bear Pro combines unique technologies to create a comfortable, cool, and sanitary mattress. This medium-feel model makes a great option for heavier side sleepers.
A Celliant® mattress cover converts body heat into infrared energy, keeping the sleeper cool. The top layer is made of copper-infused memory foam. The copper serves two purposes. First, it absorbs heat and transports it away from the sleeper. Second, it acts as a natural antimicrobial barrier. At the same time, the memory foam gives under heat and pressure for customized contouring.
To further cool and cushion, there's a layer of gel memory foam beneath the copper-infused foam layer. Gel, like copper, absorbs heat, pulling it away from the sleeper. Together, these two top layers set the stage for gentle pressure relief. A poly-foam transition layer and high-density poly-foam support layer prevent heavier bodies from sinking too far into the mattress. Overall, this medium-feel model has the deep cushioning side sleepers need but also works for back sleepers who like to sink a little into their mattress.
The Bear Pro comes with a 100-night sleep trial and a 10-year warranty that covers defects in materials and workmanship.
Bear Pro Mattress Highlights
Combination of copper-infused and gel memory foam keep the sleeper cool
A transition layer cushions and offers firmer support to prevent too much sinkage
12-inch height provides adequate depth for larger people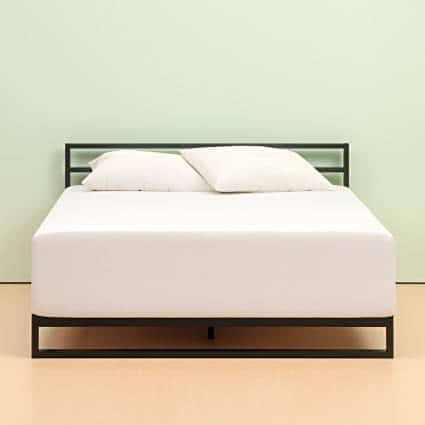 The Zinus Pressure Relief Green Tea Memory Foam Pressure Relief Mattress comes in four thicknesses. For the heavier sleeper, we suggest the 12-inch model. This highly affordable mattress has four layers, including a green tea-infused and charcoal-activated memory foam layer.
The three-inch green tea-infused memory foam top layer cradles the body and takes pressure off of the shoulders and hips. However, it's supported by a two-inch, high-density charcoal-activated foam, so the sleeper experiences a deeper, hug-like feel to the mattress, while the charcoal absorbs heat to cool the sleeper.
This top layer is followed by a three-and-a-half-inch, convoluted (egg-shell) high-density foam that both cushions and creates air pockets for air to circulate. It lies over a three-and-a-half-inch, high-density support foam that also has a convoluted shape, so heat and air can continue to circulate through the entire mattress.
Zinus provides a 100-night sleep trial, during which you can return the mattress if you're dissatisfied. It's backed by a limited 10-year warranty.
Zinus 12-Inch Green Tea Memory Foam Pressure Relief Mattress Highlights
High-density convoluted transition and support layers enhance contouring and support while promoting breathability
The green-tea infused top layer cushions and cools
Medium firmness works for back and side sleepers
Mattress Types to Consider
Each mattress type has its pros and cons, and they each appeal to sleepers of different body weights and sleep positions. We'll give you a rundown on what to expect from each mattress type.
Memory Foam Mattresses
Memory foam is viscoelastic, meaning it stretches and conforms under heat and pressure. However, it then returns to its original shape once the heat and pressure are removed.
If you press your hand into a memory foam mattress, the foam fills the space between your fingers and the indentation of your palm. The longer your hand remains in contact with the memory foam, the deeper it contours to the hand. After removing your hand, the foam holds that shape for a moment before it returns to its original shape. When used in a mattress, memory foam molds itself to the shape of the sleeper and continues to do so as they move throughout the night.
Memory foam mattresses are known for their superior pressure-relieving ability. They sink under pressure, relieving pain points and sore spots. At the same time, the memory foam provides support for the lower back and legs, making it easier to maintain a healthy spinal alignment.
If you share a bed, the individualized contouring of memory foam means the bed will conform to each person without affecting a partner. Essentially, one partner won't get pulled into the body impression of the other, which can be an issue for heavier people. Memory foam also absorbs motion. Movement from either partner is less likely to transfer across the bed and disrupt the other person.
On the downside, memory foam has been known to trap heat. However, many of today's memory foams have advanced cell designs that promote airflow. Other memory foams are infused with copper, charcoal, graphite, or gel that pull heat away from the body.
Heavy sleepers need a memory foam mattress with a combination of support and cushioning. Typically, thicker mattresses work better because there's plenty of cushioning above the firm support layer. While side sleepers usually benefit the most from a memory foam mattress, back and stomach sleepers can sleep well on a model of the right firmness.
Latex Mattresses
Latex mattresses are made of either natural, synthetic, or blended latex. The two most common types of latex, Dunlop and Talalay, are harvested from rubber tree sap and each have a distinct feel. Dunlop latex's denser, firmer feel is often found in support layers, while Talalay's bouncier, lighter feel works well in transition and comfort layers.
Note that Dunlop latex is not made with any petrochemicals, so it is the only true "natural" latex. Talalay, while it comes from the rubber tree, has added chemicals to give it a soft, viscoelastic feel.
Synthetic latex doesn't come from a rubber tree. In fact, it's derived from petrochemicals and is less expensive to produce than natural latex. However, it isn't nearly as durable and can potentially off-gas. Blended latex has both natural and synthetic latex. The ratio of natural to synthetic latex varies by manufacturer, but in general, the more natural latex used, the more durable the mattress.
Latex mattresses contour and conform to the body in a way that's similar to memory foam. Latex is also bouncier with a more responsive feel. Its natural characteristics make it feel like you're sleeping on the mattress rather than in it.
A latex mattress with the right firmness can be comfortable for a heavier person. While latex is bouncier than memory foam, it does a good job of reducing motion transfer.
Latex mattresses are a good option for side sleepers because latex gives under pressure to relieve pain points. Back sleepers may find that latex cushions while supporting the arch of the lower back. However, stomach sleepers will need to make sure the mattress is firm enough to prevent their hips from sinking down too far.
Innerspring Mattresses
Innerspring mattresses have been around for decades. They have a coil support system with a quilted cover that provides light cushioning. There are four basic types of coils— Bonnell, offset, continuous, and pocketed.
Most innerspring beds are made with Bonnell coils, which have an hourglass shape. These inexpensive coils aren't as durable as the other types and tend to transfer quite a bit of motion. Offset coils have a similar shape to Bonnell, except they have a flat, square head that adapts to the shape of the body for better body contouring.
Continuous coils are made with one strand of wire that interconnects each coil. A continuous coil system is strong, but because all the coils are interconnected, mattresses made with continuous coils can be quite bouncy and noisy.
Pocketed coils have become popular, especially in higher-end innerspring or hybrid models. Pocketed coils are not interconnected, and each is wrapped in an individual pocket of fabric. The coils flex independently of one another, and the fabric helps absorb noise. Of all the coil types, pocketed coils are the quietest and offer the best-targeted pressure relief. However, they will still be bouncier than a latex or memory foam mattress. And, in general, coils of all types tend to wear out sooner than high-quality latex or memory foam.
The wire used to make coils may be a high or low gauge. Low gauge wire is heavier and thicker, making it firmer and more durable. Thin, high gauge wire flexes more easily and does a great job of relieving pressure. However, it also wears out faster. Some models have a zoned coil system with low gauge coils in areas where extra support is needed and high gauge coils at high-pressure points.
Coils provide firmer support than foam even if the mattresses have similar firmness levels. Heavier back and stomach sleepers who prefer a firmer, more responsive mattress will probably be comfortable on an innerspring model.
Hybrid Mattresses
Hybrid mattresses have the cushioning of foam—memory, latex, or poly-foam—with a coil support system. This combination creates a highly contouring mattress with good responsiveness and a springier feel. Most hybrids contain pocketed coils, and some even have a coil-on-coil support system, wherein a layer of micro-coils brings additional pressure relief and support.
The number of comfort and transition layers varies from mattress to mattress. Some may only have a single layer of foam while others may have three or four for deeper cushioning. These mattresses are a good option for couples and can be comfortable for heavier people who sleep in the side or back position.
Mattress Budget
Inexpensive memory foam mattresses start around $300 and go up to about $700 or $800. These models are typically made of low-density memory foams. However, they may have a high-density foam in the transition or support layers. Low-density memory foams have better responsiveness than their high-density counterparts. However, they have less durability, so you should expect one of these mattresses to last less than the average six to eight-year memory foam mattress life.
Mattresses that balance foam quality with price usually fall in the $800 to $1,200 to$1,500 range. You may even find a few luxury models in this category. There are more high quality, high-density foams used in these mattresses. They typically have a life span of six to eight years.
High-end, luxury memory foam mattresses start around $1,500 and go up to over $2,500. These models often have thicker layers or a higher number of high density, high-quality memory foam layers. Their covers are intricately stitched and made of high-quality, breathable fabrics. Many of these models will last eight to ten years or longer.
Sleeping Position
Different sleep positions put different amounts of stress and pressure on a mattress. If you know your dominant sleep position, you can look for the best mattress for your specific needs.
Side Sleepers
Side sleepers put a significant amount of their body weight on the shoulders and hips. Without adequate pressure relief, pain and/or numbness can build in these areas. The best mattresses for side sleepers are softer, letting them sink in while still evenly distributing body weight across the surface of the mattress. Memory foam and latex are excellent choices for side sleepers. If you share a bed, a hybrid mattress for side sleepers is another good option.
Back Sleepers
Back sleepers naturally maintain a neutral spinal alignment. However, they still need cushioning to relieve any pain or pressure points. Back sleepers, especially those looking for the best mattress for back pain, typically sleep well on a medium-firm bed of almost any type as long as it has the right cushioning. If you prefer to sleep in rather than on the mattress, memory foam is probably the right choice. If you prefer to sleep on the mattress or like a responsive feel, a latex, hybrid, or innerspring model would probably be better.
Stomach Sleepers
We don't recommend sleeping on the stomach because of the extra pressure it puts on the lower back. However, if you find yourself on your stomach more often than not, a firmer mattress will probably be more comfortable. Firm innerspring and hybrid models are a safe bet. However, there are firm foam models that prevent sinkage while cushioning the body, too.
Sleeping Cool and Airflow
Memory foam mattresses have been known to trap heat. However, many manufacturers work to alleviate this problem with various techniques and technologies. For example, some use advanced open-cell structures that create larger than average individual foam cells. The extra space in each cell makes more room for air to flow.
Other manufacturers create cooling memory foam mattresses by infusing or mixing additives like gel, copper, graphite, or charcoal into its foam layers. These substances usually absorb heat and help move it away from the sleeper. Another method is to change the structure of the foam, such as in an eggshell or convoluted structure. Other manufacturers may make the foam with air channels or carve out shaped spaces through which air can move.
Models with coils naturally have an advantage because heat and air can circulate around the coils.
Common Questions
What is the best mattress for a heavy person?
Heavier people typically need a thicker mattress. Otherwise, they can sink too quickly through the comfort layers to the firmer support layers, where they won't get enough cushioning. The firm support of coils works well for sleepers of higher weights. However, high-quality, high-density foams can also cradle the body and consistently support and distribute weight evenly.
When searching for the best mattress for heavy people, consider how and where you carry your weight. If the weight is evenly distributed across your frame, a mattress with zoned support should accommodate you. However, if you carry your weight around the middle, you may need a mattress with firmer support in the center and lighter support at the shoulders and legs.
You also have to consider your personal preferences. For example, if you prefer a soft mattress, look for one with several thick layers, so you get the cushioning you need without sinking too far into the support core.
Do mattresses have a weight limit?
Mattresses don't typically have weight limits. Some accommodate or are designed for people above or below a certain weight. In this case, the manufacturer would indicate who is most likely to find the mattress comfortable. For example, you will see some of the most comfortable mattresses specifically designed for heavier people.
While a mattress may not have a maximum weight limit, a box spring or foundation might. Be sure to check before you buy so that it meets the needs of you and your partner. Adequate foundation support is essential to the proper functioning and durability of your mattress. Without it, sagging and body impressions are more likely to develop.
Are heavier mattresses better?
Mattresses may be heavier or lighter for a number of different reasons. For example, high-density foams weigh more than low-density foams, and coils often weigh more than foams. A mattress doesn't need to be heavy to be high-quality.
In fact, the extra weight can make it difficult to move or adjust if you needed. Rather than equating weight with quality, look at the materials. The density of the foams and gauge of the wire in the coils are better indicators of quality than overall weight.
How long should a memory foam mattress last?
The average memory foam lasts about 7 years. However, memory foam beds that contain high-density, quality foams can last for more than a decade. A mattress's warranty can give you an idea of its expected lifespan.
How thick should a memory foam mattress be?
We strongly recommend you never buy a mattress thinner than 8 inches, and unless you're shopping on a tight budget look for one that's at least 10 inches thick. Heavier people may benefit from a 12 inch mattress or thicker—their bodies exert more pressure than the average sleeper, and the added material can help the bed withstand the pressure. Thicker mattresses may also have added layers that provide more support.
Memory Foam Mattresses for Heavy People: The Bottom Line
A memory foam mattress of the right thickness and support can be comfortable for a heavier person.
Memory foam mattresses contour to each individual sleeper and absorb motion for a quieter night's rest.
Memory foam can relieve pressure and pain at high-pressure points.
Choosing the right mattress means considering all the important factors. After all, a mattress is a highly personal choice that has to be made with all of your personal preferences and circumstances in mind.
Rest assured that no matter your weight or dominant sleep position, there's a mattress out there for you. Try out a few in a showroom and look for models with sleep trial periods, so you can relax knowing you've found the right model.