Best Memory Foam Mattress for Back Pain (2023): Reviews and Buyer's Guide
Updated February 02, 2023

Mattress Guides
Whether it's injury, age, or overuse that's got your back aching, the pain is more than enough to keep you awake at night. A mattress that relieves pressure, supports the spine, and keeps your back in a neutral position can ease pain and help you sleep better.
We've chosen five memory foam mattresses that cushion the body and provide the kind of support necessary for healthy spinal alignment. After our recommendations, you'll find a buying guide with the considerations you'll need to keep in mind while you search for the best mattress for back pain.

30 Second Summary: Best Memory Foam Mattresses for Back Pain
Amerisleep AS2 – The AS2 is great for relieving back pain due to its inclusion of HIVE® technology. HIVE® promotes a healthy spine and prevents aches and pains.
Zoma Mattress – Zoma offers superior pressure and pain relief for those with back pain through gel-infused memory foam and Triangulex™ technology.
Best Memory Foam Mattresses for Back Pain
| | Mattress | Highlights | Price |
| --- | --- | --- | --- |
| | Zoma Start | Gel memory foam and buoyant transition foam with a durable base foam | |
| | Amerisleep AS3 | Contains HIVE® technology to promote healthy spinal alignment and ease pains | |
| | Amerisleep AS5 Hybrid | Pocketed spring coil base provides accurate contouring and reduces motion transfer | |
| | Zoma | Features Triangulex™ technology to alleviate pressure and prevent discomfort | |
| | Zoma Hybrid | Combination of gel-infused memory foam and a spring coil base for a balance of cushioning and support | |
| | Vaya | Affordable all-foam mattress designed to resist sagging and promote healthy sleeping positions | |
We're not the only ones who think the AS2, made by Amerisleep, is a good choice for back pain. It was chosen by Business Insider back in 2018 as the best mattress for back pain. This medium-firm mattress's ability to support the spine and simultaneously relieve pressure continues to make it an excellent choice for back pain sufferers.
The AS2's mattress cover is a soft, breathable fabric that is designed to keep you cool throughout the night. This cover is followed by a two-inch comfort layer made of Amerisleep's Bio-Pur® foam cushions the body and relieves painful pressure points.
It's supported by a layer of Affinity with HIVE® (Harnessing Intelligent Ventilation & Energy) technology. HIVE® contains hexagonal cutouts arranged in zones. The spacing and depth of the cutouts changes based on the body's support needs. For example, at the hips and shoulders, the cutouts allow the body to sink more deeply. That allows the spine to stay in a comfortable, neutral position. Additionally, the cutouts enhance breathability by creating spaces for heat, moisture, and air to circulate around and away from the body.
The Bio-Core® support layer helps distribute the sleeper's weight evenly across the mattress's surface, so there's no sagging or sinking.
Amerisleep offers a 100-night sleep trial and a 20-year, prorated warranty that covers defects including indentations over three-quarters of an inch.
AS2 Highlights
Zoned support of the HIVE® layer maintains adequate back support
Pressure-relieving Bio-Pur® and HIVE® layers

Perfect medium firmness to cushion sensitive areas and support your spine
The Zoma Mattress targets the recovery needs of athletes. However, its targeted pressure relief and medium-feel make it an excellent choice for side sleepers who suffer from back pain, as well.
A stretchy cotton cover creates a soft, almost mesh-like feel that uses body heat to boost recovery, much like the AS2. A special pain-relieving, gel-infused comfort layer made with Triangulex™ technology provides zoned pressure relief. It has triangular cutouts throughout the top and bottom third of the mattress for extra pressure relief and to create space for heat to escape. In the center, where the lower back meets the mattress, there are no cutouts to maintain a higher level of support.
The Reactiv™ transition layer has a latex-like feel that improves the overall responsiveness of the mattress. Finally, there's an eight-inch Support+ layer that helps to evenly distribute body weight across the mattress.
The Zoma comes with a 100-night sleep trial and a 10-year warranty that covers defects in materials and craftsmanship. It includes coverage for indentations over three-quarters of an inch.
Zoma Mattress Highlights
Medium-feel support for side sleepers
Extra responsiveness of the Reactiv™ transition layer helps sleeper avoid feeling "stuck"
Zoned support of the Triangulex™ comfort layer keeps the spine neutral
Our favorite budget-friendly mattress for back pain is the Vaya, sold by Vaya Sleep online only. Vaya Sleep designs their mattress to accommodate most sleep needs, but they also offer a 100-night risk-free sleep trial with every purchase, so you can test it and decide for yourself.
The Vaya Mattress blends pressure relief with responsiveness to offer a great balance of comfort and support. It alleviates discomfort under pressure points without "cradling" or causing you to sink too far in the mattress. It's a great mattress for back pain because it promotes healthy alignment, preventing you from sleeping in wonky positions and waking up uncomfortable.
The Vaya stands 12 inches tall and has two layers: 3 inches of Vaya Comfort Foam and 9 inches of durable base foam. Vaya uses high-quality foams in their mattress to resist sagging, but they also offer a 10-year warranty with every bed.
Vaya Highlights
Affordable and versatile
Breathable and comfortable for hot sleepers
Made with durable foams to resist sagging
4. Bear Mattress
The medium-firm Bear Mattress cushions the body and supports the spine. This CertiPUR-US® certified mattress is made without harmful chemicals like PBDEs and heavy metals like lead or mercury.
The Bear's memory foam comfort layer adapts to the shape of the sleeper while cooling them with a mix of graphite and gel incorporated into the foam. Both additives absorb and move heat away from the sleeper. A poly-foam transition layer provides some responsiveness, so the sleeper doesn't feel stuck in the contouring of the memory foam. Underneath this layer, is a high-density, poly-foam support core that gives the mattress shape and evenly distributes the sleeper's weight.
All mattresses come with a 100-night sleep trial and a 30-day required break-in period that must be met before initiating a return. A standard 10-year warranty covers defects, including indentations over one inch.
Bear Mattress Highlights
The top layer conforms closely while keeping sleeper cool
The responsive poly-foam transition layer helps sleeper avoid "stuck" feeling
CertiPUR-US® certified, ensuring no harmful materials are in the mattress
5. Brentwood Homes Cypress Memory Foam Mattress
The Brentwood Homes Cypress Memory Foam Mattress offers relief from back pain at an affordable price. It also comes in two heights—a "Classic" 11-inch model or 13-inch "Luxe." Back sleepers will probably prefer the Classic while side sleepers may opt for the extra cushioning of the Luxe.
A two-inch, charcoal-infused top layer both cools and contours to the sleeper, cushioning any painful areas. The two-layer Classic then has a high-density support core. The Luxe, however, has an additional two-inch layer of memory foam, providing extra pressure relief. The cradling feel of the Cypress Luxe works well for sleepers with back pain who like to sink into the mattress.
Brentwood Homes offers a 1-year sleep trial with a required 30-day break-in period. They also provide a 25-year warranty that covers defects and indentations over two inches.
Brentwood Homes Cypress Memory Foam Mattress Highlights
Two thickness options that accommodate back and side sleepers
Memory foam layers offer cushioning and pressure relief at high pressure points
Luxe allows you to sleep "in" rather than "on" the mattress
Mattress Types to Consider
Back pain will certainly affect the type of mattress that feels good to you. We'll give you a rundown of the different mattress types and how they might affect your back pain to help you find the best mattress for your needs.
Memory Foam Mattresses
Memory foam has viscoelastic properties, which means it changes shape under heat and pressure but returns to its original shape once the pressure and heat are removed. That allows it to fill in and around the curves of the body, such as at the lower back for back sleepers and at the hips, shoulders, and waist for side sleepers. It adapts to the sleeper as they move throughout the night.
Memory foam can have some drawbacks. Traditional memory foam traps heat and often overheats the sleeper. To combat this issue, many memory foams have gel, charcoal, graphite, or copper mixed into the memory foam to help dissipate heat. Other manufacturers alter the structure of the memory by cutting channels or shapes into the surface, creating space for heat and air to escape. And, some memory foams have a larger than average cell structure so more air can circulate.
Memory foam returns to its original shape slowly, which can leave some sleepers feeling stuck when they try to move. Again, manufacturers work around this issue through design. Oftentimes they put a more responsive poly-foam, latex, or latex-like foam beneath a memory foam comfort layer to improve responsiveness.
Many people benefit from a medium-firm memory foam mattress because it can target each person's unique pressure points. However, the firmness level you need will depend on your dominant sleep position and body weight. Side sleepers may need a softer mattress while back sleepers may need a firmer model. Those who prefer stomach sleeping, which can be detrimental to your back health, will need the firmest memory foam mattress to prevent the hips from sinking and putting extra pressure on the lower back.
Latex Mattresses
Not all latex is made the same. Latex may be natural, synthetic, or a blend of both. Natural latex comes from the rubber tree and is manufactured using the Talalay or Dunlop method. Talalay latex has a lighter, spongier feel, making it a common comfort or transition layer. The heavier, denser Dunlop latex usually works better as the support core of a mattress, but it's sometimes found in transition and comfort layers, too.
Synthetic latex is derived from petrochemicals, and while it's less expensive, it also doesn't have the durability of natural latex. Blended latex has both natural and synthetic latex. The percentage of natural to synthetic latex varies based on the foam formula. A higher percentage of natural latex foam increases the durability of the mattress.
Latex feels similar to memory foam; it provides excellent pressure relief; however, it doesn't conform quite as close to the body as memory foam.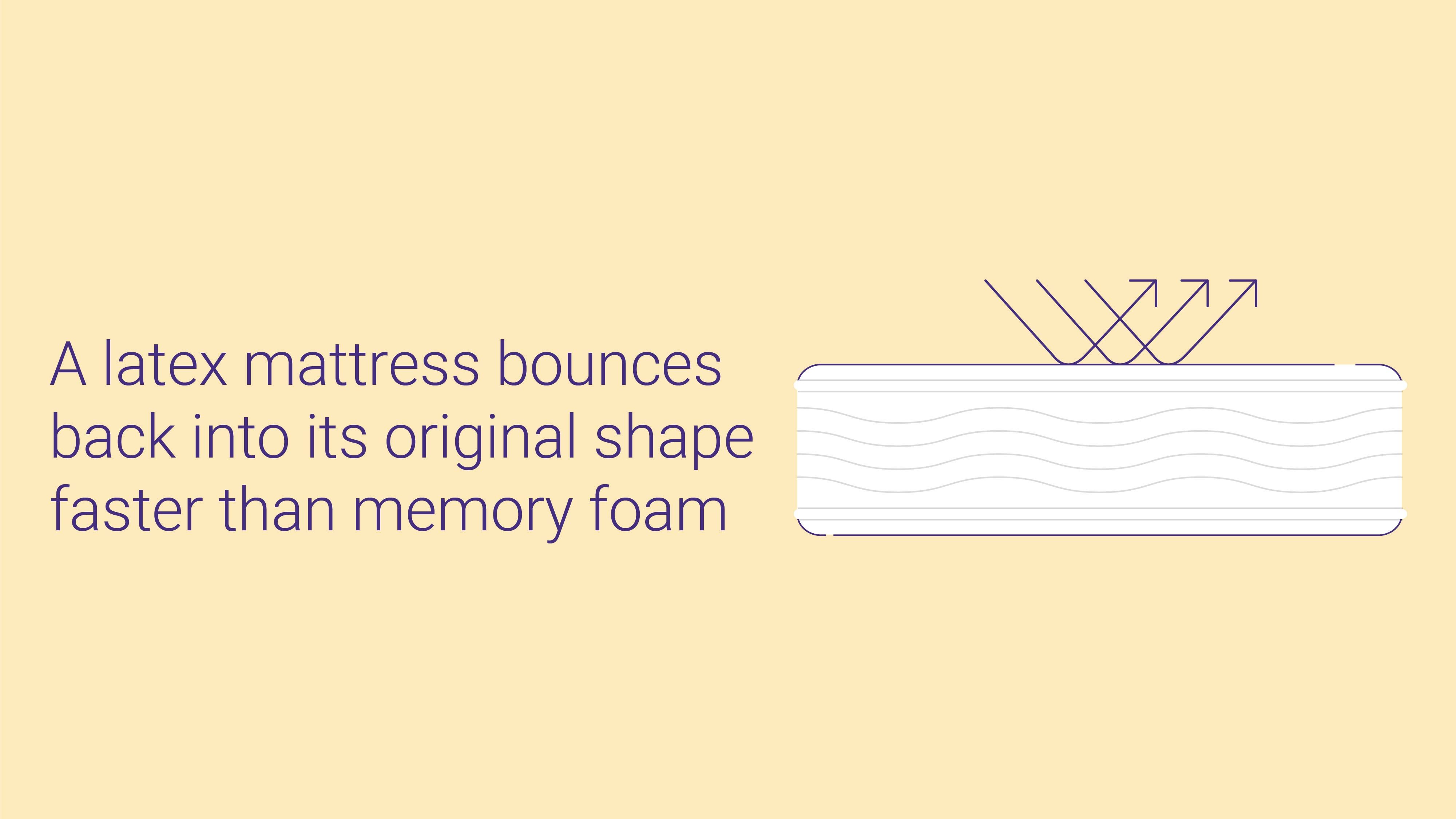 Latex bounces back into its original shape faster than memory foam. While that improves responsiveness and prevents the sleeper from feeling stuck, the extra bounciness doesn't work for every sleeper. Latex doesn't provide the snug fit of memory foam. Instead, it contours and cushions the body rather than filling and supporting each curve.
Back and side sleepers who prefer a more responsive mattress will like the feel of a latex mattress. It also responds to movement, so you're less likely to find yourself stuck in an uncomfortable position.
Innerspring Mattresses
Innerspring mattresses have an innerspring base, also called a coil support core. On top of the mattress sits a quilted cover for cushioning, usually a Euro top or pillow top. The four basic types of coils—Bonnell, continuous, offset, and pocketed—each affects the feel, support, and durability of the mattress.
Bonnell coils with their familiar hour-glass shape are found in many inexpensive mattresses. They're not as durable as other types of coils and transfer motion more readily than offset or pocketed coils. Offset coils look similar to Bonnell coils, except each coil has a flattened head that helps it conform to the body better than a Bonnell coil.
Continuous coil mattresses are made from a single wire wound through the entire mattress. The coils are all attached to one another to add overall strength. However, they also tend to transfer motion, so they can be bouncy and noisy.
Finally, there are pocketed coils. These coils are wrapped in individual pockets of fabric. While the fabric is connected, the coils themselves are not. Pocketed coils are found in higher-end mattresses and hybrids because the coils only flex when pressure is applied directly to them, reducing motion transfer.
The wire used to make the coil affects how the mattress feels, too. The gauge tells you the wire's thickness. Thicker, low gauge wires provide firmer support while thinner, high gauge wires flex more easily and provide lighter support.
Innerspring mattresses have a firmer feel than memory foam or latex mattresses that are in the same firmness category. Some innerspring models have zoned support with high gauge coils at the shoulders and hips and thicker, low gauge coils at the head, back, and knees. Back and stomach sleepers may like the firmer support of an innerspring mattress. Side sleepers may find them too firm, but if you like a firm, responsive mattress, an innerspring model may work for you.
Hybrid Mattresses
Hybrid mattresses feature the pressure relief of memory foam or latex with the support of innersprings. They have to have at least two inches of foam to be considered a hybrid mattress. And, some models have two or three foam layers, mixing and matching memory, latex, and poly-foam layers to get the desired feel.
Hybrids cushion pain points and evenly spread body weight across the mattress as the innersprings provide responsive support. They're a good choice for couples with different comfort preferences and for those who like the conformability of foam, but the firmer support and quick bounce-back of coils.
Mattress Budget
You can find memory foam mattresses for as little as $300 and well over $2,400. That's a pretty big price range that often comes down to the quality of the memory foam. High-density memory foams, which have more foam packed into each square foot, are more durable, conform more closely to the body, and cost more. They're also slow to respond to movement and are more likely to trap body heat. In general, the higher the quality and density of the foam, the more the mattress costs.
Low-density memory foam responds more quickly to movement, but because there's less foam per square foot, the foam tends to break down faster. However, low-density memory foams breathe better and cost less. Many foam mattresses have a mix of low, medium, and high-density foams.
In the $300 to $700 range, you'll find budget-friendly memory foam mattresses that are more likely to have low-density memory foams that break down more quickly. The average memory foam mattress lasts about five to six years, but these models may not make it that long. Once the memory foam starts to break down, it doesn't return to its original shape as well, which eventually leads to sagging and body impressions.
Mid-range memory foam mattresses start around $700 and go to about $1,200 to $1,500. These models have more high-density foams, and some may even have some luxury features like premium covers with intricate stitching and premium fabrics.
Luxury memory foam mattresses generally cost over $1,200 to $1,500. These models have high-quality, high-density memory foams in their support and transition layers. They may still have medium density or low-density comfort layers. However, chances are, they'll have several comfort and/or transition layers to add to their cushioning and support.
Sleeping Position
Sleep position affects how much pressure each area of your body feels as it presses into the mattress. It makes a big difference in what feels good to you. You're more likely to sleep better if you find a mattress that specifically addresses the comfort needs of your preferred sleep position.
Side Sleepers
Side sleepers need varied pressure relief because the shoulders and hips focus body weight and pressure while the head, lower back, and knees need firmer support to keep the spine neutral. If you're looking for the best mattress for side sleepers, we recommend a medium to medium-firm memory foam, latex, and or hybrid mattress because they cushion high-pressure points while supporting other areas of the body.
Back Sleepers
Back sleepers don't experience pressure points in the shoulders and hips as much as side sleepers, but they still need cushioning through the shoulders and support through the lower back. Any of the mattress types with the right cushioning and firmness level can work for back sleepers. Medium-firm models tend to work best for back sleepers overall, but that may vary based on personal preferences and body weight.
Stomach Sleepers
Stomach sleeping puts extra pressure on the back, so we don't recommend it, especially if you suffer from lower back pain. However, if you can't give it up, a firmer mattress that prevents the hips from sinking while cushioning the shoulders can help.
Sleeping Cool and Airflow
Manufacturers use a number of cooling technologies to keep their memory foam mattresses from overheating the sleeper. Some enlarge or enhance the size of each individual foam cell, making more room for air to escape. Others add gel, graphite, copper, or charcoal to absorb and move heat out of the mattress. Memory foam layers may also be channeled, convoluted, or made with cutouts to create air pockets through which heat can escape.
These same techniques are used in the foams of hybrid mattresses. However, heat and air readily circulate around the coils of hybrid and innerspring mattresses, making these models some of the cooler mattress types on the market.
Common Questions
Is a memory foam mattress good for back pain?
Memory foam's ability to support and relieve pressure based on the heat and pressure of the body make it an excellent material for reducing back pain. It should, however, have enough support in the transition and support layers to prevent too much sinking.
Too much sinking can push the spine out of alignment, increasing rather than decreasing back pain. At the same time, a model that's too firm can affect alignment by not adapting to the curves of the body. It's a matter of finding the right support and firmness level based on your sleep position, firmness preferences, and the amount of cushioning you enjoy. If you need a good mattress for back pain relief, we suggest choosing a foam or hybrid mattress with medium-firm firmness.
Which type of mattress is best for back pain?
There's no one type that's better for back pain than others. Each mattress type offers different pros and cons that will determine if it's right for you. However, a knowledge of what each has to offer can help you decide.
Memory foam leads the way in pressure relief and contouring. Latex isn't far behind. If you prefer sinking into your mattress, opt for memory foam. If you prefer responsive contouring, opt for latex.
Hybrids give you the best of both worlds. They have the cushioning of foam and support of coils. Innerspring models are best for back and stomach sleepers and those who prefer a highly responsive mattress with firmer support.
What is the best mattress for side sleepers with back pain?
Memory foam and latex foam are two of the best options for side sleepers. They can fill the space around the waist and lower back while relieving pressure at the hips and shoulders. A hybrid is a good option for couples because it balances support with responsiveness. Hybrids can also be a good choice if you prefer a more responsive mattress. In general, a medium-firm or firm mattress, no matter the type, will be the best firmness for those with back pain.
What thickness of memory foam mattress is best?
If you're looking for a mattress that will relieve back pain, we can't recommend any bed that is thinner than 10 inches. Mattresses less than 10 inches thick lack the added support of a thicker mattress, so you're more likely to wake up sore and stiff. A thinner mattress is also more likely to wear down within a few years since it has less material holding it together.
Why does my memory foam mattress hurt my back?
Most likely your mattress is either so old that it has lost support or it's the wrong firmness for your sleeping style. Remember, side sleepers need a mattress with a touch of softness, while back and stomach sleepers benefit from a firmer mattress. The average memory foam mattress lasts about 7 years, so if you've had yours for a few years and are no longer sleeping well, it may be time for a replacement.
Best Memory Foam Mattress for Back Pain: The Bottom Line
Memory foam adapts to the sleeper's shape, making it an excellent choice for side and back sleepers with back pain.
Memory foam comes in different densities and firmnesses, so you can find a support and firmness level that accommodates your personal preferences.
For a more comfortable sleep, look for memory foams with cooling technologies like advanced open-cell structures, channeling, or cooling additives like gel or graphite.
A memory foam mattress could be the answer to your nighttime back issues, and many of our choices are mattresses recommended by chiropractors. As you're deciding, take a close look at your preferred sleep position and body weight. Heavier sleepers need more support than lighter weight sleepers. Finally, think about your firmness preferences.
While medium-firm mattresses often work well for back pain, that might not be the most comfortable mattress for you. Use a mattress's sleep trial period to make sure you've found the right model. A mattress that lets you get seven hours of sleep or more will be invaluable to your mental, physical, and emotional health.