Best Mattress Toppers for Side Sleepers (2023): Reviews and Buyer's Guide

Mattress Accessories
Whether you want to extend the life of your mattress or need extra help getting comfortable, a mattress topper can be a relatively inexpensive way to a better night's rest. Side sleepers deal with unique comfort issues, such as pressure build-up at the shoulders and hips. A high-quality mattress topper made of materials that relieve pressure but keep the spine aligned can ease side sleepers into better sleep.
Mattress toppers are made of different materials and thicknesses to support different sleep positions and sleep styles. We've compiled this review of top-rated mattress toppers for side sleepers, and have included a shopping guide to help you find the best mattress topper for your personal circumstances.
Best Mattress Toppers for Side Sleepers
Best Mattress Topper for Side Sleepers Overall: Lift® by Amerisleep
The Amerisleep Lift® mattress topper comes in two designs—the Comfort Lift® and the Support Lift®. While either makes a great addition to a mattress, the Comfort Lift's® soft cushioning is specifically designed for combo and side sleepers.
The Comfort Lift® works particularly well for side sleepers who have a mattress that's too hard. It has a soft breathable cover to promote airflow for a more comfortable night's rest. Inside, is soft, pressure-relieving Bio-Pur® foam.
Bio-Pur® is a plant-based memory foam designed to ease pain-causing pressure points—ideal for side sleepers. It's also more responsive and breathable than traditional foams because it's plant-based. Amerisleep designs the Comfort Lift® with HIVE® technology.
HIVE® contains hundreds of hexagonal cutouts arranged to offer dynamic support. These cutouts are closely arranged where you need more support, like the head and lower back. Oppositely, in areas where you need pressure relief, the hexagons are spaced further apart, allowing more flexibility to relieve pressure.
Underneath, it has MicroGrip technology that utilizes friction to hold the mattress topper in place.
Not all side sleepers struggle with a mattress that's too hard. Some may find their mattress lets them sink too deeply. If that's the case, the Support Lift® might be a better choice. The Support Lift® features firmer Affinity foam to hold you in a neutral position and deter sinkage. Like the Comfort Lift®, the Support Lift® also contains HIVE® technology.
These layers do not come with a trial period, but they are backed by a 5-year warranty.
AMERISLEEP LIFT
Two firmness choices, with the Comfort Lift® being specifically designed for side sleepers
Deep pressure relief from the Bio-Pur® foam
Soft, breathable cover that enhances cooling
Most Comfortable Mattress Topper for Side Sleepers: Balance Pad by Zoma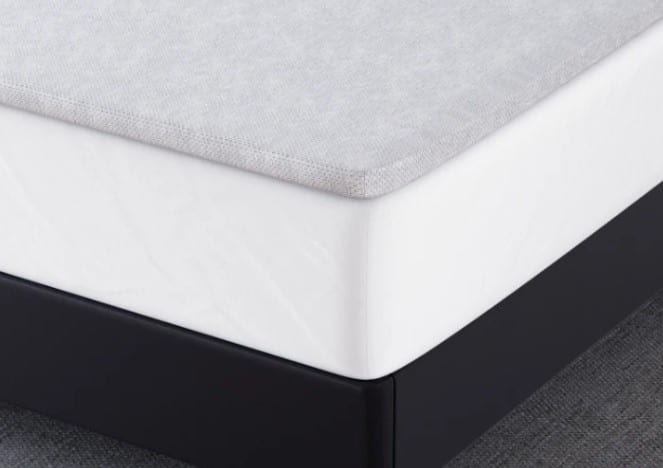 The Balance Pad from Zoma is available in one feel (medium) and one thickness (3 inches). However, it's our runner-up choice for best topper for side sleeping because of how the topper offers a perfect split between support and comfort.
The topper's core is Reactiv™ foam, a responsive material that features continuous support and conforming pressure relief. If your mattress is so firm that it causes you pain, the Reactiv™ foam will add just the right amount of cushion for a good night's rest. However, if your bed is too soft, the buoyant nature of Reactiv™ will lift you and maintain healthy spine alignment.
The Balance Pad will remain in place because it has a bottom layer of non-skid fabric. You can toss and turn throughout the night, and the topper will still stay in place.
ZOMA BALANCE PAD
Medium-feel topper suitable for most sleepers and mattresses
Reactiv™ foam adapts to your movements for consistent support
Ventilated cover keeps the surface cool
ViscoSoft makes some impressive mattress toppers. We like the Serene Memory Foam Hybrid Mattress Topper because, as a hybrid, it offers a little extra comfort for side sleepers. This 4-inch mattress topper is made of 2.5-inches of gel memory foam with a 1.5-inch down-alternative pillow top. If you like the fluff and fullness of pillows, this might be the mattress topper for you.
The gel memory foam contours and conforms to the body, while the down alternative top layer provides cushioning. Installation is a little different with this model. It comes in two pieces with the memory foam layer placed on the mattress first. Then, the down alternative layer goes over the top. The top layer has an attached side skirt with a 20-inch pocket to hold everything in place.
ViscoSoft offers a 60-day money-back guarantee and a 5-year warranty on manufacturing defects.
VISCOSOFT SERENE MEMORY FOAM HYBRID MATTRESS TOPPER
Pressure relief of  memory foam with the soft comfort of a pillow
Deep pocket to hold the topper in place
Four-inch height works well for side sleepers of all sizes
Most mattresses toppers have a single feel, focusing on adding softness or firmness to your mattress. The Maxzzz 3 Inch High Density Copper Memory Foam Topper is an exception, allowing you to flip the topper and choose between a plush or firm surface.
Maxzzz uses high-density foam to better help the topper stand up to extended use, ensuring it feels comfortable after years of sleep. The foam is infused with bamboo charcoal, a material that works to move heat away from the body.
The topper comes in twin, full, queen, and king sizes. Maxzzz offers free shipping and a 30-day return policy.
MAXX COPPER MEMORY FOAM TOPPER
Soft and firm sides to suit all sleep styles
Cooling infusion moves heat away from the body
High-density memory foam eases pressures and withstands nightly use
The Polar Sleep Swirl Memory Foam Mattress Topper comes in two heights and four sizes. For most side sleepers, we recommend the three-inch over the two-inch model. The taller model has deeper pressure relief as the body sinks into the topper.
The Polar Sleep's memory foam has gel beads swirled in it to absorb heat, pulling heat away from the sleeper. Evenly spaced air channels throughout the topper also allow heat and moisture to escape. The memory foam is CertiPUR-US® certified, which means it's been tested and found free of harmful chemicals like PBDEs and ozone depleters.
This topper does not come with a guarantee or warranty but may be covered by a retailer's return policy.
POLAR SLEEP SWIRL MEMORY FOAM MATTRESS TOPPER
Thick, three-inch model lets side sleepers sink into the topper
Heat absorbing gel beads keep you cool even when surrounded by memory foam
Memory foam deepens its contouring the longer the sleeper stays in the same position
The UTTU 3-Inch Red Respira Memory Foam Mattress Topper's two-layer design gives it a unique feel that balances cooling technology with support and pressure relief. All foams are CertiPUR-US® certified, making them lower in VOCs and free of harmful substances like lead and mercury.
The UTTU's one-inch top layer is made of Red Respira Foam, UTTU's highly breathable memory foam. Not only does it have good airflow but it's also highly responsive to movement. That means it bounces back into its original shape faster than the average memory foam.
The top layer is supported by two-inches of Dynamic Foam. This foam relieves pressure but also supports the body by redistributing your weight across the surface of the mattress topper. Together, these layers alleviate pressure at the shoulders and hips while supporting the lower back.
The UTTU also comes with a removable and machine washable polyester/rayon cover. This extra layer of protection can extend the life of the topper by allowing you to keep the cover clean and sanitary. The UTTU comes with a 96-night guarantee, during which you can return it if you are dissatisfied. It's also covered by a 10-year warranty on material and craftsmanship-related defects.
UTTU 3-INCH RED RESPIRA MEMORY FOAM MATTRESS TOPPER
Responsive top layer prevents sleepers from feeling stuck
Redistribution of weight
Removable, washable cover for easier cleaning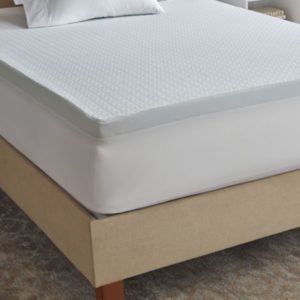 The Therapedic® Tru-Cool® 3-Inch Serene Foam® Performance Mattress Topper has a hefty price tag but impressive cooling technology. Only CertiPUR-US® certified foam is used in this mattress topper, so there's no exposure to chemical flame retardants, heavy metals, and other harmful substances.
Serene Foam® has tiny air "capsules" in it that relieve pressure at sensitive areas like the hips and shoulders while supporting low-pressure areas. It has a similar feel to memory foam, but it behaves differently in two important ways.
First, it releases heat faster than traditional memory foam for a cooler sleep experience. Second, it bounces back into shape faster than memory foam. For side sleepers, that responsiveness can prevent a stuck feeling while moving. A cover made breathable performance fabric adds an incredibly soft texture. Plus, it's removable and machine washable. The cover includes a skirt that holds the topper in place and fits mattresses up to 18 inches thick.
The Therapedic Tru-Cool is backed by a five-year manufacturer's warranty that covers any defects in materials.
THERAPEDIC® TRU-COOL® 3-INCH SERENE FOAM® PERFORMANCE MATTRESS TOPPER
Quick release of heat keeps the sleeper cool
Responsiveness prevents sleepers from feeling stuck
18-inch skirt holds the topper in place
If you like pressure relief with a responsive feel, the Pure Green Natural Latex Mattress Topper could be for you. This high-density latex foam mattress contours to the body and relieves pressure. It comes in soft, medium, and firm versions. For most side sleepers, we'd recommend the soft topper.
However, if you prefer firmer support or you're a heavier weight sleeper, the medium or firm topper may be better choices.
Natural latex, like the kind in this topper, is derived from the sap of the rubber tree. This topper has no synthetic latex mixed into its formula, making it a durable addition to your bed. The Pure Green is GREENGUARD Gold and eco-INSTITUT certified. A GREENGUARD Gold certification means the topper has been tested and found safe for children and schools. An eco-INSTITUT certification ensures that the topper is free of hazardous chemicals and off-gassing.
More importantly, the Pure Green topper takes the pressure off of the hips and shoulders. For restless sleepers, the responsiveness of the latex will help you feel as though you're sleeping "on" the bed rather than "in" it. This topper comes with a 30-day trial period and a 5-year warranty for defective materials.
PURE GREEN NATURAL LATEX MATTRESS TOPPER
Eco-friendly, but durable latex
Quick response to movement
Three firmness options, with the soft working for most side sleepers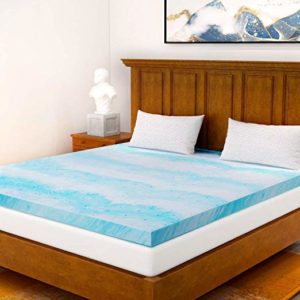 The affordable Milemont Gel Memory Foam Mattress Topper contours and conforms to the sleeper's every curve. This topper comes in a two or three-inch version. If you like to sink into your bed or you prefer deep pressure relief, the three-inch version would be a smart choice. However, for lighter sleepers and those who don't want to sink too far into the topper, the two-inch version will provide plenty of relief at the shoulders and hips.
The gel swirled throughout the memory foam cools the sleeper and relieves heat build-up. The Milemont also has ventilation channels through which heat and air can circulate. The deep cushioning of the memory foam relieves painful pressure. For many side sleepers, that's at the shoulders and hips. However, this topper also supports and relieves pressure through the back, neck, and other common pain points.
The Milemont does not come with a guarantee or warranty, but it may be covered by a retailer's return policy.
MILEMONT GEL MEMORY FOAM MATTRESS TOPPER
Cooling abilities of the swirl memory foam prevent overheating
Deep contouring at the shoulders and hips
Two height options so you can base your choice on how much cushioning you prefer
Mattress Topper Types to Consider
Different types of mattress toppers often work better for different sleep positions or sleepers with different comfort preferences. We'll go over the main mattress topper types and the kind of sleeper who usually finds them comfortable.
We should also note that typically you can pair any type of mattress topper with any of the common types of mattresses.
Memory Foam Mattress Toppers
Memory foam has unique viscoelastic properties that allow it to stretch and conform under heat and pressure, yet return to its original shape once the heat and pressure are removed. It stretches and relieves pressure at high-pressure points like the shoulders and hips while supporting the curve of the lower back, knees, and neck.
However, memory foam can trap heat, which means memory foam mattress toppers need some cooling features. Gel, copper, charcoal, and graphite are common memory foam additives that absorb heat, pulling it away from and cooling the sleeper.
Many memory foam toppers also have aeration channels evenly distributed throughout so that heat and air can freely circulate, establishing a cooling mattress topper without over-relying on gel infusions.
Memory foam responds slowly to pressure. It takes a few seconds for it to return to its original shape. Some sleepers may feel stuck in that slow response. Memory foam mattress toppers may be anywhere from one to four inches thick. The thicker the mattress topper, the more noticeable the slow response will be.
Side sleepers who like to sink into the mattress will appreciate the deep contouring of a thick memory foam mattress topper. Back and combo sleepers can also be comfortable on a memory foam mattress topper, but they may prefer a thinner model. Stomach sleepers should stick to materials like latex or wool, as they have a firmer feel that will prevent the hips from sinking and putting pressure on the lower back.
SEE ALSO: How to Clean a Memory Foam Mattress Topper
Latex Mattress Toppers
Latex mattress toppers can be made of natural, synthetic, or blended latex. Natural latex is made from the sap of the rubber tree and goes through one of two manufacturing processes to become either Dunlop or Talalay latex. Dunlop latex has a firmer, denser feel. It's a good choice if you're a side sleeper who wants contouring with firmer support through the waist and lower back. Talalay latex has a lighter, spongier feel for a softer mattress topper.
Natural latex can be organic. However, not all natural latex is organic. If finding an organic latex mattress topper is important to you, look for an independent certification that verifies the adherence to organic guidelines during the manufacturing process.
Synthetic latex is derived from petrochemicals. It feels similar to natural latex and costs less to make, but it's less durable. Blended latex combines the two for durability that's somewhere in the middle.
Latex mattress toppers, especially natural, organic latex mattress toppers, can be expensive. However, they usually last longer. Latex contours to the body rather than closely conforming to it like memory foam. If memory foam makes you feel trapped or stuck, a latex topper can provide similar pressure relief with better responsiveness.
Latex toppers are a good choice for side, back, and combo sleepers. Stomach sleepers may be comfortable on a firmer latex mattress topper.
Pillow Top Mattress Toppers
Pillow top mattress toppers are made using down or down alternative quilted in pillow-like squares. They add cushioning but can't conform to the shape of the sleeper. In general, they're not as good at relieving pressure as memory foam or latex. However, if you're a side sleeper who prefers a fluffy feel, a pillow-top can be comfortable.
Down pillow-top mattress toppers can be expensive and may cause allergies. A less expensive, hypoallergenic option with similar comfort is a down-alternative model with a filler made of polyester or poly-foam covered in silicone.
Pillow top mattress toppers tend to lose their loft fairly fast. Latex and memory foam are sturdier materials that maintain their structure for a longer period of time. Pillow top mattress toppers generally act as a cushion rather than contouring to the body's curves. That usually means they're more comfortable for back and stomach sleepers than they are side sleepers.
Wool Mattress Toppers
Wool mattress toppers are an organic option. Wool naturally regulates temperature and wicks away moisture, making it a great choice for hot sleepers. It's often backed with cotton, and some toppers can be used with either the wool or the cotton side up.
Wool doesn't offer the cushioning and pressure relief that memory foam and latex do. Combo sleepers, back sleepers, and lightweight side sleepers may be comfortable on a wool mattress topper. However, if you experience pain at night, wool may not provide enough pressure relief for the average side sleeper.
Cotton Mattress Toppers
Cotton-filled mattress toppers are another natural, and sometimes organic, alternative to wool. They feel similar to wool, are naturally breathable, and absorb moisture. They provide excellent cushioning but not the pressure relief that side sleepers typically need. They're a better fit for back sleepers who want added cushioning.
Hybrid Mattress Toppers
Hybrid mattress toppers combine either memory foam or latex with a pillow top made of down alternative, cotton, or another material. These models have the contouring of foam with the cushioning of a pillow top.
They're a great compromise for couples with different comfort preferences or for side sleepers who like the softness of a pillow top. Hybrid mattress toppers can also be comfortable for back and combo sleepers because they provide gentle cushioning while conforming to the sleeper's body.
Mattress Topper Budget
Mattress toppers start around $35 to $50 and go up to around $500. Cotton, down alternative, and thin memory foam toppers run from $35 to $100. At this price, memory foam toppers do not usually have a cover. They're meant to fit either under a mattress pad or under a standard fitted sheet.
Latex and higher-end memory foam toppers typically cost between $100 and $250. The quality of the foam, cooling technologies, and thickness of the topper determine the price. Latex mattress toppers don't usually have a cover. However, at this price range, the memory foam toppers do. The covers may include a skirt that fits around the mattress like a fitted sheet.
The high-quality mattress toppers that cost over $250 are usually thicker three or four-inch models made of natural or organic materials. Hybrid mattress toppers may also fall into this category. At this price, the toppers should include a money-back guarantee or warranty against manufacturer defects.
Sleeping Position
Your sleep position affects the kind of cushioning and contouring you need. We'll go over the basic comfort needs of the three most common sleep positions.
Side Sleepers
The side sleeping position puts more pressure on the shoulders and hips than any other sleep position. Side sleepers need deep pressure relief with adequate support for the waist and lower back. Softer mattresses are usually more comfortable for them as are softer mattress toppers. Heavier people may benefit from a thicker mattress topper that can cushion a higher body weight.
Back Sleepers
Back sleepers typically have fewer pressure points than side sleepers. They still need cushioning through the upper back with adequate support through the lower spine. Latex and firmer memory foam toppers are made in firmnesses that work well for back sleepers.  Back sleepers can also be comfortable on designs that offer cushioning like cotton, down alternative, and wool.
Stomach Sleepers
Mattress toppers can be problematic for stomach sleepers. If the hips of the stomach sleeper sink into the mattress, it puts extra pressure on the lower back. For that reason, we don't recommend sleeping on the stomach. Stomach sleepers should opt for a firmer mattress topper to help maintain a neutral spine. For some, that may come in the form of a soft pillow top mattress topper while others may look for a firm latex or memory foam model.
Sleeping Cool and Airflow
If you typically sleep hot, opt for a mattress topper with cooling features and technologies. Memory foam models often have additives like gel or copper that absorb heat and move it away from the sleeper. Latex and memory foam have aeration channels through which heat and air can circulate, while cotton and wool are naturally breathable and temperature neutral. If you sleep hot, look for a model with a combination of cooling technologies to make sure you don't overheat.
Common Questions
Are mattress toppers good for side sleepers?
Mattress toppers can relieve pain and improve sleep quality. If your mattress has started to sag or it was the wrong firmness in the first place, a mattress topper can save the day.
If you're not ready to invest in a new, high-quality mattress, a mattress topper adds cushioning and contouring. Memory foam and latex models, in particular, are excellent at relieving pressure in the hips and shoulders, which are the most common pain points for side sleepers.
What is the best mattress topper for pressure points?
Memory foam wins when it comes to pressure relief, but latex isn't far behind. Both materials relieve pressure at high-pressure points like the shoulders and hips while supporting areas of low pressure like the head and lower back. If you like to sleep "in" the mattress, you'd probably enjoy memory foam better. However, if you prefer to be "on" your mattress, put latex at the top of your list.
How thick should a mattress topper be?
People who weigh over 230 pounds will typically need a plush, three or four-inch mattress topper to really feel any benefits. However, lightweight sleepers, those under 130 pounds, may only need a one-inch layer of foam to feel more comfortable.
You'll also need to know what exactly you want the topper to do. If you just need extra cushioning, a pillow top mattress topper with a cotton or down alternative filling may be all you need.
However, if you're experiencing shoulder or back pain due to the condition of your mattress, you'll most likely need a thicker mattress topper with some contouring like memory foam or latex. Without a good mixture of support and pressure-relieving cushion, a mattress topper for back pain cannot ease discomfort.
How do I choose a bed topper?
When you're considering mattress toppers, you'll want to think about price, materials, pressure relief, support, thickness, and softness. If it's your first topper, you might wish to look for one with a sleep trial to see if it's right for you. And always try to buy one that comes with a limited warranty.
Which is better, a memory foam or down mattress topper?
It depends on what you need from your mattress topper. Memory foam toppers tend to provide a better mix of support and comfort, although they can retain heat. Feather or down toppers can be soft, but you may have to fluff them up to maintain their feel.
Mattress Toppers: The Bottom Line
Side sleepers are more likely to find the pressure relief they need on a memory foam or latex mattress topper. The heavier you are, the thicker the topper should be.
Breathability makes a big difference. Foam toppers with cooling technology and structures that allow air to circulate will be more comfortable.
Pillow-top and wool mattress toppers are better for cushioning than they are for pressure relief, which doesn't make them a great choice for side sleepers.
Every sleeper deserves a full seven to nine hours of rest. They also deserve to wake up pain-free and refreshed. If your mattress isn't what it used to be, a mattress topper could be a simple, inexpensive way to get the peaceful sleep you need until you're ready to buy one of the most comfortable mattresses.