Best Mattress For Shoulder Pain: Reviews and Buyer's Guide
Dr. Jennifer Miller, PT, DPT: Expert Physical Therapist and Pelvic Health Specialist
Dr. Jennifer Miller, PT, DPT: Expert Physical Therapist and Pelvic Health Specialist
Dr. Jennifer Miller is a compassionate and skilled outpatient physical therapist with nine years of experience in the field. She earned her Doctor of Physical Therapy from Elon University and holds a Bachelor of Science in Health Science from Minnesota State University-Mankato. Dr. Miller specializes in Neurological, Geriatric, and Vestibular Physical Therapy and serves as […]
Updated November 22, 2023

Mattress Guides
The shoulder joint has the largest range of motion in the human body, making it highly susceptible to damage. Struggling with chronic shoulder pain can affect many aspects of your life, including your comfort at night.
Many of us underestimate the importance of a supportive and comfortable mattress—a new mattress can feel like an expensive and unnecessary purchase—but your sleep surface can make the difference between being in pain all night and deep, quality sleep.
When it comes to shoulder pain relief, some of the most comfortable mattresses are foam and hybrid beds. We've made a full list of the best mattresses for shoulder pain to help you get a good night's sleep.

Best Mattresses for Shoulder Pain: 30 Second Summary
Amerisleep AS3 – The AS3 is our recommended mattress for shoulder pain because the zoned support technology promotes proper posture and alleviates pressure points.
Zoma Hybrid – Zoma Hybrid cushions the shoulder joint with gel memory foam and keeps your spine in healthy alignment with zoned support.
Amerisleep AS5 Hybrid – The plush comfort layer on the AS5 Hybrid cushions and cradles the shoulders. However, the supportive, bouncy coils keep your body lifted as you sleep.
Best Mattress For Shoulder Pain Overview
1. Best Mattress Overall for Shoulder Pain: Amerisleep AS3
The Amerisleep AS3 is a mattress made with side and combination sleepers in mind. This 12-inch, medium bed provides thick cushioning to sleepers, ensuring your shoulders aren't aggravated while you sleep.
The AS3 mattress has a lightweight and breathable cover over three layers of foam.
The top of the AS3 features 3 inches of Bio-Pur®, Amerisleep's plant-based memory foam. Not only is it excellent for relieving pressure, but Bio-Pur® is cooler and more responsive than traditional memory foam, so you won't overheat or feel stuck in this bed.
The AS3 features a 2-inch transitional layer called Affinity foam with HIVE® technology. Hexagonal cutouts in the foam boost the support around your back and hips while being softer around your head, feet, and shoulders. This evenly distributes your weight, relieving pressure around the most sensitive areas.
The base of the AS3 contains 7 inches of Bio-Core®. This durable foam prevents the mattress from sagging and developing soft spots.
Amerisleep's AS3 is made in the USA and CertiPUR-US® certified, meaning the mattress is free of harmful chemicals and won't off-gas. The mattress comes with a 100-night sleep trial and a 20-year warranty.
AMERISLEEP AS3
Plant-based memory foam for more breathability
Medium feel perfect for side sleepers
Supportive base prevents sagging
100-night sleep trial and 20-year warranty
2. Best Hybrid Mattress for Shoulder Pain: Zoma Hybrid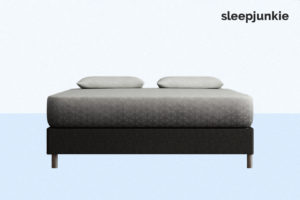 The Zoma Hybrid is a highly viable option thanks to its great pressure relief capabilities. Zoma built their hybrid model to help people sleep deeper, boost muscle recovery, all while staying cool and comfortable. The medium-soft Zoma Hybrid is 12 inches thick and contains three unique layers.
Covering the mattress is a stretchy AirCloth, a moisture-wicking fabric designed to maximize airflow and keep sleepers cool.
The top of the mattress contains 2 inches of gel-infused foam with Triangulex™ technology. The foam features triangular cutouts to provide targeted support and evenly distribute body weight to keep the spine aligned.
Up next is 2 inches of Reactiv™ foam. This transitional layer adapts to your movements and springs back into its original shape quickly. This prevents people from sinking and makes it easier to shift positions in bed.
The Zoma Hybrid has a 7-inch pocketed coil support layer. Each coil is wrapped in a lightweight fabric, minimizing motion transfer and noise. For couples, motion isolation is important so you won't disturb your partner. The coils also provide excellent edge support, making getting in and out of bed easier.
You have 100 nights to try out the Zoma Hybrid at home. The mattress also comes with a 10-year warranty for defects and sags deeper than 0.75 inches.
ZOMA HYBRID
Gel memory foam offers a cool night's sleep
Spring coils distribute body weight evenly
Transition layer provides targeted lumbar support
100-night sleep trial and 10-year warranty
3. Best Luxury Mattress for Shoulder Pain: Amerisleep AS5 Hybrid
For a luxuriously soft bed, consider the Amerisleep AS5 Hybrid. The AS5 Hybrid has a thick comfort layer and a responsive transition layer to foster comfortable, high-quality sleep.
The AS5 Hybrid mattress has the same soft cover as all Amerisleep beds, along with a 3-inch comfort layer made from Bio-Pur®.
A common complaint about soft mattresses is that sleepers may feel unable to move around The AS5 Hybrid solves this problem with its Active Flex layer.
This 2-inch layer is springy and responds rapidly to your movements, making it easier to move and preventing you from feeling stuck in your bed. The Active Flex layer also makes the AS5 Hybrid a good choice for both lightweight sleepers and heavy people alike because it prevents the bed from bottoming out.
The AS5 Hybrid features hundreds of pocketed coils to support your body parts. Unlike the coils in traditional innerspring mattresses, pocketed coils move independently to contour to your body. Pocketed coils are individually wrapped in fabric to reduce noise and prevent the coils from breaking.
Underneath the coil layer is a thin and durable foam. The AS5 Hybrid comes with a 100-night sleep trial, a 20-year warranty, free shipping, and free returns.
AMERISLEEP AS5 HYBRID
Ultra-soft mattress with a slight bounce
Pocketed spring coils reduce motion transfer
Transition layer prevents sagging
100-night sleep trial and 20-year warranty
4. Best Affordable Mattress for Shoulder Pain: Vaya Hybrid
If you're on a tight budget but still want a great mattress, consider the Vaya Hybrid. The average hybrid bed can range from $1000 to over $2500, but the Vaya Hybrid is less than $1000 for a queen.
At a medium firmness, the Vaya Hybrid is perfect for side and back sleepers, two positions great for shoulder discomfort. The mattress provides both cushioning and support—this means it promotes spinal alignment while still cradling your body to ease shoulder pain.
The Vaya Hybrid contains 3 inches of proprietary Vaya Comfort Foam for its top layer. This foam is both bouncy and pressure-relieving to alleviate the pain around your shoulders.
The bed's support layer is 8 inches of pocketed coils. The coils increase air circulation throughout the mattress, keeping you cool while supporting your spine.
The bottom of the mattress is a 1-inch foam base to support the upper layers.
Along with its reasonable price point, the Vaya Hybrid is made in the USA and CertiPUR-US® certified. The mattress comes with a 100-night sleep trial and a 10-year warranty.
Vaya Hybrid
Affordable hybrid model
Responsive foam comfort layer
Wrapped spring coils prevent overheating
100-night sleep trial and 10-year warranty
The Bear Pro is a medium foam mattress designed to soothe pain and support your spine. The medium mattress is 12 inches thick and contains four foam layers.
This Bear mattress's cover is made from Celliant®, an FDA-determined fabric believed to boost muscle recovery and help you sleep cool. It has infrared technology—when you sleep, the fabric draws your body heat away from you, transforms the heat into energy, and releases it back into your body to help your muscles recover.
The top of the mattress is a copper-infused memory foam comfort layer. The copper infusion keeps sleepers cool, while the memory foam adapts to your body's shape to provide immediate comfort and pressure relief.
Underneath this is the second layer of gel-infused memory foam. It adds an extra layer of cushioning to the bed while the gel prevents sleepers from overheating.
Since the upper layers are soft and may cause some sleepers to feel stuck, the bouncy transition layer offsets this and makes movement easier. The transition layer also supports the spine to help sleepers maintain good sleep posture.
The base layer is made from durable foam. This support core promotes healthy posture and prevents the mattress from developing uncomfortable soft spots.
Bear offers a 100-night sleep trial and a 10-year warranty for the Bear Pro. Bear also covers the shipping and potential returns.
BEAR PRO MATTRESS
Celliant® cover promotes cooling
Gel-infused memory foam reduce heat trapping
Responsive transition layer for spinal support
100-night sleep trial and 10-year warranty
The Nolah Original 10 is Nolah's best-selling mattress because it offers good support and pressure relief, all while staying cool throughout the night. The mattress's cover is made with Tencel™, a cool, moisture-wicking, and wrinkle-resistant fabric.
The mattress's comfort layer contains 2 inches of Nolah AirFoam™. This temperature-neutral foam provides excellent pressure relief without causing you to feel unable to move in your bed.
The 1-inch transition foam performs similar to latex, meaning it adds needed bounce to the bed to help you stay comfortable.
The mattress's foundation is made from 7 inches of durable base foam. It helps the mattress last longer and minimizes sags.
The Nolah Original 10 is CertiPUR-US® certified to ensure your bed is free from toxins. If you purchase the Nolah Original 10, you have 120 nights to test out the bed and a lifetime limited warranty.
NOLAH ORIGINAL 10
Tencel™ cover wicks away moisture
Latex-like transition layer prevents over-sinking
Firm foam base prevents sagging
120-night sleep trial and lifetime warranty
Causes of Shoulder Pain
The causes of shoulder pain range from acute injuries to chronic conditions.
The potential causes of shoulder pain include:
A bad mattress
Overuse or repetitive movements
Rheumatoid arthritis
Rotator cuff injury
Stroke
Spinal cord injury
Bone spurs
Pinched nerve
Broken shoulder or arm
Frozen shoulder, arm, or collarbone
Dislocated shoulder
Heart attack
Swollen bursa sacs
Some shoulder pain-related issues are minor and require rest or a simple upgrade for your bed. Medical conditions, such as arthritis and bone spurs, cause chronic pain and often need medical intervention. Either way, a more supportive and comfortable bed can help shoulder pain sufferers during treatment and ease the symptoms.
Physical therapist Dr. Jennifer Miller recommends, "It's important to note that people with chronic pain or neurological disorders consult with their physical therapist on positioning pillows correctly, in order to sleep better and safer."
How Shoulder Pain Affects Your Sleep
Sleep is a fundamental part of our lives, regardless of if we're in pain or not. It impacts your mental and physical health, including shoulder pain.
Sleep and pain have a bidirectional relationship, meaning one impacts the other. This means that struggling with pain can worsen your sleep, which in turn worsens your pain.
Being in pain at night time makes it harder to fall asleep and stay asleep, impacting your overall sleep quality. So, even if you manage to finally fall asleep, you won't always wake up feeling well-rested and energetic.
Sleeping Positions And Shoulder Pain
The position you choose to sleep in can impact your shoulder pain. Not only that, but your sleep position is an important factor in finding the best firmness levels for relieving your pain and preventing pressure build-up.
Side Sleeping
Side sleeping is one of the best sleeping positions because it's safe for pregnant women, easy on your back, improves blood flow, and comfortable for sleep apnea sufferers. So long as you're using a cushiony mattress and pillows, you shouldn't experience shoulder and neck pain.
However, since you're resting on your shoulder when side sleeping, the position places immense pressure on the shoulders, which both causes and worsens shoulder pain. The best mattresses for side sleepers are medium or medium-soft to properly cradle your shoulder.
Be sure not to sleep on your affected shoulder. While this may seem obvious, during one study in 2012, 67 percent of participants were sleeping on the shoulder that was already in pain.
Back Sleeping
Back sleeping is another good sleeping position to choose when struggling with shoulder pain because there won't be any pressure on your shoulders. Mattresses for back sleeping are typically medium or medium-firm. Be sure not to use a thick pillow or multiple pillows at night, as it can throw your spine out of alignment and potentially aggravate your shoulder pain.
Avoid resting your arms over your head when back sleeping. A 2017 study found that sleepers who slept on their backs with a hand on their head were more likely to experience shoulder pain.
Stomach Sleeping
While stomach sleeping won't necessarily cause shoulder pain since there is no pressure on your shoulders, it's arguably the worst choice of sleeping position as it exacerbates neck and lower back pain. So, if you're already struggling with shoulder pain, stomach sleeping can just make matters worse.
We suggest stomach sleepers transition to a healthier sleeping position. However, if you're struggling with switching sleep styles, mattresses for stomach sleepers should be medium-firm or firm mattress to promote healthy spinal alignment and prevent causing other issues.
FAQs
How do I know if my mattress is causing my shoulder pain?
Your mattress may be overly soft, overly firm, old, or unsupportive, thus leading to shoulder pain. Your mattress should provide adequate pressure relief to ease the pain around your shoulders.
Some signs your mattress is causing your shoulder pain include:
You struggle to get comfortable at night
You toss and turn or wake up in the middle of the night
You feel tired and in pain after waking up
Your mattress is 7 to 10 years old
Why is my shoulder pain worse at night?
Conditions including bursitis, tendonitis, and rotator cuff injuries feel worse at night because they cause joint pain, which worsens when your shoulder is compressed (such as when lying down).
Worsened pain at night may also be because your mattress is what's causing your pain. If your mattress is old, overly firm, or sagging, it won't offer the proper support for your body, leading to shoulder pain.
Another reason may be that when you're laying in bed at night, there are no longer any distractions to keep your mind off of your shoulder pain. When you're working, studying, or taking care of the kids, there's no time to focus on your pain. But, when there's nothing left to do, your pain may feel emphasized.
How do I get comfortable in bed with shoulder pain?
If you struggle with shoulder pain, we suggest side sleeping on the opposite shoulder or back sleeping with a supportive mattress. Use the right pillow under your head to keep your head and neck aligned with your upper body and spine.
Hugging a pillow at night can open your shoulder and alleviate pain. Don't sleep with your arms over your head. Similarly, placing a supportive pillow between your knees can align the entire spine and reduce pain as well. A body pillow works well to achieve support at the knees and shoulder.
What can I do to relieve my shoulder pain?
There are several ways to relieve your pain at home while your body heals:
Apply a hot or cold compress to your affected shoulder area for 15 minutes, 3 to 4 times a day. Heat prior to activity and ice afterwards is most effective
Take over the counter ibuprofen or acetaminophen to relieve pain
Complete gentle stretches for your shoulders and rotator cuff muscles. Your physical therapist can provide you with the most effective exercises for your condition
Maintain good sleep posture
When should I worry about shoulder pain?
Most of the time, shoulder pain is a minor issue and only requires at-home care. However, if your pain prolongs beyond six weeks, worsens despite treatment, or is swollen and red, we recommend speaking to your doctor for further assistance.
Seek immediate medical attention if your shoulder pain is paired with difficulty breathing or tightness in the chest. Shoulder pain and difficulty breathing is a sign of a heart attack.
Conclusion
Shoulder pain is a common issue, but that's no reason to suffer at night. While a new bed won't always be the cure to your shoulder pain, an upgraded bed can make your pain more manageable. The best mattress is different for everyone, but with our guide, you can find the right mattress to relieve pressure points around your shoulders.