Best Mattress for Scoliosis: Reviews and Buyer's Guide
Written By
Meg Riley
Certified Sleep Science Coach
Updated on: January 20, 2022

Mattress Guides
Scoliosis affects an estimated 6-9 million people in the United States, mostly women. This disorder causes the spine to curve abnormally in either an S-curve or C-shape. It's critical scoliosis-sufferers choose a mattress that won't exacerbate their pain or throw their spine out of alignment any further.
Scoliosis is usually diagnosed in childhood or early adolescence and it can be corrected with proper treatment. However, those diagnosed are still prone to other symptoms such as chronic back pain, muscle spasms, numbness, inflammation, and heat sensitivity. The wrong mattress can make these issues multiply.
In this guide, we'll go over some of the best mattresses for scoliosis on the market today.
30 Second Summary: Best Mattress for Scoliosis
Amerisleep AS3 — The Amerisleep AS3 is made using pressure-relieving Bio-Pur®, a plant-based foam that springs back quickly. Its open-cell design is designed to promote breathability, helping you avoid further inflammation and restless nights. Plus, the AS3 contains Amerisleep's HIVE® technology that relieves common pressure points on your body— just what chronic pain sufferers need.
Zoma Mattress – The Zoma Mattress is excellent for scoliosis-sufferers because it contains targeted support technology to nurture proper spinal alignment and promote healthy sleeping positions. Plus, it contains gel-infused memory foam to combat hot nights and keep you sleeping comfortably.
Best Mattresses for Scoliosis
| | Mattress | Highlights | Price |
| --- | --- | --- | --- |
| | Amerisleep AS3 | Features pressure-relieving, plant-based memory foam and advanced zoned support technologies to eliminate back pain. | |
| | Amerisleep AS3 Hybrid | Combines eco-friendly memory foam and targeted pocketed coils for a mix of cushion and support. | |
| | Zoma Mattress | Designed to help athletes sleeper better and recover quicker; features state-of-the-art sleep-enhancing technologies. | |
| | Vaya Mattress | Budget-friendly all-foam mattress offering an even mix of comfort and support. | |
| | Tuft & Needle Mattress | Contains graphite cooling gels to promote sound sleep and prevent hot nights. | |
In researching the best beds for scoliosis, we used certain criteria:
Support layers: Every type of mattress has a different construction and therefore different support layers. In foam beds, such as memory foam or latex, these look like heavier, denser foams that don't bounce back. In hybrid or innerspring mattresses, the support layers consist of coil systems.
Pressure-relief: All of the beds we recommended offer exceptional pressure-relief. This is accomplished differently across various brands, but they all give the user some kind of pressure relief.
Spinal alignment: We mentioned earlier that medium mattresses are the best firmness level for those with scoliosis because they keep the spine neutral and straight. If, however, you are a heavier sleeper with scoliosis, you may need a medium-firm mattress. To give you variety, most of the recommended brands in our list offer different firmness options.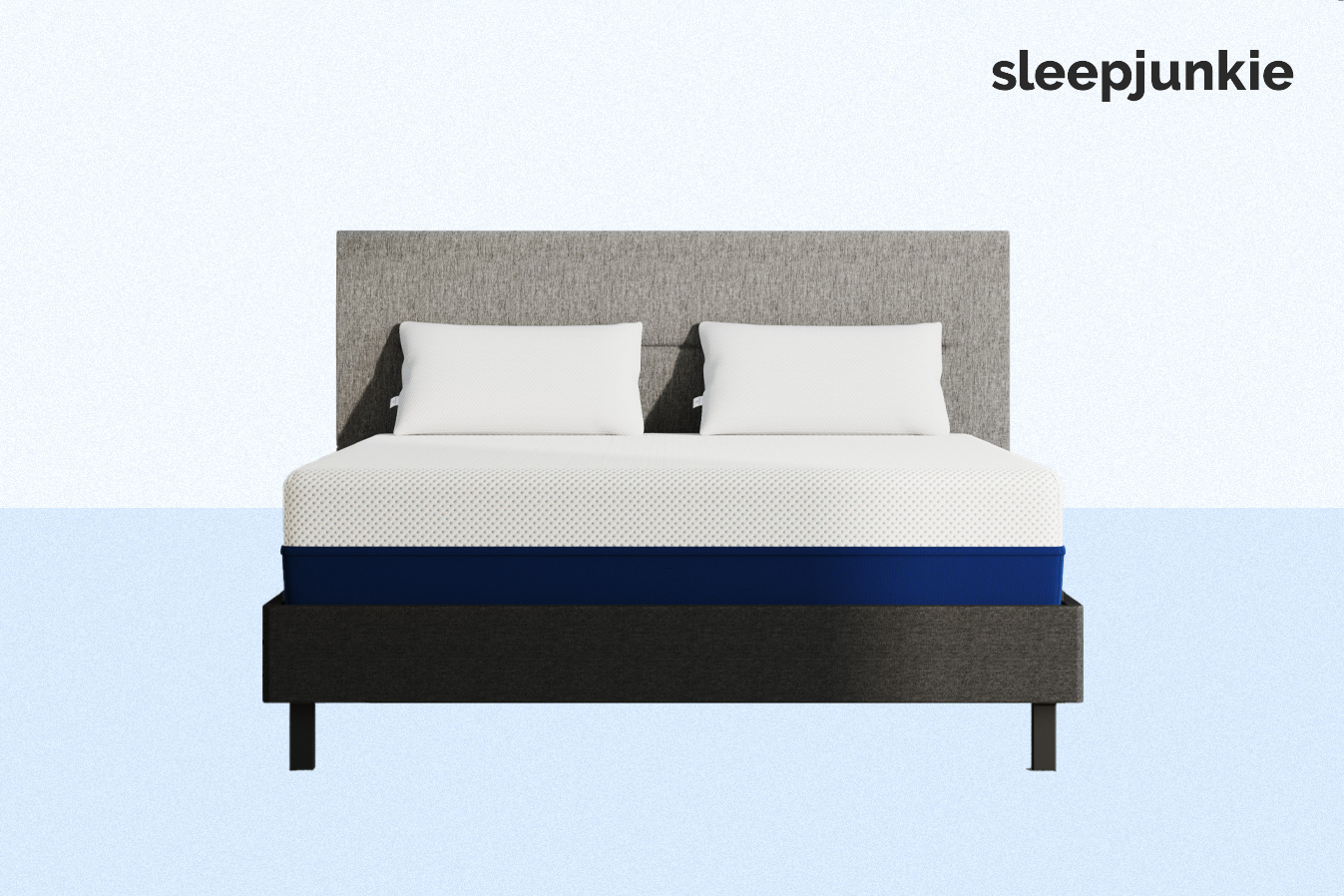 The Amerisleep AS3 is great for scoliosis due to its medium feel, which translates to about a 6 or 6.5 on a scale from 1-10 (one being super soft and ten being extremely firm). It is also the best mattress of 2022.
Scoliosis is not life-threatening, but it can disrupt sleep enough to affect the quality of life. A too-firm mattress can cause pressure to build in the joints, spine, hips, and back, while one that's too soft can throw your spine further out of alignment. A happy medium (literally) is the way to go, and the Amerisleep AS3 fits the bill.
Each layer of the Amerisleep AS3 offers something different for scoliosis patients.
The top comfort layer is made up of 3" of Amerisleep's comfy Bio-Pur®, a more breathable and responsive alternative to traditional memory foam. With Bio-Pur®, you won't sink in or feel trapped in the mattress.
The Bio-Core® layer in the bottom of the mattress creates a sturdy support system for your back, shoulders, and spine.
One of the most innovative parts of the Amerisleep AS3 is the Affinity transition layer with HIVE® technology, which stands for Harnessing Intelligent Ventilation and Energy. This technology offers support in the head, back, and feet as well as softness in the shoulders and hips. Ultimately, this technology facilitates proper spinal alignment while you sleep to prevent discomfort. Scoliosis-sufferers may find this technology eliminates their aches and pains.
Amerisleep AS3 Highlights
Medium mattresses are the perfect firmness for scoliosis because they keep the spine properly aligned and cushioned.
Pressure-relieving Bio-Pur® delivers exceptional pain relief and prevents further discomfort.
Affinity transition layer with HIVE® technology keeps pressure from building up and can reduce pain.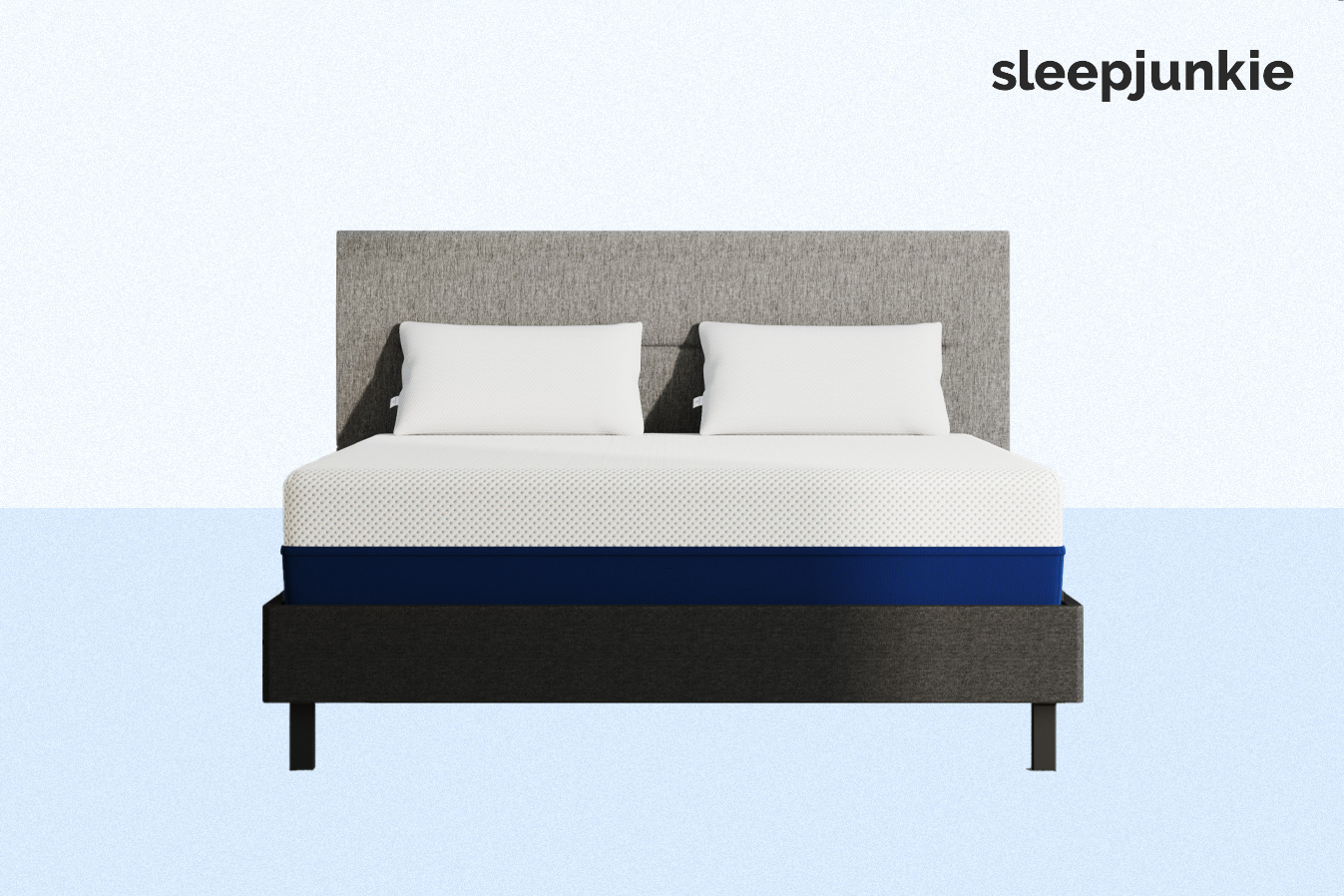 If the AS3 interests you, but you prefer a bouncier mattress, consider the AS3 Hybrid. We like the AS3 Hybrid because it offers all of the same sleep-promoting benefits of the best-selling memory foam AS3, but it contains pocketed coils instead of Bio-Core® so it's significantly more responsive.
The AS3 Hybrid is medium in firmness, like the AS3, so it's best suited for side, back, and combination sleepers. Petite stomach sleepers may get good sleep on the AS3, but stomach sleepers usually require firmer mattresses.
The comfort layer of the AS3 Hybrid is 3 inches of Bio-Pur®, Amerisleep's plant-based memory foam. Bio-Pur® cushions and contours to your body to ease stress, but it's also supportive enough to keep you lifted and prevent sinkage.
Now, we recommend the AS3 Hybrid for scoliosis-sufferers because of the pocketed coil layer below. Yes, memory foam is pain-relieving, but the targeted support pocketed coils provide promotes healthier sleeping positions to nurture a healthy spine and nip back pain in the bud. These coils act a lot like HIVE® in Amerisleep's all-foam AS3, delivering extra support to your torso and allowing for more compression under the shoulders and hips.
Amerisleep also reinforces these coils with a thin base layer of foam below and foam edging around the perimeter of the bed. These extra foam features resist wear and tear and provide better edge support. Plus, Amerisleep offers a lengthy 20-year warranty with their hybrid mattresses, too.
The AS3 Hybrid comes with a 100-night sleep trial and free shipping.
Amerisleep AS3 Hybrid Highlights 
Offers targeted spinal support.
Pressure-relieving plant-based foams ease aches and pains.
Foam edging offers better support around the sides of the bed.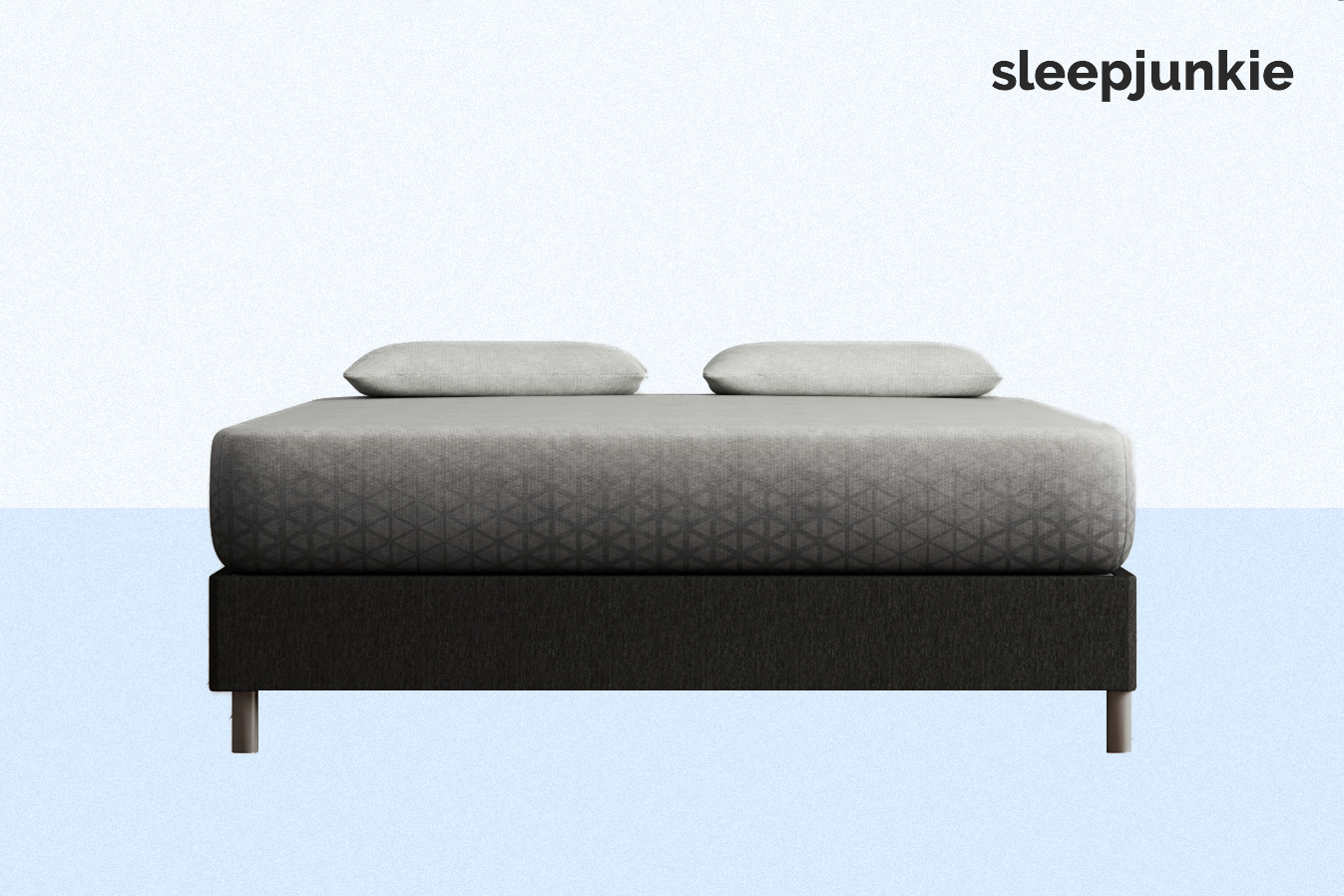 Next on our list is the Zoma Mattress, a memory foam mattress designed for recovery. The Zoma is engineered with athletes in mind and crafted to help you sleep deeper, recover faster, and perform better.
Even if you don't live an active lifestyle, you can still benefit from the Zoma. When it comes to those with scoliosis, the Zoma can help correct your posture and prevent you from sleeping misaligned.
Zoma has three layers and a fairly simple design. Let's talk about its construction.
The first layer is gel-infused memory foam with Triangulex™ technology. When you lay down on the bed, this layer molds to your body offering instant cushioning comfort and pressure relief. The gel within the foam combats body heat and prevents you from overheating while you sleep.
The Triangulex™ technology in the first layer nurtures a healthy spine. Around your hips and shoulders, this technology contains triangle-shaped cutouts to allow for deeper compression and enhanced pressure relief for those major joints. Then, near your midsection, this foam feels firmer and offers extra lumbar support. Triangulex™ keeps your spine in line with the rest of your body while still offering enough comfort to prevent future pain points.
Next, is a layer of Reactiv™, a latex-like poly-foam. Reactiv™'s enhanced responsiveness boosts the overall bounce of this bed, creating a more "on top of the bed" feel in terms of firmness. Because it's so bouncy, it prevents you from sinking uncomfortably far in the mattress and makes it easier to change positions while you sleep. Reactiv™ primarily functions as a barrier between the cushioning memory foam above and the durable base layer below.
The core of the Zoma is their Support+ foam, a durable poly-foam. Support™ reinforces the two layers above and prevents sagging throughout the mattress.
To ensure you get the most for your money, Zoma backs their beds with a 10-year warranty. They also offer a 100-night sleep trial with every purchase.
Zoma Mattress Highlights
Triangulex™ technology fosters healthy spinal alignment.
Most comfortable for back and side sleepers.
Features cooling gels to combat body heat.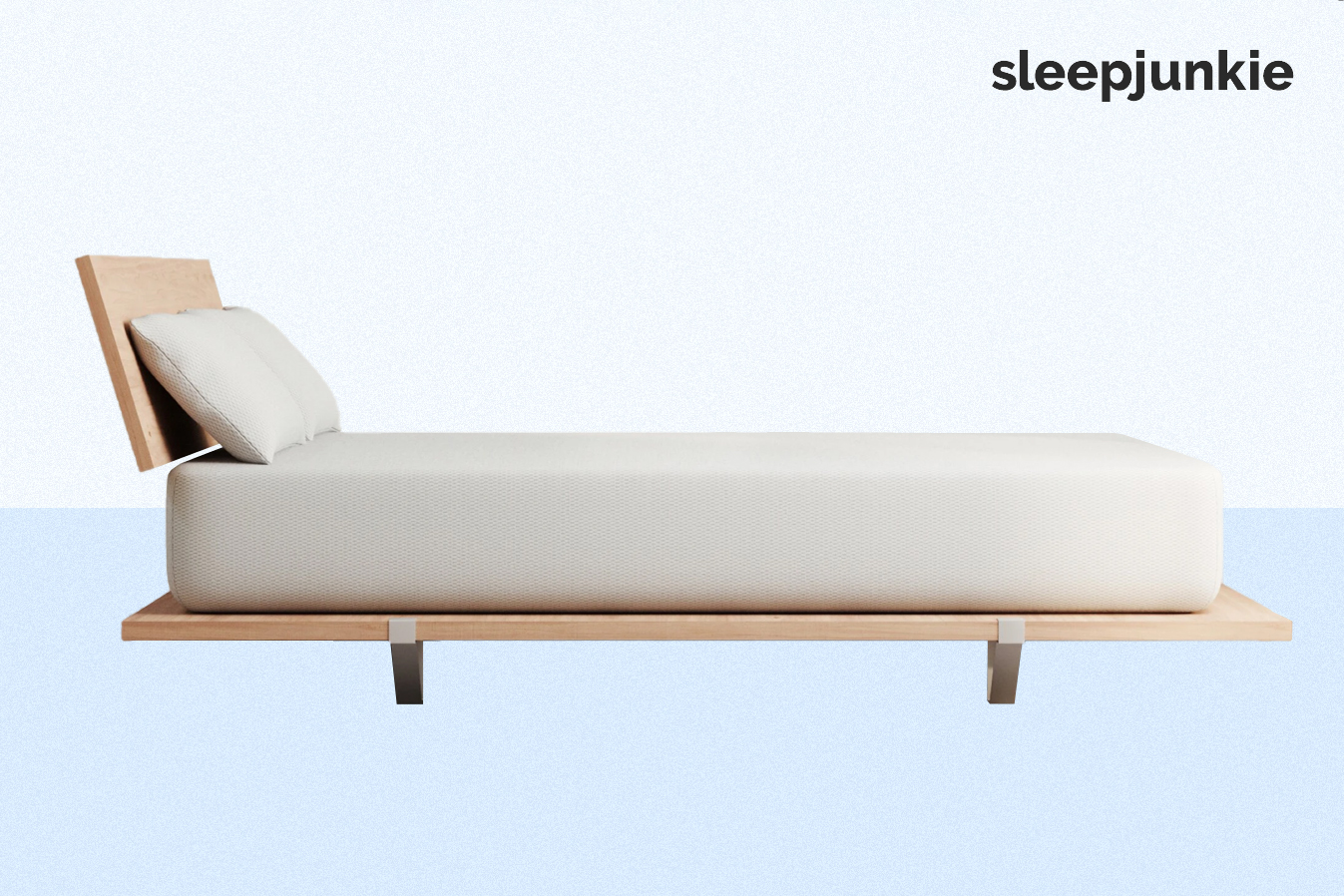 The Vaya Mattress is a budget-friendly foam mattress designed to suit all sleepers, but we like it for those with scoliosis because it's both pressure-relieving and buoyant, so it offers a great balance of comfort and support.
A medium in firmness, the Vaya offers notable cushion for the shoulders and hips without causing sinkage. It keeps you lifted in neutral alignment to eliminate discomfort.
Vaya designs their mattress with two layers: 3 inches of Vaya Foam and 9 inches of sturdy base foam. The top layer of Vaya Foam contours to your body to ease pressure and offer cushioning softness, while the sturdy foam layer below maintains the bed's shape.
Vaya sells their mattress online-only, so they offer a 100-night sleep trial with every bed so customers have the chance to try their mattress at home while deciding if it's the right fit.
Vaya Mattress Highlights 
Budget-friendly.
Medium firmness offers relief from pain while promoting healthy alignment.
Buoyant and lifting.
Tuft & Needle is one of the more popular bed-in-a-box companies thanks to their competitive pricing and high-quality foam. The Original is the one that started it all. This mattress could cater to scoliosis-sufferers who prefer not to sleep on memory foam, thanks to its T&N Adaptive Foam®.
There are only two layers to this bed: 3" T&N Adaptive Foam® layer and the 7" HD Poly Foam base layer. The polyfoam is designed to be responsive, preventing that "quicksand" feel some users get on foam mattresses. For scoliosis patients in particular, this means they should feel generously supported without feeling too cradled.
This mattress rates as a 7.5 on the firmness scale— quite firm, so there is a slight risk of this bed being too firm for the majority of scoliosis patients. Because of its firmness, it's also great for back or stomach sleepers (although we do not recommend stomach sleeping).
Tuft and Needle Highlights
T&N Adaptive Foam® combined with a dense foam base layer offer the ultimate support system.
Foam infused with graphite and cooling gel keeps you cool, so you can avoid further inflammation.
Medium-firm makes it firmer than other options on our list, but still a good pick for scoliosis patients who sleep on their backs.
Risk Factors and Symptoms of Scoliosis
Scoliosis occurs most often during adolescence and impacts about 3% of teenagers. Most cases are mild and self-correct with age, but some cases are more severe. A harsher curve can lead to breathing problems, uneven shoulders, uneven hips or waist, and lower back pain.
Doctors aren't sure what causes the most common type of scoliosis, but genetics can play a large role in whether or not somebody is diagnosed. Other factors that can cause scoliosis are neuromuscular conditions, such as cerebral palsy or muscular dystrophy, birth defects, or injuries to the spine.
Signs and symptoms start to appear most commonly during adolescence or just before puberty.
Severe scoliosis may cause lung and heart damage or back problems that can carry over into adulthood. Other symptoms include heat irritation, joint pain, and numbness. A good mattress can ease these problems, but if you're experiencing chronic discomfort, we recommend addressing your concerns with your doctor as well.
Different Types of Scoliosis
Idiopathic
Idiopathic scoliosis develops on its own without a single identifiable cause. It is the most common form of scoliosis and affects as many as 4 out of 100 children between the ages of 10-18.
Congenital
Congenital scoliosis is a rarer type and results from spinal abnormalities that develop in the womb. This form of scoliosis can lead to a sideways curvature of the spine, tilted shoulders, uneven waistline, head tilt, and more.
Neuromuscular
Neuromuscular scoliosis develops as a result of other disorders in the spinal cord, brain, or muscular system. As it worsens, it can affect the ability to walk.
How Does Scoliosis Affect Sleep?
No matter the severity of scoliosis, those who have it will be looking for similar things in their mattress: spinal support, limited sagging, and pressure relief. Most people with scoliosis will want to look for a medium mattress that will keep their spine nice and straight.
If scoliosis patients need a more durable bed, they should consider the mattress' thickness as well. A low-quality mattress can exacerbate scoliosis symptoms.
Mattress Types for Scoliosis-Sufferers
We suggest those with scoliosis look for a medium mattress since it's the most versatile option for all sleeping types. While the meaning of "medium" may differ across various brands, there are a few things mattresses most suitable for scoliosis should have. Check out the table below for different mattress types and what you should look for in each:

| | Innerspring Mattress | Foam Mattress | Latex Mattress | Hybrid Mattress |
| --- | --- | --- | --- | --- |
| Conforming Ability | Good if there are comfort layers, such as foam or pillow-top. | Excellent | Good depending on latex manufacturing processes. | Excellent |
| Durability | Support layer is present in the coil base; durability largely depends on the coil type. Innerspring beds typically last 7-10 years | The denser the foam, the more durable the bed. Foam beds last about 10 years | Excellent. Latex beds last for up to 15 years. | Good, depending on the construction of foam and coil base. Anywhere from 6-10 years. |
| Motion Isolation | Depends on the coil-type; individually-wrapped coils are better for motion isolation. | Excellent | Excellent | Excellent |
| Pressure-Point Relief | Fair, depending on the coil type and if they are individually wrapped. It also depends on if there's a layer of foam or a pillow-top. | Excellent | Excellent, depending on the latex manufacturing processes. Talalay is a bit softer than Dunlop. | Good, especially if there are at least 2 inches of foam. |
| Responsiveness | Good, they bounce back quickly. For some, they are too bouncy, however. | Excellent | Excellent, especially if the latex is Talalay, which is bouncier than Dunlop. | Excellent |
| Sinkage | Minimal initial sinkage, but more prone to sagging than other types. | Fair-Good amount of sinkage unless reinforced with denser foams. | Minimal sinkage | Fair-Good amount of sinkage depending on the type of latex. |
How Sleep Position Affects Scoliosis
The way you sleep each night – your sleep position – can impact the severity of scoliosis.
Side Sleepers
Often those with thoracic scoliosis (spine curving to the right) prefer sleeping on their sides. Side sleepers with scoliosis should sleep on the side with the higher spinal curvature (also known as the convex side).
Back Sleepers
Most with lumbar scoliosis (when the lower back or spine is curved to the left or right) find it's more comfortable to sleep on their backs. Back sleepers with scoliosis, in particular, should look for a firmer mattress with ample support.
Stomach Sleepers
We do not recommend those with scoliosis sleep on their stomachs simply because of the high risk of misalignment.
What More Can You Do?
Selecting the right mattress is one of the more effective solutions to problems brought on by scoliosis. However, there are a few other things you can do to make your sleep experience more comfortable.
The right pillow should conform closely and not be too thick since this can misalign the spine. A mattress topper can improve support for scoliosis as well; if you decide to use one, make sure it's at least 3 inches thick.
Frequently Asked Questions
Is a memory foam mattress good for scoliosis?
Memory foam mattresses are excellent for those with scoliosis because they relieve pressure to ease pains. In fact, memory foam mattresses are considered some of the best for pain relief, with latex being a close second, because they contour to your body and provide unbeatable comfort.
Is a firm mattress better for scoliosis?
For years, sleep experts swore firm mattresses were the best for back pain, but new research has shown that too-firm mattresses can actually exacerbate pains. Instead, the best mattresses for back pain and scoliosis are medium-firm and medium. Most sleepers will want to opt for medium-firm mattresses for extra support, but petite sleepers under 130 pounds may want to go a bit softer to receive adequate cushioning.
How should you sleep with scoliosis?
Many people with scoliosis report getting comfortable sleep by laying flat on their back and placing a thin pillow beneath the shoulder blades for added cushion. However, others prefer side sleeping with a knee pillow for improved alignment.
How can I prevent my scoliosis from getting worse?
If you're worried about your scoliosis worsening, the best thing to do is consult with your doctor. No mattress or online article is a replacement for true medical advice. Your doctor will likely recommend a back brace, but they'll also be able to suggest other treatment options, as well.
How should I sit if I have scoliosis?
For the best posture, you should sit with your feet shoulder-width apart, flat on the floor, and you should rest your knees just slightly below your hips. Do your best to sit up straight and avoid hunching over. Remember, sitting for too long can cause aches and pains, so it's best to get up and walk around or stretch every 30 to 60 minutes.
Did You Find Your Next Bed?
Scoliosis can cause nightly discomfort and make sleeping a pain, but it doesn't have to. Understanding how to choose a mattress for scoliosis can lead to more peaceful, restful nights for all.