Best Mattress for Herniated Disc: Reviews and Buyer's Guide
Updated November 22, 2023

Mattress Guides
Herniated discs – slipped, bulged, or ruptures discs – are characterized by tears in cushioning tissue that stops nerves from being pinched between vertebrae and the bone from grating against each other.
Purchasing a mattress that targets herniated pain can help alleviate discomfort from correct spinal alignment and easing pressure points.
This guide lists a few mattresses and tips to help reduce the discomfort of a herniated disc.
30 Second Summary: Best Mattress for Herniated Disc
Amerisleep AS3 —

Recommended by the Editors of Sleep Junkie, Amerisleep's AS3 offers pressure relief, leading to pain alleviation and more restful nights. Partially plant-based memory foam is more responsive and breathable than traditional foam beds.

Zoma Mattress — Zoma makes it mattress for athletes or those with an active lifestyle, and its zoned support and pressure-relieving comfort are the reason it made our list. Plus, it comes with free shipping, a risk-free 100-night trial, and a 10-year warranty.
Best Mattresses for Herniated Discs
Mattress
Highlights
Price (Queen)
Amerisleep AS3
Three inches of plant-based memory foam and two inches of a back support layer

Zoma Mattress
Two inches of gel-infused memory foam with zoned support
Zoma Hybrid
Pocketed spring coil base is zoned to support the lower back
Zoma Boost
Soft pillowy surface cradles affected areas for reduced pain
Vaya Mattress
Two hypoallergenic foam layers that provide a balance of cushioning and support
Dynasty
Temperature regulating materials plus pressure-relieving support
at a competitive price

Atlas
A temperature neutral design to promote better sleep

The Amerisleep AS3 is the most popular mattress brand that helps to reduce herniation pain.
The lightweight, breathable cover helps to circulate air around the mattress so you sleep cool and comfortable. The cover is also completely washable and easy to remove, which helps to increase the life of the mattress.
Next is Bio-Pur® memory foam, an advanced open structured foam that promotes airflow and a cooler sleeping environment. Plus, this layer contours to the sleeper's body to allow relaxation and pain relief.
The next layer, HIVE® technology with Affinity foam, is a targeted support system offering pressure relief. For those with a herniated disc, this layer gets its appeal through the joint relief and targeted lumbar support.
The Bio-Core® layer acts as a support system not only for the sleeper but for the entire mattress. Made from dense, eco-friendly foam, Bio-Core® provides longevity for all the layers above it.
The Amerisleep AS3 sports even blends of supportive and soft materials to create a medium mattress firmness. Amerisleep backs the quality and comfort of the AS3 with a generous 20-year warranty. You can also test out the AS3 at home with their 100-night sleep trial. If you are not satisfied with the bed after breaking it in, Amerisleep will offer a full refund.
AMERISLEEP AS3
Promotes air circulation
Zoned technology
Maintains neutral spinal alignment
The Zoma Mattress has two inches of pressure-relieving, gel-infused memory foam with Triangulex™ technology. The gel infusion in this layer helps break apart any heat that could otherwise get trapped into the foam, leading to a cool sleeping environment.
Plus, this layer is segmented into three support zones. The midsection of the mattress is firmer and works to keep your spine naturally curved. However, near the hips and shoulder joints, triangular cutouts are further apart and offer more compression. These triangle-shaped cutouts are designed to bend and adapt to the body for close contouring. Plus, these cutouts also help warm air escape the mattress quickly, helping the bed stay cool to the touch.
The Reactiv™ transition layer prevents sinking and ensures a proper spinal position so your muscles can completely relax and healing can take place. 
The support base of the Zoma Mattress is a high-density foam with build-in vents that encourage circulation. These air channels, in addition to the gel-infused foam, help keep you cool throughout the night, so your sleep is never interrupted by night sweats.
Zoma offers a 100-night risk-free sleep trial and a 10-year warranty that covers any manufacturing defects, such as sagging or indentations.
ZOMA MATTRESS
Gel-infused memory foam
Zoned support
Thick core for support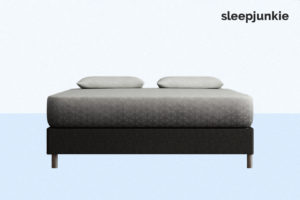 In addition to their advanced memory foam mattress, Zoma also offers a hybrid model. The Zoma Hybrid is perfect for those who want to experience the pressure relief of foam, but also prefer the bounce that comes with a spring coil mattress. This model combines the responsive foam layers of the all-foam Zoma Mattress with a pocketed spring coil base.
The lightweight cover of this mattress is ventilated to prevent heat retention, so you never wake in the night sweaty and overheated. The comfort layer beneath this cover features Zoma's gel memory foam with zoned support. This foam layer cradles the joints to prevent pressure and tension build-up near the joints. This feature allows you to wake with less pain and experience deeper, more restorative sleep. The triangular cutouts across the surface of the foam also increase circulation and regulate temperature.
The transition layer of the Zoma Hybrid is made with Reactiv™ foam. This material has a natural buoyancy that guards against excessive sinking and helps reduce motion transfer.
Supporting both of these foam layers is a 7-inch base of spring coils. Each coil is individually wrapped for adequate contouring and pressure relief. The combination of cushioning and support is sure to provide a better night's sleep for those living with a herniated disc.
As with their memory foam model, the Zoma Hybrid comes with a 100-night sleep trial and a 10-year warranty.
ZOMA HYBRID
Ventilated cover
Responsive transition layer that prevents sinking
Support base for adequate contouring and pressure relief
The Zoma Boost mattress is designed to provide superior comfort and support, especially for those who suffer from chronic pain or discomfort while sleeping. The mattress features a hybrid construction that combines a supportive coil system with thick cushioning foam layers that can cradle delicate areas, including the back, hips, legs and shoulders, areas that can all be affected by a herniated disc.
The top layer is a quilted hypersoft foam layer, comfortably plush and capable of hugging sensitive spots, no matter where the herniated sic is. Beneath the quilted layer is graphite-infused memory foam, which helps to disperse heat and maintain a cool sleeping surface. This layer also conforms to the body's natural curves, providing pressure relief to your joints and muscles.
Next is one of the key features of the Zoma Boost, its Reactiv™ foam layer. This transition layer is designed to provide a responsive and bouncy feel to keep the spine properly aligned while sleeping, which can help alleviate pain and discomfort.
The support core of the Zoma Boost mattress consists of durable pocketed coils. These coils are individually wrapped and react individually to movements, providing excellent motion isolation. This feature is essential for anyone who's sharing the bed, while the reinforced edge support can make moving out of bed easier.
The Zoma Boost also features a premium cooling cover fabric wrapped around these layers, which helps to maintain a comfortable sleeping temperature. This cover is designed to be gentle on delicate skin, yet durable enough to withstand years of use.
ZOMA BOOST
Cooling over maintains pleasantly icy chill
Quilted foam top and graphite-infused memory foam
Buoyant pocketed coils with reinforced edge support
The Vaya Mattress has a medium comfort level that provides a balance of compression and support that is ideal for those with a herniated disc. With two hypoallergenic foam layers and a CertiPUR-US® certification, this mattress is also perfect for those with allergies and other sensitivities.
The cover of the Vaya is made with a flexible, yet breathable material that moves with the body and combats heat retention. Beneath this soft cover is a layer of Vaya's proprietary memory foam. Unlike most memory foams, Vaya foam has a natural airy feeling that stays cool to the touch.
This material also has a slight bounce that keeps the body lifted and aligned, rather than cradled. This feature ensures that no part of the body sinks too far into the bed, which could force the spine out of alignment and cause pain to worsen.
Beneath this layer is a base of high-density foam that guards against sagging and indentations—this guarantees the mattress will support you for many years. This sturdy foam base allows the Vaya Mattress to be placed on most modern bed frames, including slatted, solid, and adjustable foundations.
Vaya offers a 100-night sleep trial that lets you test out the bed and make sure it's right for you. They also include a 10-year limited warranty that covers sagging and indentations over 0.75 inches.
VAYA MATTRESS
Hypoallergenic foam layers
Natural breathability
Supportive base ensures durability
Although this mattress doesn't have fancy technologies embedded into the materials, oftentimes it is the simple designs that get the job done effectively. That is why DynastyMattress settled on a four-layer construction.
The top layer, the Coolbreeze Gel, is made up of high-density foam infused with gel beads. This is our favorite layer as it sets the initial firmness level.
From there, the Cool Airflow and high-density base foam supports the sleeper by adding durability and providing a flat sleeping surface.
Altogether, the materials make a supportive, firm mattress.
A firm and flat sleeping surface increases mobility. For those with herniated discs, moving without pain is already an issue. A bed is hard to move in and will only inflame the agitated area, making DynastyMattress's CoolBreeze Mattress an appealing option.
DYNASTYMATTRESS
Durable construction
Supportive pressure relief
Cool-promoted materials
Three different foam layers make up the Atlas: Signature Gel-Plus Memory Foam, Double Air Foam Comfort Foam, and Double Air Flow High-Density Support Foam. Each of these layers come together to form a well-balanced mattress, complete with motion isolation, heat dissipation, support, and pressure relief.
Motion isolation is particularly important for someone afflicted with a slipped disc. Motion transfer can cause unsuspected pain, which can be an unpleasant wake up call. Atlas's ability to absorb motion will bar movement at the source, allowing you to sleep through the night without jolting pain.
Some people are put off by its 10-inch profile; however, the bed rates highly in reviews.
Perfect Cloud is an American company. The material and mattress assembly takes place in Taiwan, which explains how they are able to sell their mattresses for a low price. The foam in this mattress is CertiPUR-US® certified, which means that the foam has a low VOC emission.
PERFECT CLOUD ATLAS
Tension relieving
Restful sleep
Temperature regulating
What is a Herniated Disc?
To understand what a herniated disc is, you must first understand the anatomy.
The spine consists of 33 bones cushioned by intervertebral discs, or gelatinous discs. These cushioning discs are rubbery, providing mobility, and act much like ball bearings.
The outer layer of the disc consists of fibers; layers of ligaments that crisscross on top of each other to create a protective layer. This layer is called the Annulus. The inner portion of the disc consists of a gel-like substance called the nucleus.
Together these two layers act as a coiled spring. They expand and compress as the body moves. However, when the spine is compressed for too long, the protective fibers will become damaged. The nucleus fluid will push out and distort the shape of the disc, resulting in bulges and ruptures.
Depending on the direction the damage faces, the ruptured or bulged disc may cause more damage. In an anterior push, oftentimes there will be no symptoms of the damaged disc. However, a posterior push will place pressure on the sciatic nerve resulting in pain and a decrease in organ function.
Fun Fact: 33% to 57% of adults between the ages of 35 and 60 have at least one bulging disc.
What to Look for in A Mattress
When looking for the most comfortable mattress available consider factors such as how it supports your spine, the firmness of each layer, and if the company offers a sleep trial to help you make sure it's the right fit.
Spinal Alignment
As a basic rule, your spine should always be in alignment. Back pain sufferers fall under the group that will feel an irrefutable difference when they achieve good posture both on and off the mattress.
Finding the best mattress for support will help back sleepers achieve healthy spinal alignment. Not only does your spine relax, but the muscles and ligaments in your back and neck relax as well, decreasing pain.
Firmness
In terms of mattresses, there is no other way to achieve comfort than through the right mattress firmness. This is a hard detail to get right considering that the perfect firmness is different for everyone. The most we can recommend is the 'not too hard, not too soft' method. Essentially, you want a mattress that will contour to your curves, but you don't want a mattress that will swallow you whole in a sea of blankets and padding.
Durability
Determining the durability of a mattress will take some research. Taking a look at the mattress's material will help you learn what sort of quality you will be buying.
One thing to remember when shopping – if the company becomes stingy at sharing the details of materials with its customers or the bed is advertised as high quality with a very low price point, chances are the material quality isn't that great.
Low-quality materials tend to disintegrate quicker than high-quality. So it might be worth it to spend those extra dollars.
Sleep Trial
Every mattress you buy should come with a sleep trial. This trial period allows the purchaser time to test out the mattress in your home rather than 10 minutes at the store.
Trying mattresses in-store can be uncomfortable and awkward. It's hard to make a decision when you feel pressured. With a sleep trial, you don't feel the pressure. If you end up liking the mattress, you can simply keep the bed.
And if you don't like the mattress, you can send it back.
Make sure to do your research on the trial. You'll want to get a sleep trial of at least 100-nights. This will allow you to get fully acquainted with your likes and dislikes before making your decision.
Another thing to look for is a risk-free sleep trial. There are some companies that require the customer to pay a restocking, return, or donation fee before they take the mattress back. Dealing with these conditions can be a hassle.
Instead, look for a mattress company that doesn't require any fees be paid for the return of their mattress. That way, if you decide the bed doesn't fit your sleep needs, you can return it without fear of retribution and receive a full refund in return.
Mattress Types
Even though we have concluded that memory foam mattresses are good for slipped discs, there are other types of mattresses that can also relieve you from back pain.
Innerspring
Innerspring mattresses aren't considered the best for herniated discs; however, they are known as the traditional mattress, the very first modern bed. They stay in popularity because they have gotten some very important details right.
The supportive layer of coils does a fantastic job keeping a level sleeping surface. The more popular type of coil, the pocket coil, reacts individually to weight, leading to a personalized support to different areas of the body.
Latex
Latex mattresses have been around since the 1920s. They are made from the white sap of a rubber tree and created from one of two methods: Dunlop or Talalay.
While the Dunlop creates a sturdy material with ample support, the Talalay method is more springy and durable than its counterpart. People are drawn to this type of mattress for its hypoallergenic and environmental qualities.
Memory Foam
Introduced into the mattress industry in the 90s, memory foam mattresses gained popularity quickly for their ability to contour to the body and the pain relief they provide to their afflicted sleepers.
Memory foam mattresses also obtained a reputation for sleeping hot.
Open cell structure was developed to allow air to flow more freely through the material, helping to reduce heat retention. Other technologies were developed to pull heat away from the sleeper. Infusions with conductive or cooling materials aids memory foam in pulling heat away from the sleeper. Some of these material infusions include gel, copper, graphite, and charcoal.
Hybrid
This mattress type incorporates a number of available materials into one. Sometimes the bed will have innersprings and memory foam to relieve pressure points. Other times, the mattress will be a combination of latex and coils to help tackle lower back pain.
Remember that when a mattress is made out of coils, it won't be as hygienic as a pure latex or memory foam mattress. It is susceptible to collecting dirt and dust mites, which means that the bed's longevity won't last as long. Take care to clean and protect this type of mattress properly to secure its lifespan.
Sleeping Position
Everyone has a preferred sleep style. It's part of our bedtime rituals and helps us settle into a comfortable night's rest. Just because it is comfortable to us doesn't make it healthy. In fact, most people aggravate their backs by sleeping with misaligned spines.
Back Sleeping
Sleeping on the back is highly recommended for people with a herniated disc . Because the spine lies at a neutral point, leading to continual relaxation throughout the night. Blood circulation and nerve messages are unrestricted. Bodyweight is spread out over the sleep surface, which reduces pressure points.
The only true drawback of back sleeping involves an outside force – gravity.
Gravity may cause your tongue to fall into the back of your throat or a section of soft tissue may collapse, causing snoring. Snoring can be rectified by using a wedge pillow to raise your upper body to a slope. An adjustable bed can be a solution, as well.
Side Sleeping
The second best sleeping position for those with herniated discs, side sleeping is good when done right. However, it can come with a whole slew of posture issues that can lead to neck pain and lower back pain. For those that have sciatica or a herniated disc, misaligned posture can aggravate the condition and cause it to worsen.
Unfortunately, no mattress can solve the issues of misalignment in this sleeping position. The gaps between the side sleeper's body and the mattress manipulate the body into closing the distance, leaving the spine twisted and strained.
Pillows are a good remedy for this issue. By placing a lofty pillow under the head, the cervical spine will come into alignment. A pillow between the knees will bring the hips out of their awkward angle as well.
Stomach Sleeping
Stomach sleeping has been labeled as the worst sleep position. Other than reduced snoring, there are no other benefits for this sleep style.
Sleeping on the stomach distorts the spine into a strained straight line. Naturally, the spine is curved to help us maintain balance and protect the sciatic nerve and important arteries. When the spine remains straight for long periods of time, the vertebrae squeezes the gelatinous discs cushioning the bone. Eventually, the fibers will distort or rupture, leading to possible cases of spinal stenosis and sciatica.
Combination Sleeping
Someone with a combination sleep style rotates between two to three sleep positions throughout the night. These sleepers are also known as restless sleepers. They may require strap-on pillows to maintain spinal alignment.
Frequently Asked Questions
Is massage safe with herniated disc?
In most cases, massage is safe with a herniated disc. Massage can  relieve muscle tension and spasms in the back that are often caused by a herniated disc. Massage is a safe and effective way to find relief from back pain so you can get a good night's sleep.
What type of mattress is best for herniated disc?
A memory foam mattress is best for a herniated disc. This material will prevent pressure and tension from building up in the back. When the muscles can fully relax, healing can take place. A hybrid mattress with at least 2 inches of memory foam in the comfort layer is also suitable for those with a herniated disc.
Can a bad mattress cause a herniated disc?
While a bad mattress is not likely to cause a herniated disc, it can aggravate it. If the mattress is too soft, it may cause sinking which could force the spine out of alignment with the hips and shoulders. If the mattress is too firm, it could put pressure on the disc. Both options will keep the muscles in the back tight, causing pain to worsen. When considering mattress firmness, the most important thing is that the spine be able to rest in a neutral position so these is no tension in the back.
How should you sleep with a herniated disc?
If you have a herniated disc, it is best to sleep on your side. This position will keep pressure off of your back so the muscles around the disc can relax and heal. It is also helpful to tuck your knees in toward your chest so the spine is gentle curved. This position can open up space between the vertebrae for oxygen, which can increase healing.
Can memory foam hurt your back?
Memory foam mattresses are ideal for pain relief, especially back pain. This material contours to the body for pressure free support and allows your muscles to fully relax and rebuild. However, memory foam is available in several different comfort levels. The firmness that is right for you will depend on your body type and sleep position.
Side and combination sleepers tend to be most comfortable on a soft to medium mattress because these comfort levels cushion and protect the joints. Back and stomach sleepers, as well as heavy sleepers, tend to be most comfortable on a medium-firm mattress. This comfort level will prevent excessive sinking so the spine can rest in a safe position.
Did You Solve Your Mattress Issues?
A herniated disc needs a firm surface and contouring to eliminate back problems. A supportive mattress remains to be the best remedy for any degenerative disc disease.
There are many medical conditions that cause lower back pain. Chronic back pain comes in different forms and all have very specific needs. Scoliosis, arthritis, sciatica, and neck pain are also back problems that can be alleviated by a sleeping on one of the best mattresses and other bedding improvements.