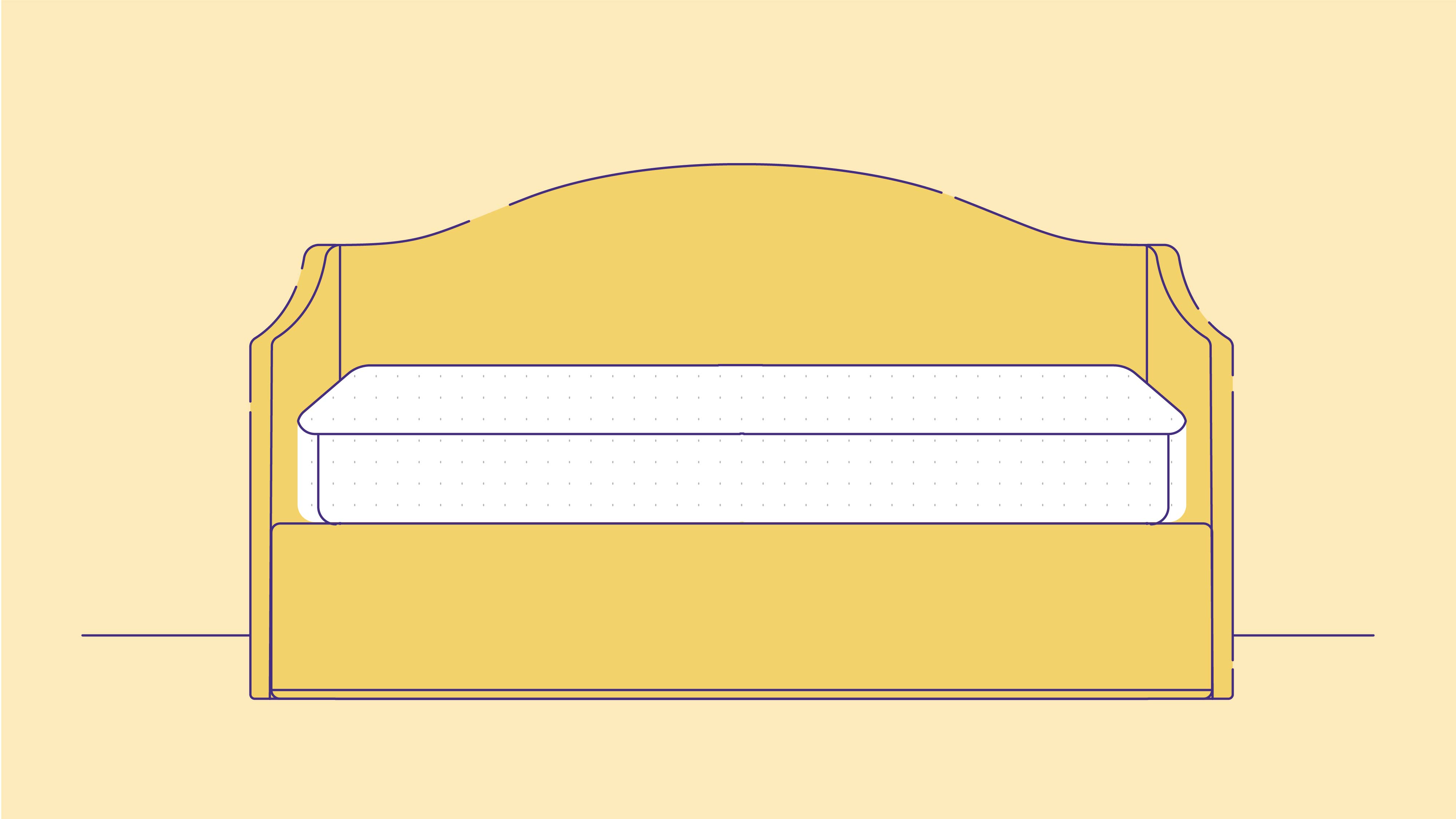 Best Mattress For a Daybed: Reviews and Buyer's Guide

Mattress Guides
If you live in a small apartment or loft and need to maximize your living space, a daybed is a great option. These unique and stylish beds function as a couch and bed in one. During the day, you can recline on a daybed as you would a sofa. In the evening, they provide a comfortable full-size sleep space.
If you are interested in a new daybed or need a new mattress for an existing daybed, we are here to help. We outline some of the best daybed mattresses on the market and explain the benefits and uses of a daybed.

Best Mattress for a Daybed: 30 Second Summary
Amerisleep AS2 – The AS2 is our favorite mattress for a daybed because has a medium-firm feel to prevent spinal misalignment and sagging.
Zoma Hybrid – Zoma Hybrid cushions the shoulder joint with gel memory foam and keeps your spine in healthy alignment with zoned support.
Vaya Mattress – The Vaya is an affordable all-foam mattress with a responsive comfort layer to encourage a safe, neutral spinal position.
Best Mattress For a Daybed Overview
1. Best Overall Mattress For a Daybed: Amerisleep AS2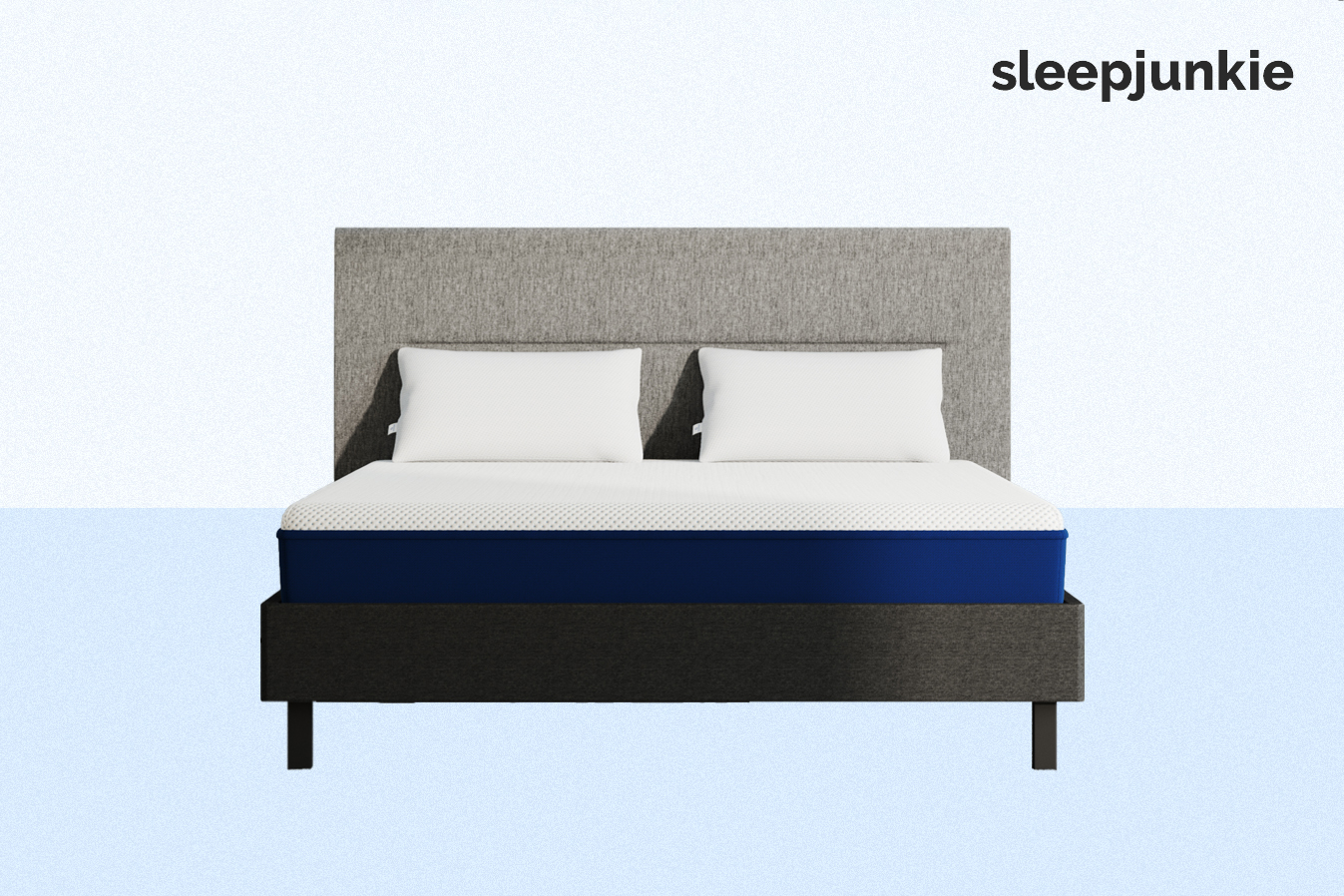 Amerisleep's AS2 Mattress has a medium-firm feel, perfect for any daybed or trundle bed. This bed has a 12-inch thickness and three supportive layers to keep sleepers cushioned and resting in a safe position throughout the night.
The top layer of the AS2 features Amerisleep's Bio-Pur® foam, a plant-based material more breathable than traditional memory foam varieties. While this foam conforms to the body, it won't cause overheating or uncomfortable night sweats.
The transition layer of the AS2 is made with Amerisleep's Affinity foam with HIVE® technology. HIVE® is a zoned support layer, meaning it responds to different pressure levels to keep you lifted and supported no matter which position you sleep in. Near the lumbar spine, HIVE® is firmer to keep the spine from bowing. However, near the joints, HIVE® is softer and cushions the joints to ease muscle tension.
The base of the AS2 features their sturdy support foam, Bio-Core®. This material resists sagging and ensures you remain comfortable all night. This advanced mattress also comes with a 100-night sleep trial and a 20-year warranty.
AMERISLEEP AS2
Plant-based memory foam for breathability
Medium-firm feel
Stable foam base is resistant to sagging
100-night sleep trial and 20-year warranty
2. Best Hybrid Mattress For a Daybed: Zoma Hybrid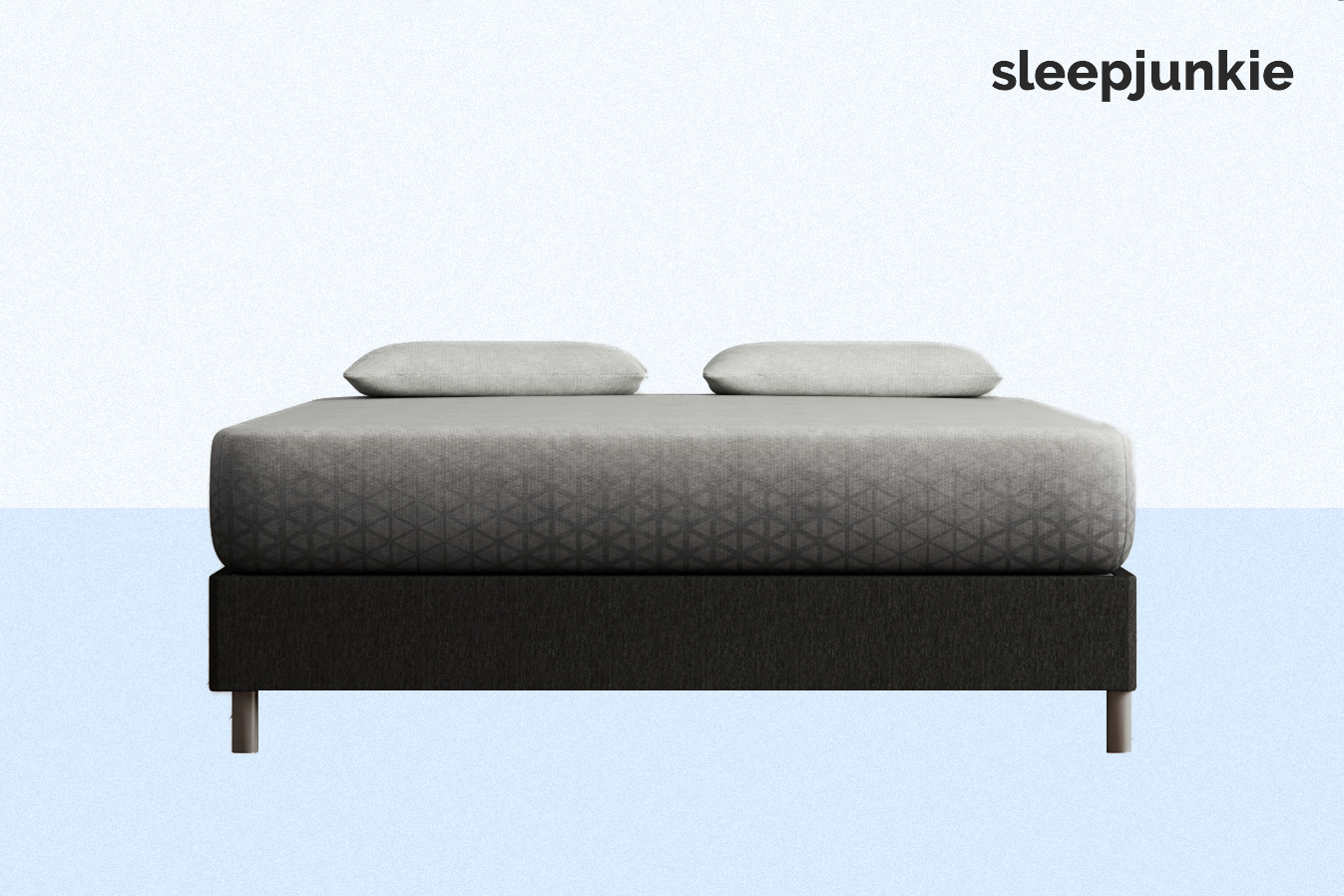 The Zoma Hybrid is a medium mattress with gel-infused memory foam to cushion and cradle the joints to prevent pressure points. Thanks to the spring coil base, the Zoma Hybrid has a slight bounce many back sleepers and heavier individuals prefer.
The cooling gel in the top layer pulls heat and moisture away from the surface of the mattress. With a ventilated, stretch-knit cover, body heat quickly dissipates, leaving behind a cool and inviting sleep space.
The Reactiv™ foam layer in the middle of the Zoma Hybrid has a latex-like bounce to keep sleepers from sinking too far into the bed and forcing the spine to curve upward, putting pressure on the muscles in the back. With this response layer, body weight is evenly distributed, ensuring the spine is neutral, and the muscles are relaxed.
The base of the Zoma Hybrid features pocketed spring coils. Every coil is individually wrapped to increase comfort and prevent pressure points. Unlike traditional innerspring coils, Zoma's coils move independently to reduce motion transfer and noise.
While the Zoma Hybrid has a 12-inch thickness, Zoma's low-profile model, the Zoma Start, has a 10-inch thickness. If you prefer a thinner mattress or need a trundle for your daybed, the Zoma Start is a great option.
ZOMA HYBRID MATTRESS
Gel memory foam wicks away body heat
Zoned comfort layer supports the lumbar spine
Pocketed spring coil base
100-night sleep trial and 10-year warranty
3. Most Affordable Mattress For a Daybed: Vaya Mattress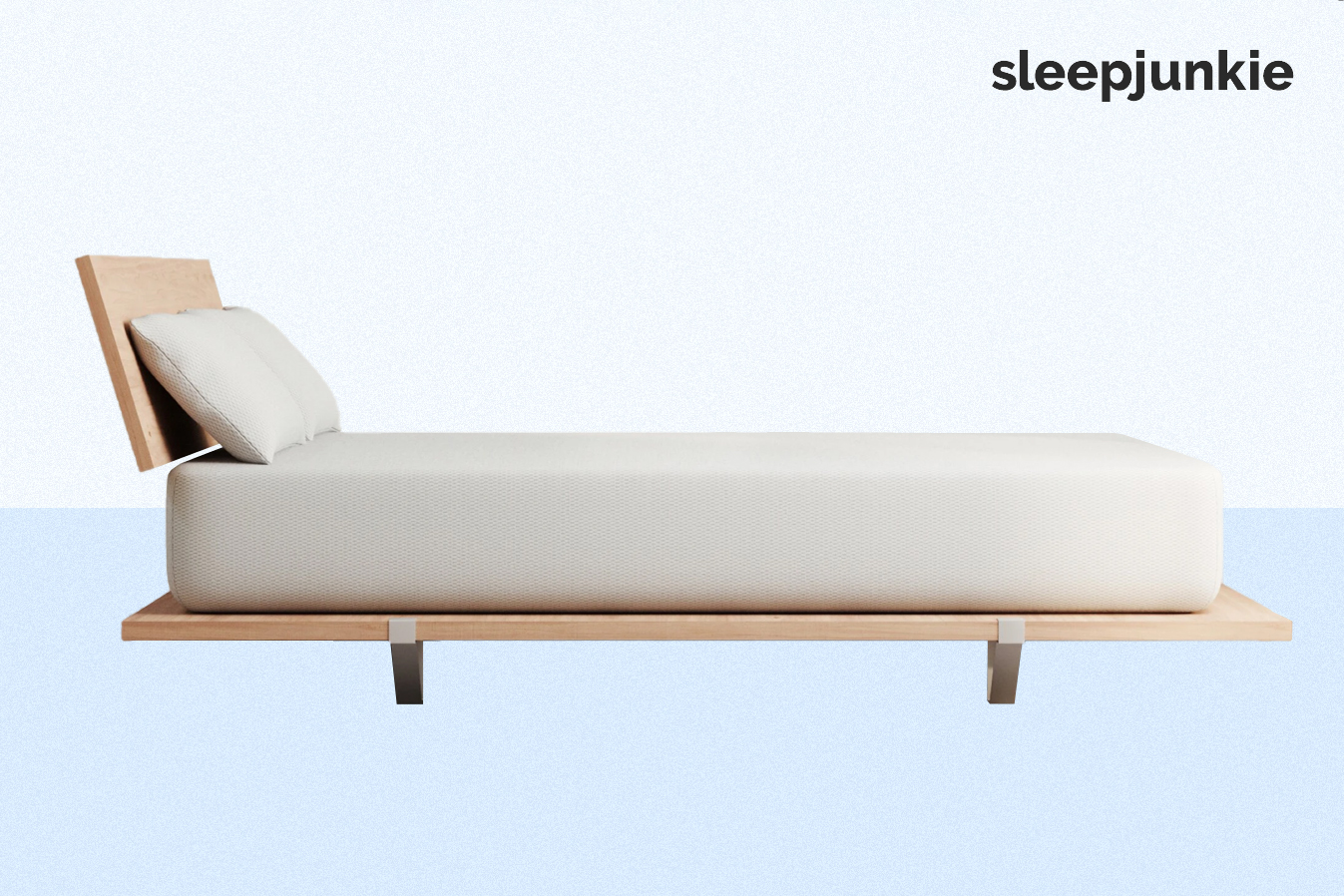 For an affordable all-foam daybed mattress, we suggest the Vaya Mattress. This bed features durable, high-quality materials and comes at a budget-friendly price. Sleepers can purchase a twin or twin XL Vaya Mattress for under $450.
The cover of the Vaya features a soft, ventilated material to prevent heat-trapping. Beneath this cover is a naturally breathable comfort foam with a slight bounce to prevent excess sinking and spinal misalignment. This material's buoyancy is perfect for most sleepers and body types, including petite sleepers and plus-size individuals.
The base of the Vaya Mattress is made with highly durable foam to prevent sagging and excess sinking. This stable base allows you to place the Vaya Mattress on most modern bed frames, including daybeds with link springs and slatted foundations.
The Vaya Mattress comes with a 10-year warranty and a 100-night sleep trial.
VAYA MATTRESS
Soft, stretch knit cover to increase airflow
Responsive foam comfort layer
Support foam base is resistant to sagging
100-night sleep trial and 10-year warranty
4. Best Trundle Mattress For a Daybed: Fortnight Bedding
If your daybed frame allows you to add a trundle bed, you may need a low-profile mattress for this space. A thinner mattress is easier to store under the bed and pull out when guests visit. For this, we suggest the Fortnight Bedding 6-inch memory foam mattress available on Amazon.
The top of this mattress features medium-firm memory foam, which has a slight softness to cushion the joints. This foam is manufactured in the USA and is certified by CertiPUR-US® to be free of harmful additives, heavy metals, and chemical flame retardants.
Just beneath the top layer is a supportive foam base to reduce sagging and keep body weight evenly distributed. This stable base allows you to place the Fortnight Mattress on most daybeds, including those with a link spring base.
This mattress has a water-resistant nylon cover to protect the foam layers and prevent spills and accidents from damaging the mattress. This Fortnight model is also available in a standard twin size—38 inches wide by 74 inches long—which fits most standard daybeds and trundle beds. However, if your trundle space is slightly smaller, you may prefer their 36 by 74 or 33 by 74 models.
FORTNIGHT BEDDING 6-INCH MEMORY FOAM MATTRESS
6-inch profile perfect for a trundle bed
CertiPUR-US® certified foam
Supportive foam base to prevent sagging
Affordable price
The Kiwi Mattress by My Green Mattress is a medium-firm bed with a 9.5-inch thickness. This bed is made with organic materials and upcycled steel, making it eco-friendly and non-toxic. Since natural latex is also resistant to mold, mildew, and odor-causing bacteria, this bed is perfect for kids, seniors, and those with severe allergies.
The Kiwi Mattress cover features GOTS (Global Organic Textile Standard) certified organic cotton, ensuring it is free of harmful chemicals and pesticides. Instead of toxic flame retardants, My Green Mattress includes a layer of organic wool beneath the cover. This layer helps wick away moisture and acts as a natural fire barrier.
The Kiwi Mattress's comfort layer is made with GOLS (Global Organic Latex Standard) certified latex. This material is sustainably harvested and free of synthetic fillers. Wrapped spring coils make up the base layer of the Kiwi. These springs keep body weight evenly distributed, ensuring the spine rests in a safe, neutral position.
With each mattress purchase, My Green Mattress includes a 120-night sleep trial and a 20-year limited warranty.
KIWI MATTRESS
GOTS and GOLS certified organic materials
Durable latex comfort layer
Support pocketed spring coil base
120-night sleep trial and 20-year warranty
The Brooklyn Bedding Aurora Hybrid is our pick for the best cooling mattress for a daybed because it comes with several features to prevent heating trapping. This hybrid is also available in three different firmness options—soft, medium, and firm. For side sleepers, we suggest either the soft or medium option. For back sleepers, the medium to firm models should be most comfortable.
The Aurora cover is woven with Brooklyn Bedding's TitanCool™ fabric, breathable fabric that wicks away heat and moisture to regulate your body temperature during sleep. For even more breathability, the comfort layer features Brooklyn Bedding's cooling foam, CopperFlex™.
Since copper is a natural heat conductor, warm air can quickly pass through this material without changing the mattress's temperature. This foam is also highly responsive and immediately molds to the body to relieve pressure and tension.
The base of this mattress is made up of encased spring coils that provide the perfect level of compression to keep the hips and shoulders lifted without causing sore pressure points.
Like Brooklyn Bedding mattresses, the Aurora comes with a 120-night sleep trial and a 10-year warranty.
AURORA MATTRESS
Available in three firmness levels
Copper infused memory foam for airflow
Pocketed spring coil base
120-night sleep trial and 10-year warranty
What is a Daybed?
Daybeds are wooden, or metal bed frames consisting of three sides—similar to a couch or chaise longue. Daybeds often have a depth of 18 to 22 inches and a height of 9 to 14 inches. For this reason, daybed users often place pillows along the back of the frame to give it the look and feel of a couch. This design allows a daybed to be used as a seating area and a standard size bed.
In most cases, daybeds accommodate a twin size mattress, 38 inches wide by 75 inches long. However, daybeds that fit full size mattresses measure 54 inches wide by 75 inches long. Although this size is rare, it can be found at some specialty furniture retailers. Due to their sizing, daybeds are best suited for solo sleepers rather than couples.
The support foundation of most daybed frames can either be made of slats or link springs. Slats are often made of wood or metal and sit 2 to 3 inches apart. Link spring foundations are made up of hundreds of springs linked together to create a grid-like structure. This grid attaches to the three sides of the frame to support the mattress.
What is a Trundle Bed?
Some daybeds may also be referred to as "trundle beds." Trundle-style daybeds have an additional mattress that fits just beneath the top mattress. The trundle typically has wheels, so users can roll it out when needed. Some trundles have a pop-up mechanism that allows the bottom mattress to lift to the level of the upper mattress, creating one large bed.
Trundle mattresses are typically the same size as the top mattress, twin or full. However, the trundle bed should be no more than 8 inches thick so it can fit comfortably under the bed.
Daybeds that do not have a trundle mattress often have storage drawers or cabinets instead.
Benefits of a Daybed
Daybeds are versatile and affordable and provide a stylish centerpiece to any bedroom. Below, we outline the different ways you can benefit from a daybed.
Guest room: Spare rooms often double as a space for guests, an office, or a den. With a daybed, you can provide your guests with a comfortable sleeping space and still have room left over for additional items, such as desks or exercise equipment.
Kid's room: Most children are comfortable in a twin size bed. Plus, this mattress size frees up space in their bedroom. With a daybed, children and teens have an extra bed for sleepovers and guests.
Studio or loft apartment: If you live in a small studio or loft apartment where there is no clear separation between your bedroom and living room, a daybed can help maximize your space.
How to Choose a Daybed Mattress
Before selecting the perfect mattress for your daybed, there are a few things to keep in mind. The firmness and type of mattress you purchase can affect the overall comfort, durability, and price of the bed. The cost, sleep trial, and warranty are also important factors to consider.
We outline the most common mattress types, firmness levels, price points, warranties, and sleep trials for a daybed mattress to help you shop.
Mattress Type
Memory Foam
Memory foam is a highly responsive material with a flexible, elastic-like quality. This foam immediately molds to the shape of your body to keep you cushioned and supported. Memory foam beds are available in several different firmness levels—from ultra-soft to firm. However, for daybeds, we recommend those with a medium to medium-firm feel.
Latex Foam
Latex foam feels similar to memory foam. However, latex beds are slightly bouncy, which many back sleepers and heavier individuals prefer. Latex's buoyancy ensures the hips and shoulders don't sink too far into the bed and force the spine to curve unnaturally.
Latex foam is also antimicrobial, antibacterial and resistant to dust mites, mold, and mildew. Therefore, they are ideal for those with allergies and other sensitivities. Some latex is organically grown and harvested, making it eco-friendly and free of pesticides and other harmful contaminants.
Hybrid
Hybrid mattresses have a foam comfort layer and a spring coil base. The top layer of a hybrid is typically 2 to 3 inches thick and made with either memory or latex foam. Some hybrids have an additional layer in the middle to provide additional support and protection against excess sinking and spinal misalignment.
The base of a hybrid mattress is made of pocketed spring coils. These coils are individually wrapped for better protection against pressure points and to reduce motion transfer. Like traditional innerspring beds, hybrids have a slight bounce. However, hybrids provide more accurate contouring and pressure relief than innerspring mattresses.
Innerspring
Traditional innerspring beds have a spring coil base and a 1 to 2 inch top layer, often made of cotton, wool, or foam. While these beds are standard, they do not provide the same pressure relief and comfort as hybrid beds. Spring mattresses are also bouncy and tend to be noisy.
Firmness
Most daybed mattresses have a medium to medium-firm bed. This firmness is ideal for a daybed because anything softer may sink. Since daybeds have either a link spring or slatted foundation, the most comfortable mattress should have some level of stability and firmness to prevent sagging.
In most cases, medium to medium-firm beds work well for most sleepers, including side, back, and combination sleepers. Plus-size sleepers often prefer a medium-firm mattress to prevent excess sinking and spinal misalignment. Lightweight sleepers may prefer a medium feel for pressure relief near the hips and shoulders.
Price
The price of your daybed mattress depends on the type you select. Twin and full size memory foam beds typically cost between $500 and $1000. Latex beds are slightly more expensive, around $800 to $1200.
Hybrid daybed mattresses cost between $1000 and $1000 for a twin or full size. However, the price can vary depending on the type of foam used in the comfort layer. Those with organic latex foam tend to be more expensive than those with memory foam.
Warranty and Sleep Trial
When purchasing a daybed mattress, it is essential they include a warranty and sleep trial. Most mattress brands provide at least a 10-year warranty covering manufacturing and structural defects, such as sagging, indentations, rips or tears in the cover, cracks in the foam, and loose threads.
A sleep trial gives you the ability to test out the mattress at home and decide if it is right for you. If you are not happy with the overall quality, comfort, or support of the bed, most brands offer a full refund and arrange for the mattress to be donated. However, if you decide to return the mattress before sleeping on it for at least 30 days, most companies charge a return fee.
Frequently Asked Questions
Are daybeds suitable for adults?
Most daybeds are sized to fit a twin or full mattress, both of which measure 75 inches long. Although these sizes are commonly used for children and teens, they are suited for single adult sleepers under 6 feet tall. However, taller adults may be more comfortable on a twin XL mattress, 80 inches long.
Can you sleep on a daybed all the time?
Yes. If the mattress on your daybed is supportive enough and suited to your body type and sleep style, you should be sufficient to sleep on it every night. When choosing a mattress for your daybed, be sure to keep your preference in mind.
Is a trundle mattress smaller than a twin?
The trundle mattress is typically the same size as the upper mattress. Typically both are twin size or full size mattresses. However, the trundle mattress generally is thinner than the top bed. Trundle mattresses should be no more than 8 inches thick.
What is a link spring for a daybed?
A link spring is a series of metal springs connected to form a grid. This grid is connected to the sides of the bed frame and used to support the mattress. Instead of a link spring, some daybed frames may have slatted foundations made of wood or metal and spaced 2 to 3 inches apart.
Do you use a box spring with a daybed?
No. Daybeds do not need a box spring. The link spring or slatted base of a daybed frame is designed to support the mattress without using a box spring. Also, because daybeds tend to sit higher than standard bed frames, adding a box spring under the mattress could make the bed too high and difficult to get in and out of.
The type of mattress you have will determine the type of mattress base you need. For example, memory foam mattresses should not be used with a box spring. Mattresses with a foam base should be placed on a slatted foundation with slats spaced no more than 3 inches apart or on a solid mattress foundation.
Conclusion
The versatility and functionality of daybeds make them a popular choice for a kid's room, guest room, or a small city apartment. Although daybeds are often used for children and teens, they are also suitable for single adults under 6 feet tall. These beds have a unique and stylish look and can double as a couch or additional seating area in any space.