Best Mattress for Acid Reflux: Reviews and Buyer's Guide

Mattress Guides
Acid reflux is unpleasant at any time of day, but it's even worse at night when you're trying to fall asleep. Being flat on your back makes it easier for stomach acid to flow up to the esophagus. This causes irritation and pain, which leads to difficulty in going to sleep and staying asleep.
Lifestyle changes and medication can help relieve acid reflux symptoms, but switching to side sleeping is often the most helpful. On top of changing your sleeping position, upgrading your mattress can improve your night's sleep, too. The choices listed below for the best mattresses for acid reflux have two things in common— they offer pressure point support and contouring cushion to make side sleeping comfortable.

30 Second Summary: Best Mattress for Acid Reflux
Amerisleep AS3 — The Editors' at Sleep Junkie recommend Amerisleep's AS3 as the best mattress for acid reflux because it contains HIVE® technology and is compatible with most adjustable bed frames.
Zoma Mattress – We like the Zoma Mattress because it's equipped with zoned support and gel-infused memory foam to deliver healthier, sounder sleep.
Best Mattresses for Acid Reflux
| | Mattress | Highlights | Price |
| --- | --- | --- | --- |
| | Amerisleep AS3 | HIVE® technology provides no pressure support to the areas that need it most. | |
| | Zoma Mattress | Supports athletes through its resilient foam, which supports the hips and shoulders. | |
| | Avocado Green | Hybrid mattress with an inner coil system offering both cushioning comfort and bouncy support. | |
| | Purple Hybrid | Cradles the lumbar region to maintain healthy alignment. | |
| | Bear | Infuses graphite cooling gel into their foams to regulate your temperature and promote undisturbed rest. | |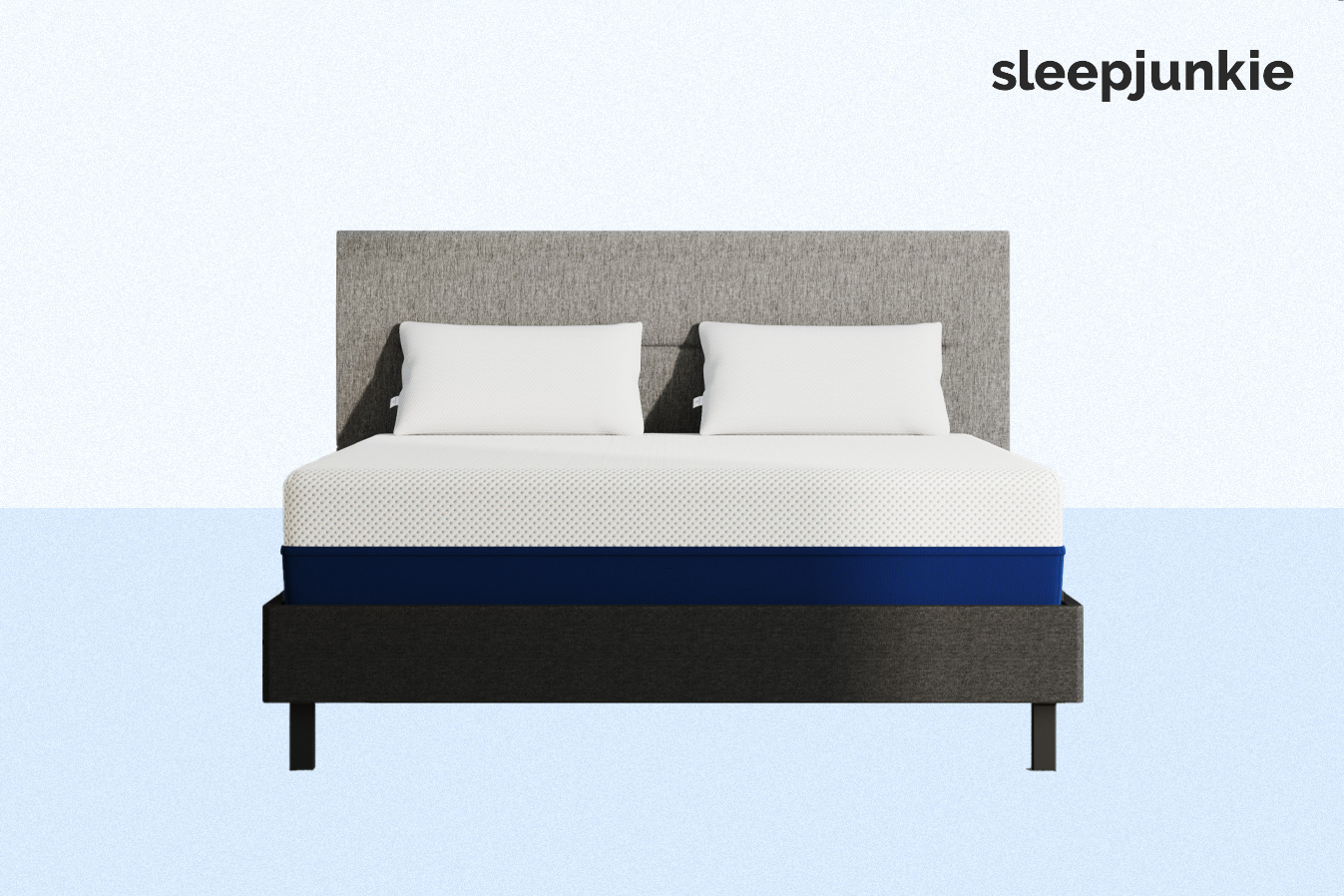 The most popular offering from Amerisleep, the AS3 is terrific for side sleepers because of its combination of softness and support. It's built to feel comfortable for the majority of sleepers and earns our vote for the best mattress of 2023 due to its adaptability.
The Amerisleep AS3 starts with a lightweight, breathable cover to prevent heat retention and night sweats.
The first layer of the AS3 is 3 inches of Bio-Pur®, proprietary memory foam designed to be more breathable and responsive than traditional memory foam. The breathability of this layer further prevents heat build-up, so this mattress is especially great for hot sleepers. 
Below, is a 2-inch Affinity transition layer with HIVE® technology. Affinity relieves pressure points to make you feel like you're sleeping on a cloud, while HIVE® offers full-body support to keep you in a neutral sleeping position. HIVE® is a neat sleep technology because it can actually promote healthier rest. It does this by offering the support you need to keep your spine in alignment while relieving pressure under the shoulder and hips. 
Finally, the Bio-Core® foam support layer ensures that your mattress will stand the test of time—no sagging or loss of support as the years go by.
The AS3 comes with a 100-night sleep trial and free returns. It's also backed by a 20-year warranty, with full repair or replacement for the first 10 years and prorated coverage for the next 10 years.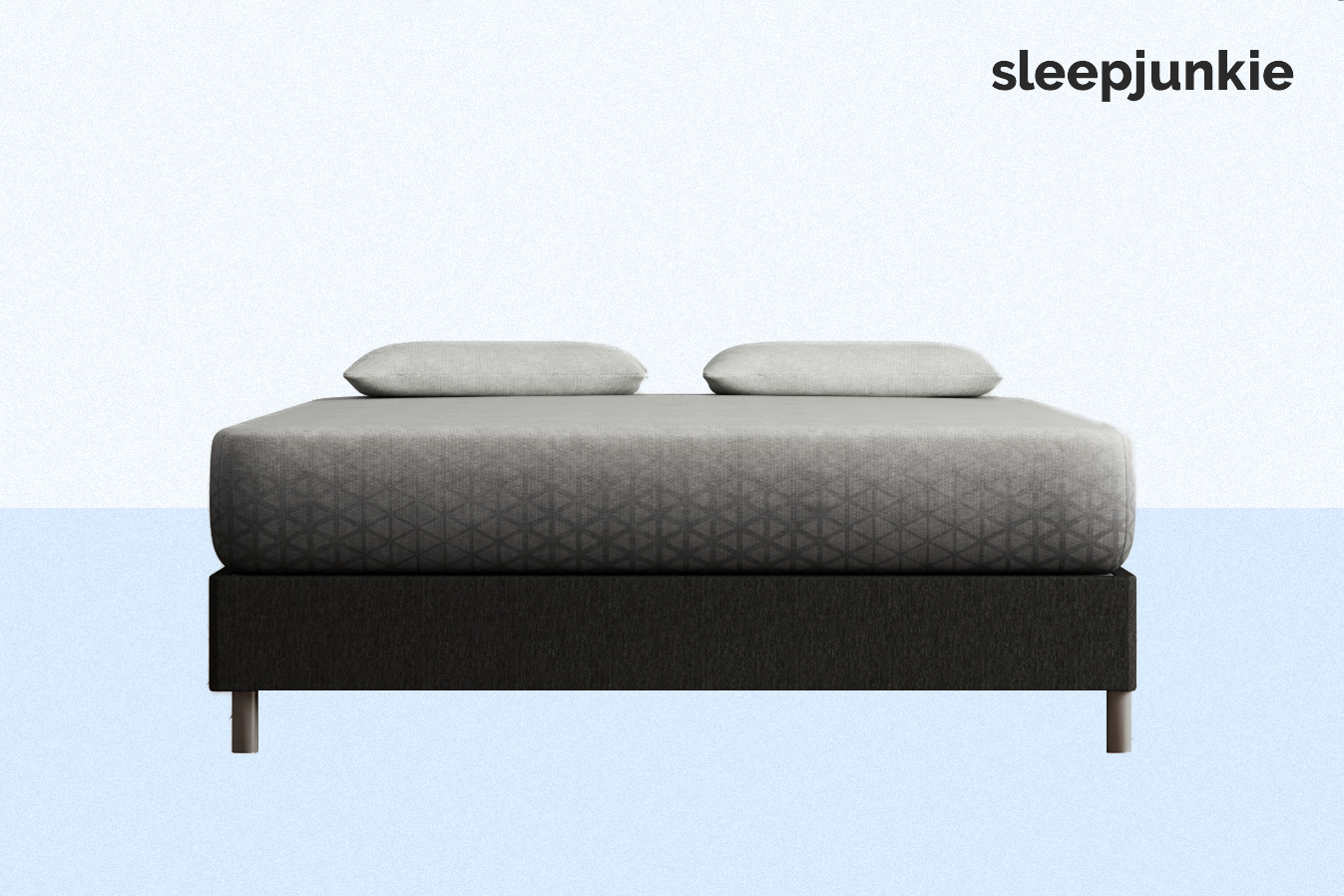 Next on our list is the Zoma Mattress, a memory foam mattress for athletes. The Zoma Mattress is engineered to help athletes sleep deeper, recover faster, and wake up feeling more refreshed. Plus, it's one of the best mattresses for side sleepers due to the inclusion of Triangulex™ zoned technology.
The Zoma has three layers and stands 11 inches tall. It's engineered to feel medium in firmness, but some reviews mention it feeling medium-soft; so it does feel a bit more cushioning than some medium mattresses.
The first layer of the Zoma Mattress is 2 inches of gel-infused memory foam. When you lay down on this bed, the memory foam contours to your body and alleviates pressure. The gel within the foam acts as a cooling agent to combat body heat and keep you sleeping at a comfortable temperature.
Next is a 2-inch layer of Reactiv™, a latex-like poly-foam. Reactiv™ is fashioned to be more responsive than memory foam, so it gives the bed a bit of bounce and prevents you from sinking too far into the mattress.
The third and final layer of Zoma is Support+, a durable poly-foam in place to give the bed shape and support. Support+ prevents sagging, indentations, and premature wear and tear.
Zoma offers a 100-night sleep trial and a 10-year warranty with each of their mattresses.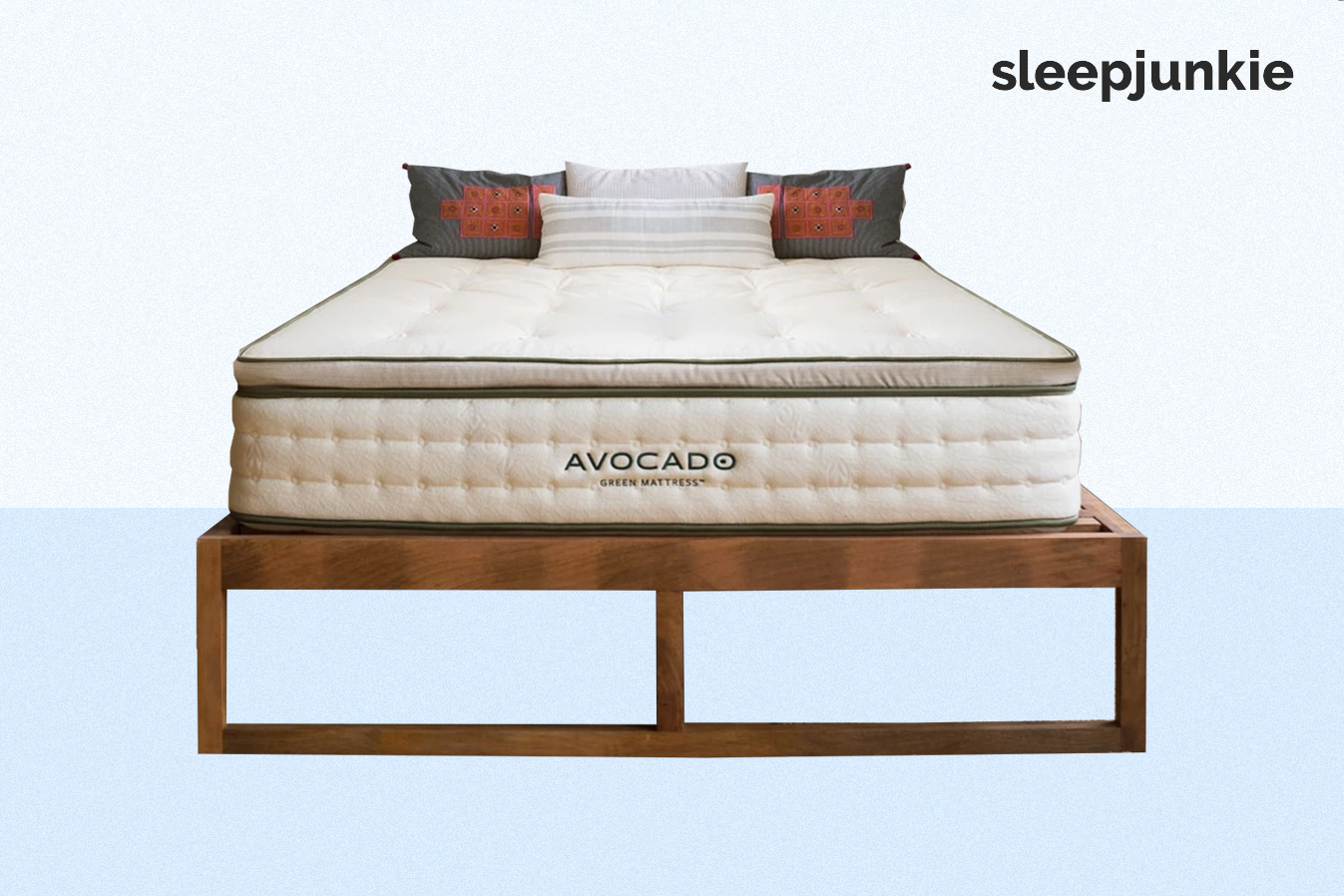 The Avocado Green hybrid mattress is consistently rated as one of the best mattresses in a variety of categories. It is GREENGUARD Gold Certified and made with natural and organic materials. Reviewers love its overall comfort and superior quality. Many praise its firm support for both back sleepers and side sleepers. Others love the plush Euro-style button-tufted pillow-top option.
Without the pillow-top, the Avocado Green mattress measures 11 inches in thickness. The soft white mattress cover is made with 100% GOTS organic certified cotton. A layer of 100% GOTS organic certified wool wicks away moisture for breathable, non-allergenic comfort. GOLS organic certified latex is used to make a 2-inch comfort layer and a 1-inch base layer. Dunlop latex has natural antimicrobial properties and keeps the mattress cool throughout the night. A pressure-point support unit with five strategic zones uses individually-wrapped innersprings to support your hips, back, and shoulders. The materials used to make the Avocado Green mattress are naturally flame resistant. This means Avocado Green mattresses meet federal flammability standards without the use of chemical flame retardants.
Avocado Green has one of the best warranties and sleep trial policies in the mattress industry. Customers get a 25-year limited warranty. Years 1-10 offer full, non-prorated coverage. Limited, prorated coverage is offered for years 11 through 25. Avocado Green provides a one-year risk-free mattress trial.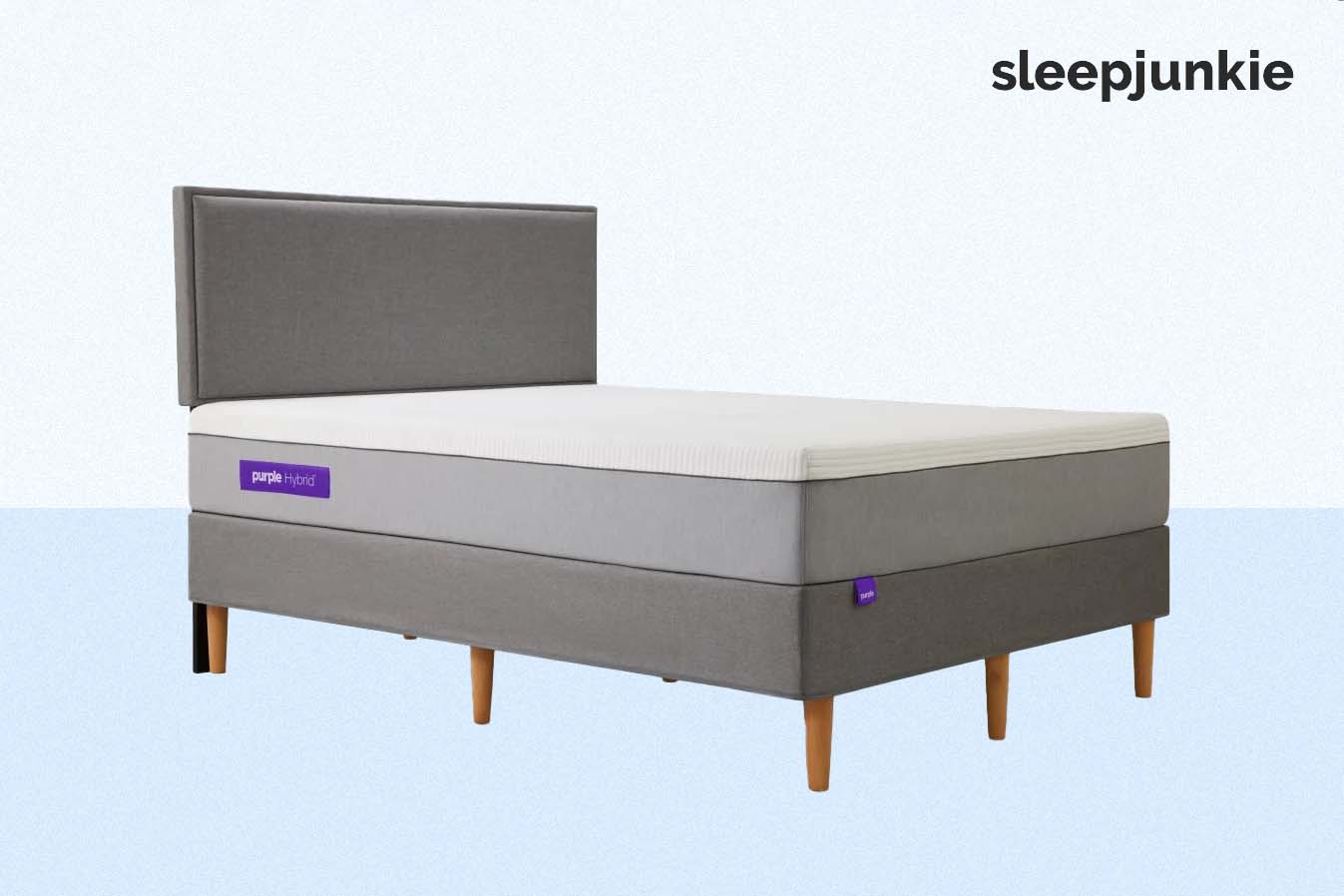 Customer reviews of the Purple Hybrid Mattress praise its support for side sleepers. This side support makes it a great option for anyone who suffers from GERD or acid reflux. The claim to fame of Purple's mattresses is their superior adaptability. The mattress is designed to contour to your body while still remaining firm enough to provide the support sleepers need.
Beneath the knit fabric mattress cover is a top layer of Hyper-Elastic Polymer™. This 2-inch layer is Purple's famous Purple Grid™, which is designed to adapt to your unique body shape and stay cool through the night to help you sleep better. While the polymer offers the cradling support of memory foam, it has a longer lifespan than foam material.
A base of responsive support coils lie between two layers of CertiPUR-US® polyurethane transition foam. These coils use motion-isolating technology to minimize motion transfer. The Purple Hybrid mattress is made in the USA with nontoxic, hypoallergenic materials.
Being an online, mattress in a box brand, Purple offers a 100-night sleep trial with each of their beds. If you're not happy with your mattress, Purple will arrange for pickup and refund the purchase price. Purple also provides customers with a 10-year warranty.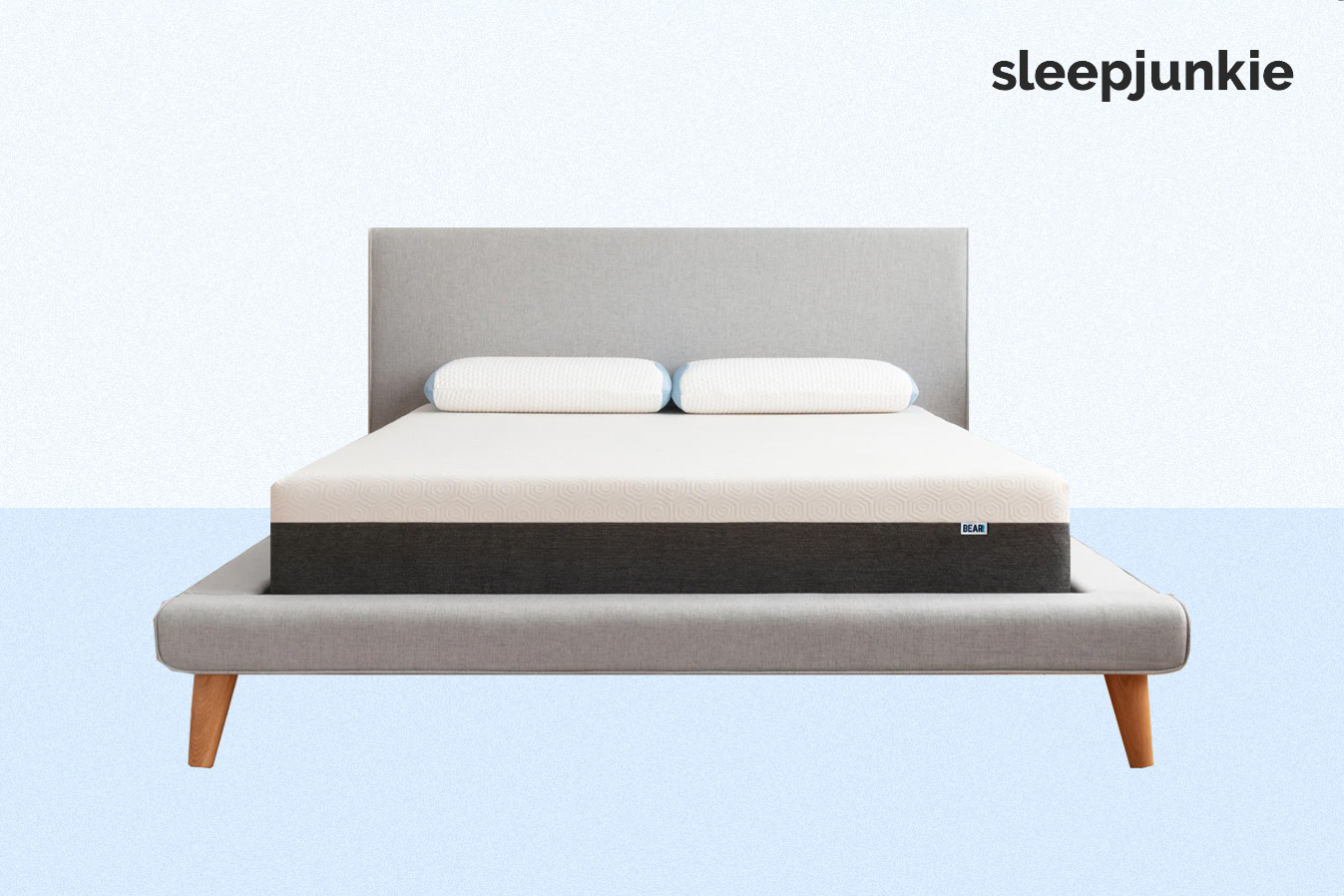 Another mattress for athletes and fitness enthusiasts, Bear beds are designed to restore tired muscles and facilitate good sleep. This is thanks to Bear's responsive memory foam, which provides contouring and support for the shoulders, lower back, and hips. If you have acid reflux or GERD, you will also appreciate the support offered by this affordable foam mattress. Because the Bear mattress is not a hybrid option and has no innersprings, it's a terrific choice for anyone with an adjustable base bed.
The Bear mattress starts with a breathable Celliant® cover. This state-of-the-art fabric is made with patented infrared yarn technology which regulates body temperature. It has also been clinically proven to improve overall sleep quality. Next, a layer of graphite-gel memory foam channels heat away from the body to keep you cool as you sleep. Responsive transition foam provides support and pressure relief. To finish, a base made with high-density support foam makes this mattress firm and durable. The foams used to fabricate Bear mattresses are all CertiPUR-US certified.
Bear mattresses come with a 100-night risk-free sleep trial, including free returns. Buyers receive a 10-year limited warranty with their purchase.
Frequently Asked Questions
Here are other questions you might have about choosing the best mattress for acid reflux, indigestion, and GERD.
What is acid reflux?
Acid reflux is when stomach acid flows up to the esophagus through the lower esophageal sphincter (LES), causing irritation. When this backward flow of acid creates a burning sensation, we know it as heartburn.
There are a number of triggers for acid reflux: large meals, spicy foods, eating late at night, and coffee are a few common causes. Obesity, pregnancy, connective tissue disorders, and hiatal hernia can be significant risk factors for acid reflux as well, especially when combined with the above behavioral causes. Over 60% of Americans experience acid reflux at some point in their lives.
Chronic, severe acid reflux is known as gastroesophageal reflux disease (GERD). GERD symptoms include experiencing heartburn a few times a week, having an unpleasant taste at the back of the mouth, and respiratory problems like persistent coughing and asthma.
When stomach contents irritate the esophagus on a regular basis, serious complications may occur. Among these complications are erosion of tooth enamel, gum disease, and esophageal conditions like stricture, cancer, and inflammation (esophagitis). GERD has also been linked to obstructive sleep apnea, a condition in which people temporarily stop breathing in their sleep.
How does acid reflux affect sleep?
Acid reflux is often worse at night because once you're lying in bed, gravity no longer helps your stomach keep acid out of the esophagus. This can make it difficult to fall asleep and stay asleep. People who sleep flat on their backs, either without a pillow or with one which doesn't provide enough head support, are also at a higher risk for acid reflux.
Taking antacids, losing weight, wearing loose-fitting pajamas, and avoiding trigger foods can relieve nighttime acid reflux. Another solution to help you get a good night's rest is changing your sleep position. Always go to sleep on your side or with your head elevated. Even better, sleep in an elevated position on your side for optimal results.
How can I improve my mattress for acid reflux?
When a new mattress is not in your budget, you can improve your existing mattress for acid reflux by using a wedge pillow to keep your upper body elevated. If your mattress does not offer the side support you need, a mattress topper may help by adding a layer of contouring foam.
How much should I elevate my bed for acid reflux?
The head of the bed should be at least 6 inches higher than your feet to reduce symptoms of acid reflux at night. With a slight lift, stomach bile will be less likely to travel back up the esophagus. You can achieve this lift by using a wedge pillow or an adjustable base.
Does sleeping elevated help acid reflux?
Yes, it does. When you sleep on your back, it's easy for the stomach acid to flow back up to the esophagus. Sleeping elevated uses gravity to keep acid from irritating the esophagus. In this position, your stomach is lower than your esophagus and throat. Gravity is one of the simplest solutions for acid reflux relief.
What is the best bed for GERD?
A bed with an adjustable base is the best bed for GERD. These beds allow you to adjust their positioning either manually or with electronic controls. Keep in mind if you purchase an adjustable base bed for acid reflux, you may also need to buy a compatible mattress.
How can you choose the best mattress for acid reflux and GERD?
A good mattress for acid reflux is one that will allow you to sleep on your side. Research has shown sleeping on your side is an effective way to relieve indigestion and acid reflux. When you sleep on your side, your lower esophageal sphincter is more relaxed, making it easier for stomach acid to reach the lining of the esophagus.
The mattresses listed above are all suitable for side sleeping. They each offer the perfect balance of firm support and contouring cushion to cradle pressure points and ensure correct spinal alignment. If you're shopping for other mattress brands not mentioned in this article, look for medium-firm models.
If you have the budget for a new bed frame, invest in the best adjustable bed for your sleep needs. This is one of the most effective ways to reduce nighttime acid reflux. An adjustable bed base allows you to elevate your upper body by adjusting the head of your bed, which helps keep acid from flowing up to the esophagus. With an adjustable bed base, you'll need a compatible mattress.
When purchasing a new adjustable bed base isn't an option, a wedge pillow, which puts your upper body at an incline, can work, too. These pillows can be purchased at most home, linen, or department stores. If you can't find them locally, they are also available on Amazon. Your head should be elevated at least 6 inches above your feet for maximum effectiveness. If your wedge pillow slips during the night, you can also try putting it between your mattress and box spring or bed base to hold it in place.
We should note that sleeping on a stack of two or three pillows does not work the same way a wedge pillow does. Sleeping like this only increases pressure on the abdomen. This pressure can cause acid reflux and GERD symptoms to become worse. It can also cause neck and shoulder pain.
Conclusion
If you have acid reflux and are shopping for a mattress, look for one which allows you to sleep comfortably on your side. Although everyone is different, this means a medium-firm mattress for most people. Medium-firm mattresses have both contouring cushion for pressure points and firm support. If you're putting your mattress on an adjustable base bed, look for one no more than 12-inches thick and made with foam rather than innersprings.
Although changing your mattress is not the only remedy for acid reflux, it can be an effective solution to help make sure you get a good night's sleep.