Best Electric Blankets: Reviews and Buyer's Guide

Bedding Guides
Heated blankets are oversized throws with electric wires to provide the user with heat. This blanket can be used as a barrier against the cold, to bring down the electric bill, or for those searching for pain relief.
These blankets are fairly affordable and accessible. They are found online or in local department stores for a price of $50 to $200.
In this article, we will cover our recommended electric blankets, as well as how to best use them and what features to look for. If you're looking for just a really comfortable, breathable blanket, check out our guide on the best blanket of 2023.
Best Electric Blankets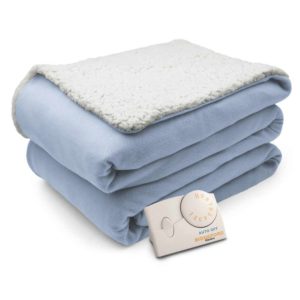 Biddeford's Comfort Knit Blanket has an analog controller with nine heat settings and can be purchased in 5 different colors. This 100% polyester blanket is machine washable. It can even be placed in the dryer.
Quality and Durability
Polyester, as a man-made velvet plush fabric, is a very durable material. It's not just plush; it has incredible heat resistance, which is how the material can withstand the heat from the electrical wire running through the inside of the blanket's construction.
Ease of Use and Care
The control offers nine temperature settings so you can choose your preferred temperature. Really — as long as you have an outlet nearby — this blanket isn't hard to use.
The construction of this blanket allows it to be machine washable and dryable. It has a detachable cord that should be removed from the blanket before placed in the wash. Every blanket comes with a set of care instructions that will explain how to wash a Biddeford electric blanket.
Be sure to follow the directions carefully, or you run the risk of ruining the product.
Safety
This state-of-the-art heated blanket has several safety features. Equipped with an automatic shut-off that turns the heating features off after 10 hours of use, or when the sensors pick up an inconsistency in the design — providing peace-of-mind.
Pros and Cons of the Biddeford Comfort Knight Heated Blanket
Pros
10 heat settings
Automatic shut-off
Machine washable
Cons
Dial controller
Slow warm-up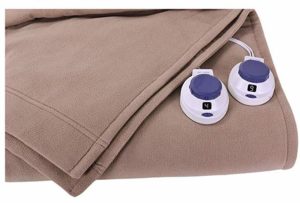 As the world's acclaimed safest electric blanket, Perfect Fit uses Safe and Warm Technology® with virtually invisible wiring. The protection of ultra soft-brushed 100% polyester microfleece guards against moisture and pets.
Quality and Durability
The 5 warranty is plenty of indication that the blanket will last through the years. Another good indication is the polyester material. Polyester is a tough fabric. The microfiber brush makes the fabric soft to the touch and more comfortable to snuggle.
Ease of Use and Care
The Soft Heat blanket comes with dual controllers with the purchase of a queen and king size. The dial controller comes with 11 settings so that you can pick your heat level. The 23-foot cord length means that you don't have to be right by an outlet.
This polyester material and wiring have been manufactured to be washed safely in a washing machine. Although, placing the blanket in the dryer isn't advised — best to hang it on a clothesline.
Safety
Like the Biddeford blanket, Soft Heat's electric blanket has a 10-hour auto shut-off. It also features overheat protection. If the sensors detect the wiring is overheating, the entire blanket will shut off.
The Safe and Warm Technology® features low voltage that converts 120 volt alternating current into fewer than 25 volts direct current, which is why the blanket will be safe for you if there is a liquid spill.
Pros and Cons of the Soft Head Luxury Fleece Electric Blanket
Pros
Low voltage heat
23-foot cord
Microfiber brushed
Cons

Serta's Luxe Fleece Heated Blanket offers zoned heating and dual controllers for comfort and ease of use. The heat soothes muscles and reduces stress.
Quality and Durability
The fleece and microfiber gives the sleeper additional warmth and protection from the wires in the blanket's construction.
Serta stands behind its limited 5-year warranty. This speaks volumes for the performance and quality of the product.
Ease of Use and Care
The Serta heated blankets are built to save you money, especially during the winter. Just turn down the heat and cuddle into the material.
This electric blanket also sports a preheat feature where you can set the temperature before bedtime. When you're ready for bed, you are welcomed with warm, cozy bedding.
The dual controllers allow sleeping companions to choose their temperature. Perfect for couples with different temperature preferences. It also has a backlit display if the sleeper needs to adjust the temperature in a dark room.
Serta's electric blanket is machine washable and dryable. Follow the care instructions included with the product, and it will experience minimal pilling, shrinking, and stretching.
Safety
Like Soft Heat, Serta also uses Safe and Warm low voltage technology that transforms 120 volt AC into 25 volts DC, which means that this blanket will still be safe even if it becomes wet.
The wiring is programmed to shut off after 10 hours of use. This feature is both for safety and convenience.
Pros and Cons of the Serta Luxe Fleece Heated Blanket
Pros
Backlit display
Machine washable
Automatic shut-off
Cons

Made with ThermoFine technology, the Sunbeam quilted heated blanket has 10 settings and made from 100% polyester.
Quality and Durability
Sunbeam microplush used to manufacture this blanket is strong and can withstand a lot of abuse. The material protects the thin wires and gives your skin a comfortable barrier from the roughness of the wiring.
This blanket has a 5-year limited warranty. Sunbeam is known to stand behind their warranties. They are also known as a top seller in electric blankets, which means that this is a tried and true option.
Ease of Use and Care
To use this product, all you have to do it plug it into the wall and click the control button. The thermostat will light up according to the temperature. Keep clicking until you've reached the desired temperature.
Sunbeam's Quilted Electric blanket is both washer and dryer safe. Make sure to read the care instructions before you wash the blanket or you could run the risk of damaging your purchase.
Safety
The 10-hour and auto shut-off gives the user peace of mind that the product won't constantly be running if they have to suddenly leave the house or it has an electrical malfunction.
Pros and Cons of the Sunbeam Quilted Fleece Heated Blanket
Pros
Available at local department stores
Easy to use
Affordable price
Cons
Who Needs an Electric Blanket?
Everyone can have heated blankets. They're easily accessible and cheap. A great option for someone who doesn't have great insulation in their home, or for those that want to keep their electric bill down.
However, there are some people that need the heating element the blanket provides. Those that have circulatory problems have trouble staying warm in a deep sleep. A heated blanket can lessen fidgeting limbs and keep the sleeper's rest sustainable.
Couples with different temperature preferences could use a dual controller electric blanket. The two different controllers allow the two people to control the temperature of their side of the bed. This not only increases rest quality but happiness too.
People with conditions such as arthritis, fibromyalgia, or muscle cramping can use the heat to ease pain. This is actually a form of treatment called heat therapy, where you apply heat to an inflamed area to dilate the blood vessels to promote blood flow and loosen tight muscles.
What to Look For in an Electric Blanket?
If you are new to electric blanket purchasing, you may end up thinking all heated blankets are the same. In some ways, they are. The material is similar — as are the wiring and technology. But, there is actually a significant difference between the different models.
Quality materials and advanced technology not only provides you with better comfort and a longer-lasting product, but it will also maintain your peace of mind.
Material
Electric blankets need to be made out of a heat resistant material. Since the wires become hot during use, the wiring needs a heat conductive material to cultivate heat distribution and counter melting or fires that may occur.
For the most part, all heated blankets will be made from polyester material. Reversible sherpa, fleece, faux mink, and micro flannel are some popular polyester materials used to create heated blankets.
Heat Settings
For most people, a five heat setting is enough. However, there are people who live in climates with a wide range of hot and cold temperatures and need an electric blanket that can keep up. These people would do better with a blanket that has 10-or-so settings rather than five.
Some heated blankets have a preheat setting that allows you to set the blanket to warm your bed before bedtime. This feature allows you to slip into a warm bed rather than a cold one.
Dual Controls
While one control is satisfactory for one sleeper, two controllers are better for a partner sleeping situation. That way, both can choose their own temperature.
It helps to solve one of the many issues couples face when sharing a bed.
Auto-Off
Most modern electric models have an auto shut-off feature. This feature is to protect consumers from prospective fires or to ensure the user won't overheat.
This feature also kicks in when the sensors perceive something has gone wrong either in the controller or with the wiring. This feature is to prevent electrical burns and possible fires.
Machine Washable
Most modern heated blankets are machine washable. However, there are modern models and older models that do not have this feature. They have to be hand washed or spot cleaned.
While the machine-washable blankets are easier to clean, you still need to follow the care instructions provided with the product. Not following those directions could cause the warranty to void. Some heated blankets can be machine washed, but not dried.
Others can only be tumble dried — no heat what-so-ever.
Thick and Soft
Looking for plush material will help disguise the blanket's wiring. The fluffier it is, the harder it will be to feel the wires. Much like a good mattress pad, uber-plush fabric will act as a comforter to the sleeper, providing warmth and satisfaction.
Warranty
Warranties are a tip-off to the quality of workmanship and high-quality material. Companies stand behind well-made products. Therefore, long warranties state that the product has an expected service record and longevity.
Are you looking for a weighted blanket to help you sleep better? Read our post on the best weighted blankets you can buy.
What Precautions You Need to Take
While electric blankets are a useful tool, they can be hazardous if they are abused or left unattended. Around 5000 house fires are caused by heated blankets alone every year due to manufacturing mistakes.
It's critical to keep heavy weight off the top of the blanket as it can snap the wires, leading to fires. If you see any signs of wiring issues, be sure not to use it. Instead, file a warranty claim or prepare to buy a new one.
This type of blanket isn't recommended to be used around children or pets or those with diabetes — they're more likely to receive burns. Plus, children and pets don't have the mindset to look for electrical issues.
Those with diabetes have reduced sensitivity and won't be able to recognize when the blanket's temperature is too hot.
Pregnant women shouldn't use this blanket either.
While being careful with the heated blanket is key to preserving the construction, a heated blanket needs to be washed every so often — once a month at minimal. A hygienic sleeping environment is needed for better sleep. We suggest looking to the care tag or washing instructions to wash the blanket.
If you have lost the instructions or your blanket didn't come with any you can look up directions on how to wash an electric blanket without endangering your self or ruining your blanket.
When to Replace Your Electric Blanket
Even though you love your heated blanket, there is a time to throw it in the trash. Each fabric has an expiration. While the polyester fabric most electric blankets are made from are built to last, the wiring inside can only take so much stretching and pulling.
Eventually, the wiring will stop working or break. In which case, it's better to throw the blanket away rather than risk a fire.
Any frayed wiring, or browning or melted plastic, should indicate the blanket has reached the end of its life.
Frequently Asked Questions
What should you not do with an electric blanket?
One thing you should never do is try to iron an electric blanket. Ironing the blanket can cause internal parts to melt, increasing the risk of malfunctions and the possibility that the blanket might catch fire if used.
You also shouldn't try to have an electric blanket dry cleaned. They're machine wash only, so be sure to follow the included care instructions.
Are electric blankets safe to leave on all night?
It is not recommended to leave an electric blanket running throughout the night. Instead, it's better to use the blanket to warm up your bed so you're not shivering when you fall asleep. Many modern electric blankets come with a timer, shutting off after a set period of time.
Is an electric blanket cheaper than heating?
An electric blanket is one of the more energy efficient ways to stay warm. A typical electric blanket uses about 200 to 400 watts of electricity. If you were to leave the blanket on for the entire night (which you shouldn't) it would cost you between 25 to 50 cents. A space heater can require between 750 to 1500 watts of electricity to operate, costing you more in electric fees.
Do electric blankets catch fire?
Yes, it is possible for an electric blanket to catch fire. An electric blanket can start a fire if it overheats to the point that the blanket ignites nearby combustible materials, or if there's a broken electric conductor that causes electricity to spark and set fire to its surroundings. Newer blankets made in the 2000's and onward have  more fire safety measures in place than older blankets do.
Is it safe to wash an electric blanket?
An electric blanket should come with care instructions telling you how to safely clean it. It's usually best to wash you before you first use it on a gentle wash cycle, before drying it on low heat. Make sure you disconnect the control cord and that no wires are exposed before you place your electric blanket in the wash.
Did You Find Your Next Electric Blanket?
Taking the time to select a well-built blanket will ensure your safety and comfort. And proper care will extend the product's life.
While an electric blanket may not be for everyone, it has benefits that can profit everyone. Lowering electric bills and cuddling in a warm blanket is something anyone can enjoy.
Follow our guide, and you'll be sure to select a quality electric throw blanket.