Best Box Spring Alternatives of 2023: Reviews and Buyer's Guide

Mattress Accessories
We'll be brutally honest here: box springs aren't great. They bounce around and increase the motion transfer of an innerspring mattress. The coils inside box springs break down and cause mattresses to sag. And they're too weak to hold the weight of modern sleep technologies like memory foam, latex, and hybrid mattresses.
The good news is there are plenty of alternatives to box springs that isolate motion better, last longer, and offer superior support. Let's talk about a few of the most common types.
Best Box Spring Alternatives of 2023
| | Bed Base | Highlight | Price (Queen) |
| --- | --- | --- | --- |
| | Zoma Mattress Foundation | Detachable legs allow foundation to be used as a stand alone base or with a bed frame | $300 |
| | Vaya Platform Bed | Oversized hardwood slats support the mattress, providing a long-lasting, sturdy base | $300 |
| | Amerisleep Adjustable Bed+ | Head and leg articulation for a more comfortable sleep position | $1520 |
Mattress Foundations
Mattress foundations are a wooden or metal frame with bed slats—also made of wood or metal —stretched across at regular intervals. Mattress foundations are intended to go inside a traditional bed frame, and they offer more rigid support than box springs, which is essential when it comes to heavy memory foam or hybrid beds.
Slats for mattress foundations (and other bed bases) are normally spaced between 2 and 5 inches apart, though around 3 inches is ideal for a good mix of support and airflow. Sometimes bed slats may be curved slightly upwards for extra support. Many mattress foundations are also upholstered in fabric to protect the bottom of the mattress from tearing.
Pros and Cons of a Mattress Foundation
Mattress foundations have a ton of upsides. They offer much more rigid support than box springs, meaning they can take the weight of a heavy memory foam mattress or latex bed. They're better at isolating motion than box springs, and their slats help prevent mattresses from sagging in the middle. The extra height they add to your bed may also increase airflow.
On the flip side, foundations are heavy and lack give, so they might be difficult to move—especially larger foundations like queen size beds and king size beds. Their firm support may also create pressure points if your mattress is already firm.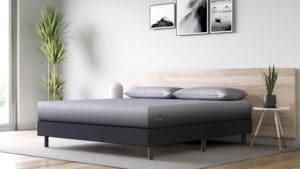 The Zoma Mattress Foundation is a great complement to any mattress. Its sturdy construction will help extend the life of any mattress by preventing sagging in the middle and offering great edge support. Its smart slat pack allows for quick and easy assembly, and its dry knit upholstery will protect the bottom of your mattress from being picked by the wooden slats.
The Zoma foundation also features optional legs so it can double as a platform bed. It comes in all the standard bed sizes (twin, twin XL, full, queen, king, and California king). Best of all, the Zoma foundation comes with a full-year warranty.
Zoma Mattress Foundation
14.5 inches high
1-year warranty
Easy assembly
Platform Beds
Like mattress foundations, platform beds are a frame with slats stretched across it. Unlike mattress foundations, platform beds are intended to stand on their own, giving your bed a modern, low-profile look. Lots of platform beds (and mattress foundations for that matter) come with detachable legs allowing you to choose whether or not you place them in a bed frame.
Some platform beds offer storage space to maximize the square footage in your bedroom. Instead of having legs, storage platform beds come with drawers, shelves, cubbies, or other spaces, allowing you to lay your mattress on top of your storage without using box springs or a foundation.
Pros and Cons of a Platform Bed
Platform beds have a lot of the same pros and cons as mattress foundations. They offer rigid support, meaning they're great for motion isolation and are compatible with most mattress types. Since they stand on their own, platform beds are also typically the most budget-friendly bed base.
One big thing to consider with a platform bed is its height. If you're young and have no mobility issues, the low profile of a platform bed probably won't be a problem for you. However, if you do have mobility issues, you might have a problem getting in and out of a bed that's only 15 to 18 inches high. You may need the full 20 to 24 inches.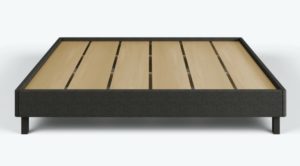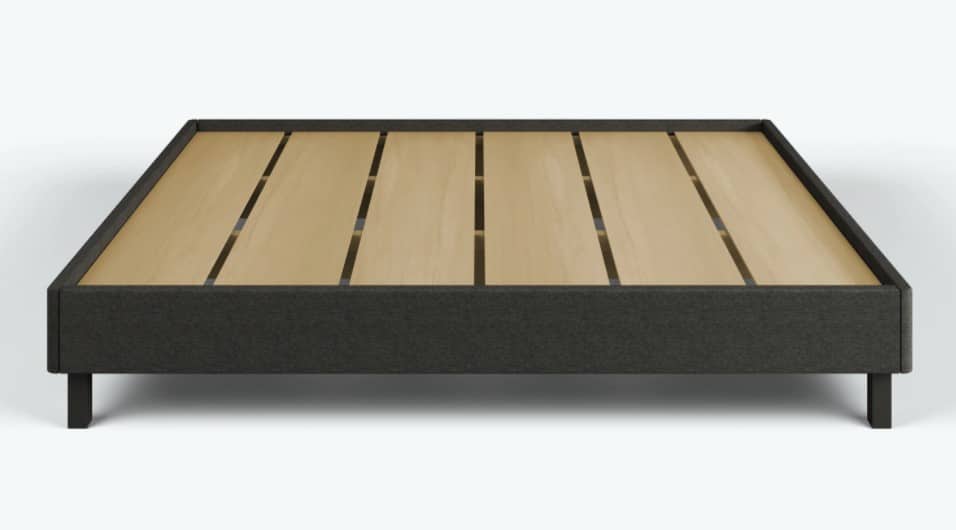 For those in the market for a sleek, minimalist look, the Vaya Platform Bed is a great option. Its solid black upholstery and solid black legs allow all the focus to remain on your bedding. Meanwhile, its durable wooden slats and hardwood support beams offer firm support to your mattress without sacrificing airflow.
The Vaya platform bed is designed to last, assembles in 5 minutes, and comes with a 1-year, full replacement warranty. If you want a low-maintenance, low-cost bed base that doesn't compromise on looks or quality, the Vaya platform is for you.
Vaya Platform Bed
13 inches high
1-Year Warranty
Solid free construction
Adjustable Bed Bases
If you have sleep apnea, back pain, or a host of other sleep issues, sleeping at an angle could be the solution to these problems, and adjustable bases allow you to do just that. Far from the bulky, ugly beds you see in the hospital, most modern adjustable bed bases are just as sleek and fashionable as platforms and foundations.
At-home adjustable bases are made of two basic parts: the joint assembly and the sleeping surface. The sleeping surface is just the flat area where you lay your mattress, and the joint assembly adjusts the position of the sleeping surface. This setup leaves your adjustable base looking just like a platform bed when it's in the flat position, as adjustable beds typically have no side rails.
Pros and Cons of an Adjustable Bed
Adjustable beds have many benefits for people who need to sleep with their torsos and/or legs propped up. They improve circulation, reduce pain, ease acid reflux symptoms, and offer more independence to people who have trouble getting in and out of a flat bed.
However, adjustable beds are the most expensive of all the bed bases. They're also incredibly heavy—some can weigh up to 600 pounds. Adjustable beds have a lot of moving parts as well, meaning they're more costly and difficult to maintain.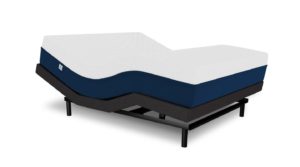 If you want a good-looking, functional adjustable bed that's not going to detract from the style of your room, the Amerisleep Adjustable Bed+ is a great option. Its minimalist design won't distract from your mattress and bedding, and the upholstered headboard even adds to the look of the room.
A Wallhugger® adjustable bed is engineered to eliminate the problem of your nightstand is too far away by shifting your mattress back to keep your head near the headboard rather than lifting you away. The Adjustable Bed+ also features a rolling, full-body massage and a wireless, backlit remote. Best of all, at $1440, this adjustable bed is within most people's budgets.
Amerisleep Adjustable Bed+
Head and leg articulation
25-Year Warranty
Free Shipping
Slatted Bed Frames
Traditional bed frames come with rails and two or three durable slats intended to keep box springs or a mattress foundation in place. However, it is possible to get a bed frame with many slats, allowing you to lay the mattress directly on it just like a platform bed, only with a higher profile and a headboard/footboard.
This setup comes in wood, but it's a lot more common to see slatted bed frames made of brass, iron, stainless steel, or other metals. A metal bed frame with no base underneath its mattress offers a simple, industrial look with more flair than platform beds normally have.
Pros and Cons of a Slatted Bed Frame
If you love the industrial look offered by a metal bed frame or the simple look of a wooden bed frame with no additional base, you'll probably enjoy a slatted bed frame. Slatted bed frames can also be cost-effective because you don't need anything but the frame or the mattress (though fancy frames can be more of a splurge).
A slatted bed frame is also often higher than a platform bed for those who can't deal with a bed base that's barely a foot off the floor.
The biggest problem with slatted bed frames is often their assembly. Some slatted bed frames, especially metal frames, can take a good amount of time and effort to assemble and disassemble. Some slatted bed frames also might not be able to bear the weight of excessively heavy foam mattresses, so make sure you're paying attention to their maximum capacity.
This matte-black iron tube bed frame was designed by the Barcelona-based Mermelada Estudio to be "a modern interpretation of a vintage bed." It features sleek, linear lines that will look great in brick or concrete-wall bedrooms.
The 18-inch profile offers a bit more height than a standard platform bed without forcing you to buy an additional bed base, the slat width is a mere 2.25 inches (allowing the frame to accept heavier mattresses), and maintenance is a breeze. All you have to do is wipe it with a damp cloth, making it great for sleepers looking for a minimalist look and minimalist maintenance.
Alchemy Matte Black Queen Bed Frame
Vintage design
Free shipping
Matte black finish
FAQs
Why do I need a bed base?
Bed bases have a lot of advantages, but their main function is to shore up your mattress's support and extend its life expectancy. If your mattress has substandard support, it will sag farther, lose its integrity faster, and break down sooner than it would otherwise.
In addition to protecting your mattress from sagging, the extra airflow provided by a bed base helps prevent your mattress from retaining moisture, which can, in turn, prevent mold growth and odor.
However, the type of bed base you need will depend on the type of mattress you have. Memory foam, latex, and hybrid beds need a solid foundation or a bed frame with slats spaced no more than 3 inches apart.
Can I just reuse my box springs for my new mattress?
Never ever reuse box springs with a brand new mattress. Not only will an older set of box springs let your new mattress sag and reduce its life expectancy, but setting your new mattress on an old set of box springs almost always voids its warranty. Older box spring sets are also not compatible with most new mattresses, even some innerspring mattresses.
What's a milk crate base?
The modern plastic milk crate was invented in the 1950s or 60s to stand up to the rigors of transporting gallons of milk over hundreds and thousands of miles. It didn't take long for people to decide these well-constructed crates would make great DIY bed bases.
There are a lot of ways to make a fun, trendy, milk crate bed, but one of the most common ways is to line up 4 to 8 rows of 5 or 6 crates apiece, attach them together, and place a piece of plywood or a bunkie board on top of them.
Can I put my mattress on the floor?
It's usually not a great idea to put a mattress on the floor. You leave your mattress vulnerable to a lot of threats when there's nothing between it and your flooring. These threats include pests, dust mites, dirt, moisture, dust, and more. Being on the floor also eliminates airflow underneath your mattress, which can encourage mold growth. A lot of mattress manufacturers specify setting their product on the floor voids its warranty as well.
Is there any way to convert a regular bed frame to a slatted frame?
A lot of times, you can easily convert your traditional bed frame into a slatted frame/platform bed by adding hardwood slats. Just measure the distance between the rails of your bed frame, subtract ⅛ of an inch, and cut enough 1 by 4 pine boards to fit these measurements.
Place the cut boards at regular intervals between your bed rails. Remember, you want to space these slats no more than 3 inches apart, though 1.5 to 2 inches is best. Place your mattress directly on these new slats for optimum comfort.
Bottom Line
There are tons of options out there besides unstable and uncomfortable traditional box springs. If you want rigid support, choose a platform bed or mattress foundation. If you want a sleek, low-profile look, either platform beds or slatted frames will work for you. And if you need extra comfort at night, adjustable beds may be up your alley.