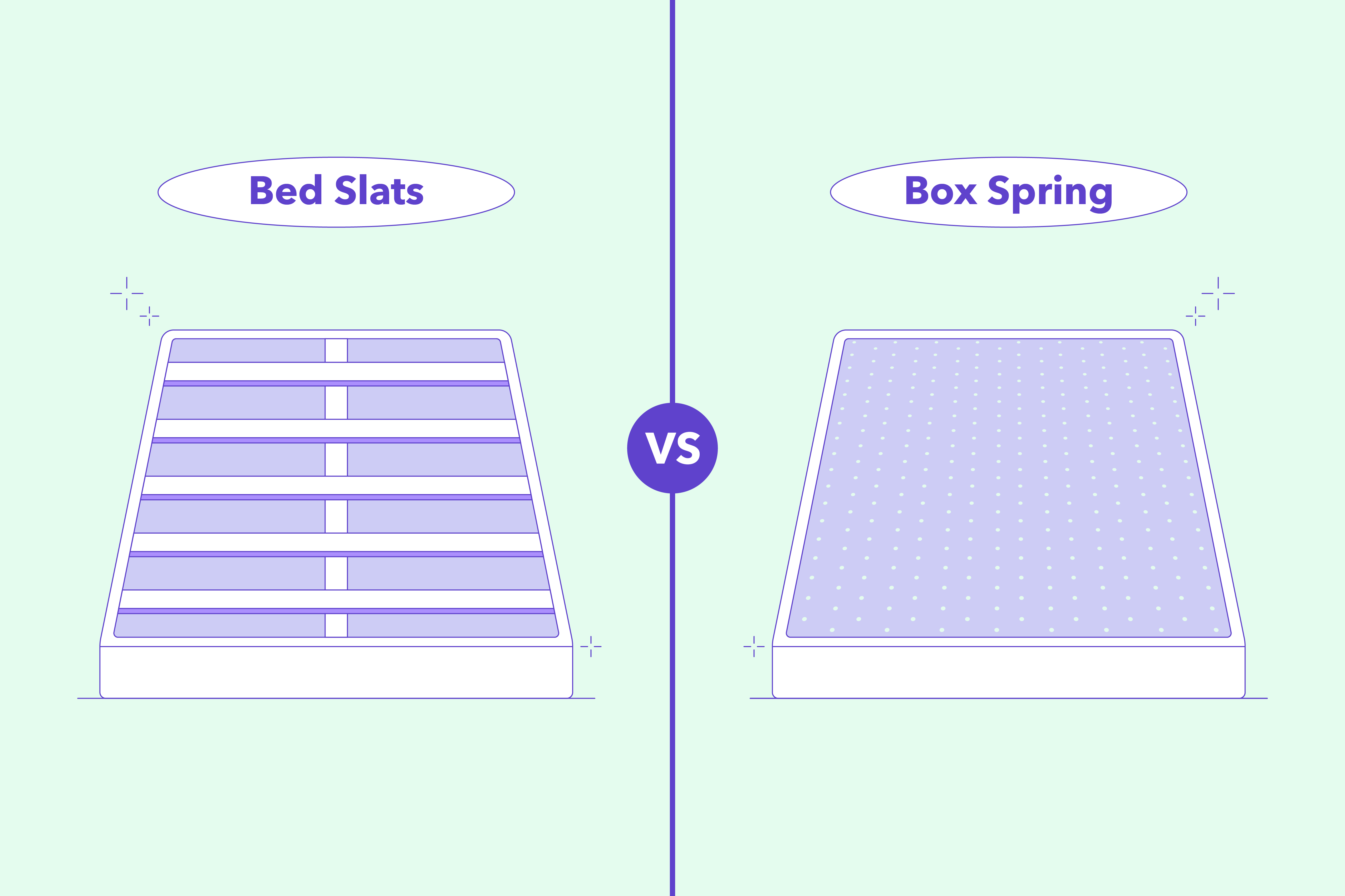 Bed Slats vs Box Spring: Which Should You Use?

Mattress Resources
Regardless of the type of mattress and bed frame you go with, you'll need to also invest in a high-quality foundation. You cannot place your new mattress on the floor, after all. Foundations provide firm support, stability, and height to your bed.
Two popular foundation options include bed slats and box springs.
Bed slats are a feature of a slatted foundation. Slatted foundations feature a wooden or metal box with horizontal slats that support your mattress.
A box spring contains a wooden box covered with fabric and link springs.
In this article, we'll examine both of these foundation options in depth. Then, we'll assist you in determining which foundation is right for your mattress. We'll also explore a few other foundation options. To wrap up, we'll answer some of your mattress foundation questions.
Bed Slats: What Are They?
Bed slats come in wooden and metallic varieties. These wooden or metal planks stretch horizontally across the inside of your bed frame. There should be no more than a 2- or 3-inch gap between your bed slats. Too large of a gap can lead to support issues and cause premature mattress sagging.
These slats provide your mattress with a more even body weight distribution and minimize the potential for mattress sinking. Bed slats can be attached to the side of the bed one by one or connected in one solid piece covered with a cloth.
Pros of Bed Slats
There are many reasons why you may want to add bed slats to your existing bed frame. Beds slats are relatively cheap and long-lasting. Moreover, they are not difficult to assemble and require few tools for assembly.
If you're a hot sleeper or prone to night sweats, bed slats are a great investment. The gaps in between the slats improve the airflow between your mattress and bed frame. This great breathability decreases your chances of overheating or battling night sweats, working with a cooling mattress for undisturbed sleep.
Those seeking a lower profile bed should opt for bed slats over a box spring. Beds slats add far less height to your bed than a box spring does. This makes them ideal for shorter or younger sleepers.
Cons of Bed Slats
There are a few downsides of bed slats to be aware of before buying and installing them onto your bed frame. If you aren't careful to leave an appropriate size gap between the slats, you'll risk slat breakage or mattress sagging.
Moreover, slats that aren't properly stalled allow for mattress movement and shifting. For some sleepers, bed slats don't add enough height to their bed to provide an adequate sleep environment. Taller sleepers may want to consider the sizes and dimensions of other mattress foundations.
Which Mattresses Pair Well with Bed Slats?
Several different mattress types pair well with bed slats. The only exceptions to this rule are innerspring mattresses and memory foam mattresses. Innerspring mattresses must be paired with a box spring for adequate support.
You can use bed slats with a memory foam mattress, but you need to avoid the use of wide slats. If the bed slat gaps are larger than 2.75 inches, you'll have issues with mattress sagging and durability. Latex mattresses and hybrid mattresses also pair well with a slatted foundation.
Box Spring: What is it?
Box springs are an older type of mattress foundation that has been around for several decades. The spring technology used in the manufacturing of box springs provides sleepers with shock absorption and moderate support while promoting an even weight distribution. Some newer box springs don't contain a coil support system.
Pros of Box Springs
The benefits of going with a box spring over bed slats include increased bed height and a bouncy feeling. Some sleepers report getting a better night's sleep when resting on a bed that offers bouncy, responsive support. For these sleepers, the combination of an innerspring mattress and box spring is perfect for joint support.
As mentioned above, bed slats don't add much height to your bed. However, a box spring can add 8 to 10 inches to the height of your bed. This added height makes it easier for taller people or those with mobility issues to get into bed without bending over.
Cons of Box Springs
Despite the pros to box springs, there are some cons you'll want to be aware of before you purchase a box spring. One of the biggest issues is the awkward design and the heavy weight of a box spring. It is difficult for one or even several people to lift and move a box spring.
In addition, the spring-based design of a box spring increases your mattress's risk of premature sagging. Box springs can also add to the noise and support issues that are common with traditional innerspring mattresses.
Which Mattresses Do Box Springs Go Best With?
Box springs are only necessary for those with an innerspring mattress or those interested in purchasing an innerspring bed. You should not pair a box spring with any other types of mattresses. Doing so can cause mattress damage and void your mattress warranty. Likewise, you can't sleep on an innerspring mattress without a box spring.
Other Mattress Foundations to Consider
There are plenty of box spring alternatives on the market, and not all of them are slatted foundations either.
Bunkie Board
Bunkie boards are a great alternative for you to consider if a box spring or bed slats aren't what you're looking for in a mattress foundation. Traditionally a bunkie board is used with a bunk bed mattress without raising it as high as a box spring would.
Bunkie boards are 1 to 3 inches thick and made of plywood or wood. However, they aren't as durable as either a box spring or bed slats.
Platform
A platform foundation is suitable for sleepers who want a lower-profile sleep environment with plenty of wall space for artwork or photographs. A platform bed frame can be attached directly to the wall. Legs or several under-bed support boxes support this style of foundation.
Adjustable Base
An adjustable base is optimal for sleepers with severe back pain or joint issues. Adjustable foundations allow sleepers to raise the head and/or foot of their bed to help them find a comfortable sleep position.
If pain is keeping you awake at night, consider purchasing an adjustable bed.
Solid Foundation
A solid wood foundation is comparable to a slatted one but without the slats themselves. Solid foundations feature wooden or metal support beams that are built right into the foundation itself. There is no assembly required with a solid foundation. This is what makes them so popular.
Which is the Best Option for Me?
When deciding which is the best foundation for you, there are many things you'll need to take into account. The first things are your mattress type and budget. Pairing your mattress with a low-quality or mismatched foundation can lead to durability issues. For example, the best mattress foundation for a memory foam mattress may be different than what works with an innerspring mattress.
Furthermore, you don't want to stress about going over budget when selecting an appropriate mattress foundation or box spring.
Weight capacities and bed height are other key factors to look at. Metal slats often have a higher weight capacity than wooden ones. On average, a slatted foundation has a weight capacity of 600 pounds. Box springs can feature a weight capacity of several thousand pounds.
Those wanting a higher or average profile bed setup should go with a box spring rather than bed slats.
FAQs
Are box springs obsolete?
Box springs are not necessarily obsolete, but they have been around for a while. You still need to use a box spring if you're going to be buying an innerspring mattress. However, there are more modern box springs that are free of noisy springs. If you invest in a memory foam, hybrid, or latex mattress, you won't have to worry about needing a box spring.
Can you buy slats for your bed frame?
You can buy bed slats from a reputable manufacturer and use screws to attach them to your bed frame. Before doing so, make sure your bed frame has spots where you can attach the slats. Otherwise, you'll need to invest in an entirely new bed frame.
Additionally, you'll need to know the overall dimensions of your bed frame to ensure you are buying the right size bed slats.
Should I use metal or wood bed slats?
Whether you should use metal or wooden bed slats depends on your personal preferences. Metal bed slats are more durable and stronger than wooden bed slats. However, if you have a wooden bed frame, it makes sense to go with wood bed slats. If weight capacity is something you're concerned with, opt for metallic over wooden slats.
Can I use plywood instead of a box spring?
There is no replacement for the support and stability that a box spring offers. However, you can pair plywood with your existing box spring to provide sufficient support and help better stabilize your bed. You could also use a bunkie board. Plywood can be used on top of a slatted foundation to avoid mattress sinking or sagging.
Do beds with slats need a box spring?
Beds with slats do not need a box spring. Slats and box springs are two different types of mattress foundations. There shouldn't ever be an instance where you need to use both of these foundations with your mattress.
Conclusion
Bed slats and box springs are two different options when it comes to a standard foundation. We do not recommend that you place your mattress directly onto your bed frame. Similarly, you should not place your mattress on the ground unless you've bought a floor mattress like a futon or sleeping mat.
Instead, you'll need to invest in a strong and supportive bed frame plus foundation. Your mattress type and budget will both influence which style of foundation you choose. Innerspring mattresses are the only mattress type requiring traditional box springs.
Slatted foundations should have no more than a 3-inch gap between slats. This style of foundation can feature wood slats or metal slats.
Other foundation types include bunkie boards, solid foundations, platforms, and adjustable bases. Ultimately, which foundation you choose depends on your personal preference.