Avenco Original Hybrid Mattress Review
Updated September 08, 2022

Mattress Reviews
You've finally done it. You've finished the research and made the decision to purchase a hybrid mattress. Congratulations! The hybrid mattress is one of the best sleep technologies on the market today. The adaptable pocketed coils support your spine. The plush foam layers offer pressure relief and cradling. All this without sacrificing the responsiveness of an innerspring bed.
Now that you've decided to purchase a hybrid, the process of choosing the right one begins. However, looking at the pricing of most hybrids can feel a little like shock therapy. On the flip side, it can be tough to trust the quality of budget hybrid mattresses.
That's where the Avenco Original Hybrid comes in. This mattress provides solid quality and durability for a reasonable price. It offers gel memory foam to keep you cool and a pocketed coil core for ultimate bounce and edge support. All this without the massive price tag that comes with most hybrid mattresses.
Construction
The Avenco Original Hybrid has five layers. On top, its knitted modal fabric cover is ultra-breathable to help wick away moisture and body heat. Next comes a gel memory foam comfort layer and foam transition layer. Finally, on the bottom, pocketed coils form the support core.
Materials
The Avenco Original Hybrid's five-layer construction starts off with the stretch knit modal fabric cover. It then features two centimeters of cooling and breathable gel memory foam. Below the gel memory foam comfort layer sits a centimeter of high-density transition foam to help increase bounce and support.
Underneath all these foam layers is a layer of PK cotton. This cotton helps increase breathability in the middle of the mattress and also ups the pressure relief.
The support core is made of individually wrapped steel coils. These coils are an upgrade over the open coil systems in innerspring mattresses. They provide much more adaptability and motion isolation. You also don't have to worry about them being too noisy.
The superior edge support in this mattress is provided by high-density foam rails. These rails ensure the edges of your mattress are just as firm as the middle. They also have the added benefit of holding the coils in place to fight sagging and increase longevity.
Certifications
All the foams in every Avenco mattress (including the Original Hybrid) are certified under the CertiPUR-US® standard. That means the memory foam is free of potentially dangerous toxins like formaldehyde, heavy metals, and chemical flame retardants.
CertiPUR-US® certification also means that a mattress is low in VOCs or Volatile Organic Compounds. VOCs are toxins that get injected into the synthetic foam during its manufacturing. When you unpack your mattress after delivery, these compounds get released into the air. That's what causes your new mattress to release a chemical smell for a few days or weeks.
CertiPUR-US® certified foams are so low in these compounds that you may not even notice a smell. And you shouldn't experience any problems like headaches or nausea. You can experience symptoms like these with non-certified foams.
Feel
The Avenco Original is a hybrid mattress. That means it's going to be bouncy and breathable right off the bat. However, there are several additional technologies that up the responsiveness and coolness even more.
Firmness Level
The Original Hybrid has a medium-firm feel. This firmness level offers a fantastic balance of cushion and support. The top layer offers pressure relief to pressure points like hips and shoulders. The transition layer also adds even more pressure protection for your joints, so even some side sleepers can enjoy the benefits of this medium-firm mattress.
Meanwhile, the adaptable coil base means this mattress can contour to your shape all the way through. This means back sleepers and some stomach sleepers can get the spinal alignment they need from this mattress. Those with back pain can also find relief in this firmness.
A big plus with this mattress is its dual perimeter edge support system. This system allows the firmness to extend all the way to the edge of the mattress. That means your bed's edges will support you when you sit on them without collapsing.
Temperature Regulation
The Avenco Original has lots of cooling technologies to help you avoid sleeping too hot. Of course, the pocketed coil support core allows airflow throughout the entire mattress. It also works with the heat-conductive gel memory foam layers to move heat away from your body.
Gel memory foam is one of the coolest bedding materials on the market today. When combined with the breathable cover, the thermally conductive gel helps move body heat away from you all night long. That means even the hottest sleepers will be comfortable on this cooling mattress.
Responsiveness
One of the biggest issues with all memory foam, including gel memory foam, is its slow response time. The good news is Avenco's pocket spring base layer helps counter this issue by forcing the gel memory foam and transition foam layers to bounce back into place faster.
The Original Hybrid's pocketed coil system counters its less responsive upper layers to provide lots of bounce while still offering motion isolation. The coils all move independently of one another. This allows them to spring back into place when you move without creating problems with motion transfer.
Warranty and Sleep Trial
Warranty and sleep trial are not areas where the Avenco Original shines. The Original Hybrid comes with a 10-year warranty and a 100-night risk-free sleep trial. This means as long as you don't damage your mattress, you can return it within 100 days for any reason. The manufacturer will also cover any defects for a full decade.
All this sounds great until you remember that a 10-year warranty and 100-night sleep trial are just about the minimum industry standard for a quality mattress. Some other mattress companies offer 15 and even 20-year warranties.
The Avenco's return policy and warranty coverage are not bad. But they're not outstanding either. However, the lackluster warranty coverage is made up for by the price of this mattress and its overall quality.
Price
While the Avenco Original's warranty is nothing to write home about, its price tag certainly is. It's very difficult to find a high-quality hybrid mattress for under $1,000. Avenco manages to maintain excellent quality and reasonable durability for a fantastic price.
The smaller sizes of the Avenco Original serve as excellent mattresses under $500. And even the king and California king sizes are just over $600. No matter how much time you spend shopping, you won't find many deals like that on this mattress type.
Other Available Models
In addition to the Original, Avenco offers several other options. Just like with the Original, all the other mattresses in Avenco's lineup come with convenient delivery to all states except Alaska and Hawaii. They also all feature easy setup and easy setup. Every Avenco mattress has CertiPUR-US® certified gel memory foam as well.
Avenco Zone Hybrid
Those who want an upgrade on the Original's hybrid design should look at the Zone Hybrid. This hybrid mattress offers five zones of ergonomic support to different areas of the body. Different areas of your body need different levels of support. So the head and foot of this mattress offer different firmness levels than the middle.
The coils aren't the only excellent feature of this bed. It also has a skin-friendly and hypoallergenic cover that works with the gel-infused memory foam comfort layer to keep you cool and comfortable all night long.
Another wonderful feature of this mattress is its comfort foam transition layer. This layer helps protect your body from the pressure exerted by the zoned coil support core. That means even more sleeping positions can work with this medium-firm mattress.
Avenco Silence Memory Foam
This gel memory foam mattress is perfect for those who want lots of ventilation without a coil base. Even without a coil base, the Silence Mattress is extremely cooling. It features a double airflow wave support core for superior ventilation all the way through the mattress.
The breathable support core works with the gel memory foam and ventilated plush mattress cover to put a pleasant chill in the sleeping surface. It also helps to prevent moisture buildup inside the mattress. This, in turn, will prevent allergens like dust mites and mold from building up inside the mattress.
Another fantastic feature of this mattress is its contouring ability. The Silence Mattress can contour to your shape to provide you with fantastic spinal support. While hybrid coils are adaptable, they're not quite as contouring as a polyfoam support core. That means if you want the ultimate pressure relief, this is the mattress for you.
Avenco Dream Hybrid
The Dream Hybrid is a good mattress for couples because of its motion isolating technology and dual peripheral edge support. The Dream Hybrid's pocketed springs all move independently of each other. This allows couples to move around during the night without disturbing one another. High-density foam in the base layer of the mattress further increases motion transfer control.
The Dream Hybrid provides such amazing edge support because of its triple layer of reinforced coils lined up along the right and left sides. These coils push against your body when you come close to the edge. They keep the edge from crumbling under your weight. This allows you to sit comfortably on the bed and prevents you from rolling out of it.
The Dream Hybrid mattress is also one of Avenco's coolest offerings as well. Its ventilated fabric cover rests on top of a thick layer of gel memory foam that gives the sleeping surface a cool-to-the-touch feel.
Avenco Starry Memory Foam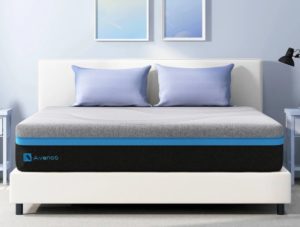 The Starry Memory Foam mattress may be the best mattress for those who need superior contouring and support. The Silence Mattress was designed with coolness in mind. The Starry Mattress was designed with back and neck pain in mind.
This ergonomically designed mattress features a special curved support core that offers targeted support to different areas of the body. This spine-aligning and highly contouring mattress can help keep your spine in a neutral position and reduce lower back pain and tension and loosen tight shoulders.
Don't go thinking this is a sweltering mattress, though. Although it doesn't feature the dual-ventilated support core in the Silence Mattress, the Starry Memory Foam Mattress is still quite cool. It has a thick gel memory foam comfort layer. So this mattress can still conduct body heat away from you to keep you cool all night.
Where You Can Purchase
You can snag the Avenco Original and all the other mattresses in the Avenco line on their website: avencohome.com. You can also purchase the Original Hybrid mattress online at Amazon.
One thing to keep in mind is the Avenco Original Hybrid is only available in full size and above on their website. Right now, it's not possible to get the twin or twin XL on the site. See our mattress size guide for more details about bed dimensions and who they best suit.
FAQs
Do I need an Avenco hybrid or memory foam mattress?
The choice between hybrids and memory foam mattresses really depends on your personal preferences. Those who sleep hot or like to toss and turn should choose one of Avenco's hybrid models. Hybrid mattresses help keep you as cool as possible. They also bounce back into place, which is something that active sleepers need.
Meanwhile, memory foam mattresses are better for those who need more contouring and less bounce. For instance, there's nothing better than a memory foam mattress. Memory foam offers tons of compression for ultimate pressure relief. Those who tend to sleep still all night or need serious pain relief should consider memory foam.
Is Avenco's sleep trial any good?
Avenco's 100-night trial period is fairly standard for a mattress-in-a-box company. The trial allows you to sleep on your bed for 100 nights. If you're not satisfied, you can return the mattress for any reason (as long as it isn't damaged) and get a full refund.
While this may seem like a sweet deal, it's important to remember that 90 to 100 days is almost industry standard for mail-order mattresses.
The trial period is necessary because you don't have the opportunity to try out your bed before you purchase it. The sort of "try after you buy" trade-off is the answer to that problem. All reputable mattress companies provide this guarantee. If a mattress retailer doesn't have a risk-free sleep trial period, you shouldn't be buying their products.
Does Avenco have an all-latex mattress?
No. Avenco makes several excellent memory foam and hybrid mattresses. But if you want a latex mattress, you'll have to look elsewhere. Keep in mind that gel memory foam hybrids are cooling and responsive like latex, without the hefty price tag. If you're looking for the feel of latex but don't mind synthetic foam, consider one of Avenco's hybrid mattresses.
How do I know which firmness level I need in my new Avenco mattress?
Firmness needs are based mostly on sleep position. Side sleepers need softer beds to cushion their hips and shoulders. Stomach sleepers need firmer beds to keep their pelvises lifted onto the sleeping surface. Back sleepers and combo sleepers need middle-of-the-road firmness levels to get the right balance of support and cushioning.
Additionally, your body weight impacts your firmness needs. Average-weight sleepers can generally stick to the firmness level that corresponds to their sleep style. Those under 130 pounds should consider going down a firmness level to get enough cushioning. Those over 230 pounds may need to go up a firmness level to get sufficient lift and support.
Should I get the Avenco mattress topper?
Avenco's mattress topper is a great choice if you're looking to add some contouring and pressure relief to your bed without completely replacing your mattress. The topper comes in several thickness options from two to four inches.
The Avenco mattress topper is made of cooling gel memory foam. This is ideal for those looking to increase their mattress's contouring power or lower its firmness level. However, if you have a saggy or aging mattress, the Avenco topper will not fix it. No mattress topper will.
Support comes from a mattress's core, not its top. That means a saggy mattress has to be replaced. There's no way around it. A cooling mattress topper is best for a mattress that still has a strong support system.
Bottom Line
The Avenco Original Hybrid is a fantastic option for shoppers looking for a high-quality hybrid mattress at a reasonable price. It boasts excellent edge support. It also has superior temperature regulation and responsiveness. No matter what kind of sleeper you are, the Avenco Original is definitely a mattress worth considering.