What are Anti-Dumping Duties & How Do They Relate to Mattresses?
Updated November 22, 2023

Mattress Resources
FAST FACTS
Chinese manufacturers have been dumping mattresses in the North American market, posing challenges for domestic brands to stay competitive and relevant, leading to various petitions and the implementation of anti-dumping duties.
Importing low-quality, Chinese-made mattresses at significantly lower prices has raised concerns about the durability, health implications, and overall value for consumers, prompting a closer examination of the manufacturing process and materials used in the production of mattresses.
With the shift to online mattress shopping and the rise of mattress-in-a-box brands, consumers must prioritize thorough research, seek transparency from manufacturers, and look for quality certifications to ensure they are investing in a high-quality, American-made mattress that meets their specific sleep needs.
Mattress dumping in the North American bedding industry has come to a head, and now many manufacturers are taking strides to fight back against the unfair competition. In recent years, imports of Chinese-made mattresses have hit an all-time high, making it hard for domestic mattress brands to stay relevant and competitive.
Before investing in a new bed, it's crucial to know where your mattress comes from and how it was made. Not only does this let you know if you're supporting "Made in America" companies, it's a telling indicator of the quality of the bed. Mattresses are a big investment in your overall health, so it's important to make sure what you're buying is going to last.
In this article, we'll be discussing how Chinese manufacturers have been dumping their mattresses in the United States' bedding market, how anti-dumping tariffs have impacted this situation, and finally, how consumers can pinpoint a high-quality mattress in the mix of imported beds.
What is Dumping and Anti-Dumping?
When you hear the phrase "dumping mattresses," your mind may go to how a mattress is disposed of; does it end up in a landfill, or is it recycled responsibly? Well, before you get too carried away, that's not what we're talking about today. When we say "dumping" in this article, it refers to the process of a company or manufacturer exporting their goods and selling them in another market at a price lower than what they normally charge in their home market.
There are many reasons to dump your products into another market, but many companies do it to expand their customer base and give them an unfair advantage over other brands and companies, especially those native to the market they're infiltrating.
So, how do the companies of affected industries combat this? They don't— at least, not directly. Instead, it's up to brands to petition to their government and urge them to help. The Department of Commerce then investigates these claims and gives the green light for Congress or the International Trade Commission (ITC) to intervene only if the dumping poses a material injury to the competing domestic industry.
Because the U.S. can't control the actions of companies based in other nations, the only thing to do is respond effectively and appropriately; this is where anti-dumping duties come into play. Anti-dumping duties are protectionist tariffs put in place by a domestic government on imports they believe are priced below fair market value.
Typically, there aren't set in stone fees laid out by governments; instead, the cost fluctuates and is calculated to bridge the gap back to a fair market price. Sometimes, these can be over 1,000% of the value of the product or goods.
Anti-dumping duties are a core part of the United States Unfair Trade Practice. This practice states, "The United States should keep its markets open to imports, but must also act aggressively against 'unfair' trade practices by foreign businesses and governments."
How Can Dumped Imports Hurt the Economy?
Dumping goods into the U.S. market and selling them for significantly less than what American manufacturers can afford to price their products puts our domestic businesses at risk of going under— resulting in a loss of money and jobs.
One of the biggest reasons anti-dumping duties are implemented is to save jobs and prevent the unemployment rate from rising.
How Does This Relate to Mattresses?
Recently, mattresses being dumped in the North American market by Chinese manufacturers have disrupted the bedding industry. Everybody knows mattresses can be rather costly, so having Chinese-made mattresses being sold for as little as $18 takes a toll on our domestic brands.
From 2015 to 2017, the volume of beds imported from China increased by 218%, and without intervention, it was likely to only keep rising. In 2017 alone, the United States imported 436.5 million dollars worth of Chinese-made mattresses.
In 2018, major brands such as Serta Simmons Bedding and Tempur Sealy International petitioned for relief from a large number of low-priced mattresses being dumped in their playing field, but they weren't the only ones. Manufacturers and companies including Corsicana Mattress Company, Elite Comfort Solutions, Future Foam Inc., FXI, Inc., Innocor, Inc., Kolcraft Enterprises Inc., and Leggett & Platt Incorporated also join the list of petitioners. Together, these businesses represent over 50% of the U.S. mattress industry, operating over 50 manufacturing plants across the nation and employing more than 8,000 individuals in manufacturing-related jobs alone.
In May of 2023, the Department of Commerce successfully rolled out preliminary anti-dumping duties on mattresses imported from China. Fees on imported mattresses can range anywhere from 200% to 1,700% of the value of the bed, which makes it a lot harder for these manufacturers to afford to import a large number of goods. In that same month, seven mattress manufacturers and two labor unions representing workers at two mattress producers filed seven antidumping (AD) duty petitions and one countervailing duty petition (CVD) "charging that unfairly traded imports of finished mattresses from a total of eight countries are causing material injury to the US mattress industry." 
The DOC is expected to make their determination regarding the China countervailing duty case by June 24th, 2023, but it could be postponed until August 28th, 2023. The deadline for the determination regarding the seven antidumping cases is between September 8th-October 27th. Due to COVID-19, some or all of these deadlines are subject to be postponed until 2023.
It's pertinent to note, these tariffs only apply to mattresses containing innersprings or foam, excluding futon mattresses, air mattresses (including inflatable air mattresses), and waterbeds.
The History of the Disruption in the Bedding Industry
The disruption in the mattress industry is not just due to the recent rising numbers of imported mattresses. In fact, it started years ago with the growth of the online mattress-in-a-box industry. Mattress dumping didn't actually become prevalent until the mattress in a box was introduced.
The rise in popularity of memory foam was a significant contributor to the shift towards online mattress buying and mattress-in-a-box brands partly due to the fact that memory foam was the easiest to compress and ship in a box. As other brands adopted the mattress-in-a-box business model, they made improvements to the process and were soon compressing and shipping latex, hybrid, and innerspring beds alike.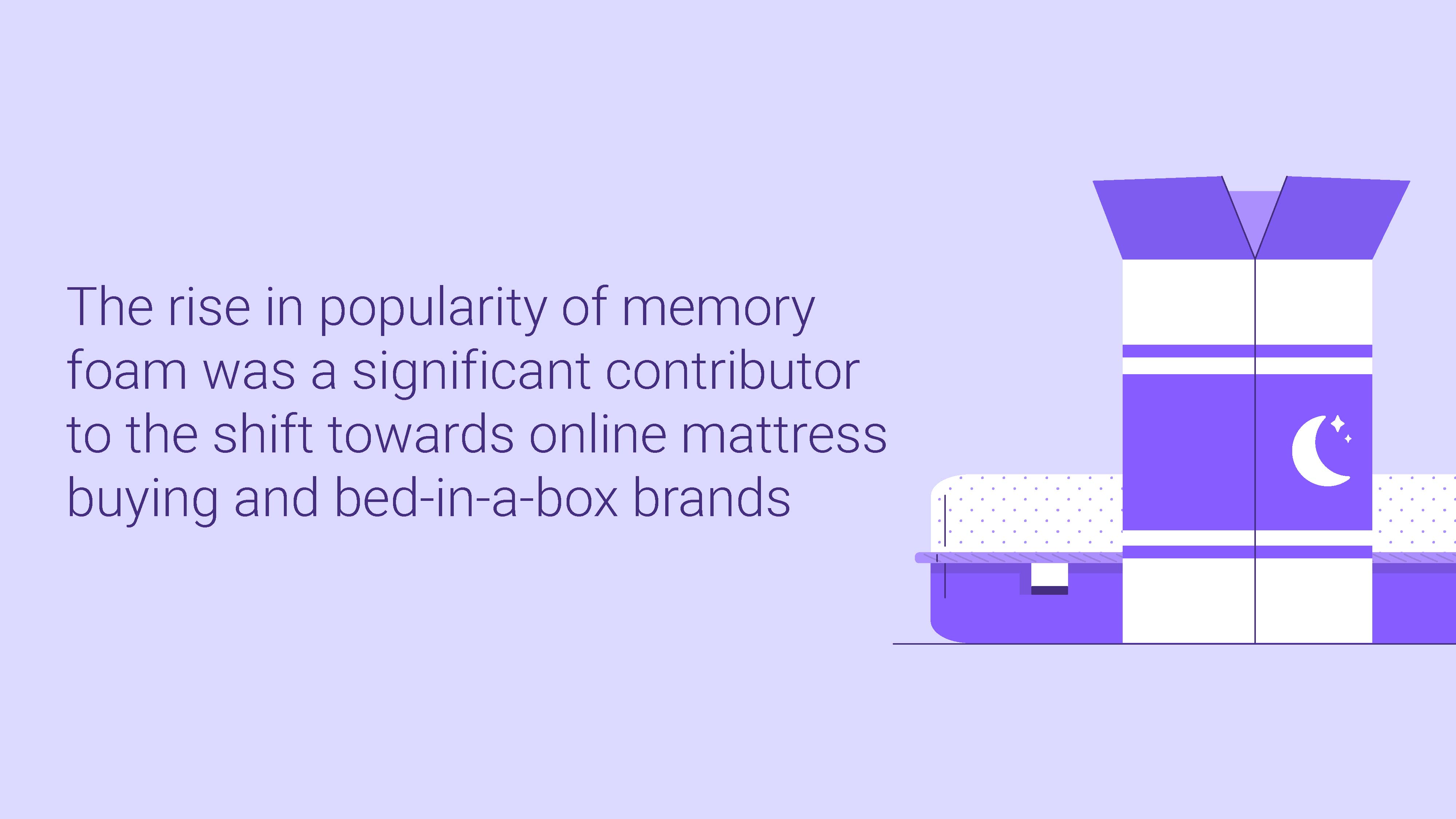 As the years went on and online mattress brands multiplied, the mattress industry shifted quite drastically. Brick and mortar mattress retailers have become a thing of the past, with more people preferring to shop online. Beyond mattresses, the popularity and convenience of online shopping for everything from groceries to clothing certainly helped spearhead the mattress-in-a-box movement.
Mattress stores have made efforts to stay relevant–for example, Mattress Firm released a mattress-in-a-box line which they sell in-stores and online. However, many consumers still see Mattress Firm primarily as a place they can visit to browse and buy beds, and not a brand they'd shop for online.
It's important to mention, the entire drive behind adopting the mattress-in-a-box business model was to cut costs for consumers and give online brands a competitive edge. Selling mattresses through third-party retailers usually results in insane mark-ups to ensure all parties make a profit. By selling direct-to-consumer, and pushing the mattress retailer out of the equation, online mattress brands changed the entire industry.
In the race to cut costs, a few domestic mattress brands started sourcing materials from other countries, including China, or manufacturing their beds overseas and shipping them to consumers internationally. The desire to sell beds as competitively as possible resulted in some brands sacrificing quality and honesty to keep costs low.
For example, companies such as Boyd Sleep switched from using domestic memory foam to sourcing their memory foam from China. In 2018, Nectar was penalized by the Federal Trade Commission and received criticism for claiming their beds were assembled in the U.S. when in reality they were fully manufactured and assembled in China.
With so many brands striving to sell their beds at the most competitive price, it can create uncertainty regarding the quality of the mattress you're buying. That's why doing your research, reading about the company, and asking questions is so critical during the mattress buying process. Sure, the majority of the mattress-in-a-box brands are honest, sell top-rated products, and find ways to cut costs responsibly, but there are still brands out there that choose to sacrifice quality for lower prices.
Unfortunately, not only are Chinese-made foams and mattresses known for being low-quality, they've established a reputation for sometimes posing health concerns due to the materials used to manufacture the beds. Meaning, mattresses dumped from Chinese manufacturers are usually not worth the investment in the first place; instead, you're better off looking for an American-made bed. In the next section, we'll discuss the risks that come with buying poorly manufactured beds and what to look for to ensure the mattress you take home is worth the money.
SEE ALSO: Do Nectar Mattresses Have Fiberglass?
Are There Risks of Buying These Beds?
In addition to wasting your money, there are serious risks that come with buying and sleeping on a low-quality mattress. For starters, a subpar bed is likely unable to offer you the most comfortable night's sleep. Second-rate foams and flimsy innersprings result in a lumpy feel and inadequate support, which over time, can lead to aches, pains, and disturbed sleep. The whole point of buying a new bed is to improve your night's sleep, not the other way around.
Many Chinese-made mattresses receive poor customer reviews that mention sagging and breaking down after only a year— sometimes even after just months of use. The durability of beds using imported foam is questionable, and many reputable companies choose to use domestic foam, despite the higher cost, because it has a more reliable track record of holding up through years of use.
In the long run, it costs more money for companies to fulfill warranty agreements, by either replacing or repairing defective mattresses, than it does just to use high-quality foam from the get-go. However, with some foreign mattress brands, it can be challenging to get your warranty agreement fulfilled, resulting in sunk costs and wasted time. When reading mattress reviews of these beds, we noticed a common trend amongst customers attempting to have warranties honored, but to no avail.
Arguably the most critical health concern around Chinese-made mattresses is regarding how the foam was produced. To make memory foam, a variety of chemicals are needed, primarily, petroleum or petroleum-based oils. Petroleum is what gives memory foam it's viscoelasticity— without petroleum, there is no memory foam. However, many brands have devised ways to create their memory foam using as few petrol-chemicals as possible— creating plant-based memory foam.
Besides using plant-based memory foam, brands use their proprietary poly-foams designed to be more contouring and cradling, like memory foam. Amerisleep, for instance, chooses to invest in producing plant-based foams for their beds, while Nolah designs poly-foams to offer the same benefits of memory foam.
Many consumers are not comfortable with the idea of sleeping on a bed that was made with several chemicals, which triggered the rise in safety certifications. One of the most trusted certifications for foams is CertiPUR-US®, which ensures foams are manufactured without ozone depleters, mercury, lead, heavy metals, formaldehyde, phthalates, PBDE flame retardants, and are low in VOCs (Volatile Organic Compounds).
Many domestic foams are CertiPUR-US® certified, making them safe and healthy to sleep on; however, a large number of Chinese-made mattresses that are labeled with the CertiPUR-US® certification still have issues with off-gassing. Off-gassing refers to the unpleasant, chemical-like "new mattress smell" some foam mattresses have. Even high-quality foam mattresses are prone to a little off-gassing, but you know your bed is poor quality when the chemical scent never goes away.
Chinese-imported goods do not have a good reputation for quality control, and there have been several instances in recent history with Chinese goods poisoning, harming, and killing both people and animals. We're not here to say your mattress is going to kill you, but sleeping on a bed and inhaling chemical fumes for years cannot be good for your health, and is especially unsafe for children and babies.
Why the "Made in America" Label is Important
When it's time to replace your mattress, be thorough as you conduct your research. As we mentioned, a new bed can be relatively expensive, but it's better in the long run, to invest in a high-quality mattress with a good warranty than skimp out and buy something cheap.
To make your search easier, we've included a list of brands that disclose their beds are imported from China and a list of brands that manufacture and assemble their beds in the United States. We hope these lists give you a jumping-off point in your search for a new bed. We encourage you to do further research and read other online mattress guides to ensure what you're buying is the best option for your particular sleep needs.
| Chinese-made | American-made |
| --- | --- |
| Keetsa | Amerisleep |
| Night Therapy | Aireloom & Kluft |
| Sleep Revolution | Denver Mattress |
| Ortho Therapy | Nolah |
| Vivon | Purple |
| Sleep Master | Zoma |
To see where your bed was specifically made and assembled, you can check the law tag on the side of your mattress. The law tag is the long white paper tag at the head or foot of your bed that says something along the lines of, "Under penalty of law not to be removed unless by the consumer." Many people don't think much about that tag, but it gives you more in-depth information about the product itself, down to the city and state where it was made.
When searching for your next mattress, read the "About Us" information about a brand, ask more detailed questions in areas you're unsure about, and always read third-party mattress reviews, as they're most likely to give you the most honest feedback about a bed.
Why It's Best to Avoid Dumped Mattresses
Dumped mattresses are a problem for an assortment of reasons. First and foremost, they hurt our economy and put the domestic mattress and bedding companies in a position where they can't compete, which over time can lead to closures and loss of jobs.
Next, they're not the best quality, putting your health and wallet at risk. Not all Chinese-made mattresses are bad, but given customer reviews and past experiences, it's safe to say they're questionable. When you're investing in better sleep, it's important to be certain you're spending your money wisely, because you shouldn't short-change your sleep.
It's clear the mattress industry has undergone some drastic changes in the past decade. What was once an experience consisting of showrooms, in-store mattress test drives, and figuring out how to transport your new bed home has evolved for convenience. Now people shop online, have their bed delivered to them in an easy-to-maneuver box, and test their mattress in the comfort of their bedrooms.
This evolution has been beneficial for both the consumer and the mattress brand, allowing companies to cut costs and develop better relationships with their customers. Though some brands made mistakes and may not have used the best judgment along the way, the race to slash expenses helped the mattress industry move in a better direction. Moving forward, making sure domestic brands have fair opportunities to compete in the industry is crucial.