Amerisleep vs. Brooklyn Bedding Mattress Reviews

Mattress Comparison
The best mattress will keep your spine aligned and provide you with a comfortable night's rest. Many factors determine what feels good to you, including your favorite sleeping position, weight, and whether you sleep hot or cold. In this mattress comparison, we discuss two popular companies— Amerisleep and Brooklyn Bedding. We'll go over their strengths and weaknesses, so you can decide if one of their models might bring you better sleep.
Amerisleep Mattresses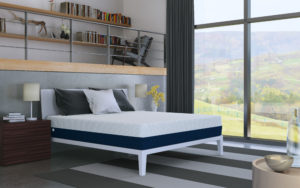 In 2007, Amerisleep joined the mattress market. The majority of their mattresses are sold online and delivered via FedEx to your front door. However, you can find a few brick and mortar stores where you can try all five of their models. To complement their mattresses, Amerisleep also sells bedding, mattress covers, and foundations, including an adjustable bed that works with any of their models.
Amerisleep's mattress selection focuses on accommodating all sleep positions— stomach, back, and side. They include a soft, breathable cover and Bio-Pur® to prevent the overheating often associated with traditional memory foam. Amerisleep's mattresses range in firmness from firm to soft so that a variety of sleepers can comfortably rest for a full seven to nine hours.
Amerisleep's Materials, Cover, and Construction
The AS1's construction consists of a simple but effective two-layer design. Amerisleep makes the comfort layer from an advanced open-cell foam called Bio-Pur®. Bio-Pur's® large open cells open space in the foam for air to move through the foam and away from the body. The two-inches of Bio-Pur® lightly cushion and flex to the sleeper's shape. It rests over a dense eight-inch Bio-Core® support layer. Bio-Core® lies at the heart of every Amerisleep mattress, providing shape, support, and impressive durability.
The AS2 also has a two-inch Bio-Pur® comfort layer. However, the medium-firm feel of this model comes from the three-inch transition layer called an Affinity layer with HIVE® technology (Harnessing Intelligent Ventilation & Energy). Its unique surface is spotted with carefully arranged hexagonal cutouts. They're spaced into five zones to provide firmer support at the head, back, and feet and softer cushioning through the shoulders and hips. Air also flows more readily around the cutouts, which enhances breathability and temperature regulation.
Topping Amerisleep's sales charts is the medium-feel AS3. A thicker, three-inch Bio-Pur® comfort layer conforms more than either the AS1 or AS2. However, the hips and shoulders get plenty of pressure relief with its Affinity layer, making it a great mattress for side sleepers. A Bio-Core® support layer provides the shape and long-term comfort of the mattress.
The AS4 lets sleepers sink even deeper with a four-inch-thick Bio-Pur® comfort layer. A one-inch Affinity layer relieves pressure and adds conformability. Supporting it all is the standard Bio-Core® support layer.
Amerisleep's softest and only four-layer model —the AS5— has a four-inch Bio-Pur® layer. Gently supporting and further cushioning the comfort layer is a two-inch Active Flex layer. Active Flex also improves the responsiveness of the thick comfort layer, so sleepers don't feel stuck. It also has the Affinity layer for targeted support along with the standard Bio-Core® support layer.
Amerisleep's Cooling Technologies and Temperature Regulation
When foam mattresses first hit the market, sleepers loved their conformability but not the heat they trapped against the body. Amerisleep uses their own blend of foam along with modern mattress design to cool sleepers. First, the lightweight, breathable cover keeps air circulating through the bed. Second, Bio-Pur®'s advanced open-cell structure has more space for air to move away from the sleeper. Finally, HIVE® technology further promotes airflow in the Affinity transition layer. Amerisleep's mattresses generally rate above-average for their temperature regulation.
Amerisleep Mattresses' Support, Conformity, and Motion Isolation
Amerisleep mattresses perform exceptionally well at motion isolation and conformability. Five models with different firmnesses and conformability levels allow sleepers to find a mattress that fits their unique likes and dislikes.
The softest mattresses —the AS4 and AS5— provide conforming pressure relief while the sleeper sinks into the mattress. Side and combo sleepers typically prefer their medium-soft and soft surfaces. The firmer feel the AS1 and AS2 provide the kind of support that caters to many stomach and back sleepers. While they still get a slight hug from the mattress, the light cushioning prevents too much sinkage.
The AS3 lies in the middle of balance and conformability. There are sleepers of all sleep positions who can find comfort in its layers. It's a good option for couples with different sleep positions and body weights.
Motion isolation is one of Amerisleep mattresses' strengths. Movement by the sleeper or a partner gets absorbed in the foam so that it doesn't spread across the mattress's surface. Sleepers can instead focus on finding the right conformability and support level.
Foam mattresses tend to lack the edge support of hybrids and innerspring models. Amerisleep's models have average edge support for a foam mattress.
How Durable are Amerisleep Mattresses?
Foam mattress have a standard lifespan of about six to eight years. Amerisleep uses high-density foams that are made to last, which gives their models higher than average durability for mattresses of this type. Much of the durability extends from Bio-Core's® high density and longevity, which is reflected in the 20-year warranty. The warranty includes replacement of the mattress for indentations over three-quarters of an inch, indicating what they expect of their products. They have a longer than average mattress life expectancy of well over eight years.
Amerisleep's Trial Period, Warranty, and Return Policies
Sleep trials let sleepers adjust to a new mattress with the assurance that they can return it if the mattress doesn't work for them. Amerisleep gives sleepers a 100-night sleep trial. They recommend sleeping on the mattress for at least 30 days to let the body adjust before starting a return.
Amerisleep's 20-year, prorated warranty is broken down into two parts. In the first ten years, the mattress will be replaced or repaired if there are workmanship or structural defects. In the second ten years, Amerisleep will repair or replace the mattress for 50 percent of the original purchase price.
For the warranty to be valid, the mattress must be kept on an appropriate foundation or base. The warranty provides information about what kind of foundations are best for Amerisleep mattresses. Defects covered under the warranty do not include tears, stains, and burns caused. It includes coverage for indentations over three-quarters of an inch, which is in line with some of the best warranties in the business.
Only the original owner with proof of purchase can make a warranty claim.
Amerisleep's Social Responsibility
Amerisleep helps customers donate returned mattresses whenever possible, keeping mattresses out of landfills. They also use eco-friendly manufacturing processes that cut down on emissions along with shipping and packaging procedures cut down on waste.
Who Are Amerisleep Mattresses For?
Amerisleep's five models provide a range of support and comfort options. From firm to soft, these mattresses can appeal to sleepers with different preferences and sleeping positions.
Stomach and back sleepers will probably prefer the firmer AS1 and AS2. The AS2 also works well for heavier weight back sleepers. The AS4 and AS5 most often appeal to side and combo sleepers, who generally need more conformability with lighter support. Of course, then there's the AS3 with its mid-range support and conformability. Couples, sleepers of all sleep positions, and those who prefer medium support will love the balance it brings to the bedroom.
Brooklyn Bedding Mattresses
The owners of Brooklyn Bedding started as mattress liquidators in 1995 before they decided to make their own mattresses and sell them online. Today, their six models have unique technologies like copper-infused foam and phase change technology to conform to the sleeper's shape while enhancing temperature regulation. They provide a range of mattress options in differing firmnesses to meet the needs of all sleep positions.
Like Amerisleep, Brooklyn Bedding embraces the mattress in a box style shipping and delivers their beds directly to your front door. They also sell a range of sleep products like pillows, weighted blankets, and foundations, including an adjustable foundation.
Brooklyn Signature: This four-layer mattress has TitanFlex™ foam, Energex™ foam, and Ascension Encased™ coils over a thin poly-foam layer. It balances conformability and responsiveness with the support of pocketed coils.
Brooklyn Aurora: Brooklyn Bedding's most popular model —the Aurora— is the most advanced and complex mattress they make. It has a total of five layers. The comfort and transition layers consist of CopperFlex™ with TitanCool™,  TitanFlex™, and swirl visco-elastic memory foam. An eight-inch support core with encased Ascension X™ coils provides targeted pressure relief with the responsiveness of innersprings. Finally, a thin layer of poly-foam stands between the bed foundation and the coils. It's an exceptionally cool mattress with good conformability.
Spartan: This model targets sleepers with an active lifestyle. The cover uses the sleeper's heat and transfers it into infrared energy that then returns to the sleeper's body. A top layer of CopperFlex™ foam contours and creates an antimicrobial sleep surface. The second layer has TitanFlex™ foam, which further enhances the conformability. Next, the TitanCool™ layer contains phase change molecules to regulate body temperature. Swirled viscoelastic memory foam conforms to the body while covering an eight-inch base of Ascension X™ coils with a poly-foam under layer.
Bloom Hybrid: This model contains Energex™, which has the responsiveness of latex but a conformability that rivals memory foam. A two-inch transition layer enhances conformability while the eight-inch Ascension X™ coils target the body's pressure points.
Brooklyn Bowery: If you're on a budget, the Bowery might be a good option for you. This affordable all-foam, three-layer model offers medium-feel conforming comfort. An Energex™ comfort layer cradles the body into a two-inch transition layer. Underneath is a five-inch high-density poly-foam foam support core.
Brooklyn Bowery Hybrid: The Bowery Hybrid offers similar affordability to the Bowery except in a hybrid model. A quilted gel memory foam and foam transition layer conform to the body while six inches of Ascension™ encased coils provide support. A one-inch layer of poly-foam acts as the final support layer.
Brooklyn Bedding's Materials, Cover, and Construction
The Signature has a quilted top made of a cotton/polyester blend fabric that enhances temperature regulation but resists body impressions for better durability. This hybrid model's comfort layer consists of two inches of TitanFlex™, a hyper-elastic foam that cradles the body with more responsiveness but less conformability than memory foam. It's infused with TitaniumGel™ that absorbs heat to cool the body and creates an anti-bacterial barrier.
Underneath the TitanFlex™ layer is a two-inch transition layer made of Energex™ foam. It's slightly firmer than TitanFlex™ but still has good responsiveness. A support core made of six-inch pocketed coils, which Brooklyn Beddings calls their Ascension™ encased coils provide the durability and extra responsiveness. These coils are not interconnected, so there's less motion transfer than with a traditional innerspring mattress. Finally, a one-inch layer of high-density foam supports the coils.
The Aurora's smooth cover feels cool because it allows heat to transfer through to the comfort layer. The 1.5-inch CopperFlex™ with TitanCool™ comfort layer combines cooling technology with anti-microbial properties. Copper-infused foam acts as a natural barrier for bacteria. However, it's also infused with TitanCool™, which liquefies as it absorbs and draws heat away from the body. If temperatures get too cold, it solidifies and releases heat.
The next layer consists of two inches of the hyperelastic TitanFlex™ foam for contouring and responsiveness. Before the sleeper feels the pocketed coils, there's one inch of swirl viscoelastic memory foam for extra contouring and conformability. It's followed by an eight-inch support core composed of Ascension X™ coils. These coils are not interconnected, so they offer targeted pressure relief at the shoulders, hips, and back. Finally, there's a one-inch layer of support poly-foam.
The Spartan has the same interior construction as the Aurora. However, it has a cover made of high-performance fabric that absorbs body heat and converts it into infrared energy that's returned to the sleeper's body.
A 1.25-inch organic wool/cotton blend cover naturally promotes breathability with the Bloom Hybrid. It covers a three-inch layer of Talalay latex for a responsive feel and gentle cradling rather than the contouring of memory foam. The eight-inch support core, made of Ascension X™ coils, targets pressure relief while reducing motion transfer. Underneath it all is one-inch of high-density support foam.
The Bowery's smooth top weave cover is made of a stretch-knit cotton blend to enhance breathability. Its comfort layer consists of three-inches of Energex™ foam for a responsive sleep with light contouring and heat dissipation. A two-inch poly-foam transition layer leads to the five-inch high-density support core.
The Bowery Hybrid's one-inch quilted cover includes gel memory foam for a cooler sleep. It covers a two-inch poly-foam transition layer before the sleeper feels the targeted pressure relief of the six-inch Ascension™ encased coils. Underneath is a one-inch layer of high-density poly-foam.
Brooklyn Bedding's Cooling Technologies and Temperature Regulation
Brooklyn Bedding incorporates several cooling technologies into their mattresses. All of Brooklyn Bedding's covers are designed to enhance cooling in one way or another. Some have gel memory foam, while others use the natural properties of organic wool and cotton to improve breathability. The Spartan's cover utilizes body heat to return it to the sleeper in the form of energy.
Models that include TitaniumGel™, TitanCool™ technology, and CopperFlex™ foam absorb heat and move it away from the sleeper. TitanCool™ technology even helps regulate body temperature by changing phases to either absorb or release heat as needed. Brooklyn Bedding's hybrid models also have the benefit of air circulating around the coils of the support core for better airflow. Their all-foam model, the Bowery, will sleep warmer than the hybrids due to the nature of the foams. In general, the more cooling technologies the mattress contains, the cooler it will sleep.
Brooklyn Bedding Mattresses' Support, Conformity, and Motion Isolation
The Bowery Hybrid, Aurora, Signature, Spartan, and Bloom all come in three firmness levels— soft, medium, and firm. Those models with coils will generally provide a firmer sleep than the all-foam Bowery. However, you can find varying levels of conformability based on the firmness level and the layers of the mattress.
The Bowery and Aurora, which has a memory foam layer, will offer the best contouring. Models with Energex™ and Talalay latex foam will have less contouring but better responsiveness, which causes a bouncier feeling mattress.
All-foam mattresses, like the Bowery, do incredibly well with motion isolation. Brooklyn Bedding's pocketed coil hybrids, however, will prevent some motion transfer, but they won't be as quiet as an all-foam model.
How Durable are Brooklyn Bedding Mattresses?
When it comes to durability, Brooklyn Bedding mattresses are right on par with other mattresses of their type. The hybrids fall in the six to eight-year range while the all-foam model should last six to seven years. Latex mattresses tend to last slightly longer, so the Bloom Hybrid should be comfortable for at least eight years. All of Brooklyn Bedding's mattresses include a 10-year warranty, which indicates that the manufacturer expects them to last about the average mattress lifespan.
Brooklyn Bedding's Trial Period, Warranty, and Return Policies
Brooklyn Bedding mattresses come with a 120-day trial period that includes a 30-day break-in period. If you feel like the mattress is too firm, they will send you a free mattress topper within the trial period. If you are still unhappy with the mattress, the mattress and mattress topper can be returned. The consumer must package the mattress and arrange the shipping, but Brooklyn Bedding will send a label so that it can be shipped free of charge. The trial period can only be used once in a calendar year.
All Brooklyn Bedding mattresses come with a 10-year warranty. The warranty includes coverage for indentations over one inch. However, the mattress must be used on a solid support foundation, which includes slats that are no more than four inches apart. It also covers cracks or defects in any of the materials. Defects do not include stains, wear and tear, or burns. The warranty only applies to the original purchaser with proof of purchase.
Brooklyn Bedding's Social Responsibility
Brooklyn Bedding partners with local organizations and communities to provide mattresses and bedding for children and foster children in need. All of their foams are CertiPUR-US® certified, which means they've passed independent tests for durability and content that's free of chemicals like formaldehyde and chemical flame retardants.
Who Are Brooklyn Bedding Mattresses For?
Many of Brooklyn Bedding's mattresses can be bought in three firmness levels, so sleepers of all sleep styles are likely to find a model and firmness level that works for them. You can find a luxury mattress in the Aurora or go budget-friendly with the Bowery or Bowery Hybrid.
Side sleepers will generally lean towards softer versions of Brooklyn Bedding mattresses while back sleepers will probably sleep better on the firm models. You can also base your decision on cooling technology. The Aurora provides the best in cooling that Brooklyn Bedding has to offer while the Bowery will be a better option for those who get cold while they sleep. Back sleepers, with their neutral spinal position, can focus on the type of support and cooling technologies they prefer.
Amerisleep vs. Brooklyn Bedding: The Bottom Line
Both manufacturers offer mattresses that appeal to all sleep types.
Brooklyn Bedding sells both all-foam and hybrid mattresses, as well as budget-friendly and luxury models. They also offer several of their mattresses in three firmness levels.
Amerisleep memory foam mattresses show potential for longer durability with their high-density foams and 20-year warranty.
While the pocketed coils of the Brooklyn Bedding hybrids help with motion isolation, they aren't as efficient as Amerisleep's mattresses nor their own all-foam mattress.
A new mattress can certainly mean better sleep. Whether you need more conformability or targeted support, there's a model out there for you. These two manufacturers bring great options to the table. It's a matter of which one will help you get a great night's sleep.